BAKED BUTTERNUT SQUASH IN OVEN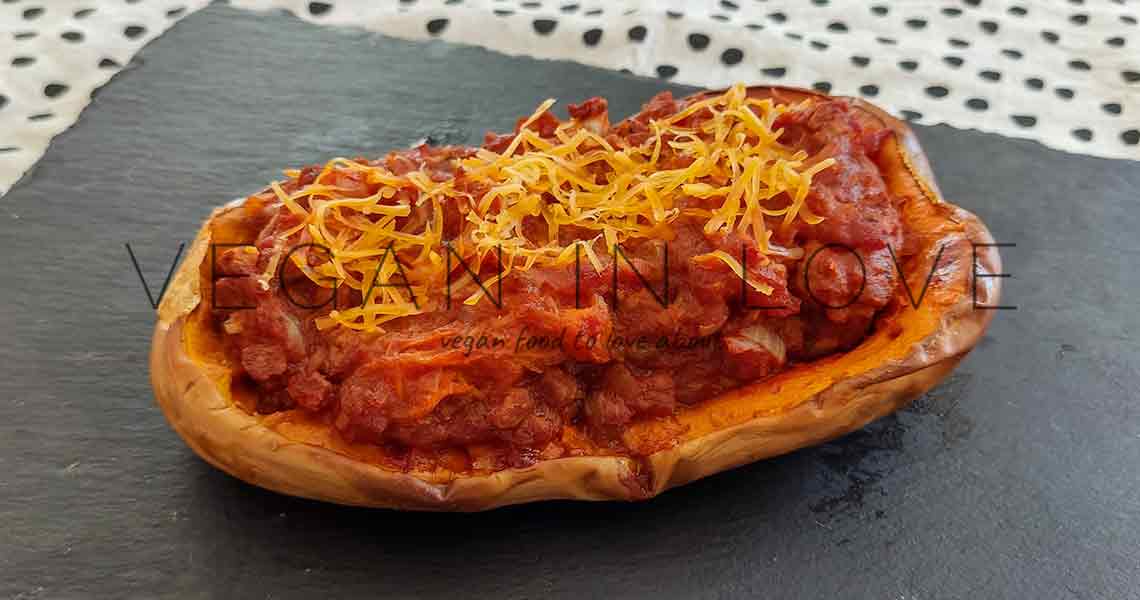 I love butternut squash recipes, I normally make butternut squash soup or mash but this time I wanted to make something different. Therefore, I wanted to try this baked butternut squash and I realized it's really easy to make plus is a simple recipe too.
SEASONING
This delicious and simple recipe is really easy to season. In this case, I didn't season the butternut squash halves when I baked them as I like the sweet flavor they have. However, when you baked butternut squash you can season them with salt and pepper, spices, or fresh herbs. In the following list, you can find great seasoning ideas and make a perfect recipe.
Freshly ground black pepper/white pepper.
Fresh thyme.
Drizzle olive oil.
Brown sugar.
Cinnamon.
Nutmeg.
FILLING
This easy-to-make stuffed butternut squash is really versatile and you can add many delicious ingredients. Furthermore, you can use not only saute or cooked vegetables, but you can also add fresh vegetables too. In addition to this, you can pour or spread some delicious fresh sauces or salsas; such as hummus, vegan gravy sauce, and many more.
Green onions/spring onions.
Cherry tomatoes.
Leeks.
Kale.
Spinach.
Pepper: such as bell pepper, red pepper, etc.
Vegan mozzarella.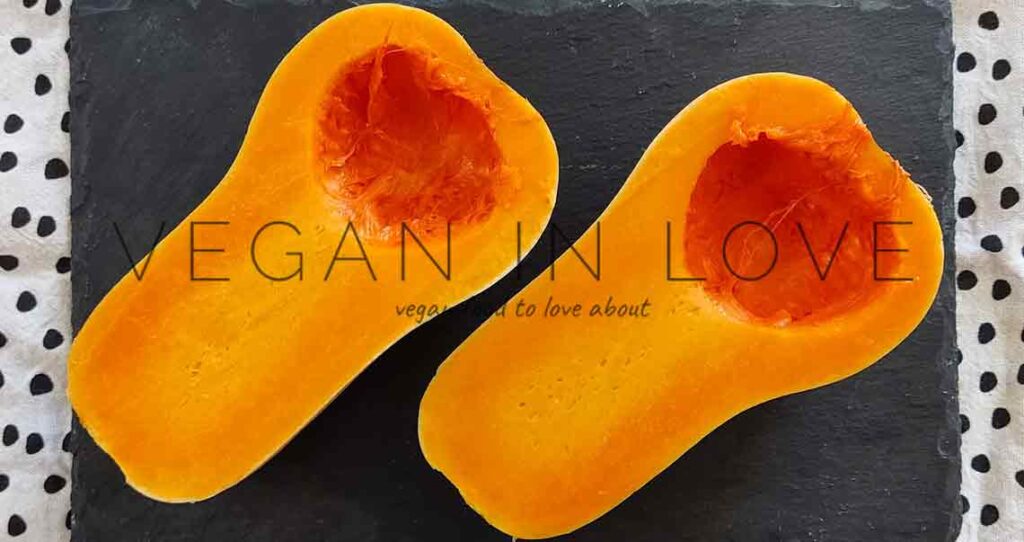 STUFFED BUTTERNUT SQUASH: EASY SIDE DISH OR MAIN MEAL
What I love about this healthy and comforting recipe is that is not only versatile in the ingredients you can season it or make the filling. Moreover, you can eat it as a side dish for a lovely Christmas dinner, Thanksgiving, or any occasion. In addition to this, you can also enjoy eating this vegan recipe as a main dish together with other great recipes. For more ideas on what to eat this baked butternut squash halves with, you will get more info below.
WHAT TO HAVE STUFFED BUTTERNUT SQUASH WITH?
Even though you can enjoy this delicious baked butternut squash recipe on its own, you can also eat this together with other dishes. Furthermore, you can have this stuffed butternut squash not only as a starter, side dish but also as a main dish.
Here you will find a list of other recipes that go really with baked butternut squash. Check the list and get inspired to have a great dinner.
STORAGE
If you have a leftover stuffed butternut squash halves or if you make this recipe in advance in order to have them for later consumption you can store them in an airtight container. Furthermore, it's advisable to wait until the cook butternut squash halves cool down at room temperature and then keep them refrigerated.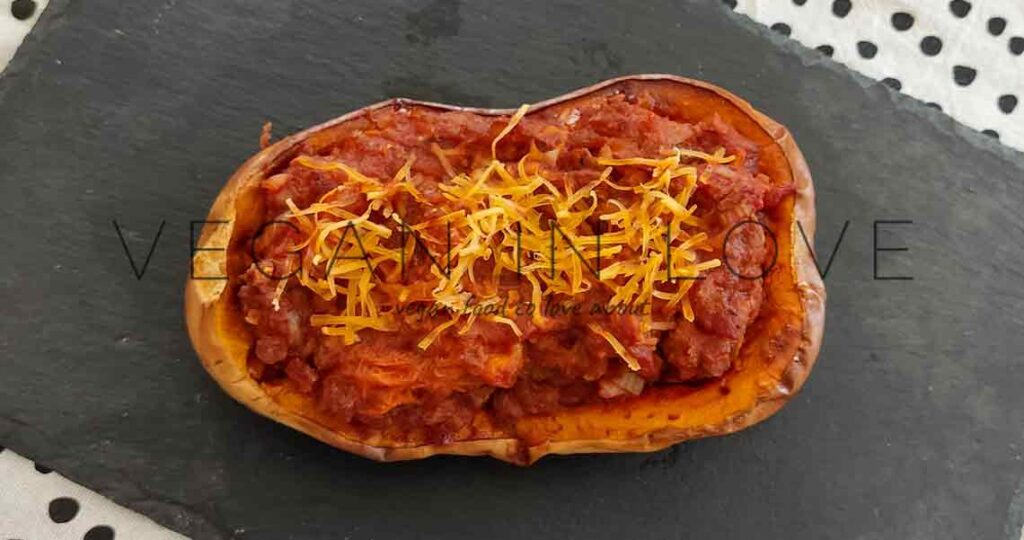 THIS BUTTERNUT SQUASH RECIPE GOES WELL WITH: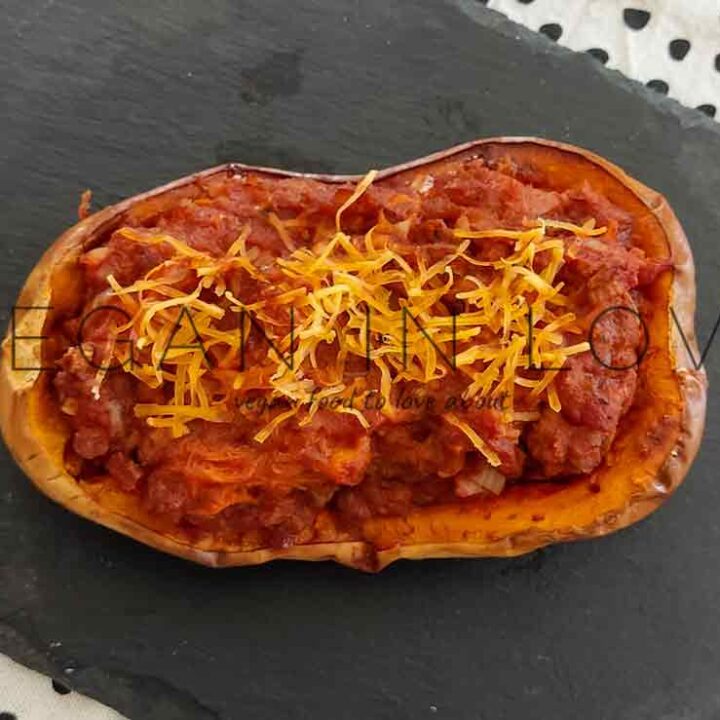 STUFFED BUTTERNUT SQUASH RECIPE
Total Time:
1 hour
15 minutes
Healthy, filling, warm, and flavorful stuffed butternut squash. This gluten and dairy-free recipe is excellent to enjoy as a comforting side dish or as a main dish.
Ingredients
1 Butternut squash (700 gr.).
1 White onion.
2 Garlic cloves.
Half celery stick.
2 Tbsp, of Water.
100 gr. of Meatless minced meat.
200 ml. of Passata.
A pinch of Sodium bicarbonate.
1 Tsp. of Oregano.
1 Tsp. of Paprika.
1 Tsp. of Gluten-free soy sauce.
A pinch of Himalayan salts.
A handful of vegan cheese.
Instructions
BAKE BUTTERNUT SQUASH
Preheat the oven to 180 °C degrees (356 °F approx.) or medium heat.
Wash the butternut squash skin.
Cut the butternut squash in half lengthwise. Then with a spoon scoop out the seeds.
Place the halved lengthwise in a baking sheet with parchment paper*.
Place the baking sheet in the preheated oven and cook for around 35 minutes or until the butternut squash flesh is fork-tender.
With a spoon or a fork scoop the butternut squash flesh and leave some next to the skin of around 1 cm.
BUTTERNUT SQUASH FILLING
Peel and slice the onion and garlic cloves. Cook them in a medium skillet or pan at medium heat. I sprinkle salt and add 2 tbsp. of water. If you don't want to make this recipe oil-free you can add olive oil or oil of your choice.
When they get tender add the vegan mince and cook for a few minutes.
Pour the passata and a pinch of Sodium bicarbonate. Mix well.
Season to taste with 1 tsp. of oregano, 1 tsp. of paprika and 1 tsp. of gluten-free soy sauce.
Once the filling is done to your taste add the butternut squash flesh and mix well.
ASSEMBLE AND BAKING
Divide the butternut squash filling in half and add it to each butternut squash half.
Sprinkle some vegan cheese on top of each butternut squash half.
Then place the baking sheet in the oven and bake for 10 to 15 minutes.
Remove the baked butternut squash halves from the oven a serve warm.
Notes
*If you don't have parchment paper you can also use aluminum foil.
Nutrition Information
Yield

2
Serving Size

1
Amount Per Serving
Calories

281
Total Fat

13g
Saturated Fat

4g
Trans Fat

0g
Unsaturated Fat

7g
Cholesterol

45mg
Sodium

449mg
Carbohydrates

25g
Fiber

5g
Sugar

11g
Protein

19g
The Nutritional values presented on this table are only estimates. The values can also vary depending on the cooking method, ingredients, product brands etc. This data was provided and calculated by Nutritionix.
MORE BUTTERNUT SQUASH RECIPES
YOU MIGHT ALSO LIKE…
---
---