VEGAN GARLIC BREAD RECIPE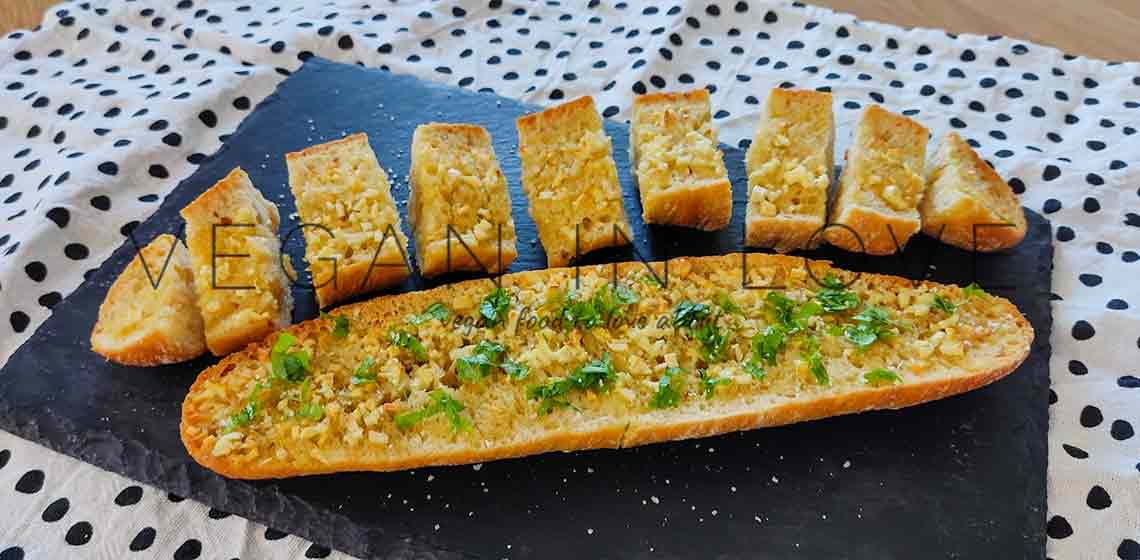 This homemade vegan garlic bread recipe is easy, simple, and affordable to make in just a few minutes. So, in order to make this vegan garlic bread you will mainly need 4 ingredients and a few optional ones; such as vegan parmesan cheese or nutritional yeast.
If you enjoy eating savory flavors and classic garlic bread is one of them, you can make your own vegan version of this garlicky goodness recipe. Furthermore, you can make the best garlic bread at home even better than restaurant-style garlic bread ones.
Also, this incredibly delicious garlic bread or garlic toast is great to enjoy as a side together with other vegan recipes together with a main dish.
GARLIC BREAD SEASONING
Although I seasoned this garlic bread completely dairy free as it was adapted for a vegan diet, you won't miss out on flavor. Nowadays you can find good quality butter replacements that taste really good; such as unsalted vegan butter that you can get in most grocery stores.
If raw minced garlic is too strong for you, you can reduce the number of garlic cloves, or alternatively, you can replace this ingredient with garlic powder. Therefore, garlic powder is a great option if you like to taste garlicky goodness but with a mild flavor. Another additional alternative is to use oven-roasted garlic.
Additionally to the fresh parsley and fresh garlic that will give the characteristic taste we all love, if you want to be more creative with this classic dish cuisine, check the following list for more seasoning inspiration!
Fresh herbs; such as basil, rosemary, and thyme.
Nutritional yeast.
Onion powder.
Dried parsley.
Dried basil.
Oregano.
Tarragon.
Chives.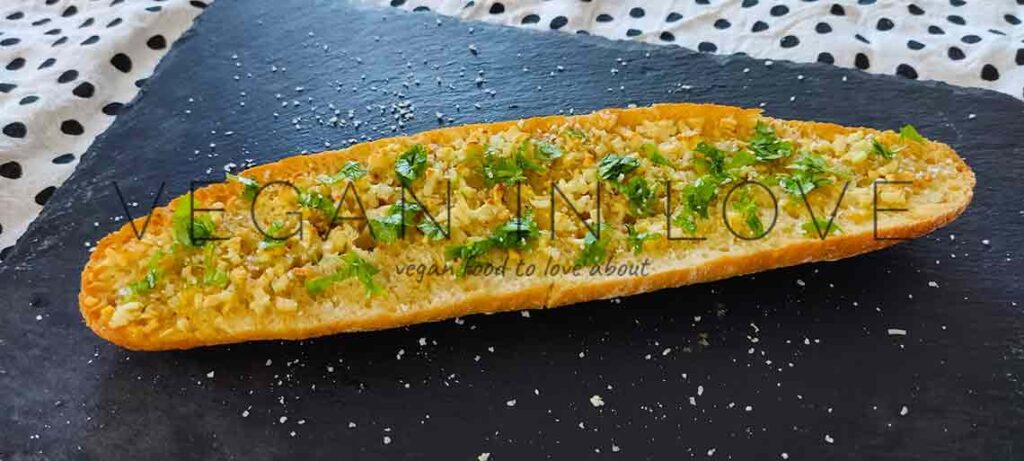 GARLIC BREAD EXTRA TOPPINGS
Eating this garlic bread just as it is, is a true delight; however, you can always add more topping to this garlic recipe. For example, besides the homemade vegan parmesan cheese I choose, you can include other vegan cheeses. Furthermore, you can add vegan cheeses that melt to create the best vegan garlic bread.
Vegan mozzarella.
Vegan cheese.
Cherry tomatoes.
Olives; such as green and black (pitted or filled).
GARLIC BREAD TIPS
Fresh ingredients: you can make the butter mixture in advance with the raw garlic cloves and keep it refrigerated (so you can use it later).
Bread: I used a classic baguette bread for this garlic bread as I think is the best bread for this recipe. However, you can use another bread of your choice; such as Italian bread/Italian loaf or even gluten-free bread.
Serving: as I said before you can make part of this recipe ahead of time, but I highly recommend that you prepare this recipe on the spot and serve it immediately.
WHAT TO SERVE GARLIC BREAD WITH?
Even though having good garlic bread on its own is a delight, you can also enjoy this side dish cuisine with other meals. For example, this recipe goes really well with a vegan pasta dish; such as vegan Bolognese pasta.
DISHES TO SERVE THIS GARLIC BREAD WITH
Lastly, there is another recipe you can make with slices of garlic bread; you can prepare a delicious sandwich bread and add loads of fresh and delicious ingredients to make a unique sandwich.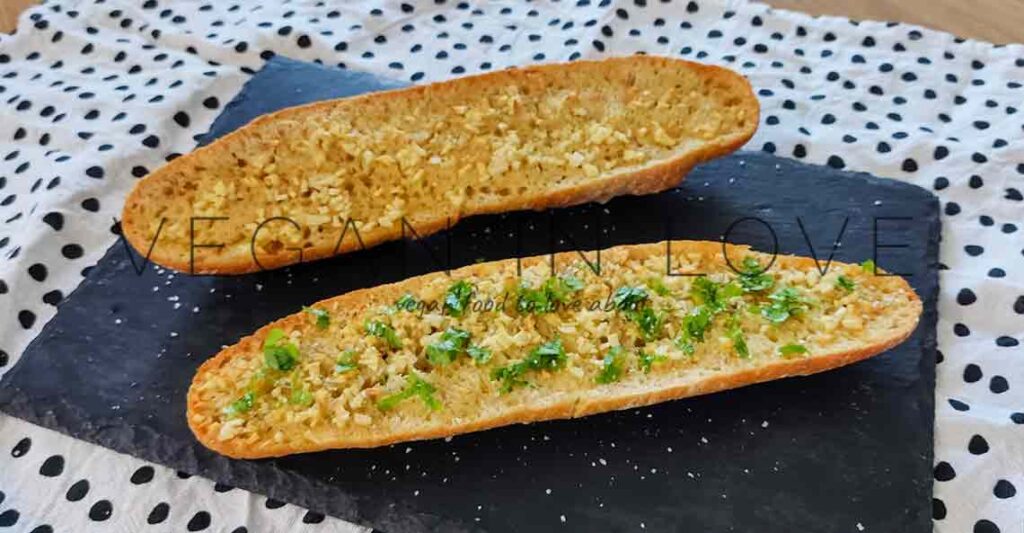 THIS VEGAN GARLIC BREAD GOES WELL WITH:
Also, try this recipe with a delicious soup.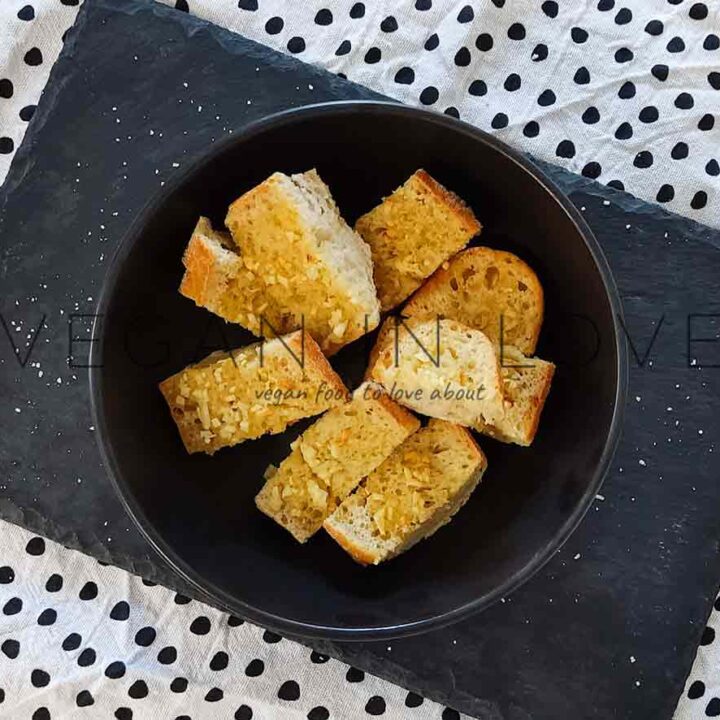 VEGAN GARLIC BREAD
This homemade vegan garlic bread is incredibly delicious and is made of easy, simple, and affordable ingredients. Enjoy this recipe as a great side dish.
Ingredients
1 Medium baguette.
50 gr. Vegan butter.
4 Raw garlic cloves.
A handful of fresh parsley.
1 Tsp. of Olive oil.
A pinch of Himalayan salts.
2 Tbsp. of Vegan parmesan cheese*.
Instructions
Preheat the oven to 180 °C degrees (356 °F approx.).
Remove the vegan butter from the fridge, and cut 50 gr. and place it in a small bowl at room temperature to get softened vegan butter.
Cut the baguette in half loaf (I used a sourdough baguette).
Toast the sliced bread in the oven for around 2 minutes**. Place the bread on a large baking sheet. You can use aluminum foil or parchment paper on the base of the baking sheet (optional).
Peel and finely chop the fresh garlic cloves to get fresh minced garlic. Add them to the small mixing bowl with the softened butter.
Pour 1 tsp. of olive oil into the small bowl and mix well all the ingredients.
To make vegan garlic bread spread the garlic butter mixture evenly on the bread slices until you get buttery bread.
Place the baking sheet in the oven and toast for around 7 minutes or until you get a crispy crust and the minced garlic gets golden brown.
In the meantime, wash and chop the fresh herbs, such as parsley.
Remove the baking sheet from the oven, place the dairy-free garlic bread on a serving tray, and sprinkle the fresh herbs and the homemade vegan parmesan cheese.
If you wish cut your homemade garlic bread into small slices.
Nutrition Information
Yield

4
Serving Size

1
Amount Per Serving
Calories

340
Total Fat

14g
Saturated Fat

3g
Trans Fat

2g
Unsaturated Fat

10g
Cholesterol

2mg
Sodium

566mg
Carbohydrates

44g
Fiber

2g
Sugar

4g
Protein

10g
The Nutritional values presented on this table are only estimates. The values can also vary depending on the cooking method, ingredients, product brands etc. This data was provided and calculated by Nutritionix.
RELATED RECIPE
YOU MIGHT ALSO LIKE…
---
---