Crepes recipe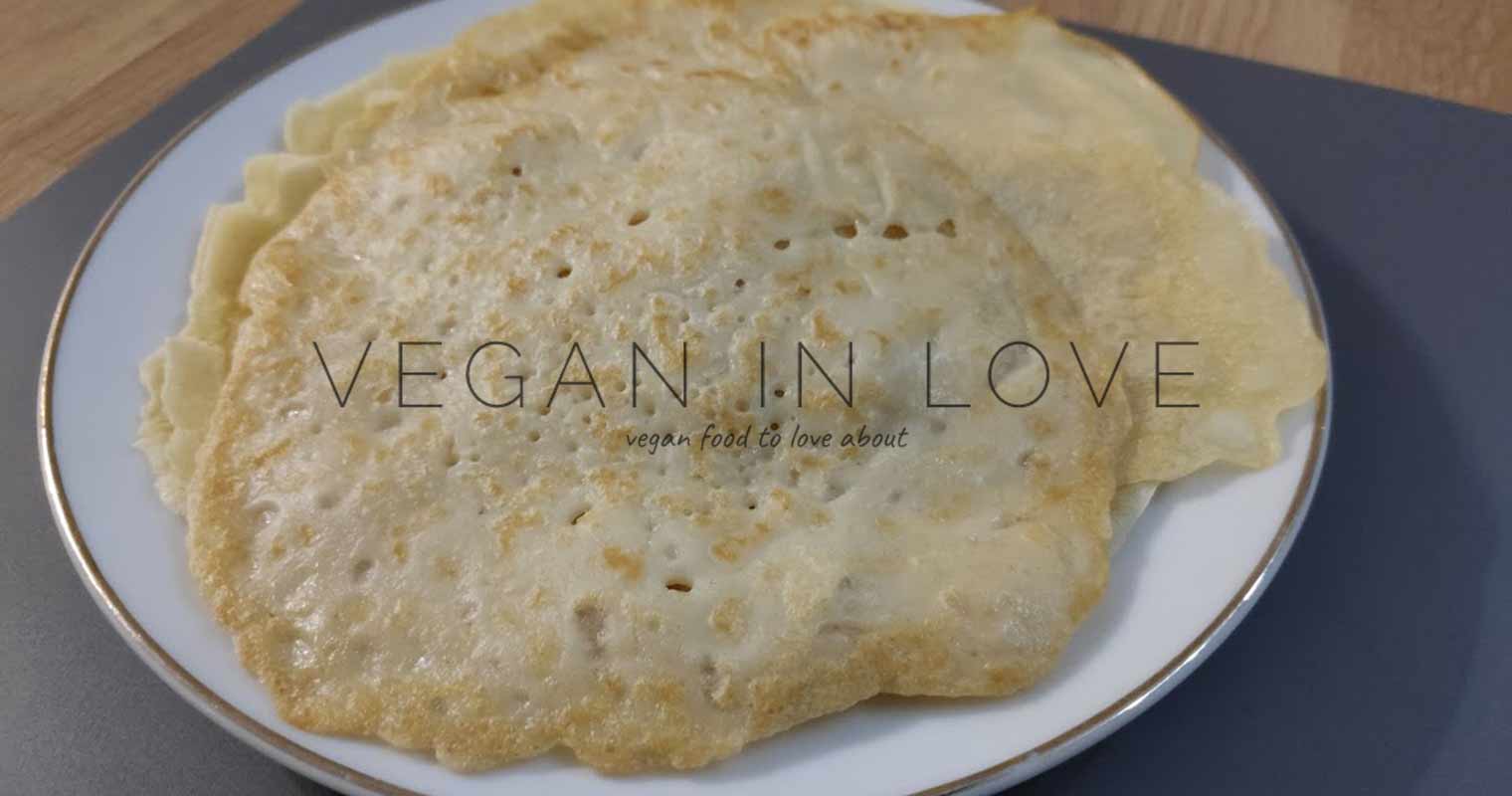 WHAT ARE VEGAN CREPE MADE OF?
The ingredients for vegan crepes are really simple and easy to find! Far from fancy or expensive ones! They are, but not limited to: plain flour, plant based milk (dairy free), oil (tasteless or not will depend on your personal preferences). You can also replace some ingredients, for example:
1) You can replace the oil for melted vegan butter or margarine.
2) Maple syrup can replace the sugar. Explore, get creative and find out how you like it.
HOW TO MAKE CREPES WITHOUT EGGS?
Although the original/traditional crepe recipe contains eggs as one of the main ingredients, you can succesfully prepare a delicious eggless crepe! You can create a great batter mixture blending: plant based milk, oil or butter and flour.
Useful crepes tips
Always sift the flour: it can help to reduce the lumps in the mixture and therefore it can be better integrated with the rest of the ingredients.
Avoinding lumps: pour in the dairy free milk little by little and beat well to avoid and reduce the formation of lumps.
Still getting lumps?: If you follow all the above tips and you still end up with lumps in your crepe mixture, no worries! You can remove them using a blender or hand. No blenders at home? a sieve can do the trick as well. I used it in the past and it works great.
Chill the mixture: is ideal to refrigerate the crepe batter for at least 30 to 60 minutes before cooking (the more the better).
Cooking: pre-heat the pan or skillet to melt and heat the vegan butter/coconut oil. You can swirl or use a cooking brush to spread the oil evenly.
You can make this vegan crepe recipe with just a few ingredients. This simple and eggless crepe recipe is ideal for savoury and sweet fillings.
Equipment
Blender or hand blender (optional).
Ingredients
300

ml.

Milk (I used Oats milk).

125

gr.

Self raising flour*.

A pinch of salt.

1

tsp.

Sugar

(for sweet crepes recipes).

1

tbsp.

Vanilla extract

(for sweet crepes recipes).

1

tbsp.

Flavourless oil.

Coconut oil or unsalted vegan butter.
Instructions
Sieve the flour in a bowl.

Add the salt and 1 teaspoon of sugar (optional) and integrate well.

Add the oil then, little by little the milk and mix well (if you get any lumps sieve all the mix or use a blender).

For better results, let the crepe mix rest in the fridge 30 minutes. The longer the better even yo can prepare this in advance the day before.

Place a pan on the burner/ring and add some coconut oil or unsalted vegan butter (around 1 tsp) and swirling the pan to spread the melted oil/butter. Is recommended to do this step each time you cook a new crepe.

Pour the mix on the pan or skillet, swirling the mix to spread it evenly and flip the crepe when you see that is cooked. You don't have to be a professional to do this, you can always use a spatula.

Place the cooked crepe on a plate.

Repeat steps 5 and 6 until you finish with the crepe mix or you can prepare just a few and leave the crepe mix in the fridge for later.
Notes
*Traditionally crepes are made with plain flour, I tried this recipe with self raising flour and I really like it! If you prefer or have plain flour this recipe would yummy too!
TOPPING IDEAS
SWEET
---
---