CREPES RECIPE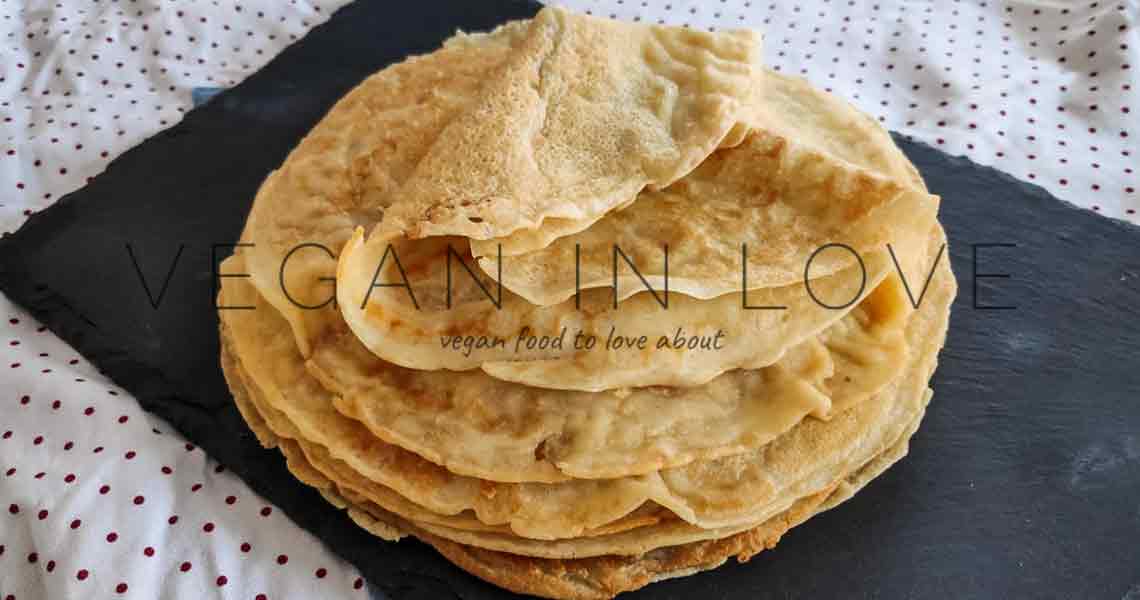 This is an amazing recipe to make vegan crepes, so if you are on a vegan diet and missing having French crepes, try this vegan version recipe today!
WHAT ARE VEGAN CREPES RECIPES MADE OF?
Traditionally, French crepes are made of non-vegan ingredients; such as egg and dairy (milk). In other to make vegan crepes we can easily replace them. In fact, you have many alternatives and options to make vegan crepes. For example, with white sugar, you can use vegan options; such as coconut sugar and maple syrup.
The ingredients for the vegan crepe recipe are really simple and easy to find! Moreover, they are far from fancy or expensive ones! They are, but are not limited to: plain flour, plant-based milk (dairy-free), and oil (tasteless or not will depend on your personal preferences). Also, you can replace some ingredients, for example:
MILK
Almond milk.
Soy milk.
Rice milk.
Cashew milk.
Coconut milk.
Hazelnut milk.
VEGETABLE OIL AND/OR BUTTER
Avocado oil.
Olive oil.
Vegan butter.
Margarine.
HOW TO MAKE A CREPES RECIPE WITHOUT EGGS?
Although the original/traditional crepes recipe contains eggs as one of the main ingredients, you can successfully prepare a delicious eggless crepe! Furthermore, you can create a great batter mixture by blending: plant-based milk, oil or butter, and flour.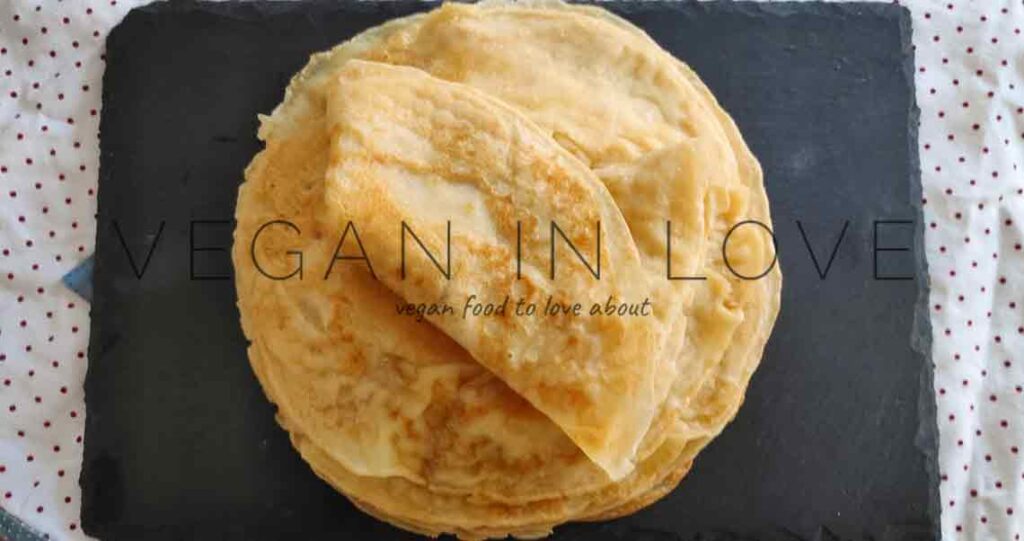 SWEET VEGAN CREPES
These perfect crepes are a great recipe to enjoy with sweet toppings. If you want some ideas to enjoy sweet vegan breakfast recipes check the following list.
Vegan Nutella.
Vegan whipped cream.
Sliced almonds.
Fresh berries.
Maple syrup.
Sprinkle powdered sugar.
Furthermore, you can make this vegan crepe recipe with strawberry, banana, and maple syrup.
SAVORY CREPES
These vegan crepes recipe is not limited to only making sweet vegan crepes or using sweet toppings. In fact, you can make savory crepes by removing the sweet sugary ingredient, then you can use the vegan crepes to use savory fillings; for example, you can make broccoli and sweetcorn cannelloni.
Leftover filling.
Olives; such as pitted black and green.
Saute mushrooms.
Onions.
Peppers.
USEFUL CREPES TIPS
Always sift the flour: it can help to reduce the lumps in the mixture and therefore it can be better integrated with the rest of the ingredients.
Avoiding lumps: pour in the dairy-free milk little by little and beat well to avoid and reduce the formation of lumps.
Still, getting lumps?: If you follow all the above tips and you still end up with lumps in your crepe mixture, no worries! You can remove them using a blender or hand. No blenders at home? a sieve can do the trick as well. I used it in the past and it works great.
Chill the mixture: is ideal to refrigerate the crepe batter for at least 30 to 60 minutes before cooking (the more the better).
Cooking: Preheat the pan or skillet to melt and heat the vegan butter/coconut oil. You can swirl or use a cooking brush to spread the oil evenly.
THIS RECIPE GOES WELL WITH: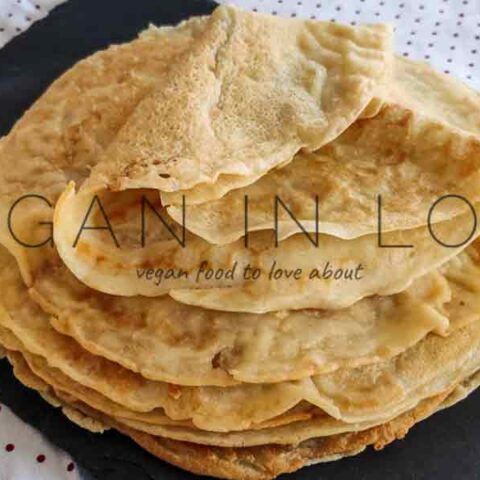 Vegan crepes recipe
Total Time:
1 hour
10 minutes
Ingredients
300 ml. of Plant-based milk (I used Oat milk).
125 gr. of Self raising flour*.
A Pinch of Salt.
1 Tsp. of Sugar (for sweet crepes recipes).
1 Tbsp. of Vanilla extract (for sweet crepes recipes).
1 Tbsp. of Flavourless vegetable oil.
Coconut oil or unsalted vegan butter for cooking.
Instructions
Sieve the flour in a large mixing bowl.
Add the salt and 1 teaspoon of sugar (optional) and integrate well.
Add the oil then, little by little the non-dairy milk, and mix well (if you get any lumps sieve all the mix or use a blender).
Let the crepe batter rest in the fridge for 30 minutes for better results. The longer the better even you can prepare this in advance the day before (let the batter sit in the fridge overnight).
Place a nonstick frying pan (special crepe pan or non-stick pan) on the burner/ring. Lightly grease the pan with coconut oil or unsalted vegan butter (around 1 tsp), and swirl the pan to spread the melted vegetable oil/butter. It is recommended to do this step each time you cook a new crepe.
Pour a thin layer of the crepe batter into the nonstick pan or skillet, swirling the batter to spread it evenly, and carefully flip the crepe when you see that it is cooked. You don't have to be a professional to do this, you can always use a spatula.
Place the cooked vegan crepes on a plate.
Repeat steps 5 and 6 until you finish with the crepe mix or you can prepare just a few and leave the crepe mix in the fridge for later.
If you are making these vegan crepes in advance when they cool down at room temperature cover them with plastic wrap and keep them refrigerated until consumption.
Notes
*Traditionally crepes are made with plain flour, I tried this recipe with self-raising flour and I really like it! If you prefer or have plain flour this recipe would yummy too!
The vegan crepes amount you can get with this recipe can vary depending on how thin crepes you do when making crepes.
Nutrition Information
Yield

10
Serving Size

1
Amount Per Serving
Calories

100
Total Fat

5g
Saturated Fat

2g
Trans Fat

0g
Unsaturated Fat

3g
Cholesterol

2mg
Sodium

177mg
Carbohydrates

11g
Fiber

0g
Sugar

2g
Protein

2g
The Nutritional values presented on this table are only estimates. The values can also vary depending on the cooking method, ingredients, product brands etc. This data was provided and calculated by Nutritionix.
YOU MIGHT ALSO LIKE…
---
---