VEGAN PARMESAN CHEESE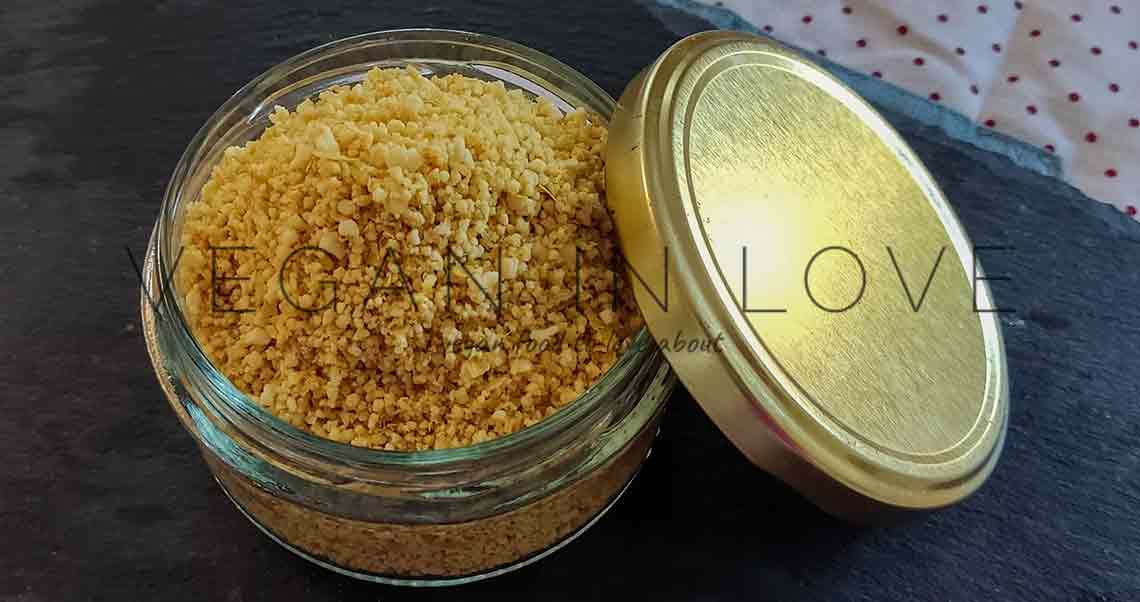 Delicious vegan parmesan cheese recipe is super easy to make and with just a few ingredients. Using a high-speed food processor you can prepare this vegan cheese in a few minutes.
This dairy-free and gluten-free cheese is perfect for vegans who still want to use it as a topping for their pasta, pizza, or other dishes. Also, you can get this vegan parm cheese with an awesome savory flavor, just like the real one. Furthermore, this plant-based recipe is really easy, you need just 4 ingredients: raw cashew nuts, nutritional yeast, salt, and garlic powder. If you have some probiotic tablets at home, you can add them too.
EXTRA INGREDIENTS FOR PARMESAN CHEESE
In order to make a vegan parmesan cheese recipe, you will need just a few basic ingredients; however, you can always add more ingredients depending on your preferences and taste. For example, if you like hot food and you want to include more spices, you can add some chili flakes. For more ingredients, and ideas check the list below.
EXTRA INGREDIENTS
Hemp seeds.
Sea salt.
Onion powder.
Black pepper.
White pepper.
Dried herbs; such as parsley and oregano.
Additionally, if you don't have or prefer not to use raw cashews nuts, you can replace this ingredient with other options; such as:
Raw almonds.
Raw sunflower seeds.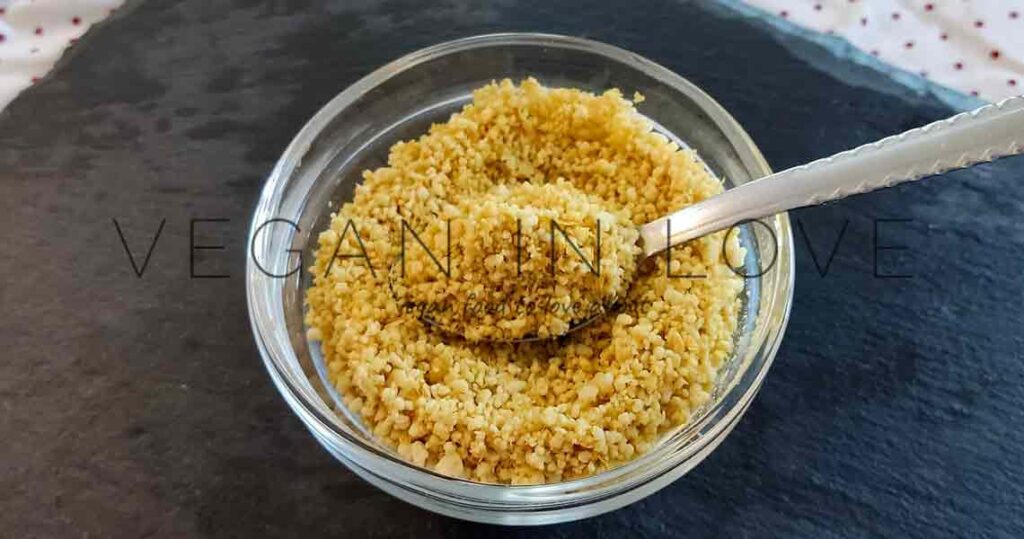 HOW TO USE PARMESAN CHEESE
This easy and quick recipe is ready to use after blending the ingredients in the food processor. Moreover, you can use a teaspoon to sprinkle this vegan parmesan cheese recipe in many dishes to give a great flavor as a finishing touch. Indeed, this is an amazing substitute for the classic parmesan cheese with a great texture too. I highly recommend using this plant-based cheese in the following food recipes, you will only need to sprinkle your plant-based cheese to enhance the flavors of many dishes.
USES FOR VEGAN PARM CHEESE:
Pasta.
Pizza.
Salad.
Roasted veggies.
Lastly, remember to put your vegan parmesan cheese in a glass/jar container with a lid, then keep it refrigerated in the fridge.
TIPS FOR MAKING VEGAN PARMESAN CHEESE
Blender: you will need a high-speed food processor in order to prepare this vegan cheese recipe.
Pulsing: Do not pulse too much or for too long your raw cashew nuts as it could start to make a cashew paste/butter.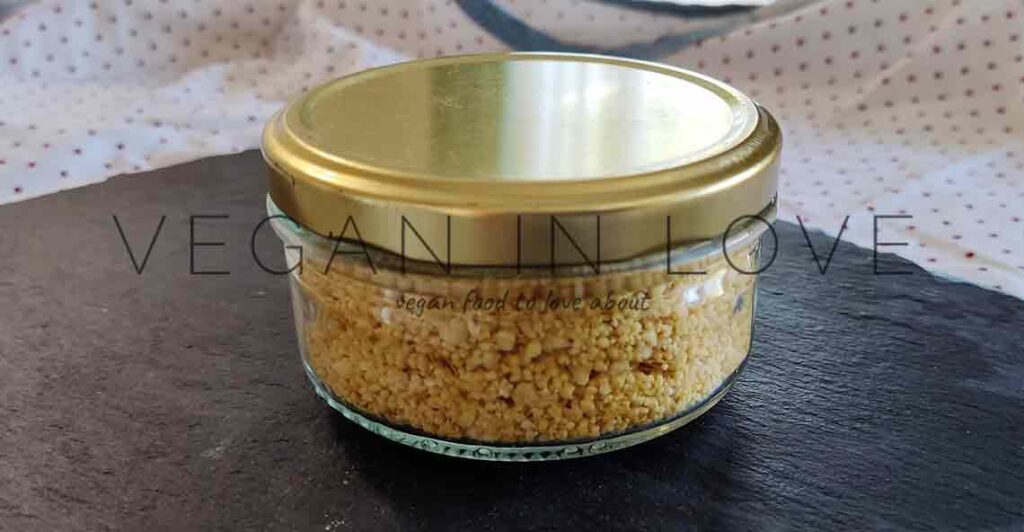 THIS RECIPE GOES WELL WITH: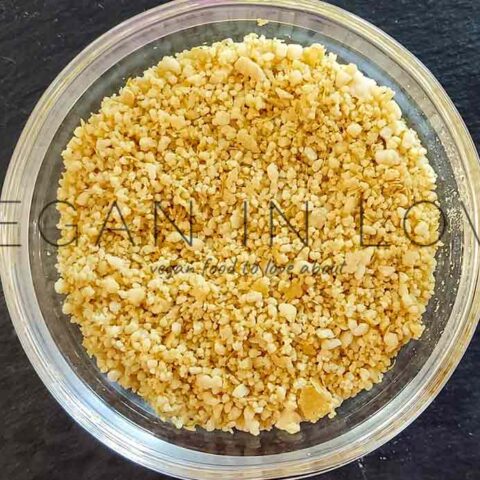 RECIPE FOR VEGAN PARMESAN CHEESE
Delicious vegan, dairy, and gluten-free parmesan cheese made with 4 ingredients in just a few minutes. Enjoy this great cheese on pasta, salads, or pizzas.
Ingredients
½ Cup of Raw cashews nuts.
2 Tbsp. of Nutritional yeast.
½ Tsp. of Garlic powder.
½ Tsp. of Himalayan salt.
Instructions
Add ½ cup of raw cashews nuts to a high-speed food processor.
Pulse the food processor, and check the texture and consistency of the raw cashew nuts until you get the desired taste*.
Then, add 2 tbsp. of nutritional yeast, ½ tsp. of garlic powder, and ½ tsp. of Himalayan salt. Pulse again to integrate the ingredients.
To store your vegan parmesan cheese, place the parm cheese in a glass/jar container with a lid and keep refrigerated in the fridge.
Notes
*I prefer a more chunky consistency, but that's optional.
**This recipe makes around 17 tbsp. of vegan parmesan cheese. 1 tablespoon could be a nice size portion to sprinkle on a one-serving portion.
Nutrition Information
Yield

17
Serving Size

1
Amount Per Serving
Calories

35
Total Fat

3g
Saturated Fat

0g
Trans Fat

0g
Unsaturated Fat

2g
Cholesterol

0mg
Sodium

51mg
Carbohydrates

2g
Fiber

1g
Sugar

0g
Protein

2g
The Nutritional values presented on this table are only estimates. The values can also vary depending on the cooking method, ingredients, product brands etc. This data was provided and calculated by Nutritionix.
YOU MIGHT ALSO LIKE…
---
---