POTATO GATEAU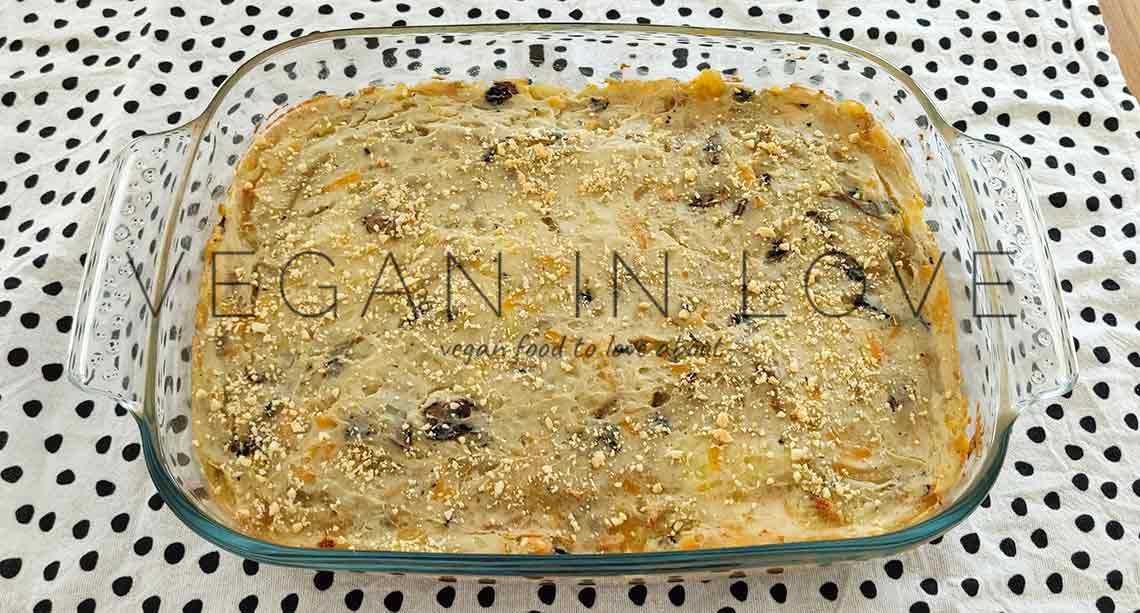 Traditionally potato gateau (Gattò di Patate/potato gattò) is an Italian recipe that has eggs, cooked ham (or other cold cuts), and mozzarella cheese. In order to make this recipe vegan and also to fit a gluten-free diet I changed a few ingredients and the result was a delicious, filling, and comforting dish. What is more, this is also a great recipe for people with celiac disease or with gluten sensitivity too.
SEASONING FOR THE POTATO GATEAU
For the purpose of seasoning this great potato gateau, I used just salt and nutmeg which goes well with the potatoes. In addition to this, there are other aromatic seasonings that can go well with this recipe too. So if you are looking to add other seasonings to this dish check the list below to get more ideas.
Fresh parsley.
Rosemary.
Chives.
Black pepper.
White pepper.
Vegan butter.
In addition to this, when you cook garlic cloves, onions, and mushrooms you can also add sauces; such as soy sauce. If you want to use it bear in mind that some soy sauces have gluten-containing ingredients; therefore, make sure that the sauce you are using is certified gluten-free.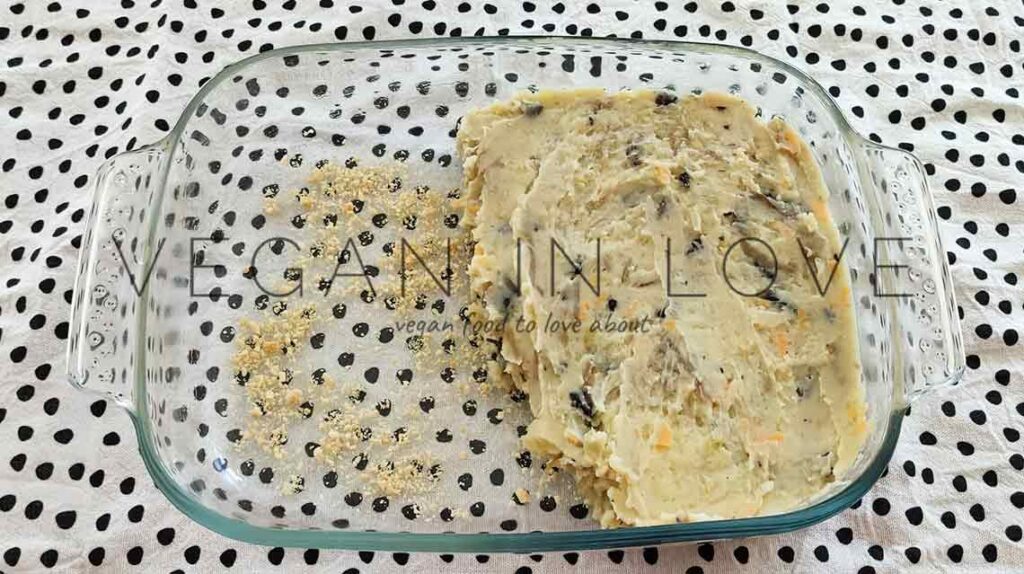 ALTERNATIVE INGREDIENTS FOR POTATO GATEAU
Although the original recipe has cold cuts I replaced them with sauté mushrooms. If you would like to make this potato gateau with vegan alternatives, nowadays you can find more and more options for meatless cold cuts. Furthermore, if you also want to keep this recipe gluten-free, make sure you check the ingredient labels as some vegan hams have gluten-containing ingredients.
Also, check if the product is made in a factory where they produce gluten-containing foods and they cannot guarantee it won't be cross-contaminated food. Some vegan colds cuts options are:
Vegan pepperoni.
Mozzarella (vegan).
Any vegan cheese that melts.
Vegan ham.
Vegan bacon.
In addition to this, you can also add more vegetables to the potato gateau filling; such as red peppers, green onions, sweetcorn, garden peas, etc.
POTATO GATEAU: TIPS AND VARIATIONS
Eggs replacement: the original recipe has eggs. For this vegan alternative, I used chickpea flour/gram flour ( which is naturally gluten-free) with milk as a binding agent. Also, you can mix the chickpea flour with cold water and you can mix it with cornstarch too. Alternatively, you can use other vegan egg replacements that you can get from the store.
Breadcrumbs: for this recipe, I didn't use the classic breadcrumbs made of wheat flour and I replaced them with chopped peanuts. Furthermore, you can use other nuts that you like; such as walnuts, pistachios, or even almonds. However, if you are allergic to nuts you can buy gluten-free breadcrumbs or make your own with gluten-free bread that you already have at home.
Serving: this delicious food can be served as a main or a single dish. For example, you can eat a single slice of potato gateau together with a portion of fresh salad. What it's more, you can also have it with roasted vegetables; such as roasted green beans, roasted Brussels sprouts, etc.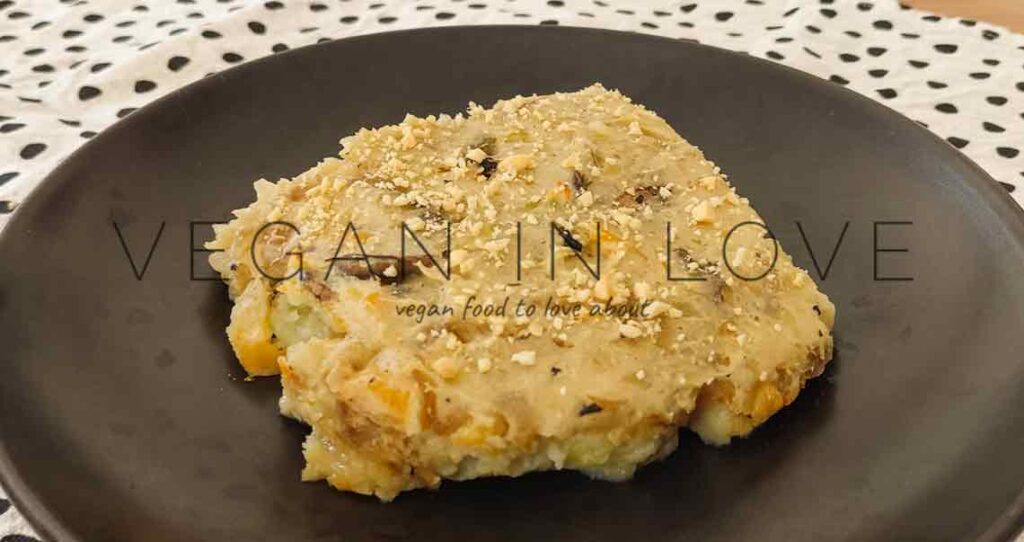 THIS POTATO GATEAU RECIPE GOES WELL WITH: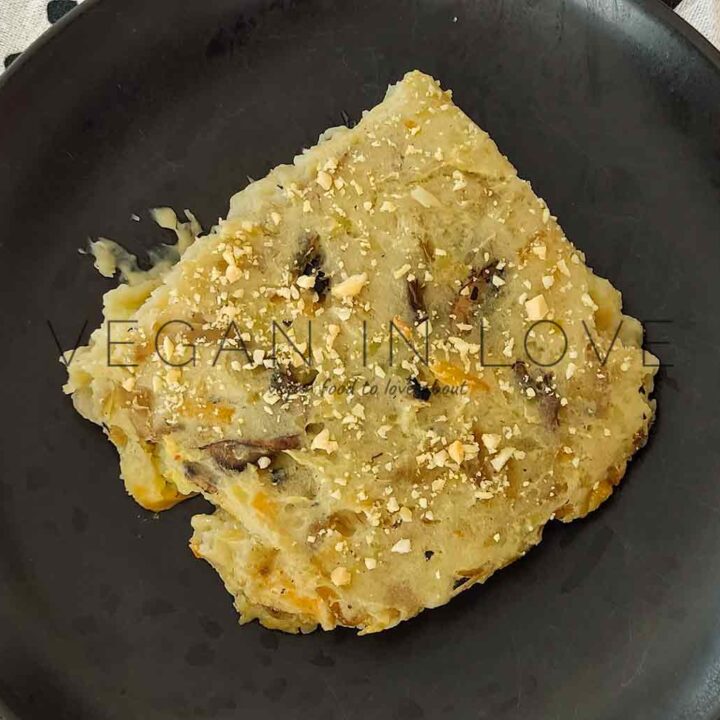 POTATO GATEAU RECIPE
Total Time:
1 hour
10 minutes
Comforting, filling, and delicious vegan and gluten-free potato gateau. This simple and warm recipe can be enjoyed together with a lovely fresh salad.
Ingredients
1 Kg. of Potatoes.
30 gr. of Chickpeas flour.
120 ml. of Plant-based milk.
2 Medium onions.
150 gr. of Mushrooms.
2 Garlic cloves.
50 gr. of Vegan cheese.
1 Tbsp. of Olive oil.
½ Tsp. of Ground nutmeg.
½ Tsp. of Himalayan salts.
30 gr. of Chopped peanuts.
Instructions
Wash, peel, and cut the potatoes into small cubes. Boil the potatoes until they are soft and tender to make a mash.
Peel and cut the onions (and garlic) into slices. Cook them in a large pot at medium heat with a pinch of salt. Add water or olive oil if necessary.
Then clean and cut the mushrooms into slices. Add them to the pot and cook for a few more minutes.
In the meantime, preheat the oven to 180 °C degrees (356 °F approx.).
Once the potatoes are cooked drain the water and make a mash with a potato masher (you can also use a fork).
Add 30 gr. of chickpea flour and pour 120 of plant-based milk into a small bowl. Mix well until you get a lump-free mixture.
Pour the chickpea mixture onto the mashed potato and integrate well. Then season to taste with salt and nutmeg.
Then add the onions, mushrooms, and grated vegan cheese. Mix well.
In a baking dish spread 1 tbsp of olive oil and sprinkle some chopped peanuts.
Add the potato gateau to the baking dish and spread evenly. Sprinkle some chopped peanuts on top, place the potato gateau in the preheated oven, and bake for 25 to 30 minutes.
When you get the cooked potato gateau ready serve warm.
Nutrition Information
Yield

6
Serving Size

1
Amount Per Serving
Calories

342
Total Fat

7g
Saturated Fat

1g
Trans Fat

0g
Unsaturated Fat

5g
Cholesterol

2mg
Sodium

236mg
Carbohydrates

61g
Fiber

6g
Sugar

8g
Protein

11g
The Nutritional values presented on this table are only estimates. The values can also vary depending on the cooking method, ingredients, product brands etc. This data was provided and calculated by Nutritionix.
MORE POTATO RECIPES
YOU MIGHT ALSO LIKE…
---
---