COUSCOUS SALAD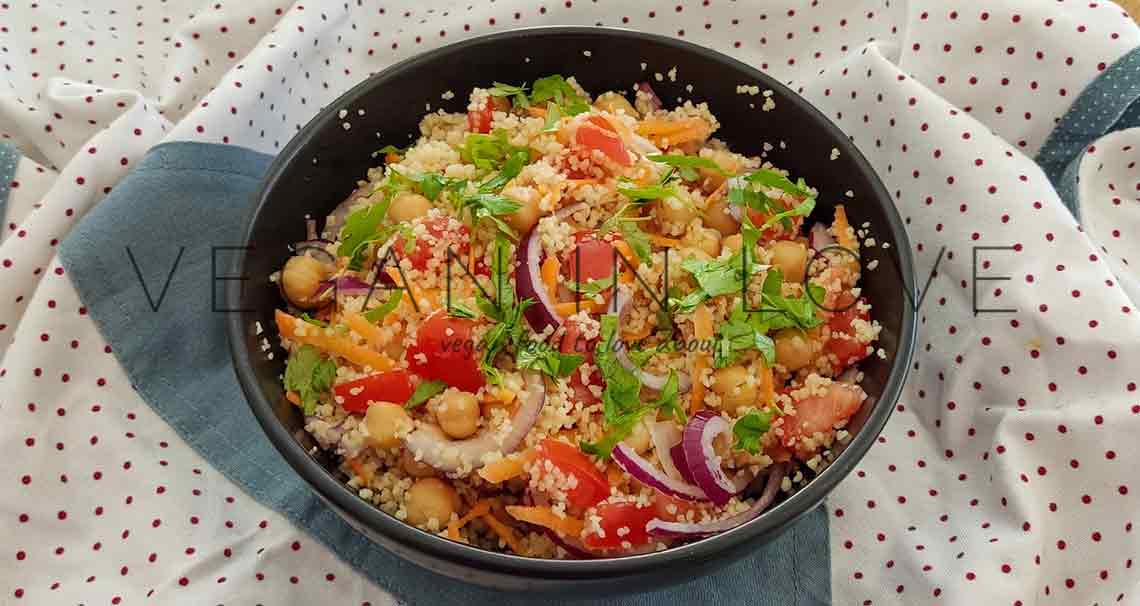 This plant-based couscous salad is just as simple as it sounds, but it really does taste great. The best part about recipes like this is that you don't have to stick to the measurements. You can substitute the tomatoes for sundried tomatoes or peppers if you'd like or use different vegetables such as fresh spinach and fresh wild rockets. With just a few ingredients that you might already have at home and creativity, you can have the recipe that suits your taste buds the most and get a delicious meal.
This couscous salad is a great recipe to prepare in just a few minutes, you can enjoy it as a main course, and also it can be a delicious side dish. Also is ideal if you need to bring a healthy dish to a party. This plant-based salad is very versatile and can be enjoyed on many occasions. Furthermore, you can store it in an air-tied container and take it with you to work or school.
Additionally, this vegan couscous salad is budget-friendly as its ingredients are affordable too, so no need to break the bank when preparing a delicious and healthy vegan dish.
COUSCOUS SEASONING
This vegan couscous salad recipe is made with fresh ingredients generously tossed in a simple homemade dressing. The various flavors come together to create a delicious, healthy, and comforting dish.
Although you can just season this delicious Mediterranean couscous salad with salt and pepper, there are many other seasoning ingredients that will enhance the flavors of the fresh ingredients.
Additionally, you can cook the couscous with vegetable broth instead of just boiling water, by doing this you can give a great flavor to season the couscous.
So if you want more yummy seasoning ideas besides just salt and pepper to add to this lovely vegan salad check the list below.
SEASONING IDEAS
Lemon zest.
Lime juice.
Black pepper.
Garlic powder and/or garlic salt.
Balsamic vinegar.
Soy sauce.
Sesame oil.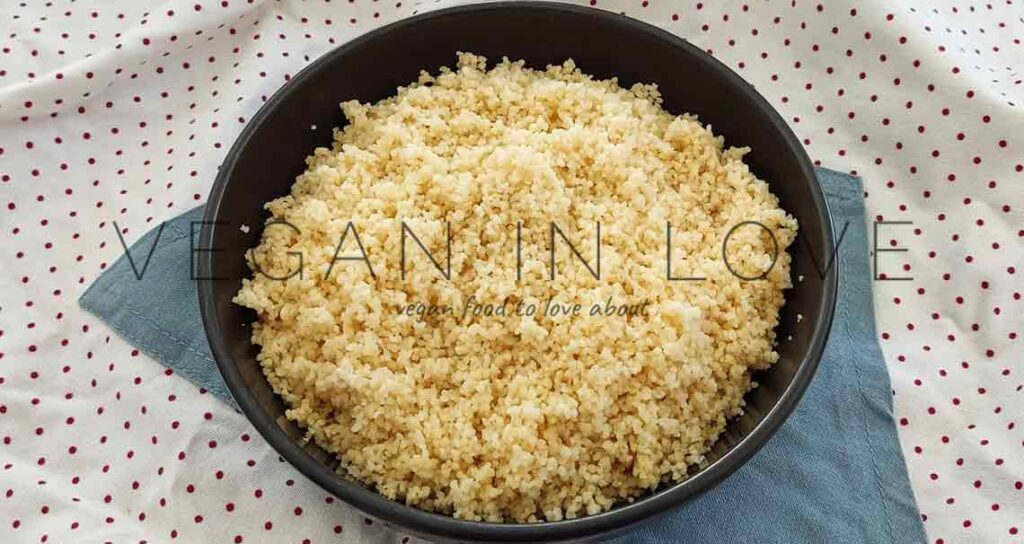 EXTRA INGREDIENTS FOR COUSCOUS SALAD
In order to prepare this delicious and healthy meal, I used the main ingredient wheat couscous; however, you can use the couscous of your choice; such as pearl couscous or any other grain couscous. As well as these options with couscous, you can also add other fresh vegetables or even fruit to this healthy salad; for example, pomegranate. Bear in mind with this option the cooking time may increase unless you are using leftover veggies.
EXTRA INGREDIENTS
Cucumber.
Raisins.
Black or green olives.
Peppers, such as red, yellow, or green.
Spring onions.
Beans.
Avocados.
Nuts; such as cashew nuts and pistachios.
Pumpkin seeds.
Roasted vegetables; such as Roasted broccoli and roasted garlic.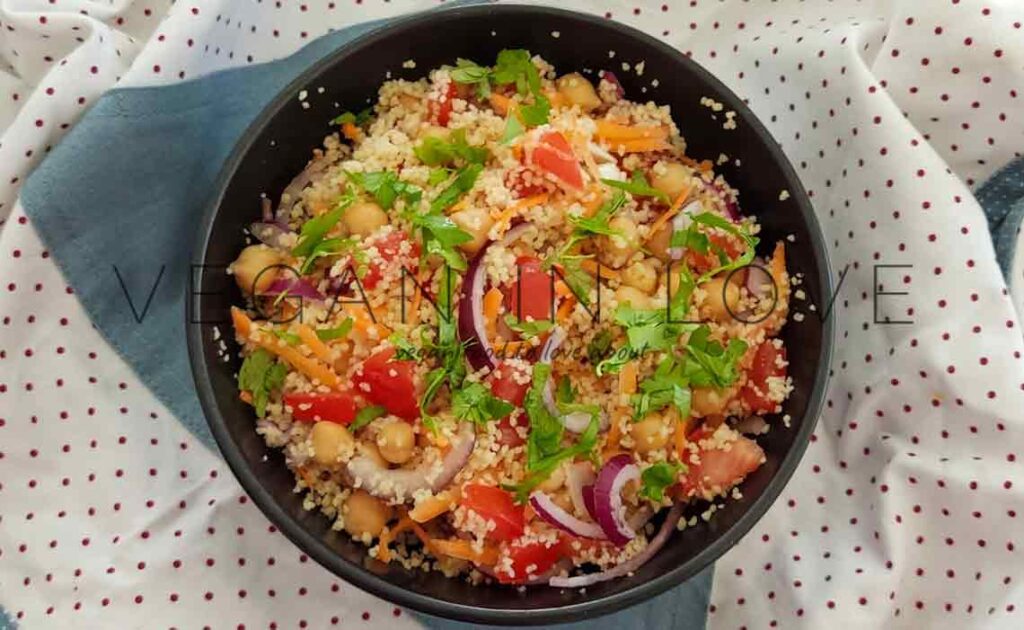 THIS RECIPE GOES WELL WITH: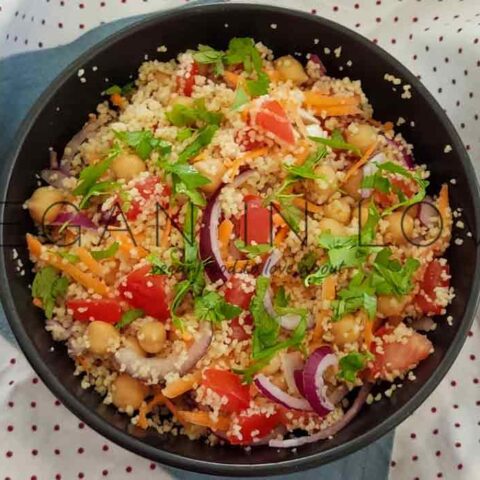 COUSCOUS SALAD RECIPE
Couscous salad recipe full of flavor & made in a few minutes. This mouth-watering vegan salad is refreshing, fulfilling, & packed with loads of nutrients.
Ingredients
1 Cup of Couscous.
1 Cup of boiling water.
2 Large tomatoes.
1 Large red onion.
1 Tin/can of Chickpeas.
½ Lemon (juice).
2 Tbsp. of Olive oil.
½ Tsp. Himalayan salt.
1 Bunch of Chopped fresh parsley.
Instructions
Place 1 cup of couscous in a large bowl and pour 1 cup of boiling water. Then, cover the bowl with a plate and let the couscous to absorb the water for around 3 to 5 mins*.
Peel and slice the red onion.
Dice the tomatoes (I removed the seeds but that's optional).
Once the couscous absorbs the water add the sliced onions and tomatoes. Then drain and rinse the chickpeas and add them to the couscous. Mix well.
In a small bowl pour ½ lemon juice, 2 tbsp. of olive oil and ¼ Himalayan salt. Mix well.
Pour the dressing into the couscous and mix.
Wash a bunch of fresh parsley and chopped them.
Serve and sprinkle chopped fresh parsley**.
Notes
*Check package instructions.
**You can also sprinkle freshly chopped coriander.
Nutrition Information
Yield

4
Serving Size

1
Amount Per Serving
Calories

257
Total Fat

8g
Saturated Fat

1g
Trans Fat

0g
Unsaturated Fat

7g
Cholesterol

0mg
Sodium

210mg
Carbohydrates

39g
Fiber

6g
Sugar

6g
Protein

8g
The Nutritional values presented on this table are only estimates. The values can also vary depending on the cooking method, ingredients, product brands etc. This data was provided and calculated by Nutritionix.
RELATED RECIPES
YOU MIGHT ALSO LIKE…
---
---