LENTIL BOLOGNESE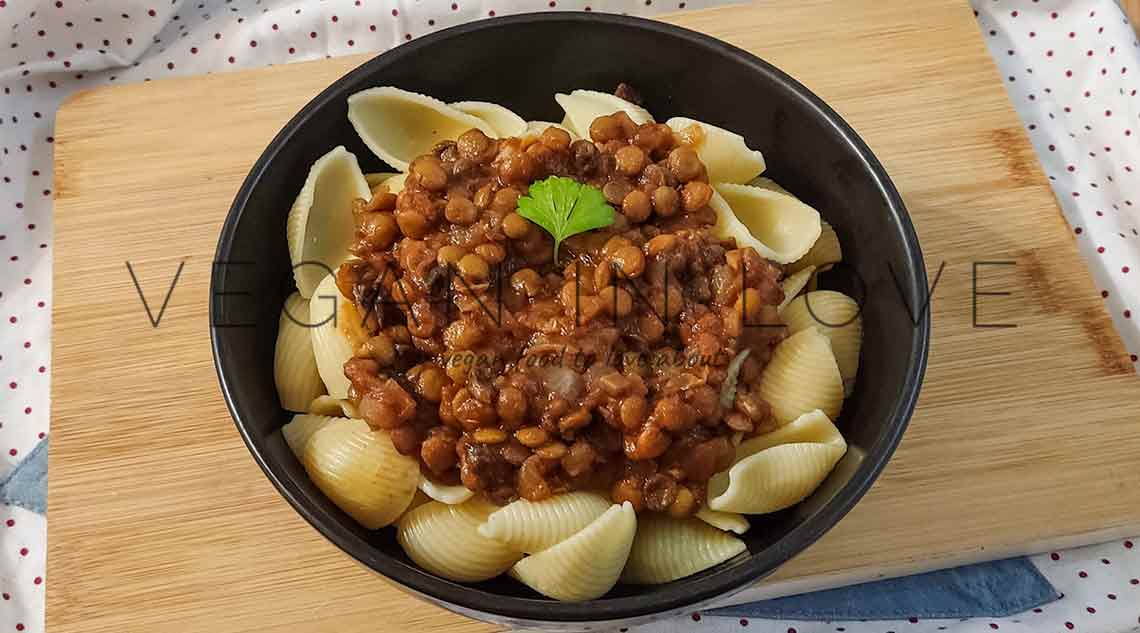 If you are planning to eat less meat or you already stopped eating meat and you want to try a plant-based pasta dish, then this is a wonderful recipe for you. Moreover, if you like eating lentils and lentil recipes you can make lentil Bolognese sauce; you will only need to swap the ground beef with the dry lentils of your choice.
LENTIL BOLOGNESE SEASONING
To season this lentil Bolognese recipe you can use some classic ingredients that I used here; such as oregano and paprika. As this is an oil-free lentil Bolognese sauce I saute the onions with salt and water, but you can sauté the onions and garlic cloves with olive oil if you want to give an extra flavor. What is more, you can also add other absolutely delicious seasonings to personalize your vegetarian Bolognese sauce. To get more inspiration on other aromatic ingredients check the following list.
SEASONING
Red pepper flakes.
Italian seasoning.
Finely chopped chili.
Fresh basil.
Maple syrup.
Soy sauce.
Balsamic vinegar.
Marinara sauce.
Veggie broth/vegetable broth.
Red wine.
Nutritional yeast.
Additionally, when you cook the lentils instead of just using plain water with a pinch of salt, you can cook the lentils in a vegetable broth to give extra flavor to this easy vegan bolognese sauce.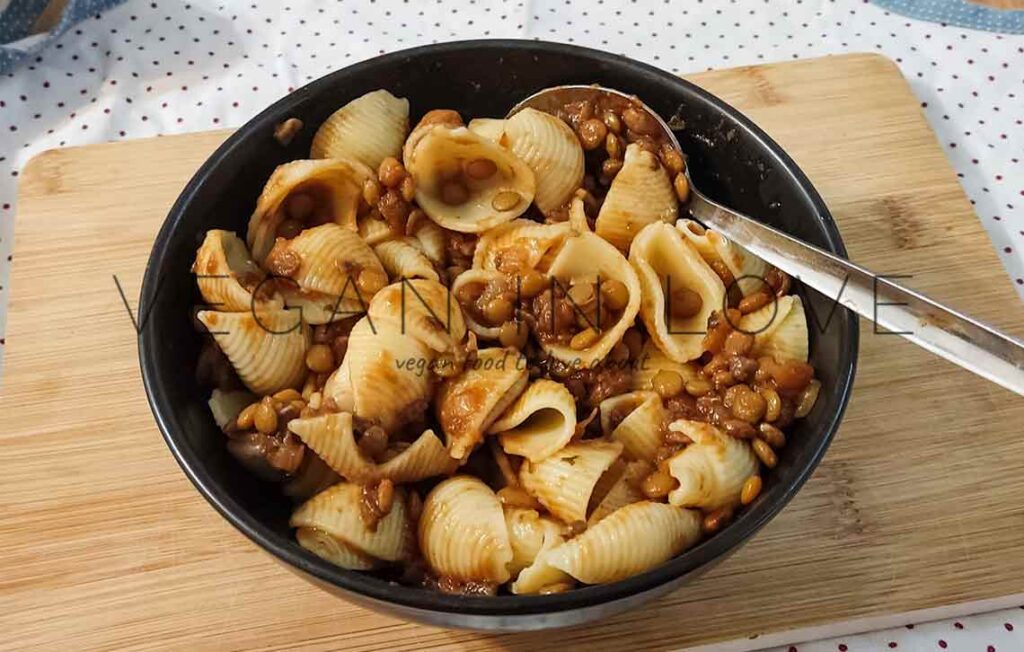 OTHER INGREDIENTS FOR LENTIL BOLOGNESE
This oil-free vegan lentil Bolognese sauce was made with tomato passata; however, you can use other tomatoes to prepare this tomato sauce. Therefore, you have more options to cook this sauce; such as crushed tomatoes, canned tomatoes, chopped tomatoes, etc. Then, you can also use a food processor if you want to get a creamy tomato sauce before adding in the cooked lentils.
Additionally, you can also garnish this Bolognese sauce with fresh cherry tomatoes cut in half.
TOMATO SAUCE
Sun-dried tomatoes.
Diced tomatoes.
Tomato paste.
Canned tomatoes.
Fresh cherry tomatoes.
VEGETABLES
Chopped carrot.
Chopped celery.
Peppers; such as green, red and yellow.
Finely chopped green/spring onions.
Regarding the lentils, when I prepared this vegan lentil Bolognese sauce I used green lentils, but you can try other lentil types as well. Moreover, you can cook this lentil Bolognese recipe by combining different kinds of lentils; for example green or brown lentils, and/or brown or black lentils. Other lentils that you can try with this great recipe are:
Brown lentils.
Red lentils.
Black lentils.
For the pasta, even though this vegan Bolognese recipe was not made with gluten-free pasta, you can use your favorite pasta; which can be a gluten-free pasta, and then add the vegan lentil Bolognese on top. Furthermore, you can use plant-based spaghetti squash and/or zucchini noodles to make this recipe gluten-free.
Lastly, you can also enjoy this great recipe with rice and/or polenta.
THIS LENTIL BOLOGNESE RECIPE GOES WELL WITH: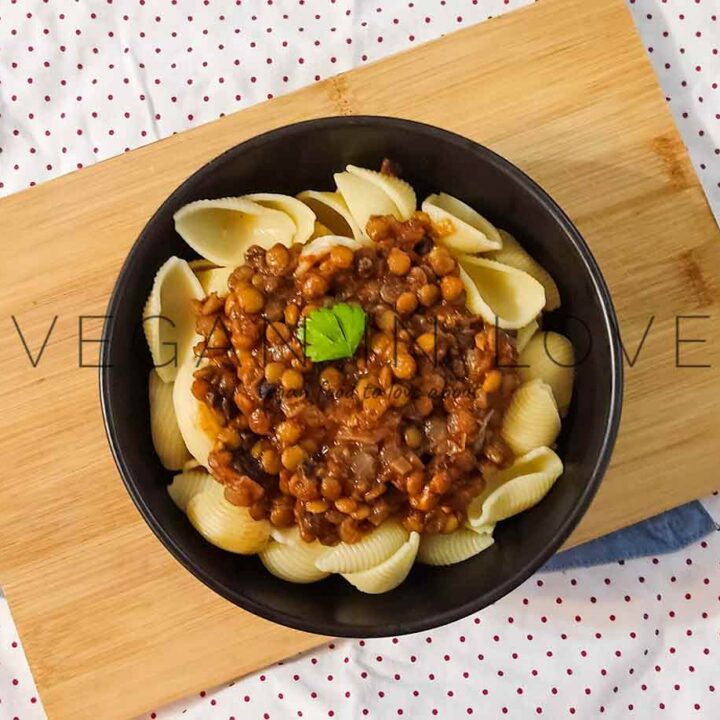 LENTIL BOLOGNESE VEGAN
Total Time:
1 hour
5 minutes
Delicious, healthy, and oil-free lentil bolognese recipe easy and simple to make. Enjoy this great vegan main dish with a fresh and nutritious green salad.
Ingredients
pasta
1.5 Liters of Water.
1 Pinch of salt.
250 gr. of Pasta.
Vegan Bolognese sauce
150 gr of Uncooked Green lentils.
400 ml of Water.
2 Garlic cloves.
2 Large onions.
100 gr. of Mushrooms.
400 ml. of Passata.
¼ Tsp. of Himalayan salt.
¼ Tsp. of Sodium bicarbonate.
½ Tsp. of Garlic powder.
½ Tsp. of Paprika.
½ Tsp. of Parsley.
½ Tsp. of Oregano.
1 Bay leaf.
Instructions
PASTA
Pour 1.5 liters of water into a saucepan with a pinch of salt and bring to a boil.
Add the pasta of your choice and stir well. Cook the pasta to your taste and according to the cooking time in the package.
When the pasta is cooked drain the pasta.
BOLOGNESE SAUCE
In a medium saucepan cook the green lentils for around 5 to 10 minutes, you don't have to cook them fully as they will continue cooking with the sauce.
In a pan at medium heat sauté the chopped onion and garlic cloves with salt and water until tender.
Clean and cut the mushroom and add them to the pan.
Pour the passata and add ¼ tsp. of sodium bicarbonate. Stir well.
Season to taste with: ¼ tsp. of Himalayan salt, ½ tsp. of garlic powder, ½ tsp. of paprika, ½ tsp. of parsley, ½ tsp. of oregano, and 1 bay leaf.
Cook the Bolognese sauce at medium-high heat for around 10 minutes.
Pour the cooked lentils into the sauce including the water, don't drain the lentils.
Cook the sauce until the lentils are soft and tender. Adjust seasonings if necessary.
ASSEMBLE
Serve this as you would normally do with any pasta dishes that you have.
Lastly, you can sprinkle some vegan parmesan cheese on top (for the recipe check the link in the notes section).
Notes
For the vegan parmesan cheese recipe, click here.
Store this lovely Bolognese sauce in an airtight container in the fridge.
Nutrition Information
Yield

2
Serving Size

1
Amount Per Serving
Calories

365
Total Fat

2g
Saturated Fat

0g
Trans Fat

0g
Unsaturated Fat

1g
Cholesterol

0mg
Sodium

307mg
Carbohydrates

72g
Fiber

12g
Sugar

9g
Protein

17g
The Nutritional values presented on this table are only estimates. The values can also vary depending on the cooking method, ingredients, product brands etc. This data was provided and calculated by Nutritionix.
RELATED RECIPES
YOU MIGHT ALSO LIKE…
---
---