APPLE CHIPS HOMEMADE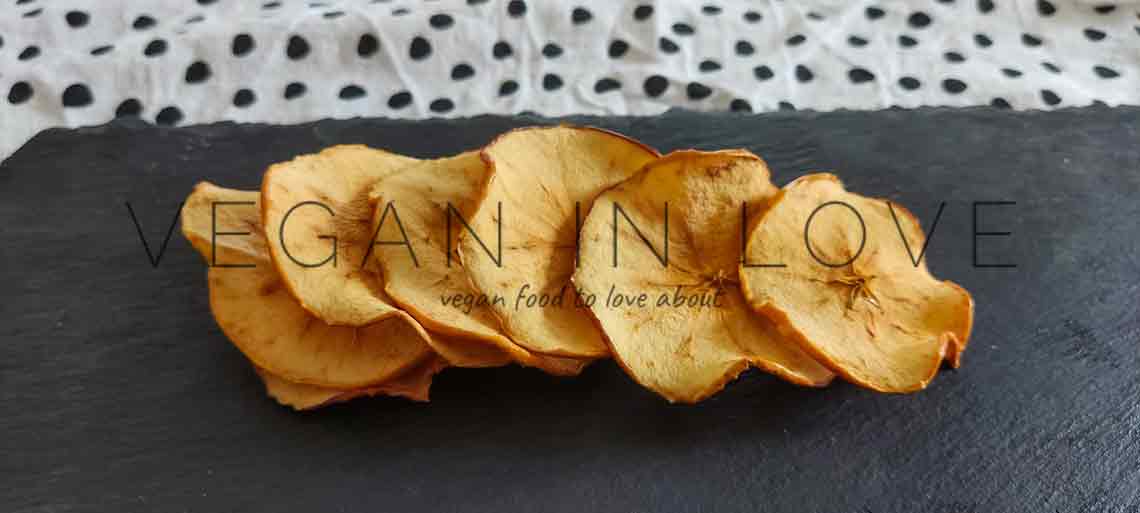 WHAT DO I NEED TO MAKE APPLE CHIPS?
Making homemade apple chips is really simple and easy. Also, no fancy equipment is required. First of all, you have to select the apple(s) you want to use, it can be your favorite apples have one variety or you can use more than one type of apple. Moreover, when I made these baked apple chips I used a ripe red delicious apple; therefore, this is a great idea to make when you have loads of apples or well-ripe apples and don't know what to make with them.
Besides a few ideas of which apples you can use, here you will also find seasoning ingredients that you might like in order to make a good snack.
APPLES
SEASONING/FLAVORING FOR APPLE CHIPS RECIPE
Ground cinnamon.
Ground nutmeg.
Cloves.
Granulated sugar.
Maple syrup.
Agave.
Although I haven't added sugar or any other seasoning to these apple chips if you want to make a sweet crisp apple chips you can sprinkle some sugar or sweetener of your choice. Once you slice the apples and place them on a baking sheet add any suggested flavoring and bake them in the oven. As a result, you will get a perfect snack that is far better than the store-bought ones.
HOW LONG DO I BAKE THE APPLE CHIPS?
When I made these apple chips I cut them in thin slices. Ideally, cut your apples as thin as possible, and depending on how broad they are will vary the baking time. For example, if you like this great healthy snack to be more crispy instead of baking them for 50 minutes bake them for 1hr. Furthermore, another important point regarding baking time is the oven you will use to make them. I have an electric fan-assisted oven and baked the slice apples for 50 minutes. If you are using a different type of oven baking times can vary; therefore, when you make this recipe for the first time check the slice apples more often and turn them if necessary.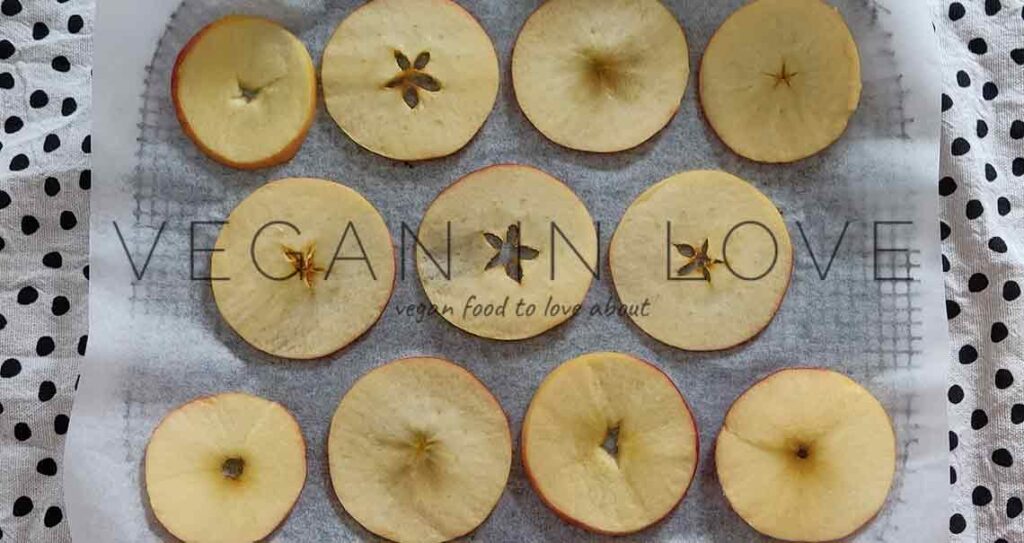 USES OF APPLE CHIPS
Even though you can enjoy these delicious apple slices as sweet chips, you can also enjoy them with other recipes. Furthermore, you can use them and add them as slices or you can also cut them in small pieces. To do this, simply add them to your favorite recipes as an ingredient or as decoration on top.
Lastly, if you prefer not to eat the apple skin you can peel your apples. Also, in order to do so, it's better to peel them before cutting the apples into slices. You can do it after your apple chips are baked and cooled down, however, it may be more complicated.
STORING APPLE CHIPS
After your homemade apple chips are baked to your taste, let the crisp apples cool at room temperature. Then, ideally, place them in an airtight container to keep the crispy texture to last longer.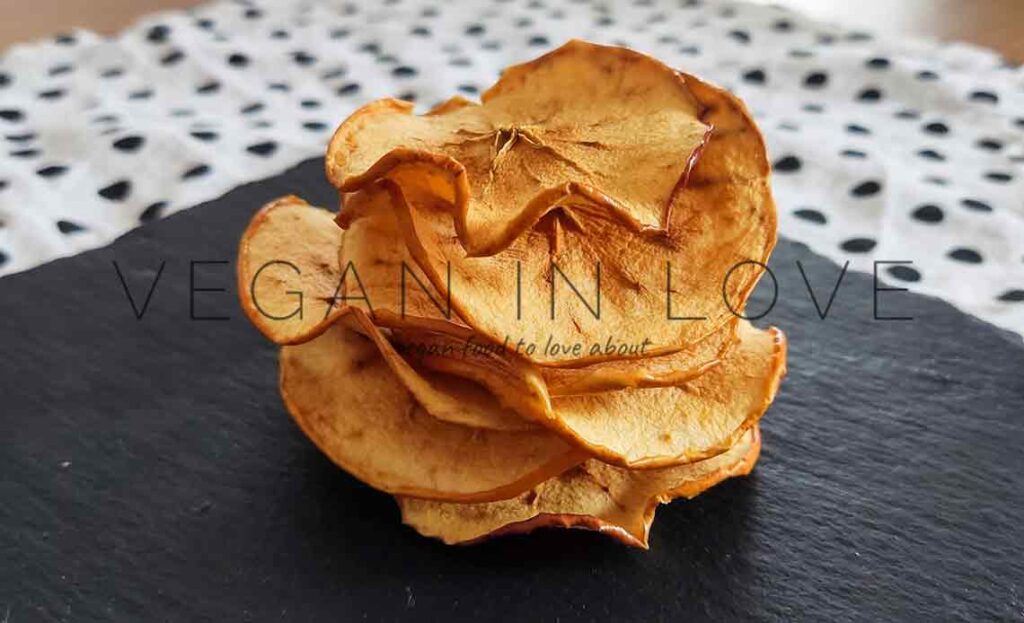 THESE BAKED APPLE CHIPS GO WELL WITH: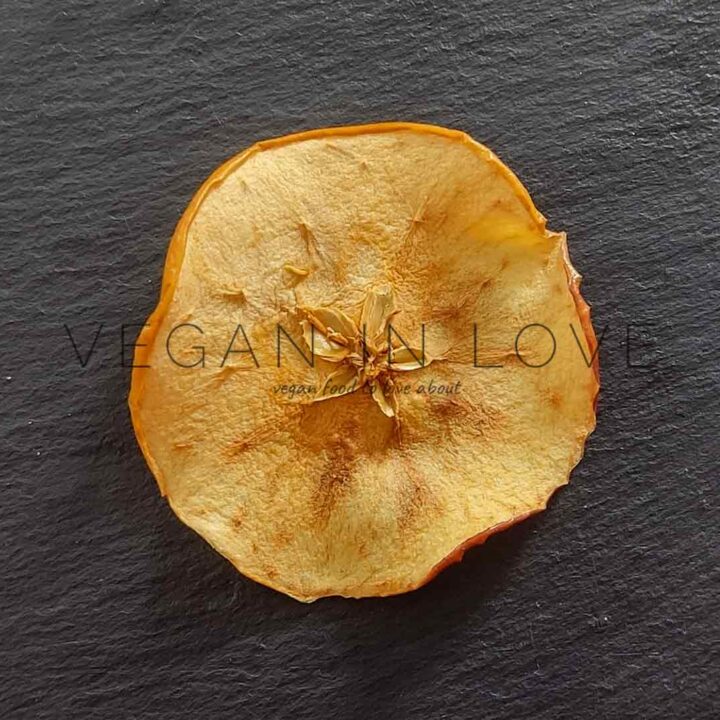 BAKED APPLE CHIPS RECIPE
A delicious and healthy sugar-free snack made of just red apples. These Apple chips are a simple and easy snack that is ideal to take with you for work or at school.
Instructions
Preheat oven to 200 °F (or around 100 °C).
Place a parchment paper on a baking sheet. If you don't have parchment paper you can also use aluminum foil, silicone baking mat, or silpat mat. For the number of apple slices I got, I used two baking sheets.
Wash the apple and remove the stem (if you wish you can also use an apple corer) and with a mandolin slicer or a very sharp knife thinly slice the apples (the thinner the better). Then, remove the seeds.
Place the thinly sliced apples in a single layer on the lined baking sheet. After you place the apples horizontally you can add sugar or sprinkle cinnamon (I preferred them plain).
Place the prepared baking sheets in the preheated oven and bake evenly for around 25 minutes at low heat. Then, remove the baking sheets from the oven and turn them over and continue baking for another 25 minutes.
After this, let the apples cool for a couple of minutes and check the consistency or crispiness. If you want more or extra crispy apple slices, then place them back in the oven until these apple chips are crispy to your taste.
Once you have the baked apple chips done to your taste let them cool completely at room temperature. Lastly, you can place them in a small bowl, glass jar, or airtight container.
Notes
Baking times for these baked apple chips can vary depending on the oven you are using and how crispy you want them. For this recipe, I use an electric fun-assisted oven.
Nutrition Information
Yield

18
Serving Size

1
Amount Per Serving
Calories

5
Total Fat

0g
Saturated Fat

0g
Trans Fat

0g
Unsaturated Fat

0g
Cholesterol

0mg
Sodium

0mg
Carbohydrates

1g
Fiber

0g
Sugar

1g
Protein

0g
The Nutritional values presented on this table are only estimates. The values can also vary depending on the cooking method, ingredients, product brands etc. This data was provided and calculated by Nutritionix.
RELATED RECIPES
YOU MIGHT ALSO LIKE…
---
---