QUESADILLAS VEGAN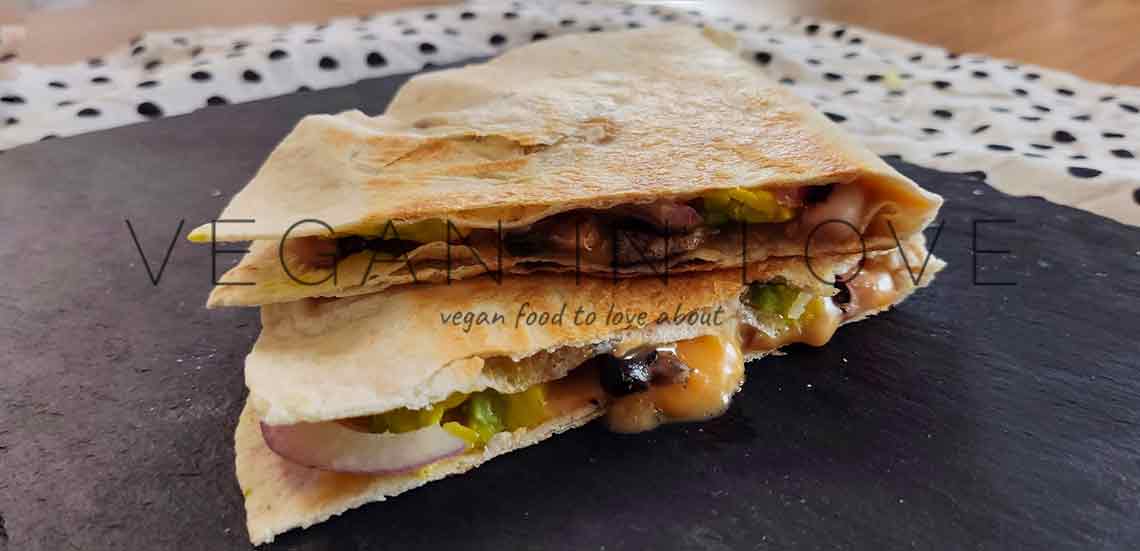 This is one of my favorite vegan quesadilla recipes, as is really easy and simple to make. With just a few vegan-friendly ingredients you can have vegan quesadillas in minutes! Therefore, in order to make vegan quesadillas can be really easy as you can also use ingredients that you already have at home.
VEGAN QUESADILLAS SEASONING
When seasoning this vegan quesadilla recipe you will find out that is simple and easy. For me, one of the most important things for a veggie quesadilla would be to use fresh seasoning ingredients which go really well. Check the following list of seasoning to inspire you.
Chili powder.
Chopped cilantro.
Cayenne pepper.
Fresh herbs.
Olive oil.
Lemon juice.
Nutritional yeast.
VEGAN QUESADILLAS FILLINGS
You can have these absolutely delicious vegan quesadillas with many yummy ingredients. If you are hosting a breakfast quesadilla or a plant-based dinner you can offer a great variety of filling ingredients; so your guests can make their own vegan quesadillas according to their personal and dietarian requirements/preferences.
Sweet potato.
Smoked black beans/canned black beans.
Frozen corn or fresh sweet corn.
Fresh baby spinach/fresh spinach.
Refried beans.
Vegan sour cream.
Red bell peppers.
Leftover filling ingredients.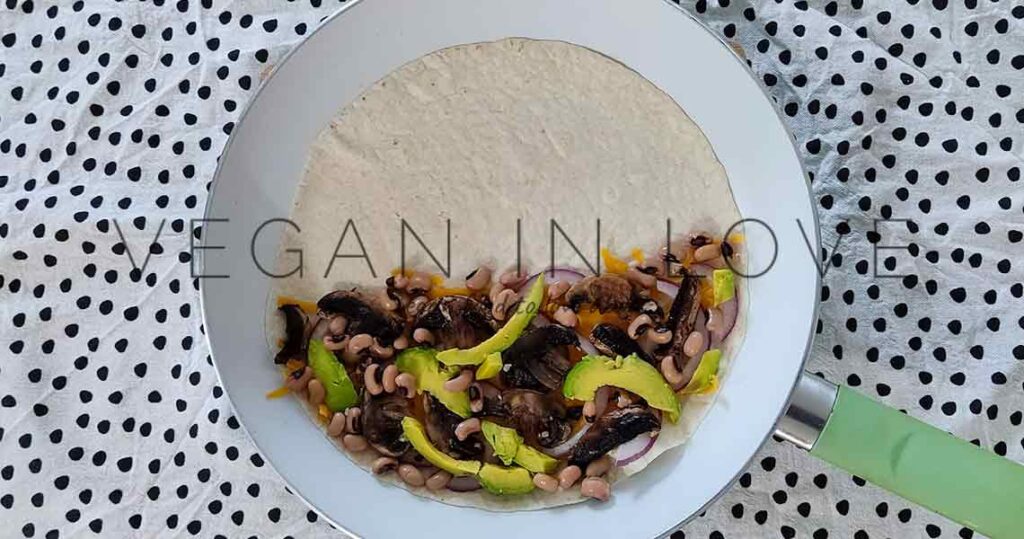 VEGAN CHEESE FOR QUESADILLAS
One of the main ingredients to make traditional quesadilla is cheese. In order to make this Mexican-inspired recipe vegan we have to find suitable cheese alternatives to enjoy this delicious food. So, if you are missing eating quesadillas you can try making this cheesy vegan quesadillas recipe. Moreover, you have two options, you can prepare your own homemade vegan cheese or you can get store-bought vegan cheese. For this recipe, I used store-bought cheese, but you can use the one you prefer.
VEGAN CHEESE ALTERNATIVES
Vegan Mexican cheese.
Vegan mozzarella.
Additionally, you can also use vegan parmesan cheese. Although this vegan cheese won't melt it can add a cheesy delicious flavor too. Also, if you want to make vegan quesadillas nut-free bear in mind that this vegan cheese and the cashew cheese are made with nuts. If you want to make some of the vegan cheese options listed here, just click on the one you like to get the cheese recipe.
*This vegan cashew cheese will require additional time to make, as you have to soak cashews for around 2hr and you will need a high-speed food processor to make it.
GLUTEN FREE QUESADILLAS
Although these vegan quesadillas were made with regular vegan wheat tortillas/flour tortillas, you can always make this recipe using other options; such as gluten-free tortillas. Furthermore, you can use corn tortillas. Lastly, you can buy store-bought vegan gluten-free tortillas or make your own.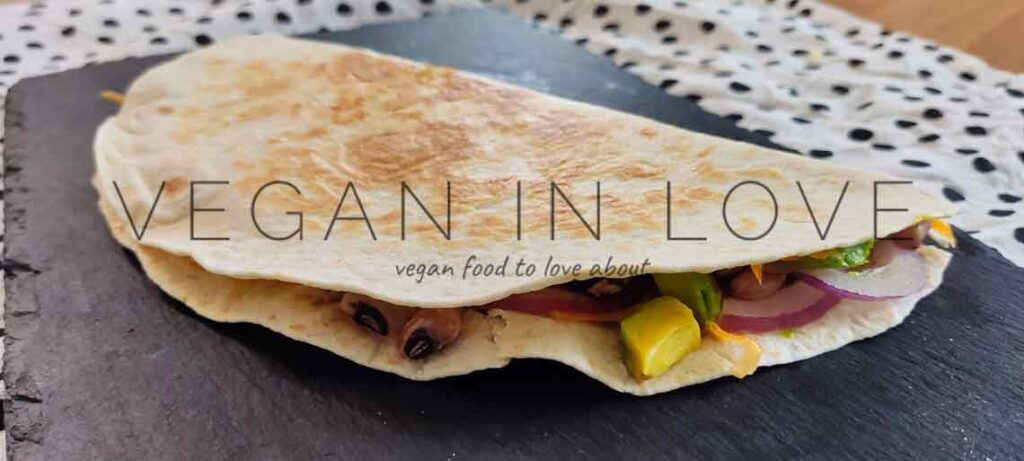 THIS RECIPE GOES WELL WITH: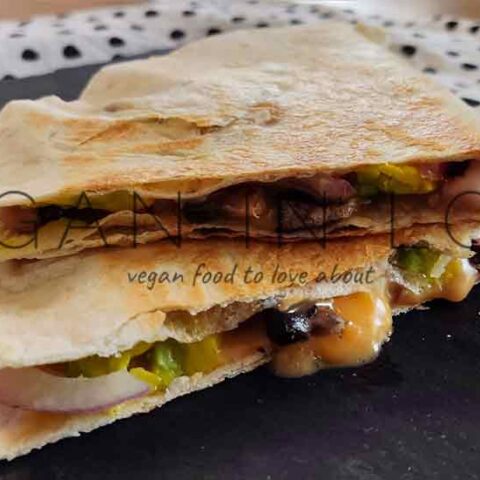 VEGAN QUESADILLAS
Delicious and super easy to make these vegan quesadillas. Ideal to eat at parties and family gatherings where everyone can make their own quesadilla version.
Ingredients
2 Tortillas wraps.
1 Avocado.
½ Red onion.
100 gr. of Mushrooms.
60 gr. of Vegan cheese.
4 Tbsp. of Canned black eyes beans.
A Pinch of Salt.
Instructions
Clean and slice the mushroom and sauté them in a skillet over medium heat with a pinch of salt. This is an oil-free vegan quesadilla, but if you want you can use olive oil.
Place a large skillet over medium heat. Then when with the hot skillet place one tortilla.
Add avocado slices, red onion slices 30 gr. of grated vegan cheese, mushrooms, and the beans on half of the tortilla.
Fold the tortilla and cook this delicious vegan quesadilla until the flour tortillas get golden brown. Then flip carefully (you can use a spatula) and cook the other side of the tortilla until golden brown.
Once your vegan quesadilla is done to your taste place it on a plate and serve warm. You can also eat this great recipe with more vegan appetizers or plant-based recipes.
Repeat steps 2, 3, and 4 with the remaining tortillas.
Nutrition Information
Yield

2
Serving Size

1
Amount Per Serving
Calories

566
Total Fat

25g
Saturated Fat

5g
Trans Fat

0g
Unsaturated Fat

18g
Cholesterol

0mg
Sodium

796mg
Carbohydrates

75g
Fiber

12g
Sugar

13g
Protein

16g
The Nutritional values presented on this table are only estimates. The values can also vary depending on the cooking method, ingredients, product brands etc. This data was provided and calculated by Nutritionix.
YOU MIGHT ALSO LIKE…
---
---