ROASTED GARLIC IN OVEN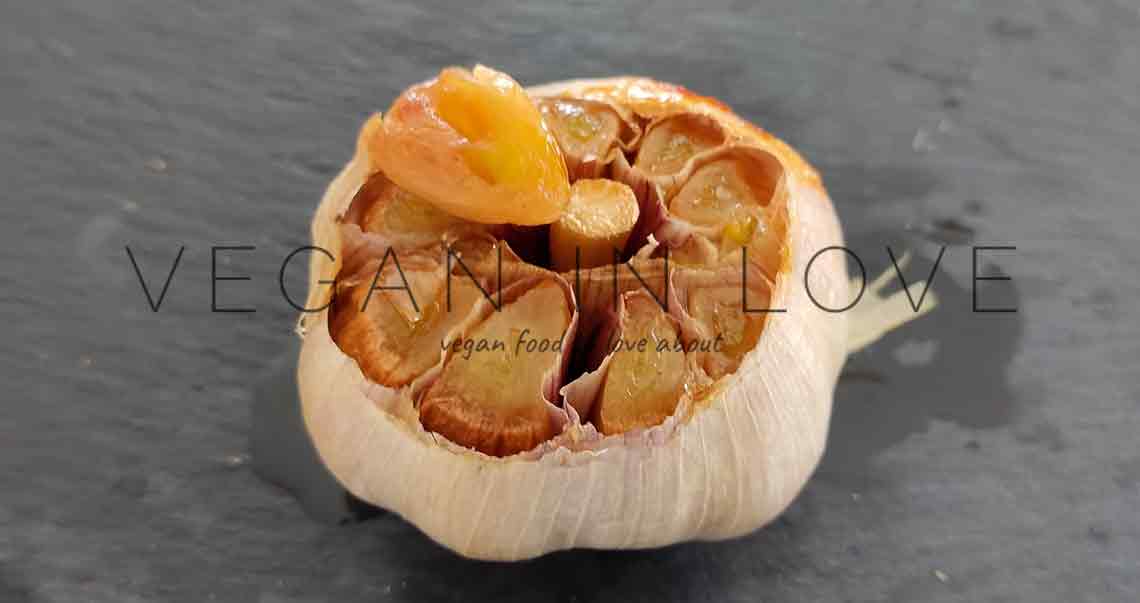 This roasted garlic in the oven is a great recipe to prepare with minimum effort and only using 3 ingredients. For this recipe, you will need whole heads of garlic and they also have to be raw garlic bulbs. Furthermore, this aromatic and flavorful roast garlic is really versatile and you can enjoy it with many dishes on many occasions. What is more, you can have these affordable roasted garlic cloves as a starter, with a side dish, and together with the main dish. So If you have never tried roasted garlic, now is the time!
GARLIC SEASONING
Although seasoning this roasted garlic recipe is super simple with just olive oil and Himalayan or sea salt, you can always add more spices and herbs. If you want to add more flavors to this recipe check the following list for more ideas.
Black pepper.
White pepper.
Onion powder.
Smoked Paprika.
Soy sauce.
Chopped fresh herbs; such as rosemary and parsley.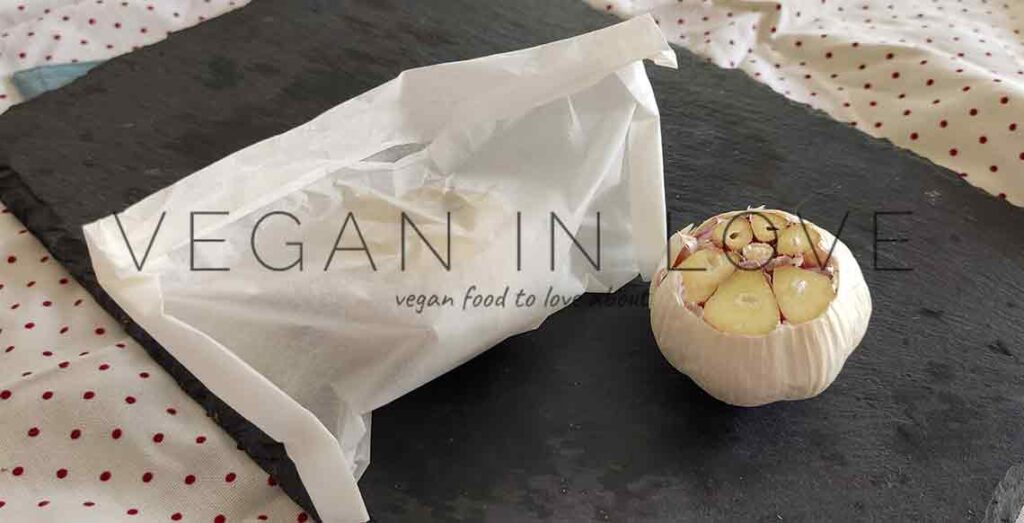 WHERE TO USE ROASTED GARLIC?
Roasted garlic is an easy homemade vegan recipe you will enjoy with your friends and family and the best part is that you can eat it with anything you like. Moreover, roasted garlic cloves have a sweet, buttery flavor with a creamy texture and there are many ways to enjoy it. We use it as a spread on bread or crackers, which also works great with mashed potatoes, pasta, and more. So if you are looking for more ideas on where to enjoy this delicious recipe, check the list below.
Additionally, you can easily prepare a roasted garlic paste with a fork and use this as a spread on toasts, wrap, bread, sandwiches, and many more; for example:
ROASTED GARLIC TIPS:
Heads of garlic: when choosing the garlic bulbs make sure that the garlic cloves don't have sprouts as this will be more difficult to remove after roasting the head of garlic.
Oil: for this recipe, I used olive oil, but you can use any other oil of your choice. Furthermore, you can use vegan butter or margarine. If you prefer an oil-free option, you can avoid this ingredient or replace it with maple syrup, just drizzle 1 tsp on top of the garlic bulb.
Roasting: it is important to wrap the garlic bulb when preparing this recipe. I used non-stick baking paper or parchment paper. However, you can also use aluminum foil.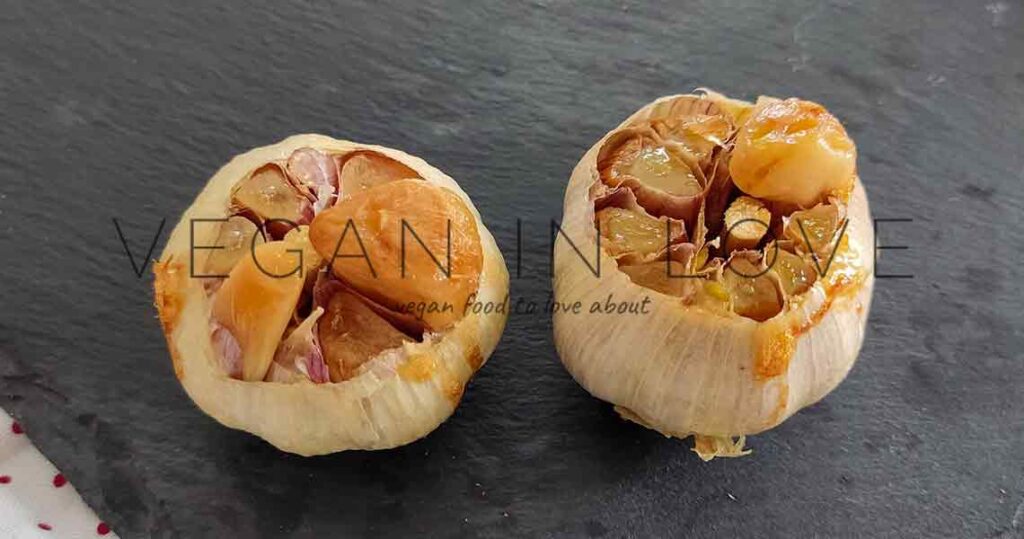 THIS RECIPE GOES WELL WITH: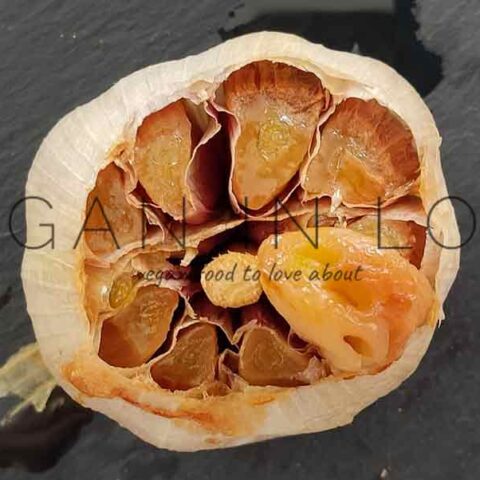 ROASTED GARLIC IN OVEN
Delicious, simple, and super easy to make this roasted garlic recipe. This is a great recipe to enjoy with many dishes, also you can eat it as a paste or spread.
Ingredients
2 Garlic bulbs.
2 Tsp. of Olive oil.
1 Pinch of Himalayan salt.
Instructions
Preheat the oven to 400 °F degrees (180/200 °C approx.).
With a sharp knife cut the top of the whole heads of garlic.
Drizzle with olive oil, around 1 tsp of oil, and sprinkle 1 pinch of salt.
Wrap the head of garlic with parchment paper (or a piece of foil/aluminum foil).
Place the garlic on a baking tray and roast in the center of the oven for 40 minutes or until the garlic gets golden and soft.
Remove from the oven and let the garlic cool down at room temperature.
Peel your roasted garlic cloves, then you can add them to your favorite food.
If you wish you can prepare a mashed roasted garlic paste until you get a creamy and soft consistency. Then spread this delicious paste on bread.
Lastly, you can store your roasted garlic cloves or paste in an airtight container and keep it refrigerated.
Notes
Cooking times can vary depending on the oven you are roasting your raw garlic cloves. If you wish, you can check your head garlic at half of the cooking time (20 minutes) and adjust the time if necessary.
Nutrition Information
Yield

2
Serving Size

1
Amount Per Serving
Calories

44
Total Fat

5g
Saturated Fat

1g
Trans Fat

0g
Unsaturated Fat

4g
Cholesterol

0mg
Sodium

49mg
Carbohydrates

1g
Fiber

0g
Sugar

0g
Protein

0g
The Nutritional values presented on this table are only estimates. The values can also vary depending on the cooking method, ingredients, product brands etc. This data was provided and calculated by Nutritionix.
RELATED RECIPES
YOU MIGHT ALSO LIKE…
---
---