SAUTEED PEPPERS AND ONIONS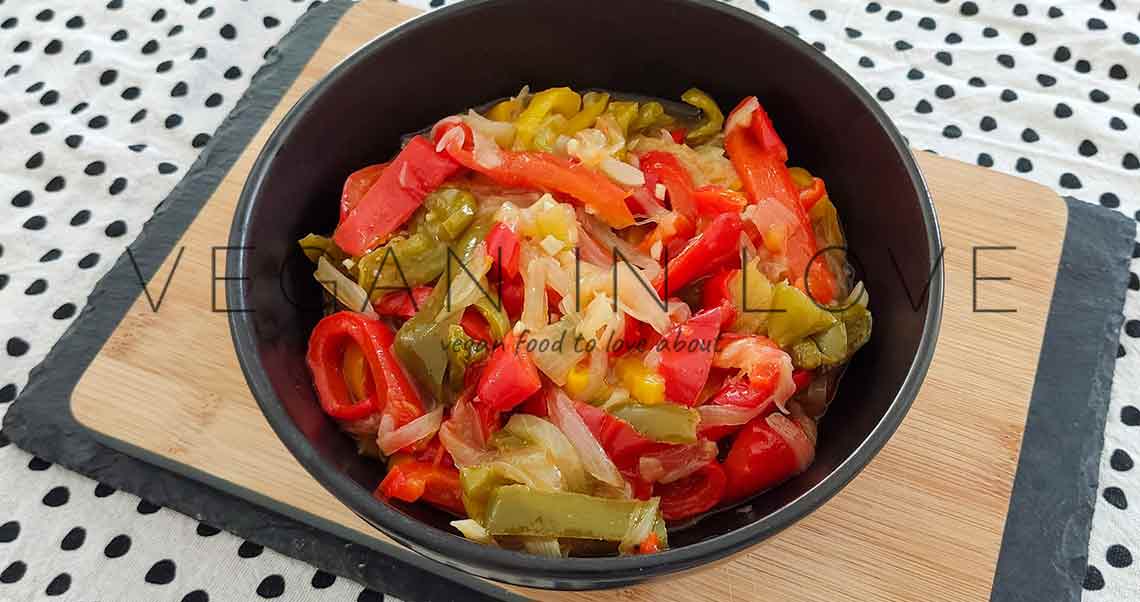 These sauteed peppers and onions are a delicious side dish that you can enjoy with many other recipes. Some classic dishes that are eaten with this recipe are not vegan-friendly; for example Italian sausage or spicy Italian sausage, grilled chicken, baked salmon, etc. However, you can always be creative and use other great vegan recipes or products to enjoy together with this recipe; such as vegan sausages, vegan meatballs, or vegan burgers.
On the other hand, if you are looking for a less processed vegan alternative you can make falafels and chickpea veggie burgers. In addition to this, you can also enjoy this naturally gluten-free recipe with salads or as a topping or filling for quesadillas, tacos, or baked potatoes.
SEASONING VARIATION FOR SAUTEED RECIPE
To season these sauteed peppers and onions I just used salt during the cooking process. Furthermore, the olive oil also gave a fantastic flavor to this recipe. So, if you are looking for a savory flavor or a more sweet flavor you can choose from a variety of aromatic seasonings to personalize your sauteed peppers and onions.
SEASONING
Kosher salt.
Black pepper.
Italian seasoning.
Balsamic vinegar.
Red wine vinegar.
Taco seasoning.
Fajita seasoning.
Lime juice.
Garlic powder.
Red pepper flakes.
OIL
Canola oil.
Vegetable oil.
Sesame oil.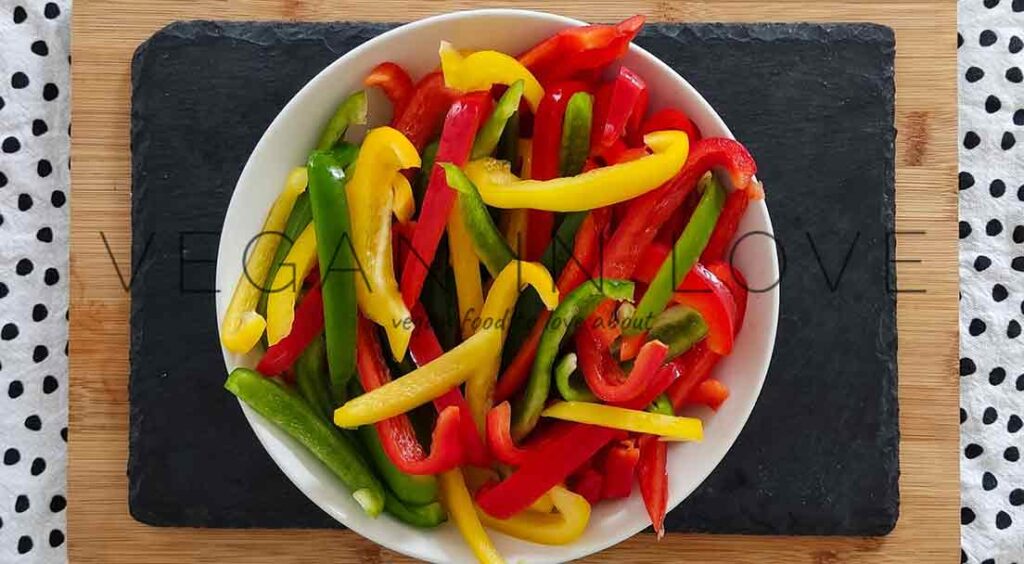 THE MAIN INGREDIENTS
To prepare this lovely sautéed bell peppers and onions recipe you will need just a few easy-to-find ingredients. The star of this recipe is the bell peppers also known as sweet bell peppers and you can choose from a variety of colors to mix. Also, you can make these quickly sauteed peppers with one type of pepper; such as orange peppers, the choice is yours.
Bell peppers: such as yellow bell peppers, red bell peppers, and green bell peppers.
Onions: I used white onions for this recipe.
Garlic cloves.
INGREDIENTS FOR SAUTEED PEPPERS AND ONIONS
If you are looking for other ingredients to add to this recipe to make the best sauteed peppers and onions you can check the following list where you can find other ingredients to add to this lovely dish.
ADDITIONAL INGREDIENTS
Orange bell pepper.
Green onion/spring onion.
Shallots.
Spinach.
Yellow onions.
STORAGE
This is a quick and easy recipe to make; however, if you are making this recipe to take to work, school, or a gathering you are invited to you can make these sautéed peppers and onions in advance. Follow the recipe instructions and then let the preparation cool down at room temperature. After that place your sauteed peppers and onions in an airtight container and keep them refrigerated until consumption.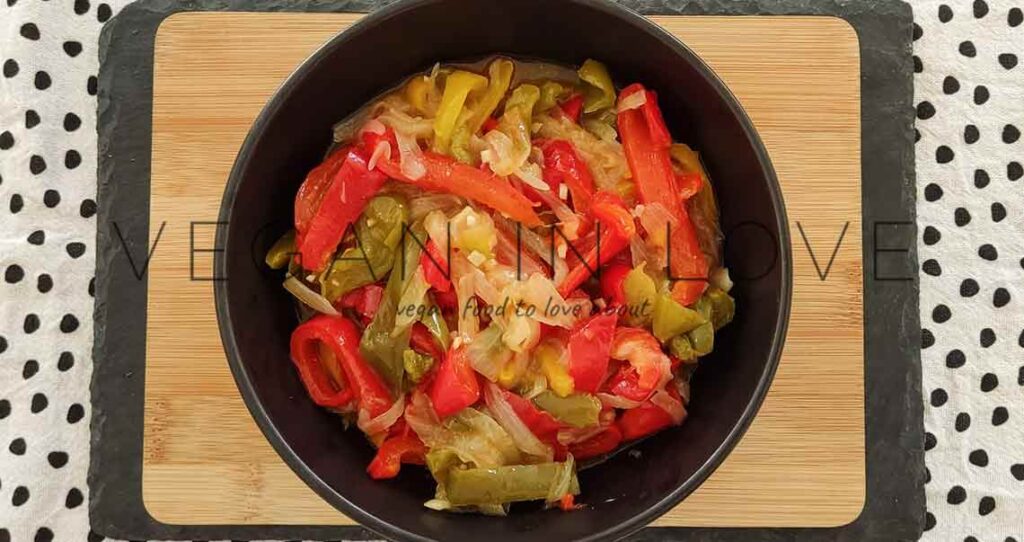 THIS SAUTEED PEPPERS RECIPE GOES WELL WITH THE FOLLOWING: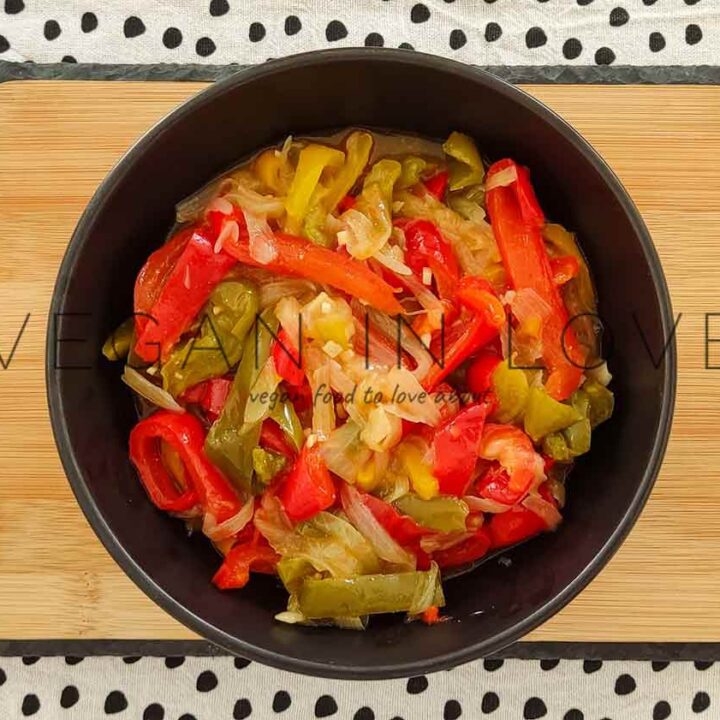 SAUTEED PEPPERS AND ONIONS
This delicious side dish is super easy and simple to make. Enjoy these sauteed peppers and onions as a great side dish together with vegan burgers and more!
Ingredients
2 Red bell peppers.
1 Yellow bell pepper.
2 Green bell peppers.
2 White onions.
2 Garlic cloves.
2 Tbsp. of Olive oil.
½ Tsp. of Himalayan salts.
Instructions
Peel and slice the onions and garlic cloves.
Was the bell peppers, cut them in half, and remove the seeds. Then cut the bell peppers into slices of around 1 cm.
Place a large nonstick skillet at medium heat and when you get a hot skillet pour 2 tbsp. of olive oil.
With the heat olive oil, add the bell peppers and onions and sprinkle some salt.
Saute the onions and peppers and after a couple of minutes add the garlic.
keep stirring occasionally and add more olive oil if necessary. Personally, I don't the onions and peppers lightly charred but cook them to your taste.
Once you get your sauteed peppers and onions soft and tender remove the frying pan from the heat. Check and adjust the seasoning to your taste.
Serve this sauteed bell peppers and onions warm or at room temperature.
Notes
Cooking times can vary depending on the frying pan and type of stove you are using; such as electric or gas.
Nutrition Information
Yield

4
Serving Size

1
Amount Per Serving
Calories

127
Total Fat

7g
Saturated Fat

1g
Trans Fat

0g
Unsaturated Fat

6g
Cholesterol

0mg
Sodium

199mg
Carbohydrates

16g
Fiber

2g
Sugar

7g
Protein

2g
The Nutritional values presented on this table are only estimates. The values can also vary depending on the cooking method, ingredients, product brands etc. This data was provided and calculated by Nutritionix.
YOU MIGHT ALSO LIKE…
---
---