AVOCADO CREAMY PASTA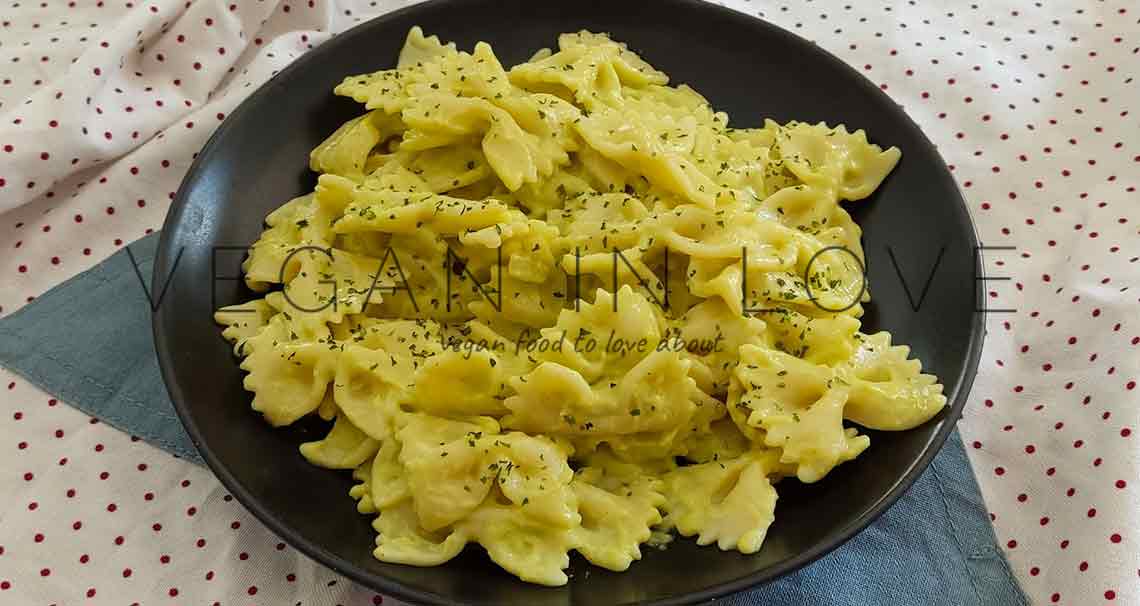 This delicious and fresh creamy avocado sauce is simple, easy, and quick to prepare. You can make and enjoy this fresh recipe as a side dish or main dish for lunch or dinner. Also, as is so quick to make you can prepare this recipe in the morning and take it in a lunchbox to work or school. Plus, you won't need to reheat this dish, just keep it refrigerated.
SEASONING FOR AVOCADO PASTA SAUCE
This vegan avocado pasta sauce is super easy to season with olive oil, salt, and pepper to taste. As this is a vegan recipe you can replace some ingredients: such as grated parmesan cheese. Instead, you can use a vegan alternative, or to get a cheesy flavor you can sprinkle nutritional yeast on top.
Although I used olive oil to prepare this sauce recipe, if you want to make avocado pasta sauce oil-free you can replace this ingredient with coconut milk or vegan cream cheese.
Lastly, you can add other ingredients to season this delicious pasta dish; for example fresh herbs or dried herbs. Check the list below to get more ingredient ideas that go really well with avocado pasta sauce.
SEASONING IDEAS:
Lime juice.
Black pepper.
Chili flakes.
Fresh basil leaves.
Cilantro.
Chives.
Oregano.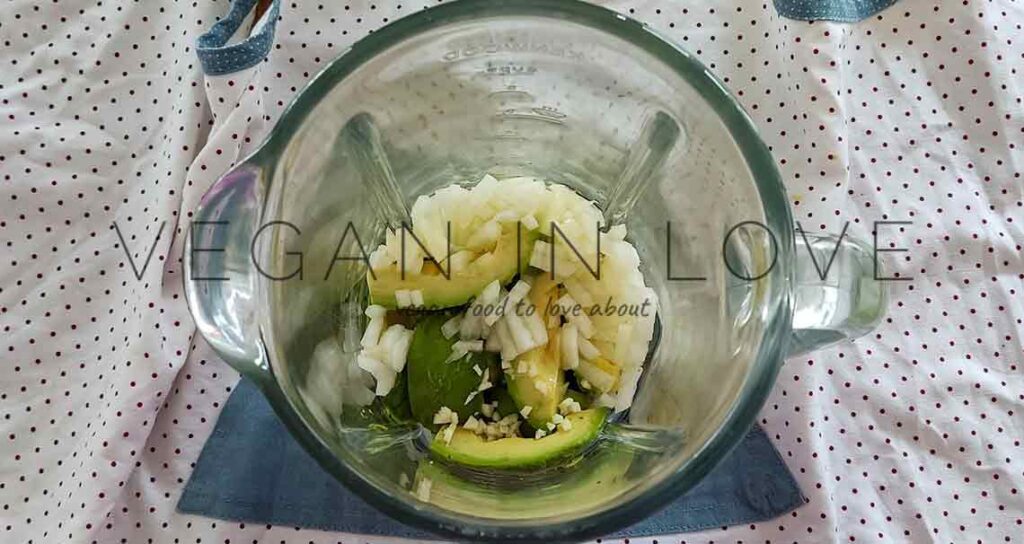 EXTRA INGREDIENTS FOR AVOCADO PASTA SAUCE
This pasta sauce is super fresh and creamy thanks to the ripe avocado. However, you can add more ingredients to blend in your creamy sauce or you can also add them on top of your pasta sauce; for example, roasted chickpeas to get a crunchy texture. Furthermore, this is a great recipe if you have leftover pasta, which also will reduce the time of preparation and you won't need to cook the pasta as you can use cooked pasta. As a result, you can reduce food waste using leftover cooked pasta.
EXTRA INGREDIENTS:
Black olives.
Green olives.
Spinach.
Cherry tomatoes.
Red onions.
Red peppers.
Nuts; such as walnuts, pistachios, pine nuts, etc.
Moreover, you can make avocado pasta gluten-free, choose a gluten-free pasta of your choice and then add the avocado sauce recipe made here.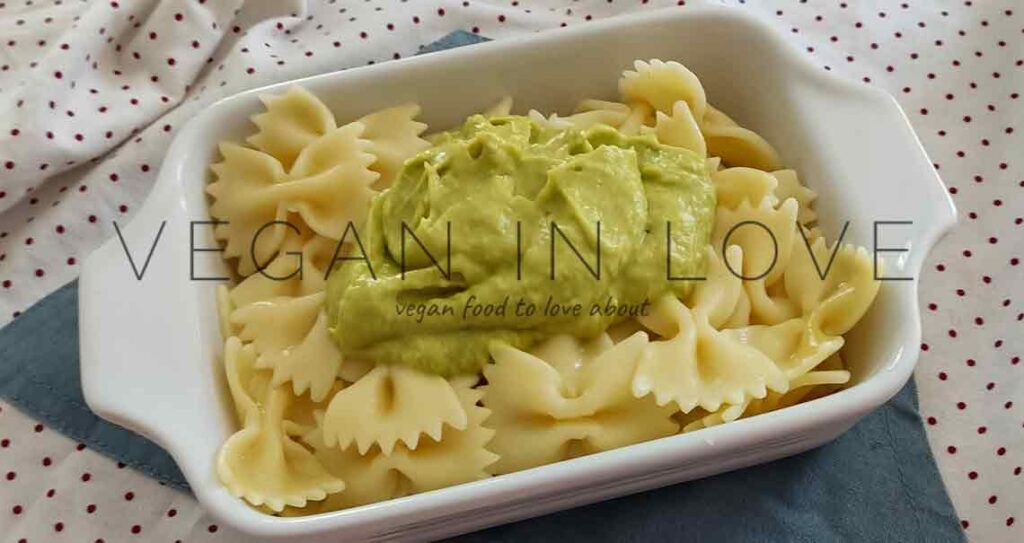 THIS RECIPE GOES WELL WITH: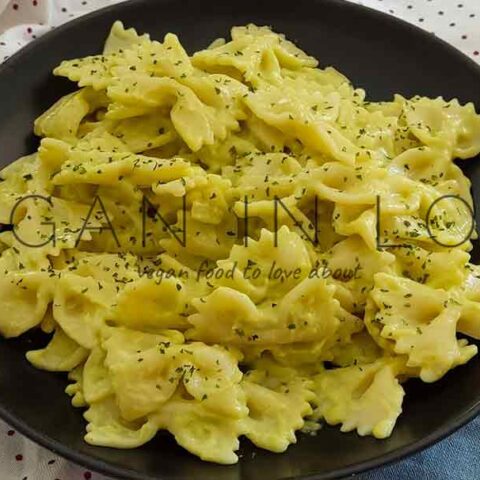 CREAMY AVOCADO PASTA RECIPE
This creamy avocado pasta recipe is easy and quick to make. Prepare this fresh, flavorful, and healthy avocado recipe with any pasta of your choice, and enjoy!
Ingredients
Pasta
500 gr. of Dry pasta.
1.5 Litres of Water.
1 Pinch of salt.
Avocado sauce
3 Medium ripe avocados.
1 White onion.
1 Raw garlic clove.
2 Tbsp. of Olive oil.
2 Tbsp. of Water.
½ Lemon juice.
½ Tsp. of Paprika.
¼ Tsp. of Himalayan salt.
1 Tsp. of Parsley.
Instructions
PASTA
Pour 1.5 liters of water into a large pot with a pinch of salt and bring to boil.
Cook the pasta in the boiling salted water for around 15 minutes, and stir well from time to time (check package directions).
Cook the pasta until is cooked al dente then drain the pasta water and place the cooked pasta in a large bowl.

AVOCADO SAUCE
While the dry pasta is cooking, wash, peel and remove the stone from the avocado.
Cut the avocados into big chunks and place them in a blender.
Peel the raw garlic clove and the onion, then diced them and add the to the blender.
Then, pour 2 tbsp. of olive oil, 2 tbsp. of water, and ½ lemon juice.
Season with salt, and paprika.
Blend your avocado sauce ingredients in a food processor until you get a creamy sauce.
From time to time you might need to stop the food processor and with the help of a spatula scrape down the sides of the blender/food processor.
Then, pour your avocado sauce into the large bowl (with the pasta) and integrate it well.
Sprinkle some parsley on top and enjoy!
Nutrition Information
Yield

3
Serving Size

1
Amount Per Serving
Calories

1036
Total Fat

41g
Saturated Fat

6g
Trans Fat

0g
Unsaturated Fat

32g
Cholesterol

0mg
Sodium

176mg
Carbohydrates

145g
Fiber

19g
Sugar

7g
Protein

26g
The Nutritional values presented on this table are only estimates. The values can also vary depending on the cooking method, ingredients, product brands etc. This data was provided and calculated by Nutritionix.
RELATED RECIPES
YOU MIGHT ALSO LIKE…
---
---