VEGAN WATERZOOI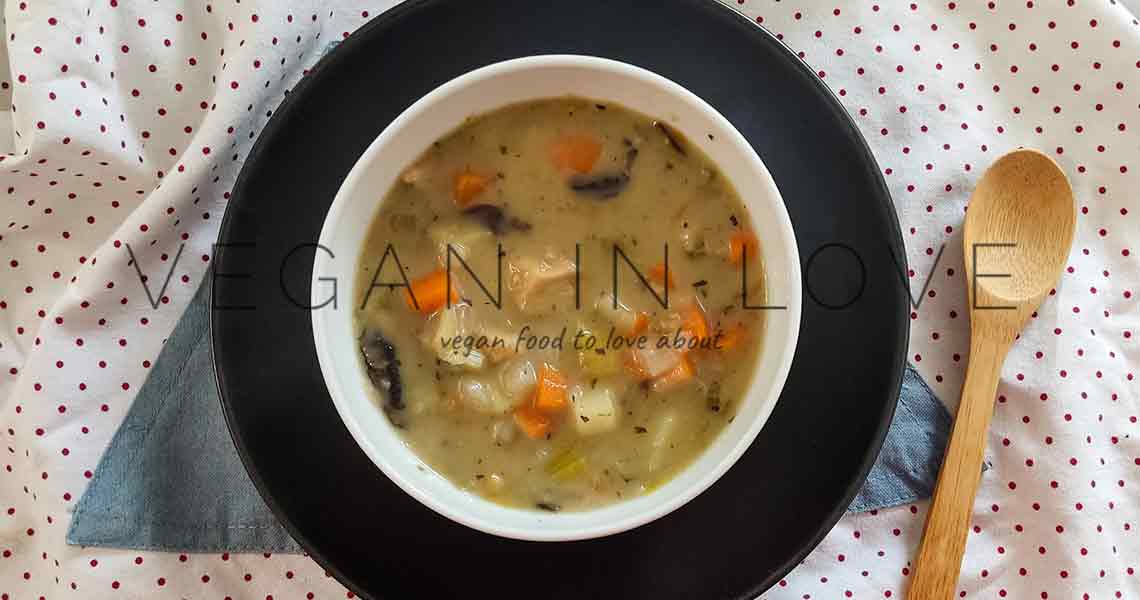 A long time ago before starting my vegetarian and vegan journey, I tried the traditional Chicken Waterzooi in Ghent, Belgium. As a soup lover visiting this beautiful city I had to try this amazing dish and I absolutely love it. Since starting my journey with vegan food I started to convert recipes that I used to love and no douth this is one of them that I really wanted to make. To my surprise, it was easier than I thought, just a few ingredient changes, and I end up with a delicious and comforting vegan waterzooi!
What is more, this waterzooi is a great idea to prepare on many occasions. If you have a gathering, a celebration, or even for the holiday and festive season this is an amazing dish that you can prepare without much effort. Moreover, this dish is also affordable and simple to make.
WATERZOOI SEASONING
Certainly, this is a great creamy Belgian soup that you can easily season with just a few spices; for example, I use salt and ground nutmeg and the result was lovely. However, you might want to add other or more spices to this warm soup. If that's the case, you can get more ideas to inspire you, so check the list below.
Black pepper.
Cayenne pepper.
Turmeric.
Clove.
Garlic powder.
Onion powder.
Additionally, I used vegan bouillon powder to prepare this waterzooi soup, but you can also use alternatives; for example, vegetable stock or vegan chicken stock cubes too.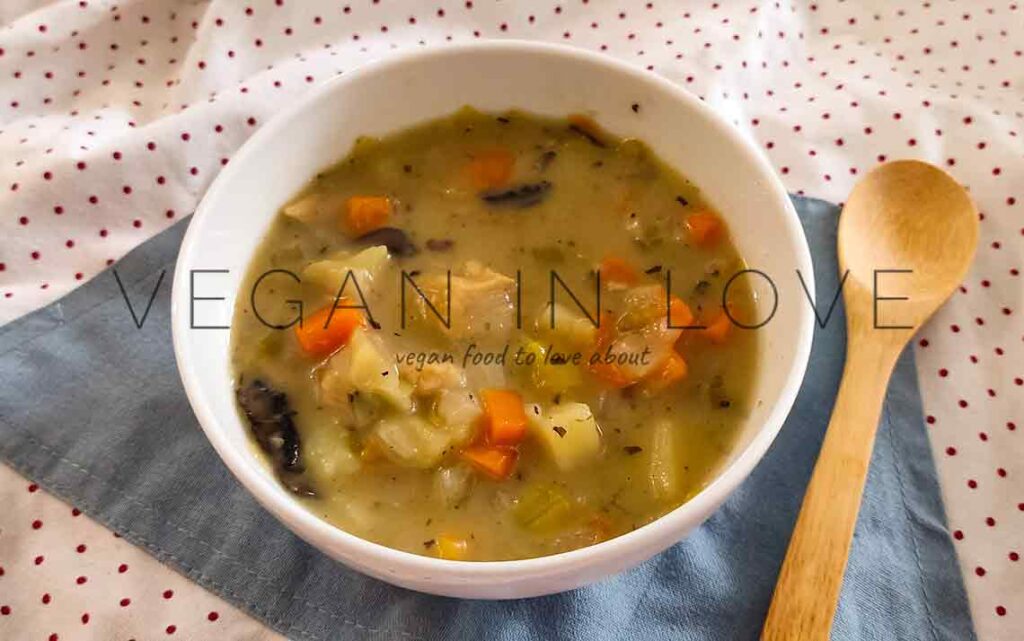 WATERZOOI ALTERNATIVE INGREDIENTS
Traditionally the Belgian Waterzooi recipe includes celeriac; unfortunately, I couldn't find this ingredient where I live so that's why is not listed in this recipe. Also, as the classic recipe includes chicken I replaced it with a plant-based alternative. Furthermore, I added mushrooms to replace the meat. As a matter of fact, these are alternative options you can try; however, they are optional and you can decide if want to add them or not.
Regarding the cream for this vegan waterzooi recipe, I replace it with canned coconut milk which has a creamy and silky consistency similar to the dairy cream. Moreover, if you want you can use a vegan cream of your choice. Below you will find ideas to add to this dish, which you can personalize it to your taste.
Tofu.
Chickpeas.
Spring onions.
Shallots.
Celery.
Lastly, you can enjoy this warm and comforting soup with a slice of bread or maybe toast. If you want you can eat this recipe with an easy and quick-to-make Tomato bruschetta.
THIS RECIPE GOES WELL WITH: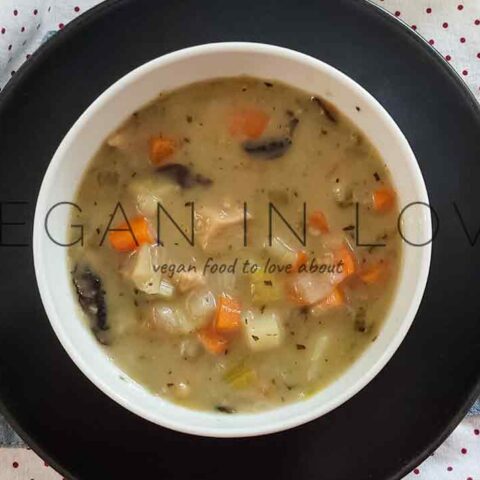 VEGAN WATERZOOI RECIPE
Warm, comforting, and delicious Belgian soup recipe. This is a great recipe for the winter and cold days. You can enjoy this soup as a starter or as a main dish.
Ingredients
2 Garlic cloves.
1 White onion.
1 Large leek.
1 Large carrot.
2 Medium potatoes.
125 gr. of Mushrooms.
2 Tbsp. of Olive oil.
1 Tbsp. of Vegan bouillon powder.
800 ml. of Water.
150 gr. of Plant-based chicken.
200 ml. of Canned coconut milk.
½ Tsp. of Ground nutmeg.
¼ Tsp. of Himalayan salts.
1 Tbsp. of Fresh chopped parsley.
Instructions
Peel and dice the garlic cloves and white onion. Slice the large leek and sauté these ingredients in a large cooking pot at medium heat with 2 tbsp. of olive oil.
Next, peel the carrots and potatoes and cut them into cubes. Clean and slice the mushrooms. Add them to the cooking pot and mix well.
Pour 600 ml. of water with 1 tsp. of vegan bouillon powder and stir well.
Simmer and bring to boil, then cook your soup at medium heat until your vegetables are soft to your taste.
Next, add the vegan or plant-based chicken and pour 200 ml. of canned coconut milk, and stir well. Cook for a couple of minutes more.
Season with ground nutmeg and Himalayan salt (you can also use sea salt).
Remove from the stove and serve this delicious soup from the Belgian cuisine in a soup bowl and add the fresh chopped parsley on top.
Nutrition Information
Yield

4
Serving Size

1
Amount Per Serving
Calories

358
Total Fat

23g
Saturated Fat

12g
Trans Fat

0g
Unsaturated Fat

9g
Cholesterol

35mg
Sodium

547mg
Carbohydrates

28g
Fiber

4g
Sugar

4g
Protein

14g
The Nutritional values presented on this table are only estimates. The values can also vary depending on the cooking method, ingredients, product brands etc. This data was provided and calculated by Nutritionix.
RELATED RECIPES
YOU MIGHT ALSO LIKE…
---
---