TACO LETTUCE WRAPS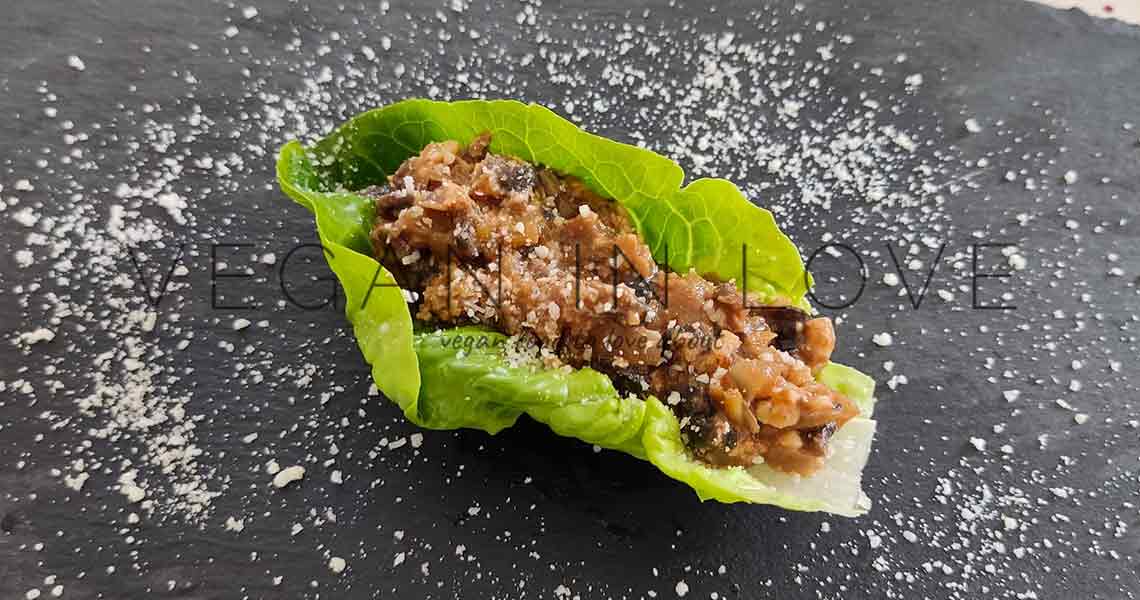 Delicious vegan taco lettuce wraps recipe made of simple and easy-to-find ingredients. These taco lettuce wraps are a great alternative to the traditional recipe replacing one of its main ingredients ground meat or taco meat with a vegan and plant-based option. Additionally, we replaced the tortilla wrap with romaine lettuce or even cabbage; however, you can use another type of lettuce of your choice; such as iceberg or round lettuce. Furthermore, when preparing the lettuce wraps you can leave them open or fully close them.
In addition to all this, this is a great vegan taco lettuce wraps recipe made of healthy, gluten-free, and nutritious ingredients that can be ideal for eating for starters or as a main dish.
TACO SEASONING AT HOME
Although you can buy premade seasoning for tacos at the store, such as taco mix seasoning or chili seasoning; here you will find great seasoning ingredients ideas that you can easily use and prepare at home. Moreover, this recipe is oil-free; however, you can cook the filling of this plant-based taco lettuce recipe with olive oil. So, if you are looking for more ingredient ideas to season these delicious vegan taco lettuce wraps, check the list below.
Chili powder.
Chili flakes.
Lemon.
Garlic and onion flakes or powder.
Chopped fresh cilantro or parsley.
Jalapeños.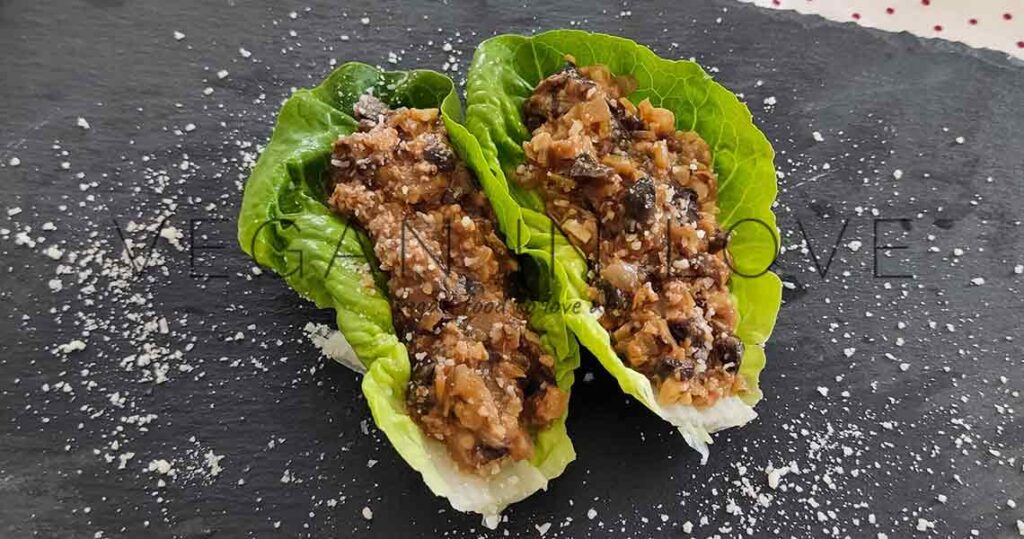 TACO FILLING & TOPPINGS IDEAS
These taco lettuce wraps are great to prepare on many occasions, they are ideal for starters, snacks, and as a side dish too. Furthermore, if you don't want to or prefer not to cook at all, you can prepare this healthy and gluten-free recipe all raw vegan. With this in mind, you have endless filling ideas to make these lettuce wraps. However, if you are looking for more inspiration check the following list.
Beans; such as black beans, red kidney beans, chickpeas, etc.
Peppers; Red, yellow, or green.
Fresh chopped tomatoes.
Lentils.
Spring onions/green onions.
Red onions.
Brown, white rice, or cauliflower rice.
Black and green olives.
Avocado.
SALSA & SPREAD IDEAS: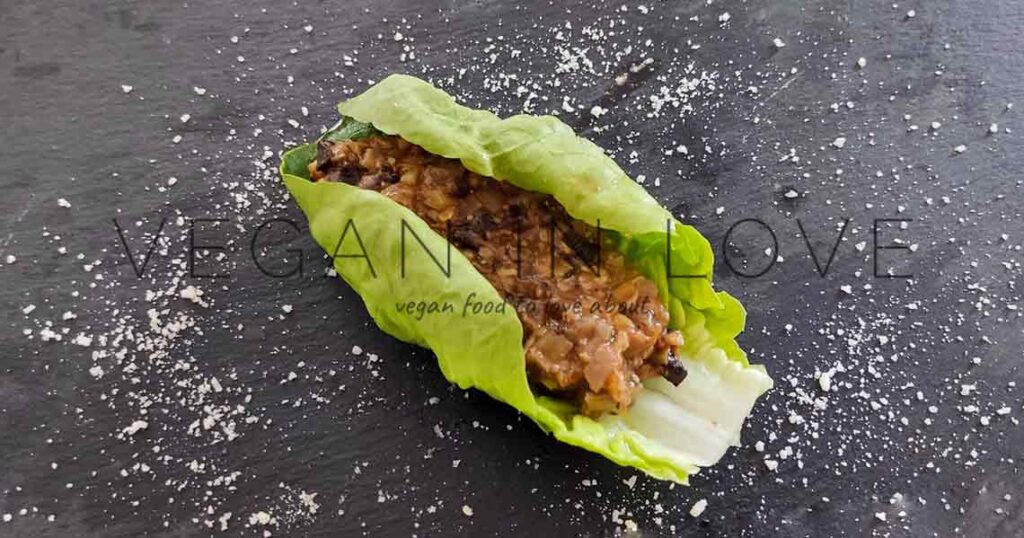 THIS RECIPE GOES WELL WITH: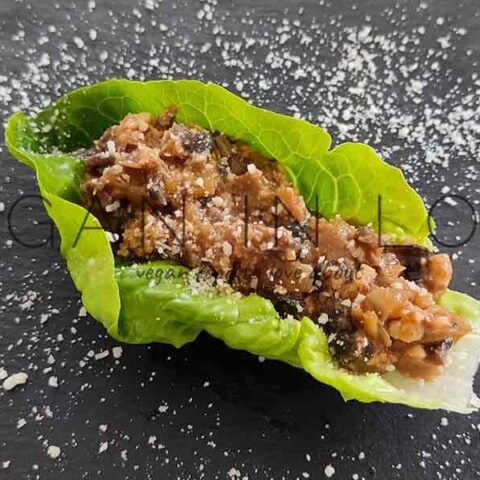 TACO LETTUCE
Vegan Taco lettuce wraps recipe made with easy and simple ingredients. Enjoy this healthy taco as a great starter o even the main dish at parties, picnics, and gatherings.
Ingredients
1 Onion.
½ Leek.
1 Garlic clove.
100 gr. of Mushrooms.
1 Pinch of salt.
3 Tablespoon of Passata.
1 Pinch of Sodium bicarbonate.
½ Teaspoon of Paprika.
½ Teaspoon of Parsley.
½ Teaspoon of Garlic powder.
½ Teaspoon of Himalayan salts.
1 Tablespoon of Can coconut milk (full fat).
50 gr. of Walnuts.
1 Tablespoon of Vegan Parmesan cheese.
7 Lettuce leaves.
Instructions
TACO FILLING
Peel and dice the onion and garlic.
Clean and cut the mushrooms into small pieces.
Cut the leek into small pieces too.
Cook the onion, garlic, leek, and mushrooms in a saucepan at medium heat with a pinch of salt until they get soft and tender.
Then pour 2 tablespoons of passata and a pinch of sodium bicarbonate and stir well.
Pour 1 tablespoon of Can coconut milk and season to taste with: ½ teaspoon of paprika, ½ teaspoon of parsley, ½ teaspoon of garlic powder, and ½ teaspoon of Himalayan salts. Mix well.
Chop the walnuts into small or medium pieces (depending on your preferences). Add the to the saucepan and mix well.

ASSEMBLE
Wash well the lettuce leaves.
Fill the lettuce leaves with the taco filling and sprinkle some vegan parmesan cheese.
You can leave the tacos open or you make a wrap.

Nutrition Information
Yield

7
Serving Size

1
Amount Per Serving
Calories

71
Total Fat

6g
Saturated Fat

1g
Trans Fat

0g
Unsaturated Fat

4g
Cholesterol

1mg
Sodium

146mg
Carbohydrates

5g
Fiber

2g
Sugar

2g
Protein

2g
The Nutritional values presented on this table are only estimates. The values can also vary depending on the cooking method, ingredients, product brands etc. This data was provided and calculated by Nutritionix.
YOU MIGHT ALSO LIKE…
---
---