GRATIN ASPARAGUS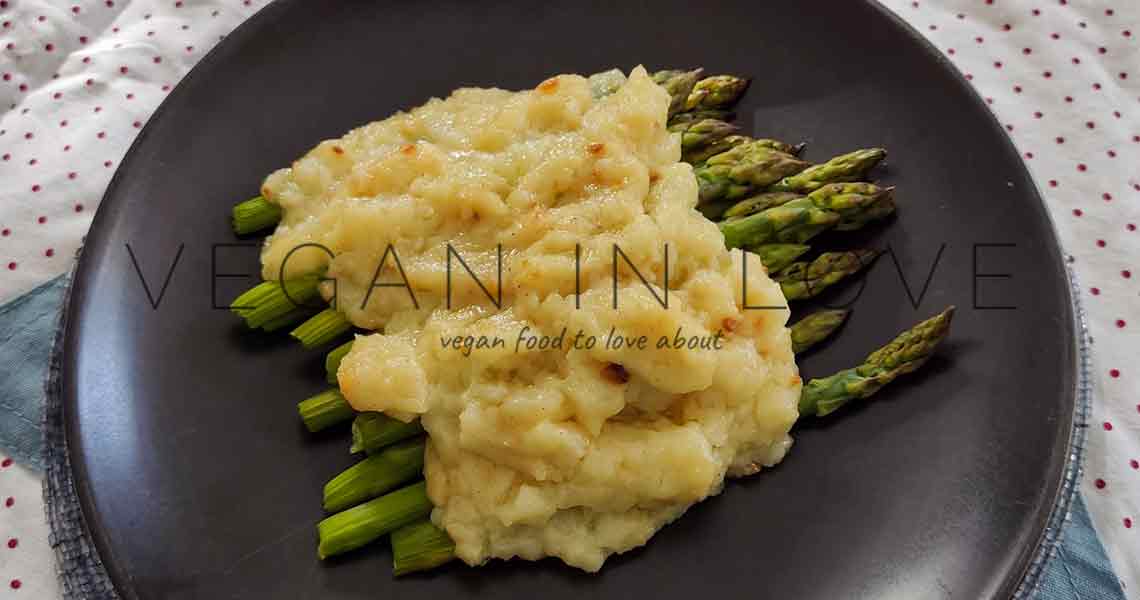 SEASONINGS FOR GRATIN ASPARAGUS
Asparagus is a great source of nutrients and I love to try different recipes when they are in season. Also, to prepare this vegan side dish, I used some classic ingredients that I like and know are a perfect match for me; such as ground nutmeg for the gluten-free bechamel sauce. Indeed, this sauce is great for gratin vegetables in the oven and will add a great texture and flavor to the unique asparagus taste. However, if you want to add other seasonings to this recipe, check the list below where you can find some ideas that you can try too.
Chopped chives.
Parsley.
Lemon juice.
Onion powder.
Garlic powder.
Nutritional yeast.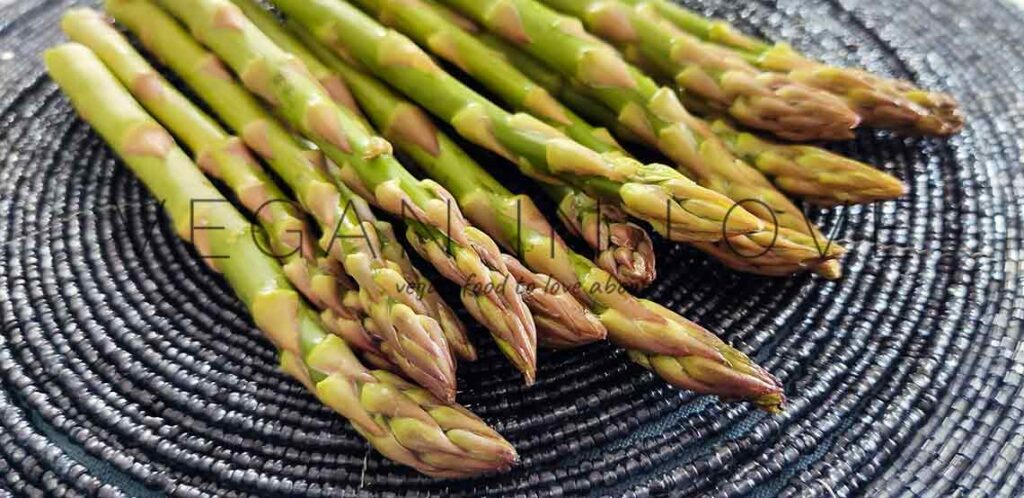 EXTRA INGREDIENTS FOR GRATIN ASPARAGUS
Although this is a simple and elegant vegan recipe that you can enjoy just as it is, you can always add more ingredients that go well with this dish too. Therefore, you can include in this recipe, different types of onions; for example yellow onions. Furthermore, a great addition to this dish would be caramelized onions and you could add them on top of the bechamel sauce. With this in mind, check the following list for more ideas.
White onions.
Spring onion.
Shallots.
Chilli.
Bread crumbs.
Grated vegan cheese.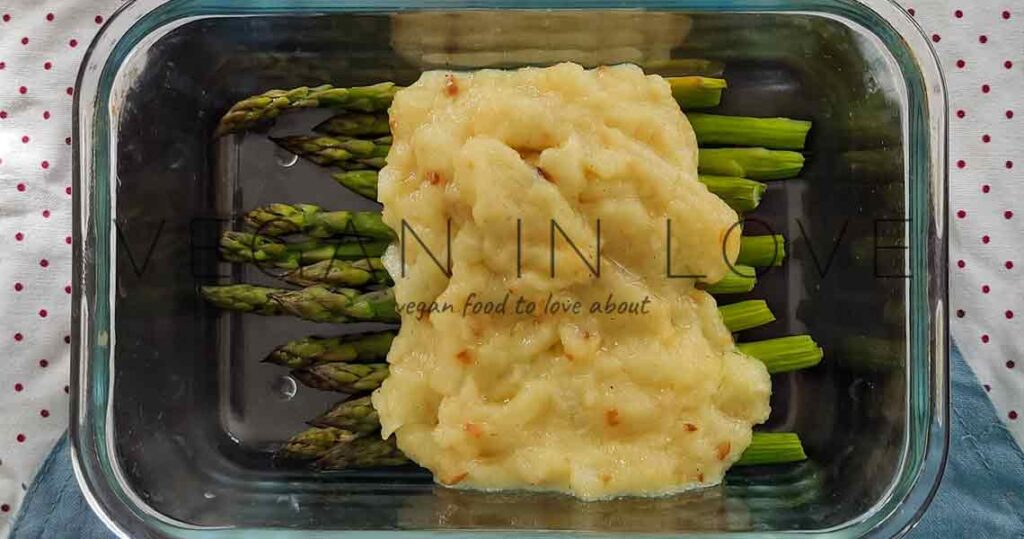 THIS RECIPE GOES WELL WITH:
Furthermore, you can try this yummy recipe with Gravy sauce.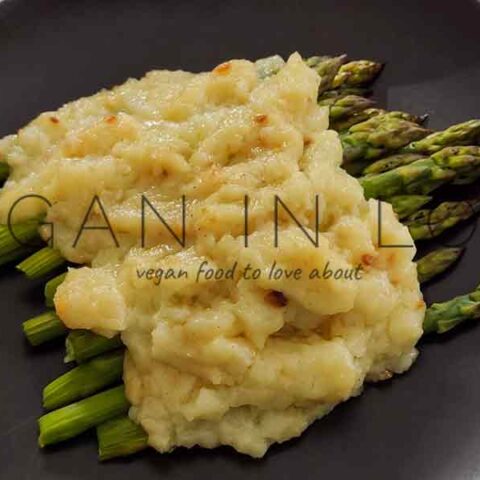 GRATIN ASPARAGUS
Delicious gratin asparagus recipe with bechamel sauce and gluten-free. This healthy and nutritious vegan side dish recipe is easy to make with simple ingredients.
Ingredients
Bechamel sauce
2 Garlic cloves.
3 Tbsp. of Olive oil.
2 Tbsp. of Corn starch.
100 ml. of Plant-based milk.
1 Pinch of Himalayan salt.
1 Pinch of Black pepper.
1/4 Tsp. of Ground Nutmeg.
100 gr. of Asparagus.
Instructions
ASPARAGUS
Wash a cut the end of the asparagus (around 1 or 2 cm).
Cook them in a steamer for 10 minutes*.
BECHAMEL SAUCE
Peel and dice the garlic cloves and cook them for a few minutes with 1 tbsp. of olive oil.
Then pour 2 tbsp. of olive oil and add 2 tbsp. of cornstarch** and mix well.
Little by little pour the plant-based milk and mix at the same to avoid and dissolve lumps. Stir the bechamel sauce until it gets a thick consistency.
Season to taste with: 1 pinch of Himalayan salt, 1 pinch of black pepper, 1/4 tsp. of ground nutmeg and mix well.
GRATIN
Preheat the oven to 180 °C degrees (356 °F approx.).
Place the asparagus on an oven glass dish.
Pour the bechamel sauce on top of your asparagus.
Gratin for 10 minutes.
Notes
*If you wish you can cook the asparagus in boiling water too.
**This is a gluten-free recipe, but you can use plain flour to replace the cornstarch as well.
Nutrition Information
Yield

2
Serving Size

1
Amount Per Serving
Calories

252
Total Fat

22g
Saturated Fat

4g
Trans Fat

0g
Unsaturated Fat

17g
Cholesterol

4mg
Sodium

81mg
Carbohydrates

13g
Fiber

1g
Sugar

3g
Protein

3g
The Nutritional values presented on this table are only estimates. The values can also vary depending on the cooking method, ingredients, product brands etc. This data was provided and calculated by Nutritionix.
RELATED RECIPES WITH ASPARAGUS
YOU MIGHT ALSO LIKE…
---
---