POLENTA CHIPS VEGAN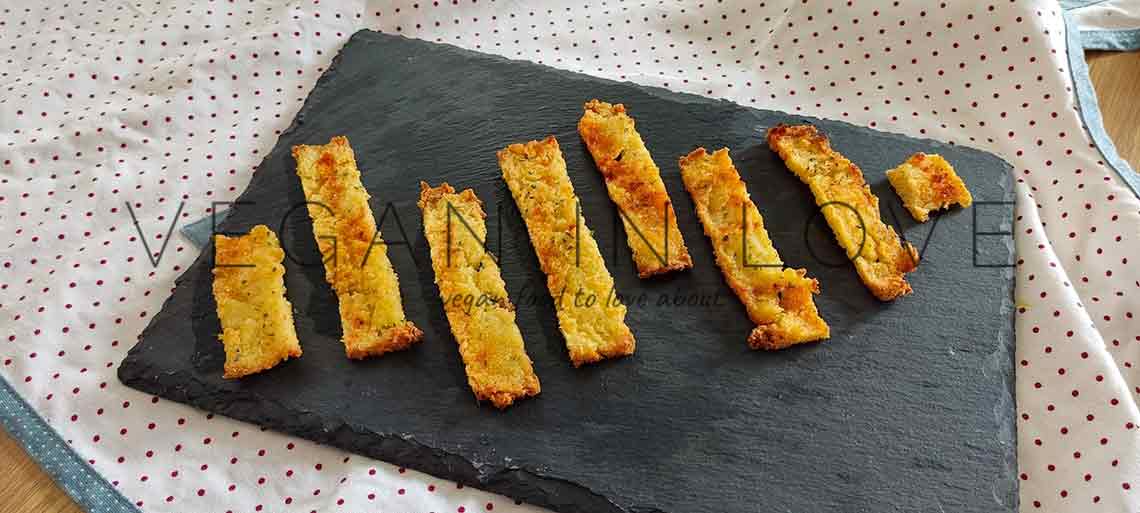 Delicious gluten-free polenta chips recipe that you can enjoy with family and friends on many occasions; for example, at birthday parties, picnics, at the beach, and more. This is a great recipe to prepare in advance and have polenta chips as a snack, starter, side dish, or together with the main dish. Furthermore, you can have them with a fresh salad for a light lunch or dinner.
This crispy baked polenta fries is a great recipe when you are planning your meals on a budget as the ingredients are in general easy to find and affordable too, especially the main ingredient polenta. Although I used olive oil to prepare this recipe, this ingredient is easy to replace with other vegetable oils that are more budget-friendly; for example, sunflower oil.
Lastly, I used instant polenta/quick-cook polenta that cooks in just one or two minutes; however, if you want to speed up a little bit more of the cooking and preparation times you can buy cooked polenta. Simply remove the cooked polenta from the package and cut them into polenta chips. Moreover, if you have polenta leftover you can save it to prepare this recipe and reduce food waste at the same time.
SEASONING FOR POLENTA CHIPS
Traditionally, polenta chips are seasoned with parmesan cheese sprinkled on top, or mixed when you prepare the polenta. However, you can replace this ingredient with a vegan option or nutritional yeast if you want to have a cheesy flavor. Seasoning these polenta chips is super simple with just salt and pepper. Moreover, many fresh herbs or dried herbs can give an absolutely delicious flavor to them too; such as fresh thyme. For more ideas, check the list below.
POLENTA SEASONING IDEAS
Black pepper.
Cayenne pepper.
Garlic powder.
Onion powder.
Oregano.
Fresh basil.
Fresh rosemary.
Soy sauce*.
Mustard.
*For a gluten-free diet check the ingredients.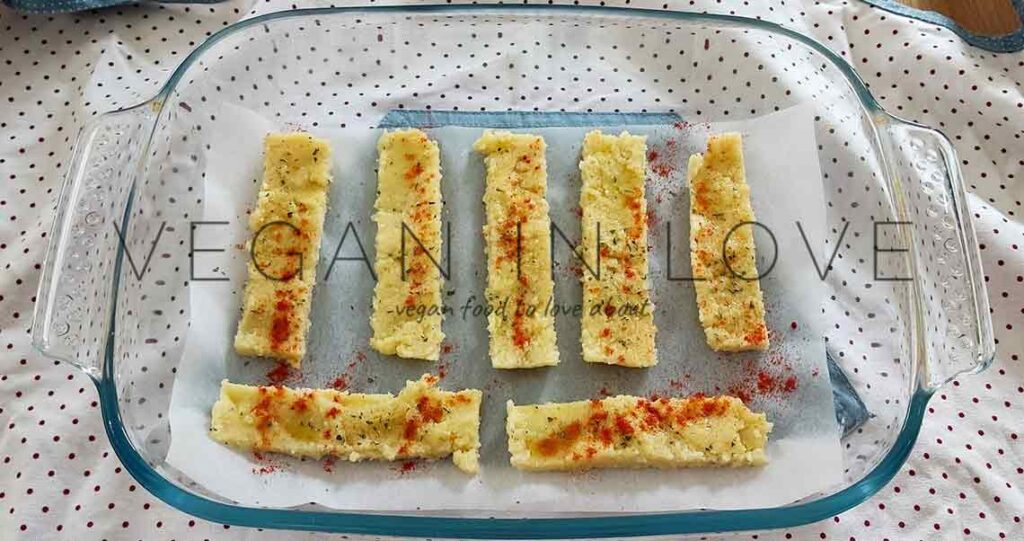 DIPS FOR POLENTA CHIPS
These crispy baked polenta fries can easily be enjoyed as they are prepared in this recipe. However, a great way to have them is sauces to spread on top or to dip in too; such as ketchup, vegan mayo, or mustard. If you want homemade vegan dips recipes, check the list below for more ideas:
DIPS RECIPES:
TIPS FOR POLENTA CHIPS
Cooking: getting a lump-free polenta. When making polenta on the stove, let the water or milk boil. Then remove the cooking pot from the stove/hob and pour the polenta slowly and keep stirring with a whisk to avoid any lump formation to get a lump-free polenta. Return the cooking pot to the hob and cook for 1 minute (if you are preparing an instant polenta – always follow the package instructions). Other cooking options instead of baking that you can try are air fryers and deep-frying.
Baking: Place the baking tray with your polenta chips in the center of the oven to cook them evenly. Then, in the last part of baking the polenta place the baking tray on the top shelf of the oven to get a crunchy texture.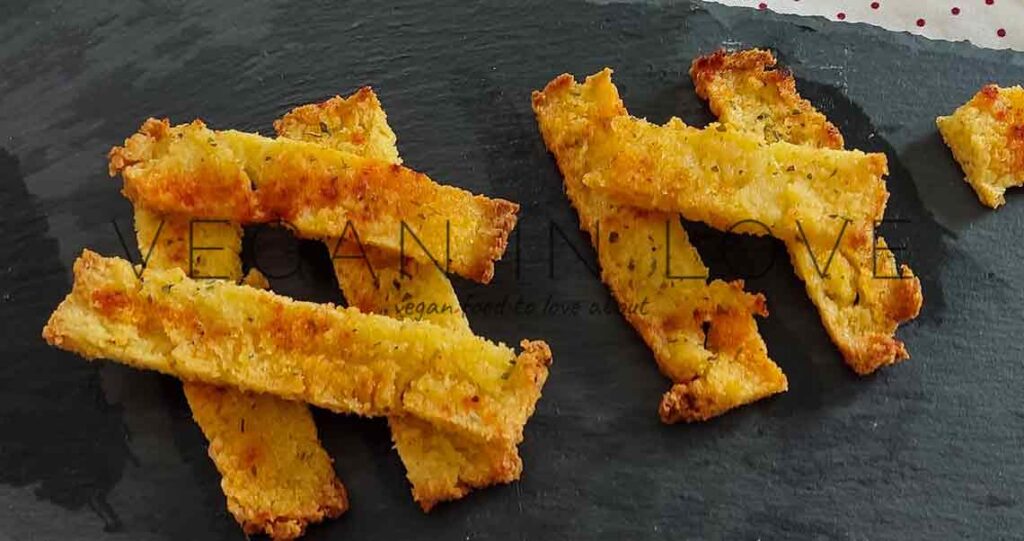 THIS RECIPE GOES WELL WITH: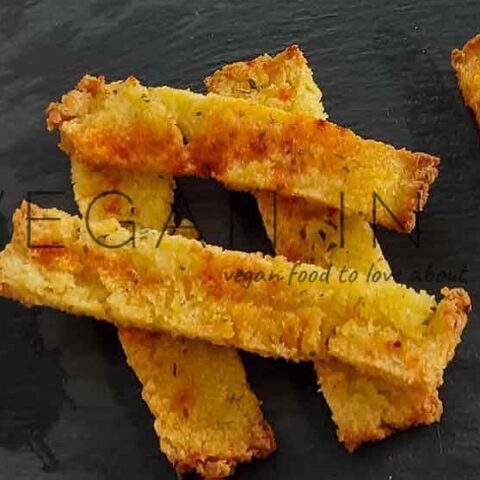 CRISPY BAKED POLENTA FRIES
Cook Time:
1 hour
10 minutes
Total Time:
1 hour
25 minutes
These crispy-baked polenta fries are made with simple & cheap ingredients. Enjoy this yummy recipe as a snack, side dish, starter, or together with the main dish.
Ingredients
½ Cup of Instant polenta.
1 Cup of water.
½ Cup of plant-based milk (I used oats milk).
1 Tsp. of Vegan bouillon powder.
1 Tsp. of Oregano.
1 Tsp. of Parsley.
1 Tsp. of Paprika.
2 Fresh garlic cloves.
3 Tbsp. of Olive oil.
¼ Tsp. of Himalayan salt.
Instructions
POLENTA
In a pan pour 1 tbsp. of olive oil and the 3 chopped garlic cloves. Cook for 1 minute and set aside.
In a cooking pot pour 1 cup of water and ½ cup of plant-based milk. Then, add 1 tsp. of Vegan bouillon powder* and season with 1 tsp. of oregano, 1 tsp. of parsley, and the fried fresh garlic. Stir well.
Place the cooking pot on the stove at medium-high heat and bring to a boil.
Remove the cooking pot from the stove and slowly add ½ cup of Instant polenta. Stir well to get a lump-free result. Place again on the stove and keep stirring for 1 minute.
In a baking dish place a baking paper/baking sheet or parchment paper. Then pour the polenta and spread an even layer of around 0.5/1cm depending on how thin you prefer them.
Place the baking dish in the fridge and let the polenta cold down for 1hr.

BAKE
Around 15 minutes before the 1 hr is complete, preheat the oven to 180 °C degrees (356 °F approx.).
Then when 1 hr passed, remove the baking tray from the fridge and with a knife cut the polenta chips into sticks around 2cm wide and 8cm in height (you can leave 1cm between them)**.
With a cooking brush spread olive oil*** on top of the polenta chips and sprinkle the paprika.
Place the baking tray in the center of the oven and cook for around 40 minutes.
Remove from the oven, turn them over and spread more olive oil, and place the baking tray on the top shelf of the oven. Bake for another 20 minutes.
Once they are cooked and crispy baked to your taste place them on a serving plate with the help of a spatula.
Lastly, sprinkle salt on top and serve with sauces if you wish.
Notes
* You can replace it with vegetable stock.
**Bake your polenta chips on a single layer only.
***You can also use melted vegan butter or margarine.
Nutrition Information
Yield

4
Serving Size

1
Amount Per Serving
Calories

151
Total Fat

13g
Saturated Fat

3g
Trans Fat

0g
Unsaturated Fat

9g
Cholesterol

8mg
Sodium

351mg
Carbohydrates

7g
Fiber

1g
Sugar

3g
Protein

3g
The Nutritional values presented on this table are only estimates. The values can also vary depending on the cooking method, ingredients, product brands etc. This data was provided and calculated by Nutritionix.
RELATED RECIPES
YOU MIGHT ALSO LIKE…
---
---