ROASTED VEGETABLES IN OVEN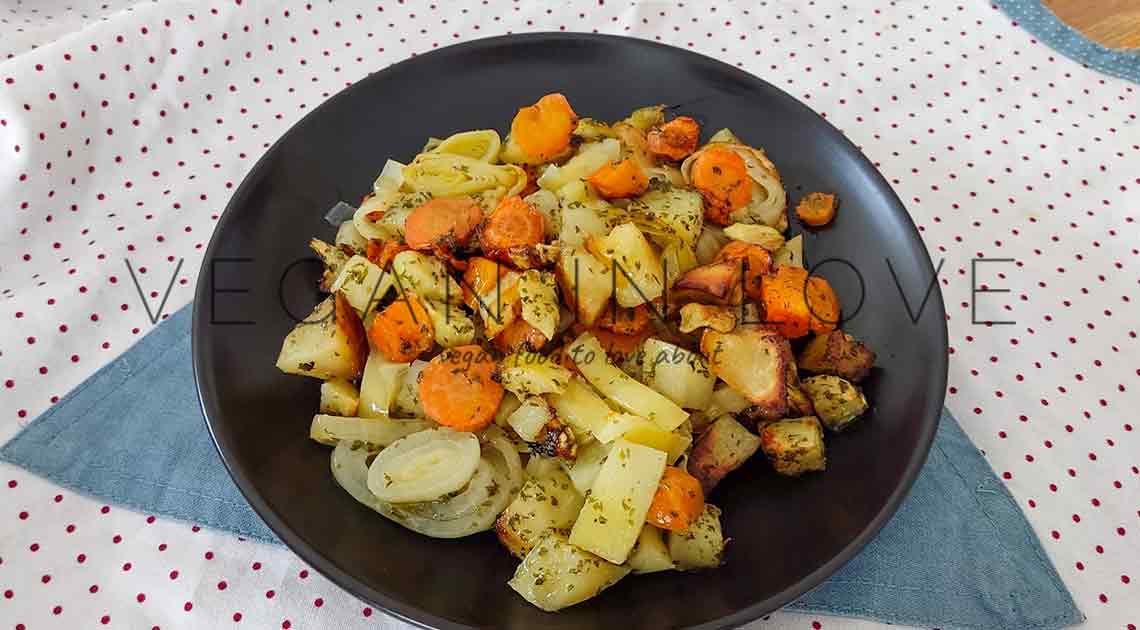 Roasted vegetables are a healthy way to eat and are full of fiber, vitamins, and minerals. I love roasted vegetables. There is nothing better than smelling delicious homemade roasted vegetables in the oven. This simple and easy-to-make vegan recipe is great as a side dish. Furthermore, you can roast a variety of different vegetables, depending on what you have on hand; however, I strongly recommend potatoes, bell peppers, onions, garlic cloves, and carrots.
These vegetables are cooked in the oven, so very little oil is needed. I used extra virgin olive oil, but you can use other vegetable oil.
EXTRA VEGETABLES INGREDIENT IDEAS
Roasting brings out the best flavors and makes veggies delicious and tender. Moreover, this is a great recipe to prepare oven-roasted vegetables with not only root vegetables; such as sweet potatoes. In the following list, you will find more ideas of veggies that you can roast beside the ones used in this recipe. Either way, you have a huge variety to choose from, or just use the veggies you already have at home.
Broccoli and cauliflower.
Green beans.
Parsnip.
Aubergine.
Bell peppers.
Red onion.
Mushrooms.
Brussels sprouts.
Asparagus.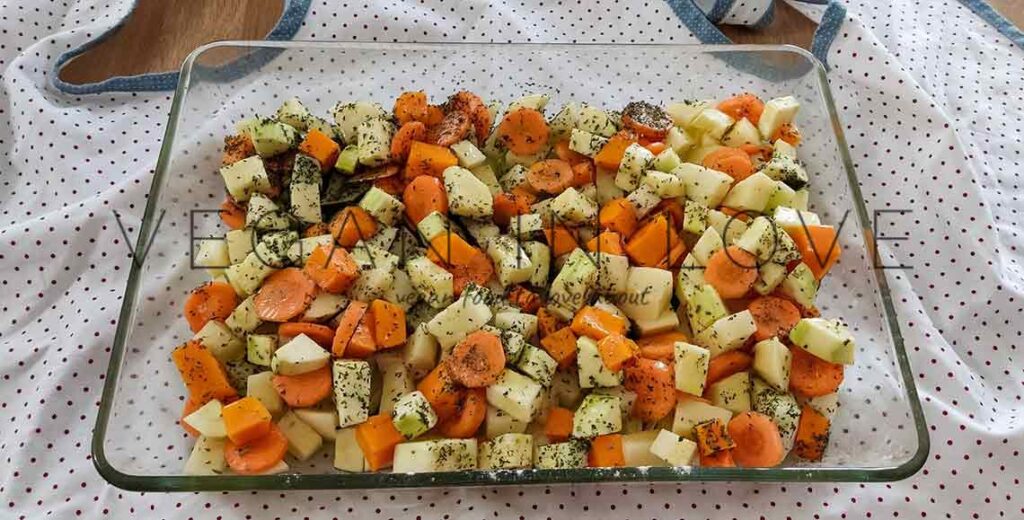 SEASONING IDEAS FOR VEGETABLES
These vegetables are coated in herbs and spices, making them tasty and so satisfying to eat. However, you can just sprinkle salt and freshly ground black pepper.
In addition to the spices used to make this roasted vegetable recipe, you can use others too. Furthermore, you can use chopped fresh herbs not only when you are roasting the vegetables, but also can sprinkle them when serving the roasted vegetables. So, if you are looking for more ideas on what other yummy seasoning you can use, check the list below.
Balsamic vinegar.
Onion powder.
Paprika.
Italian seasoning.
Dried Basil.
Chopped fresh rosemary.
THIS RECIPE GOES WELL WITH: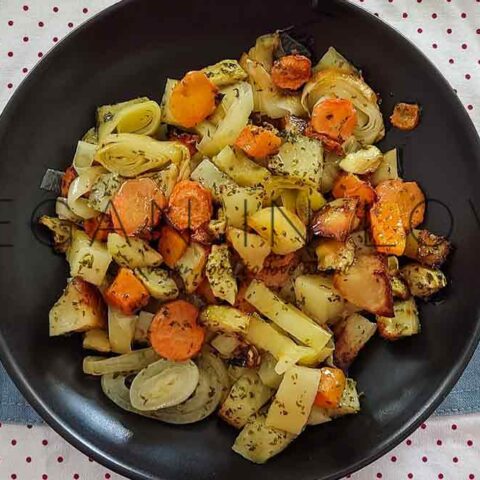 ROASTED VEGETABLES IN OVEN
Delicious and super easy to make this roasted vegetables recipe. Prepare this recipe as a great vegan and healthy side dish to enjoy with the main course.
Ingredients
4 Medium potatoes.
2 Medium carrots.
1 Courgette.
500 gr. of Butternut squash.
1 Leek.
2 Medium onions.
3 Tbsp. of Extra virgin olive oil.
2 Tsp. of Garlic powder.
2 Tsp. of Oregano.
2 Tsp. of Parsley.
½ Tsp. of Himalayan salts.
Instructions
Preheat the oven to 200 °C degrees (400 degrees °F approx.).
Wash and peel the potatoes, carrots, and butternut squash, then cut into 1-inch pieces. Then, place the veggies in a large bowl.
Peel the onions and courgette (optional) and cut them into 1-inch pieces. Add them to the large bowl.
Then slice the leek and add them with the rest of the vegetables.
Season the chopped vegetables with olive oil, oregano, parsley, and salt. Mix and toss well.
In an oven glass dish spread olive oil. If you want to reduce the amount your use to make roasted vegetables you can cover de oven dish or sheet pan/baking sheet with parchment paper.
Place your vegetables in the sheet pan or glass baking oven dish and spread them (it doesn't have to be a single layer).
Cook in the oven for around 30 minutes, then remove the veggies from the oven mix them, and cook for another 15 minutes.
Roast the vegetables until they are soft and done. Cooking times will vary depending on the size of your vegetables and your oven.
Nutrition Information
Yield

4
Serving Size

1
Amount Per Serving
Calories

346
Total Fat

11g
Saturated Fat

2g
Trans Fat

0g
Unsaturated Fat

9g
Cholesterol

0mg
Sodium

236mg
Carbohydrates

60g
Fiber

10g
Sugar

8g
Protein

7g
The Nutritional values presented on this table are only estimates. The values can also vary depending on the cooking method, ingredients, product brands etc. This data was provided and calculated by Nutritionix.
RELATED RECIPES
YOU MIGHT ALSO LIKE…
---
---