ROASTED TOMATOES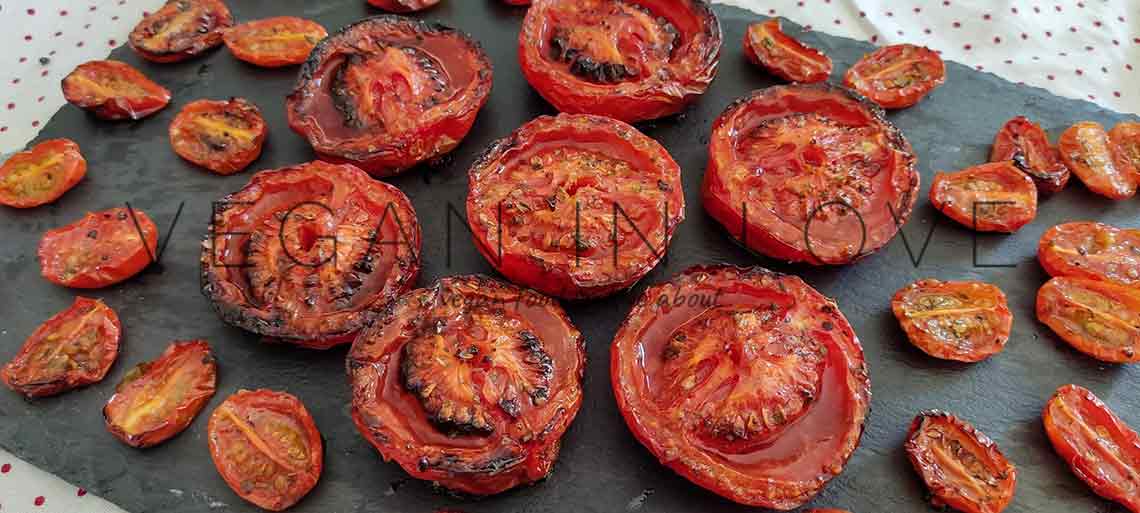 Roasting tomatoes is one of those simple but awesome ways to compliment any meal, and that's not just for lunch but breakfast too. For this recipe, I used fresh vine tomatoes and mini-plum tomatoes. While the fresh vine tomatoes are sweeter, the mini-plum tomatoes have a wonderfully firm texture that makes them perfect for roasting. Moreover, this oven roasted tomatoes recipe is quick to prepare and leave the oven to do the rest. Another great thing about this recipe is that is not only delicious, but affordable and nutritious too.
WHICH TOMATOES CAN YOU USE?
For the purpose of this recipe, I decided to use fresh tomatoes and I selected also tomatoes in different sizes too; however, there is a huge variety of tomatoes that you can choose from. What is more, you can use any type of tomato to make roasted tomatoes, and also you can select them according to your personal preferences and taste. Furthermore, this is a great recipe to make when you have loads of tomatoes and you don't want them to go to waste; therefore, by making this recipe you can reduce food waste too. Once they are cooked, you can prepare many other dishes with them (check the list down below).
TOMATOES TYPES
Cherry tomatoes.
Plum tomatoes.
Roma tomatoes.
Grape tomatoes.
Campari tomatoes.
Another option to prepare this delicious recipe is to replace the fresh tomatoes and you can try canned tomatoes. If you try this option, tell us in the comment section below!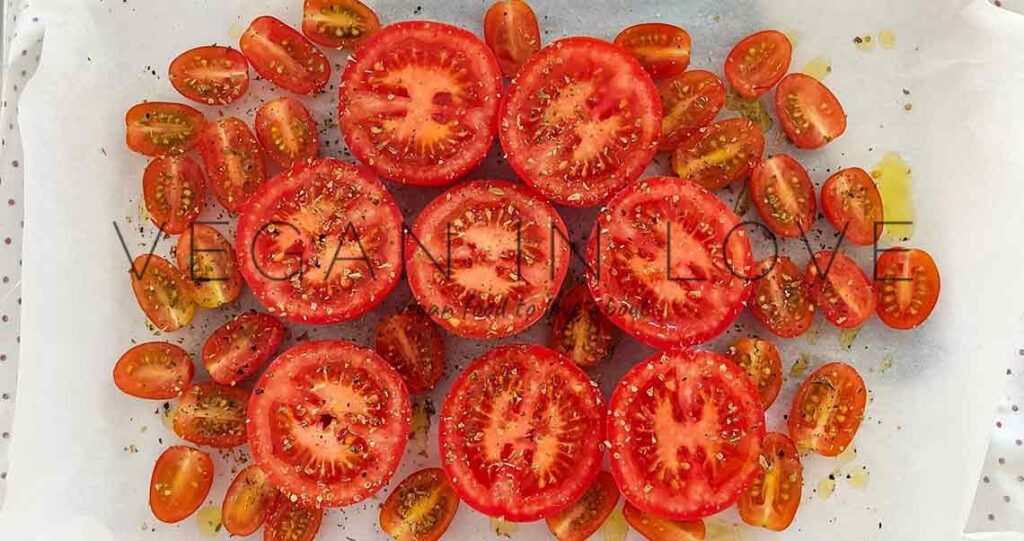 ROASTED TOMATOES SEASONING
Seasoning these delicious roasted tomatoes is super easy, just add salt and pepper and you can have a great result for sure. Additionally, you can always add more seasoning ingredients; such as spices, fresh herbs, and dried herbs. Moreover, if you want to replace the extra virgin olive oil and make oil-free roast tomatoes, you can use maple syrup and enhance the sweet natural flavor of the tomatoes.
FRESH HERBS & DRIED HERBS
Fresh thyme.
Rosemary.
Basil.
Chives.
Sage.
Coriander.
Dill.
OTHER SPICES
Garlic powder.
Onion powder.
Smoked paprika.
Chili powder/flakes.
OTHERS
Kosher salt.
Garlic cloves.
Balsamic vinegar.
Soy sauce.
WHAT TO DO WITH ROASTED TOMATOES?
I love this oven-roasted tomato recipe, not only because it's super easy and quick to prepare with simple and easy-to-find ingredients; but also because they're really versatile and you can make many more dishes using these delicious roasted tomatoes. So, there are many options and ways to enjoy them; for example roasted tomatoes pasta salad. If you are looking for more ideas besides eating the roasted tomatoes as a side dish check the list below for more inspiration.
Pasta.
Salad.
Creamy roasted tomato soup.
Tomato sauce.
Stew.
Pizza.
Filling: sandwiches, wraps, tacos, on top of toast, and rice cakes.
Lastly, you can enjoy this yummy roasted tomato recipe for breakfast. You can prepare a traditional English breakfast with mushrooms, vegan sausages, potatoes, toast, etc. Then, include these classic roasted tomatoes for an indulgence meal.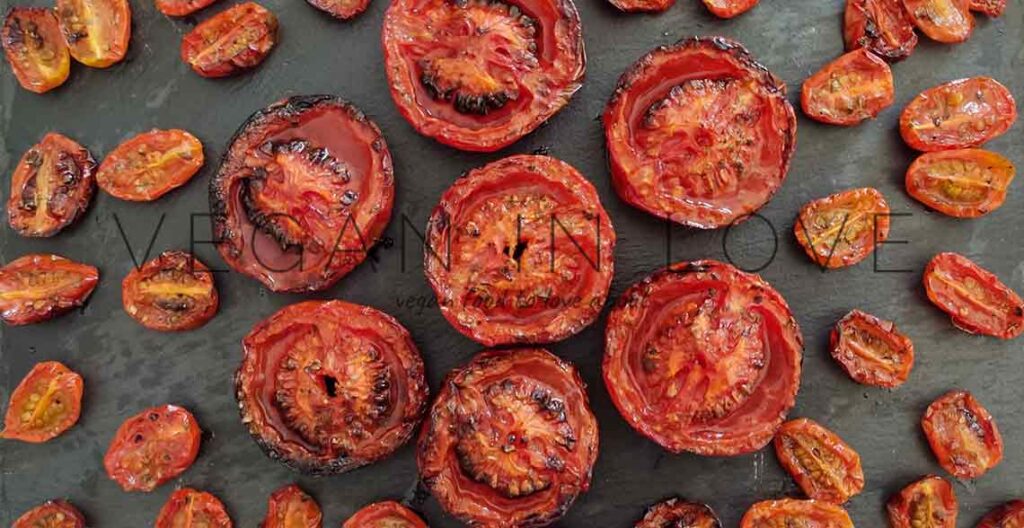 THIS RECIPE GOES WELL WITH: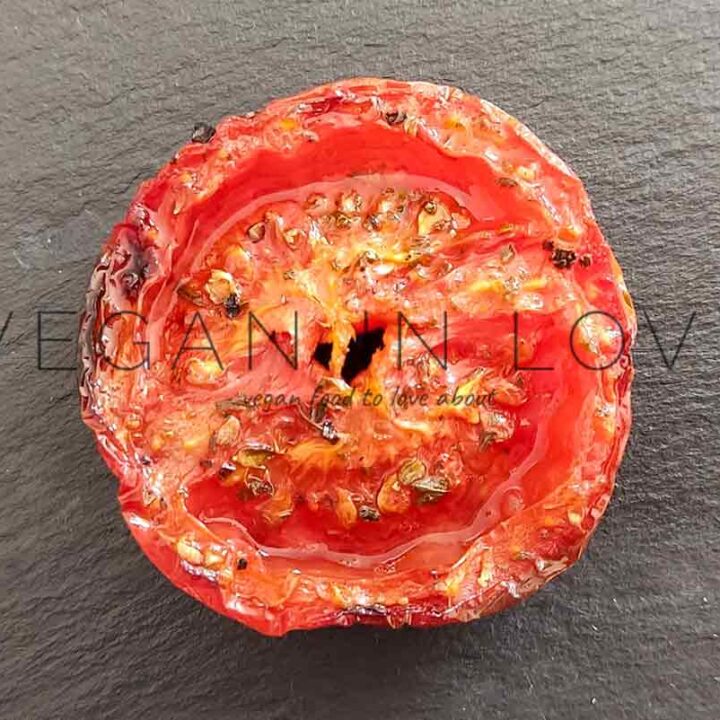 ROASTED TOMATOES
Mouthwatering and aromatic roasted tomatoes made with fresh vine and mini plum tomatoes. This homemade recipe is great as a side dish and to make soups, sauces, or stews.
Ingredients
5 Vine tomatoes.
150 gr. of Mini plum tomatoes.
1 Tbsp. of Extra virgin olive oil.
1 Tsp. of Oregano.
1 Tsp. of Parsley.
¼ Tsp. of Himalayan salt.
Freshly ground black pepper.
Instructions
Preheat the oven to 400 °F degrees (200 °C approx.).
In a rimmed baking sheet pan or baking dish place parchment paper.
Wash and dry the tomatoes.
Cut side the tomatoes (if you wish you can leave them uncut).
Place the tomatoes on the sheet pan with the parchment paper in a single layer.
Drizzle with the extra virgin olive oil.
Season with the oregano, parsley, Himalayan salt, and pepper (I used freshly ground black pepper).
Place the baking sheet in the center of the oven and roast for 30 mins.
After that time, check if the mini plum tomatoes are fully cooked (they will be cooked before the vine tomatoes).
Then cook the vine tomatoes for another 20 mins (you can place them on the top shelf of the oven if you want to get a crispy layer on top).
Remove from the oven and leave at room temperature. You can now enjoy your oven-roasted tomato recipe at room temperature or warm.
Notes
Roasting times can vary depending on your oven, I used an electric fan-assisted oven.
Nutrition Information
Yield

3
Serving Size

1
Amount Per Serving
Calories

87
Total Fat

5g
Saturated Fat

1g
Trans Fat

0g
Unsaturated Fat

4g
Cholesterol

0mg
Sodium

142mg
Carbohydrates

10g
Fiber

3g
Sugar

7g
Protein

2g
The Nutritional values presented on this table are only estimates. The values can also vary depending on the cooking method, ingredients, product brands etc. This data was provided and calculated by Nutritionix.
RELATED RECIPES
YOU MIGHT ALSO LIKE…
---
---