VEGETABLE RICE SOUP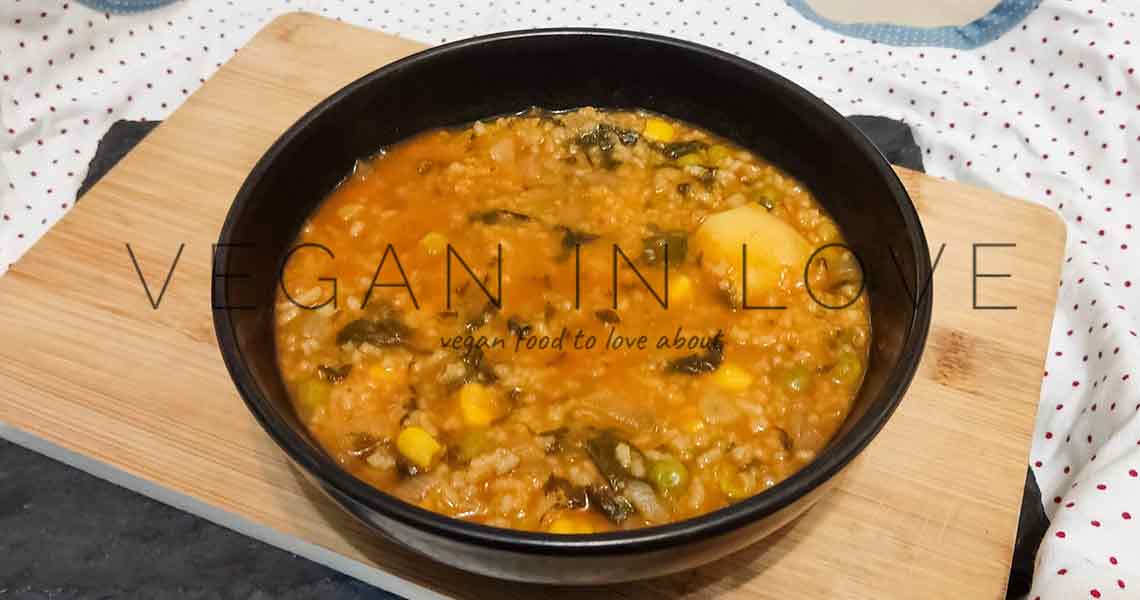 This is a great vegetable rice soup vegan recipe that you can make in just one pot with simple, easy-to-find and affordable vegan ingredients. For me, winter means that I enjoy a huge variety of new and classic soups that will fill me up with nutrients, and energy and of course keep me warm. Believe it or not, soups are one of my favorite dishes as they are really easy to make and comfort food for sure. Therefore, I always like to make plant-based soups, and trying new soup recipes it's a must.
In order to make this hearty and healthy soup I wanted to add rice, as this was new for me when making soup recipes. Moreover, this easy-to-make comfort food recipe can be a great vegan main course recipe together with a delicious side dish such as a fresh salad.
VEGETABLE SOUP SEASONING
With the delicious flavors of the vegetables used in this rice soup, I only season this hearty soup with paprika, garlic powder, and salt. Also, I used olive oil to fry the garlic cloves which gives a great flavor too. If you wish you can season this vegetable soup with salt and pepper and the end result would be lovely. However, if you want to add more seasoning and you are looking for more ideas check the list below.
Lemon juice when serving.
Dried thyme.
Black pepper.
Onion powder.
Curry powder.
Additionally, if you don't want to use olive oil, you can replace this ingredient with another oil of your choice, or for an oil-free option just cook the garlic together with the onion and a pinch of salt. Furthermore, I used vegan bouillon powder which you can replace with vegetable broth that can also be used when cooking the onion and garlic. Vegetable broth is great when cooking soup as it gives a great flavor to your dish.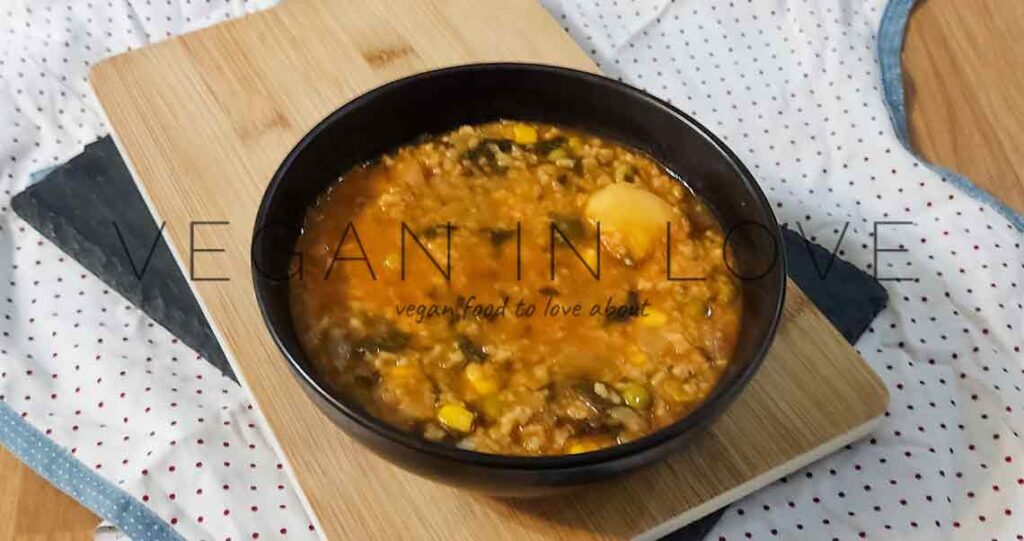 VEGETABLE SOUP EXTRA INGREDIENTS
This healthy and easy-to-make vegan vegetable soup with rice was made with some frozen ingredients that you can easily change with fresh ones. Additionally, you can add more vegetables that you enjoy and personalize the flavor you want to get. Moreover, this is a great way to eat vegetables in a healthy and nutritious recipe. For more veggies ingredient ideas check this list.
Celery.
Carrots.
Broccoli.
Peppers; such as green, red, and yellow pepper.
Green beans.
White beans.
Green onion/spring onion.
Lastly, I used white Basmati rice to make this soup recipe; however, there are other rice options that you can use when cooking this rice soup if you prefer not to use white rice; such as
Also, there is a huge variety of rice that you can use, so it doesn't have to be Basmati only. Feel free to use the rice you prefer, just keep in mind that this may change the cooking time and the flavor of this vegan soup.
THIS VEGETABLE RICE SOUP RECIPE GOES WELL WITH:
Also, try this healthy and delicious vegetable soup recipe with Parmesan cheese.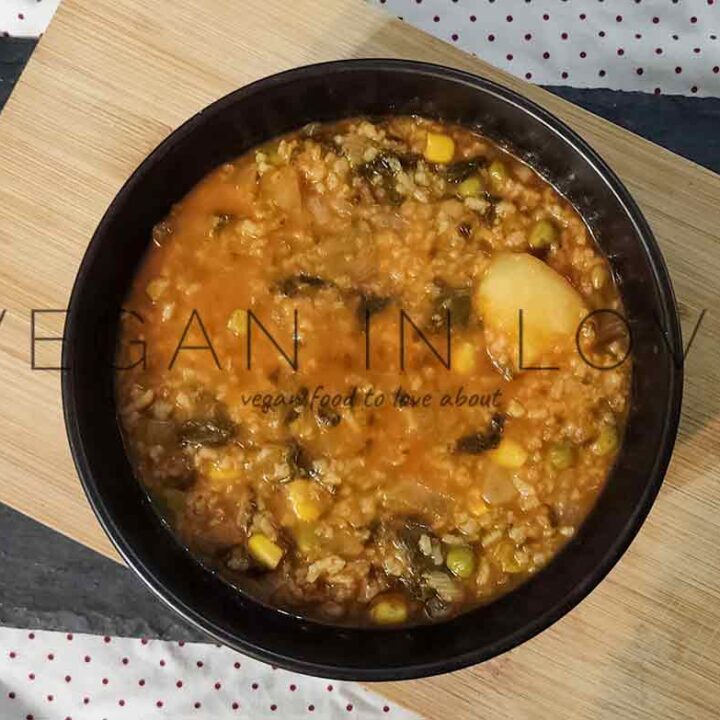 VEGETABLE RICE SOUP RECIPE
Warm, comforting, and delicious vegetable rice soup recipe to enjoy and keep you warm during winter. Also, this vegan soup is gluten-free and affordable too.
Ingredients
2 White onions.
2 Garlic cloves.
1 Tbsp. of Olive oil.
2 Medium potatoes.
3 Frozen spinach (80gr. each).
¾ Cup of Frozen sweetcorn.
¾ Cup of Frozen garden peas.
1.25 Litres of Water.
1 Tbsp. of Vegan bouillon powder.
2 Tbsp. of Tomato puree.
½ Cup of Basmati rice.
1 Tbsp. of Paprika.
1 Tsp. of Garlic powder.
½ Tsp. of Himalayan salt.
Instructions
Peel and dice the garlic cloves and fry them in a large pot with 1 tbsp. of olive oil for one or two minutes, then remove from the stove.
Peel and dice the onions and the potatoes. Add them to the pot with the frozen spinach, sweetcorn, and garden peas.
Pour 1.25 liters of water with 1 tbsp. of vegan bouillon powder and 2 tbsp. of Tomato puree. Stir well.
Rinse well the basmati rice until the water comes clean and then add them with the rest of the ingredients in the pot.
Season to taste with paprika, garlic powder, and Himalayan salts.
Simmer and cook this vegan soup in the pot over medium heat for 30 to 40 minutes or until the vegetables are done and the rice is cooked.
Remove the pot from the heat and warmly serve this delicious vegetable rice soup on a soup plate.
Additionally, feel free to garnish this vegan soup with fresh parsley chopped.
Notes
Cook time for this vegetable soup recipe may be less if you use fresh vegetables instead of frozen veggies. You can use whatever you prefer or what you have available at home.
Nutrition Information
Yield

6
Serving Size

1
Amount Per Serving
Calories

171
Total Fat

3g
Saturated Fat

1g
Trans Fat

0g
Unsaturated Fat

3g
Cholesterol

0mg
Sodium

454mg
Carbohydrates

31g
Fiber

6g
Sugar

5g
Protein

7g
The Nutritional values presented on this table are only estimates. The values can also vary depending on the cooking method, ingredients, product brands etc. This data was provided and calculated by Nutritionix.
RELATED RECIPES
YOU MIGHT ALSO LIKE…
---
---