BANANA CHIPS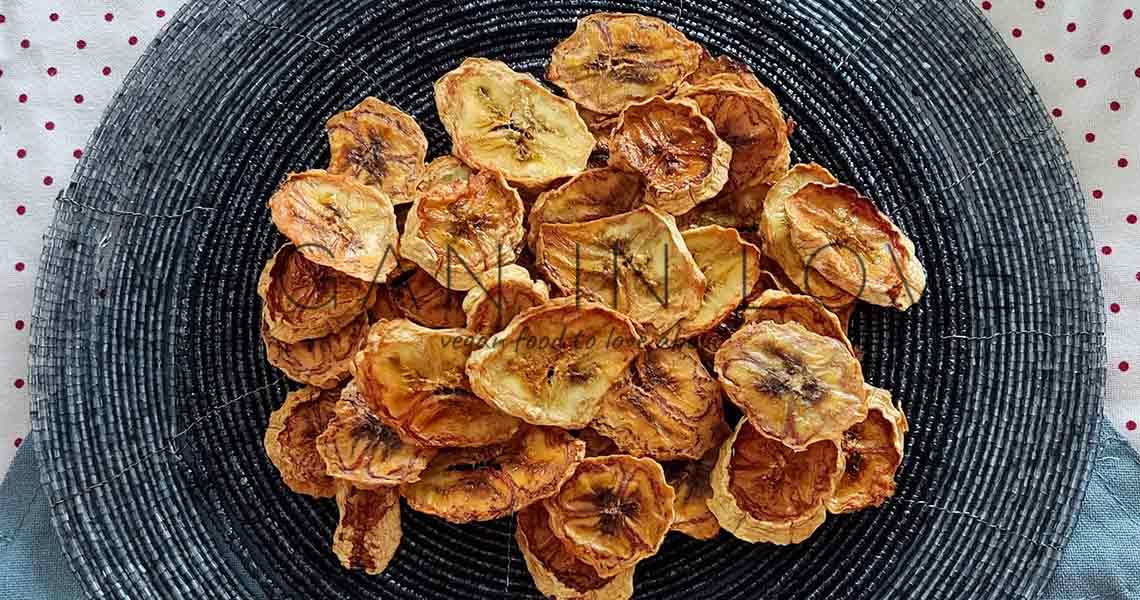 Banana chips are a healthy snack alternative to other snacks such as potato chips or regular chips. They are also a good source of dietary fiber and are gluten-free. They are super easy to prepare and also to take with you for a crunchy and quick snack. Furthermore, you can use this lovely baked banana chips recipe to garnish and decorate other recipes: such as cakes, crepes, cupcakes, pancakes, cookies, and more! Also, you can use them not only whole, but you can brake them into small pieces and sprinkle the banana chips as a crunchy topping for banana bread or make your own homemade granola. Add them to your recipes as you would with dried fruits.
Additionally, this is a great idea as a snack to pack in a lunch box for children and grown-ups too! These homemade baked banana chips are light, small very easy to carry in an airtight container. Therefore, you can take them with you on many occasions; such as work, school, picnics, holidays, beach, road trips, parties, and more! Although this delicious snack has no added sugar, just be careful as can be high in sugar.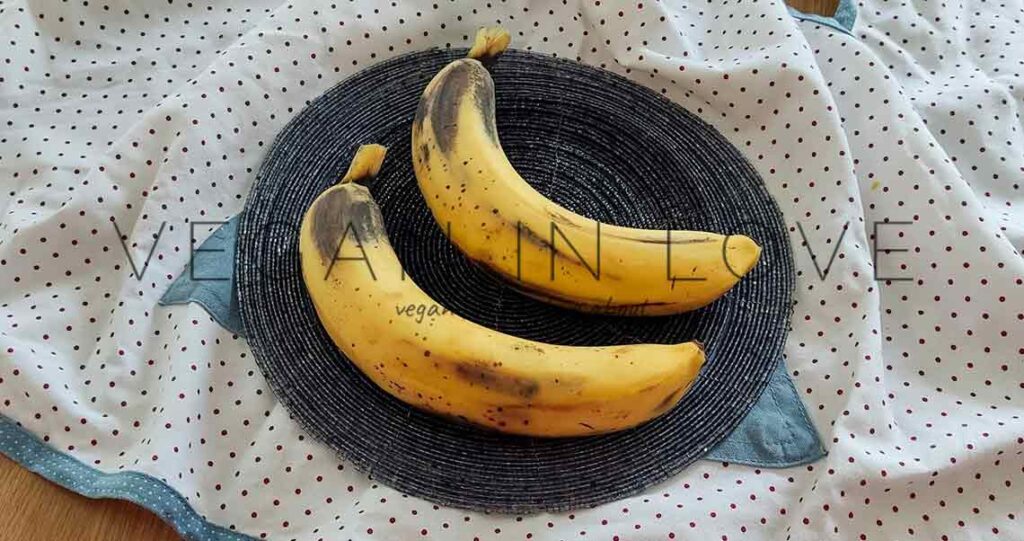 In short, with just a few bananas you can make these homemade banana chips and enjoy them in many ways and occasions since this recipe is really versatile:
Lunch box.
Parties, i.e. birthdays.
Holidays.
Road trips.
Picnics.
Breakfast; such as homemade granola or yogurt.
BANANA CHIPS SEASONING
Banana chips are naturally sweet, especially if you use overripe bananas or ripe bananas. This super-simple banana chip recipe is delicious just as it is. However, if you want to add more flavor you can always sprinkle seasoning; such as aromatic spices. You will only need to sprinkle the spices or seasoning of your choice before you bake your banana chips. For some inspiration check a few ideas below.
SEASONING IDEAS
Ginger powder.
Nutmeg.
Cinnamon.
Cocoa powder.
BANANA CHIPS TIPS:
Bananas: for this recipe, I used ripe bananas (ripe plantain), but you can also use overripe bananas too. This is a great recipe and easy to make when you have loads of bananas that may go to waste.
Cooking: this recipe is oil-free, to cook these homemade banana chips are ideal for baking sheets or parchment paper. If you prefer not to use a prepared baking sheet, you can pour olive oil, cooking spray, or oil of your choice on the baking tray.
Cooking times: To prepare these banana chips recipes I used an oven method to bake them. I used an electric fan-assisted oven, so cooking times can vary depending on the oven you use. Also, which shelf of the oven you use to cook this snack can affect the cooking; for example, if you the top shelf your banana chip may cook quicker and get more crispy.
Storage: once your homemade baked banana chips are cooked to your taste let them cool completely (you can use a cooling rack or wire rack but that's optional). Then, to remove them from the baking sheet (sheet with parchment paper) use a metal spatula and store them in an airtight container.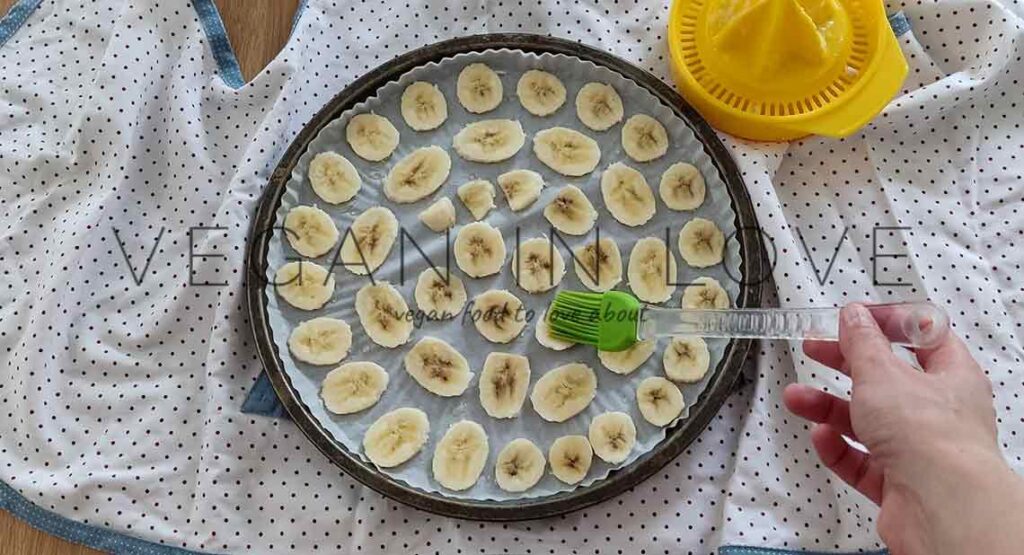 THIS RECIPE GOES WELL WITH: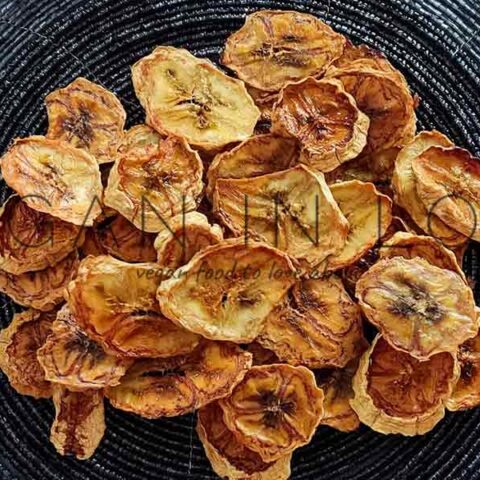 BANANA CHIPS HOW TO MAKE
Total Time:
2 hours
10 minutes
Healthy homemade baked banana chips, oil & gluten-free. With only 2 ingredients, enjoy this versatile banana chip recipe with cakes, and homemade granola. Also is great for lunchboxes!
Ingredients
2 Medium ripe bananas.
½ Fresh lemon (Juice).
Instructions
Preheat the oven to 100 °C degrees (fan oven) / 212 °F approx.
Peel your 2 ripe bananas and remove any dark area that is not in good condition.
Slice the bananas (you can choose if you want the thinly sliced or not).
Place the banana slices on an oven baking tray with a baking sheet or parchment paper. Also, place them in a single layer and leave space between them.
Then, with half lemon juice lightly brush the banana slices*.
Bake your banana slices in the oven for 1½ hr.
Then flip them over with a metal spatula (or cooking spatula that you have) and bake for another 30 minutes.
Once this cooking time is completed, let them cool down for 5 to 10 minutes and check if they are crunchy to your taste. If they are not to your taste, place the banana slices in the oven again and cook for another 20 minutes.
Notes
*If you want to add spices you can do so at this step of the recipe.
For the serving portion, I calculate 1 banana per serving. Once the banana slices are baked it would be around 25 gr. per serving.
Nutrition Information
Yield

2
Serving Size

1
Amount Per Serving
Calories

111
Total Fat

0g
Saturated Fat

0g
Trans Fat

0g
Unsaturated Fat

0g
Cholesterol

0mg
Sodium

2mg
Carbohydrates

29g
Fiber

4g
Sugar

15g
Protein

2g
The Nutritional values presented on this table are only estimates. The values can also vary depending on the cooking method, ingredients, product brands etc. This data was provided and calculated by Nutritionix.
RELATED RECIPES
YOU MIGHT ALSO LIKE…
---
---