PIZZA TOAST RECIPE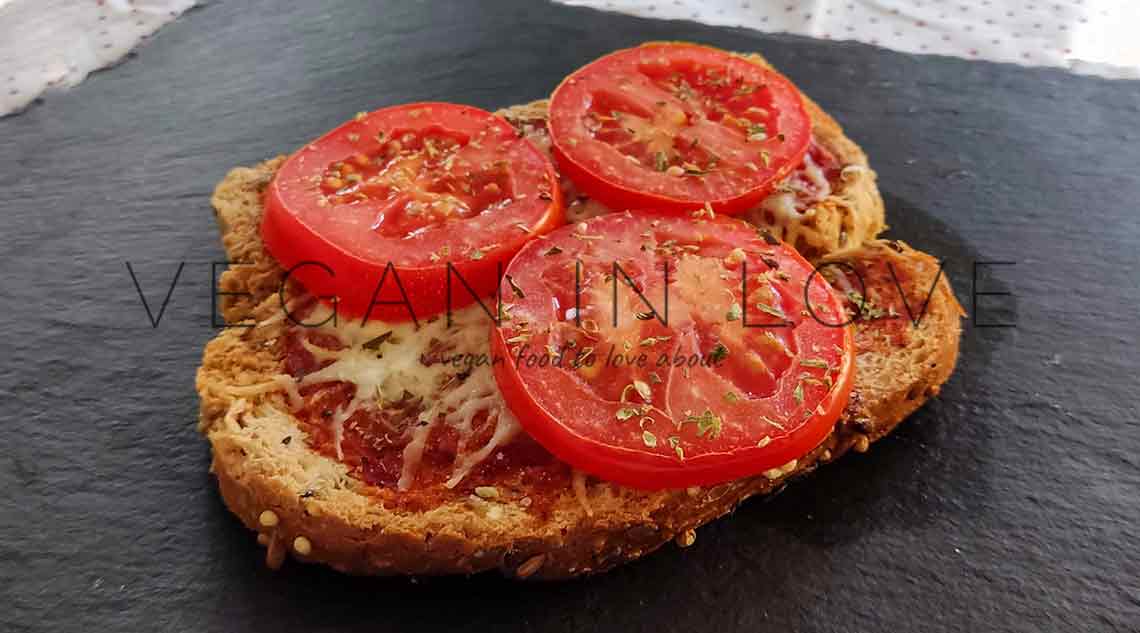 This delicious easy pizza toast recipe is not only quick and easy to make but also with simple ingredients that you may already have at home. Furthermore, with just a few slices of bread of your choice and some vegan toppings, you can have a quick lunch, brunch, breakfast, or even a great snack.
Additionally, this easy pizza toast idea is amazing to prepare in only a few minutes and take with you in a lunch box for work or even you can make it for your kids as a school snack. Moreover, kids will love this lunch recipe as they can also make it with you and choose their favorite toppings, not just vegan shredded mozzarella cheese.
This quick and easy pizza toast is versatile, you can choose not only the pizza toppings but as don't have to make and bake the pizza dough. Therefore, just choose the bread you would love to make pizza toast; for example baguettes, bagels, naan, pitta, ciabatta, etc. Moreover, you can use gluten-free, white, whole wheat, multigrain, sourdough, and rye bread.
PIZZA TOPPINGS
In order to make pizza toast you can choose from a variety of ingredients that you can add to your recipe. You can go from the classic and traditional toppings; such as pizza sauce to more unique ones and create new mixed flavor combinations. From fresh ingredients and simple; such as fresh spinach to more elaborated or processed ones; such as vegan pepperoni. Therefore, you can personalize this homemade recipe and decide how healthy you want to eat your pizza toast.
PIZZA TOPPING INGREDIENTS
Sundried tomatoes.
Cherry tomatoes.
Wild rocket.
Olives (green or black). Pitted and/or filled.
Mushrooms.
Chopped nuts; such as pistachios.
Gherkins/pickles.
Roasted vegetables; such as carrots and asparagus.
Chopped green onions/spring onions.
PIZZA TOPPING SAUCES
Additionally, you can replace vegan cheese with homemade hummus. I tried this option in another pizza recipe and it was delicious.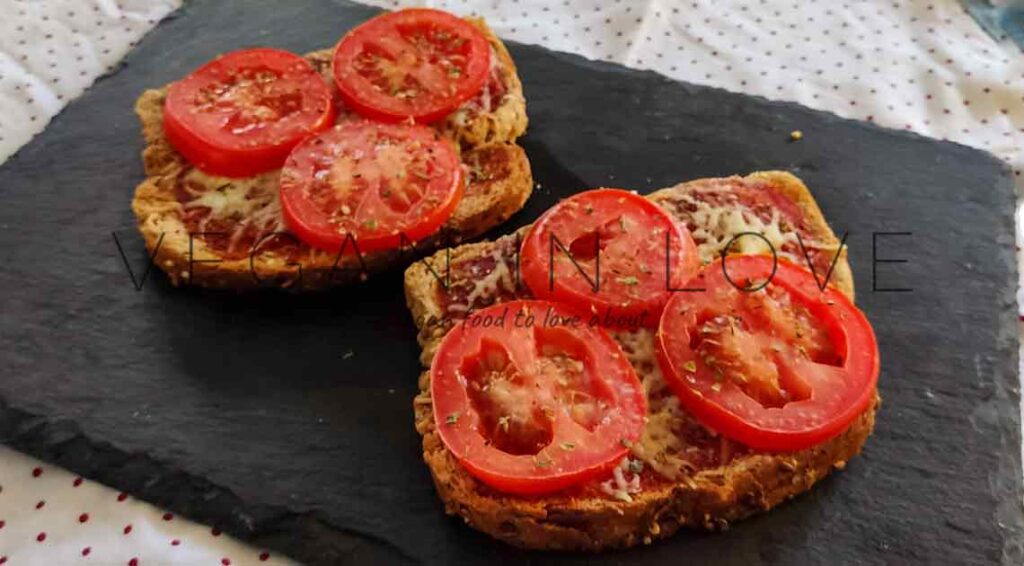 PIZZA SEASONINGS
Seasoning this easy pizza toast is simple and quick with just a few classic Italian pizza ingredients. However, you can add more or different spices when you make pizza toast. As you can see this is not only easy to make pizza toast but also easy to season too. For more ideas on what ingredients to use to season this homemade food check the following list.
EXTRA SEASONING IDEAS
Curry powder.
Chilli flakes.
Sesame oil.
Balsamic vinegar.
Olive oil.
Rosemary.
Thyme.
Basil (dried or fresh).
Black pepper.
Lastly, you can serve this food for example for a family or friend's lunch with another dish such as delicious and warm creamy soup recipes. This is a great idea as everyone (including kids) can make their own pizza toast.
THIS RECIPE GOES WELL WITH THE: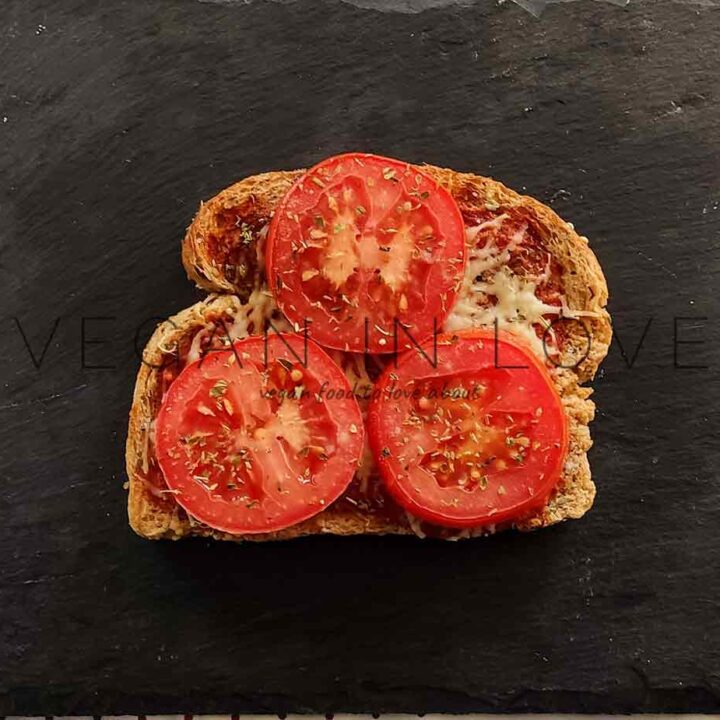 EASY PIZZA TOAST
This quick and easy pizza toast recipe is made of simple and delicious ingredients. Also, this is a great recipe idea to have for lunch, brunch, or breakfast.
Ingredients
2 Bread slices.
4 Tbsp. of Passata.
4 Tbsp. of Grated vegan cheese.
2 Tomatoes.
1 Tsp. of Dried oregano.
½ Tsp. of Garlic powder.
½ Tsp. of Paprika.
A pinch of Himalayan salt.
Instructions
Pre-heat the oven to 180 °C degrees (356 °F approx.).
Slightly toast your bread slices in a traditional toaster or in the oven.
Place your toast on a baking sheet and spread 2 tbsp. of passata or tomato sauce on each toast.
Sprinkle around 2 tbsp. of grated vegan cheese of your choice on top of your bread toasts slices.
Place the baking sheet in the center of the oven and bake for 5 minutes.
In the meantime, wash and cut the tomatoes into slices.
Remove the baking sheet from the oven when the cheese is melted, then add the rest of the toppings, in this case, the tomato slices.
Season to taste with dried oregano, paprika, garlic powder, and Himalayan salts.
Place the tray in the oven and cook your pizzas for another 5 minutes or until they are crispy to your taste.
Remove the pizzas from the oven, serve them and eat them warm.
Notes
I toasted the bread slices before I spread the tomato sauce, as it's easier to do and the bread doesn't get soggy.
Nutrition Information
Yield

1
Serving Size

1
Amount Per Serving
Calories

292
Total Fat

6g
Saturated Fat

2g
Trans Fat

0g
Unsaturated Fat

4g
Cholesterol

0mg
Sodium

609mg
Carbohydrates

50g
Fiber

6g
Sugar

17g
Protein

11g
The Nutritional values presented on this table are only estimates. The values can also vary depending on the cooking method, ingredients, product brands etc. This data was provided and calculated by Nutritionix.
YOU MIGHT ALSO LIKE…
---
---