VEGAN TORTILLA PIZZA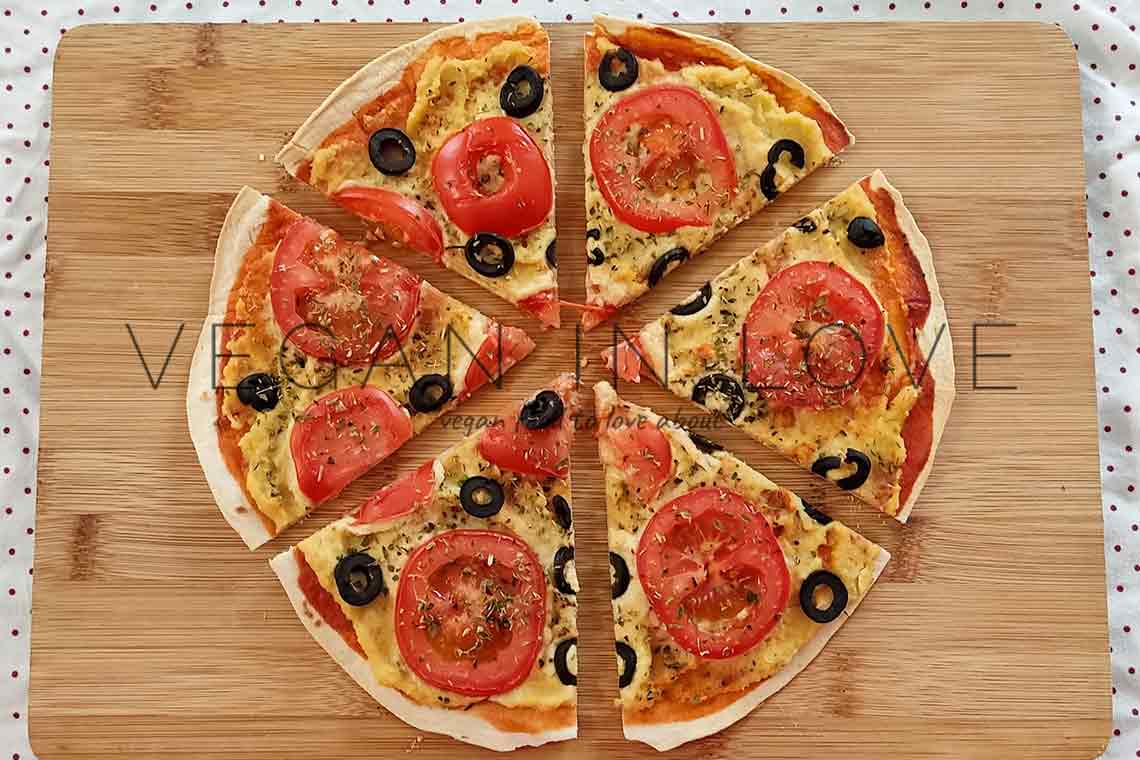 This vegan tortilla pizza recipe is really easy to make, quick, and simple for a light dinner meal. Furthermore, this convenient vegan tortilla is great for making an affordable meal with a huge variety of great ingredients that you might already have at home, so there is no need to rush to the store.
In order to make pizza, you normally need to prepare the dough, which is really time-consuming. However, with this recipe, you just need to use tortilla wraps and make as many pizzas as you want. Therefore, by using vegan tortilla wraps you will reduce the prep time a lot; moreover, you can prepare this recipe using gluten-free tortillas and corn tortillas too.
Additionally, I decided to try this vegan tortilla recipe without using vegan or plant-based cheese and I replaced this vegan ingredient with homemade hummus and the result was amazing. However, if you want to use vegan or plant-based cheese; such as vegan mozzarella cheese this recipe will be great too. Also, tell us in the comments section below if you tried this option and how it went.
PIZZA SEASONING
Seasoning pizza is simple and straightforward; for example with salt, oregano, and a drizzle of olive oil. However, there are other great seasonings that go beautifully with vegan tortilla pizza. These extra seasoning ingredients are not only delicious but also healthy too. So, if you are looking for more ideas check the following list.
Fresh basil.
Fresh chopped garlic.
Parsley.
Italian herbs.
Black pepper.
White pepper.
Onion powder.
Nutritional yeast.
Pizza sauce.
BBQ sauce.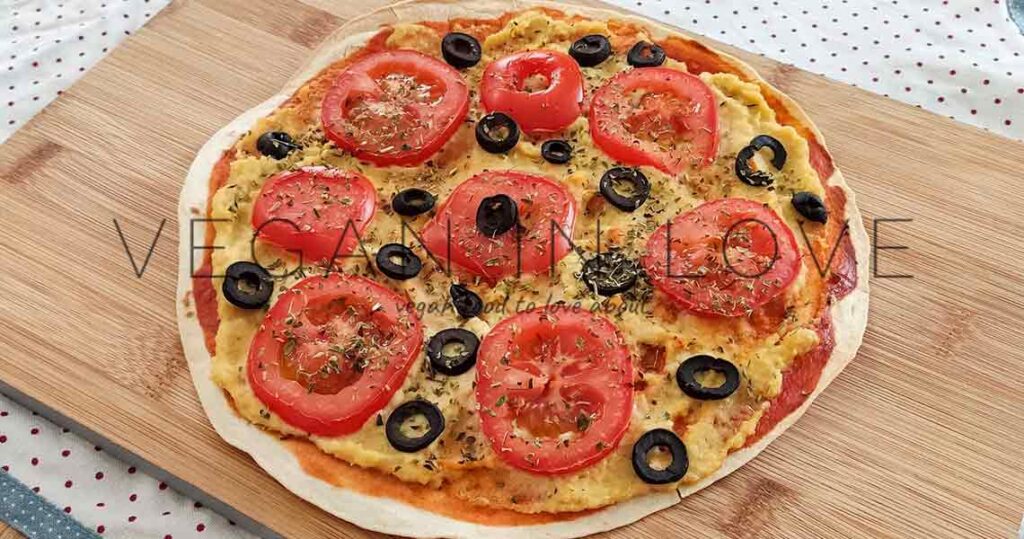 TOPPINGS FOR PIZZA
If you want to prepare more than just a margarita pizza and are looking for more vegan, plant-based ingredients to enjoy check the ingredients list below. Furthermore, this is a great recipe that you can make at parties and gatherings as your guests can make their own tortilla pizza.
HOMEMADE VEGAN CHEESE
Although you have the option to buy vegan cheese to use with this tortilla pizza; such as vegan mozzarella. Here I listed 3 delicious homemade vegan cheese recipes that you can prepare.
OTHERS
Vegan meat; such as pepperoni.
Green veggies; for example wild rocket and spinach.
Green olives; for example, olives that are pitted or stuffed.
Bell pepper.
Red onion.
Tomatoes; such as cherry tomatoes, plum tomatoes, and sundried tomatoes.
Sweet corn.
Jalapeños.
Mushrooms.
Green onion/spring onion.
Pineapple (fresh or canned).
Lastly, bear in mind that some of these ingredients are better to add after you cook your pizza in order to keep the freshness of them.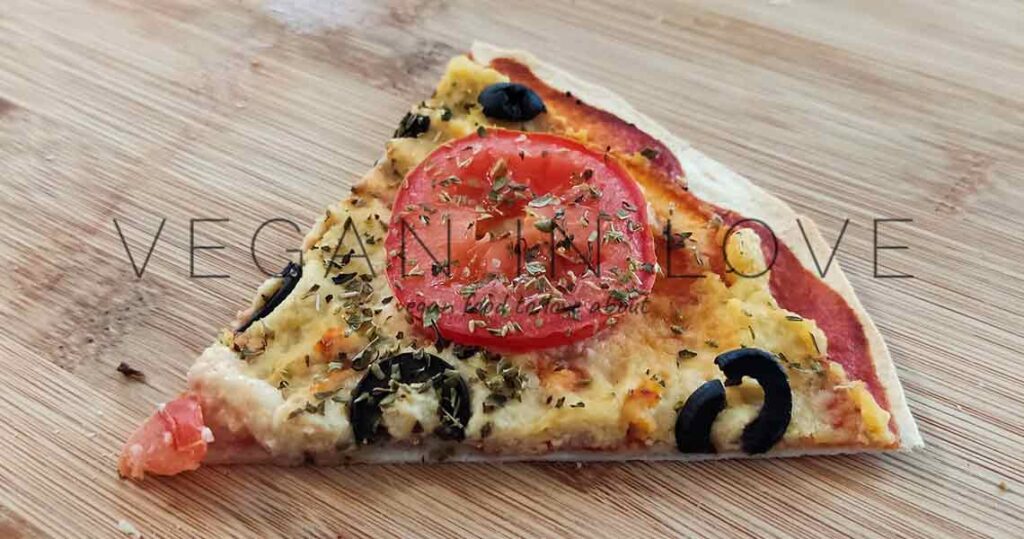 THIS PIZZA RECIPE GOES WELL WITH: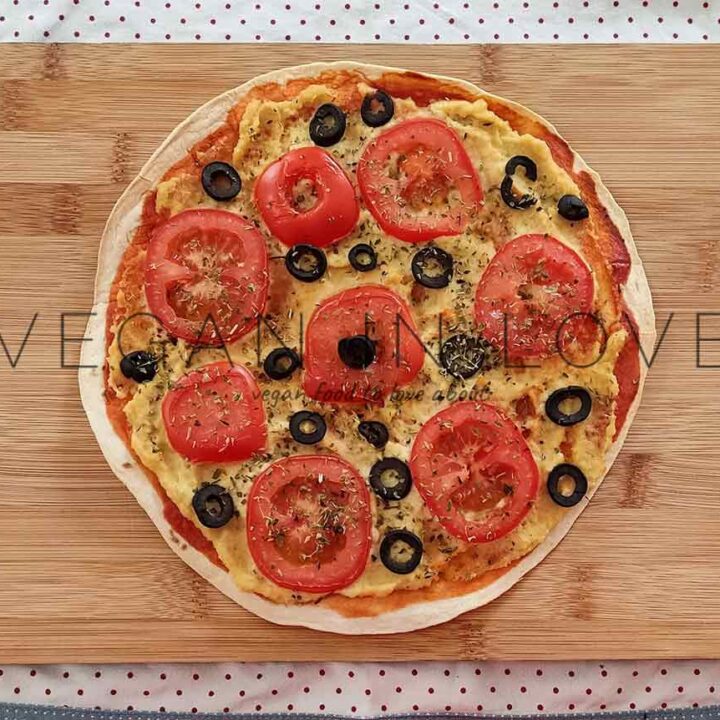 VEGAN TORTILLA PIZZA
This is a delicious recipe for vegan pizza made with a tortilla wrap. It's easy, quick, and simple to prepare with just a few ingredients, and tastes great!
Ingredients
1 Tortilla wrap.
3 Tbsp. of Passata.
5 Tbsp. of Hummus*.
1 Large tomato.
3 Black olives.
½ Tsp. of Garlic powder.
½ Tsp. of Oregano.
A Pinch of Himalayan salts.
Instructions
Preheat the oven to 180 °C degrees (356 °F approx.).
Place parchment paper on a baking tray, and then place one tortilla wrap.
Spread 3 tbsp. of passata evenly and place your tortilla pizza in the oven for around 2 minutes.
Remove from the oven and spread 5 tbsp. of hummus. Then cut the tomato and black olives into slices.
Add your toppings to your vegan tortilla pizza.
Season with garlic powder, oregano, and Himalayan salts.
Place in the oven a cook for 8 minutes more. If you want you can leave the homemade tortilla pizza a few minutes more in the oven if you want it more crispy, this also can vary depending on the oven you are using.
Remove from the oven, cut the tortilla pizza into 6 slices and serve.
Notes
*I replaced the cheese with hummus, if you want to make this recipe click on the name: Hummus recipe.
Nutrition Information
Yield

1
Serving Size

1
Amount Per Serving
Calories

411
Total Fat

14g
Saturated Fat

3g
Trans Fat

0g
Unsaturated Fat

10g
Cholesterol

0mg
Sodium

819mg
Carbohydrates

60g
Fiber

10g
Sugar

5g
Protein

14g
The Nutritional values presented on this table are only estimates. The values can also vary depending on the cooking method, ingredients, product brands etc. This data was provided and calculated by Nutritionix.
RELATED RECIPES
YOU MIGHT ALSO LIKE…
---
---