GRANOLA BAR VEGAN RECIPE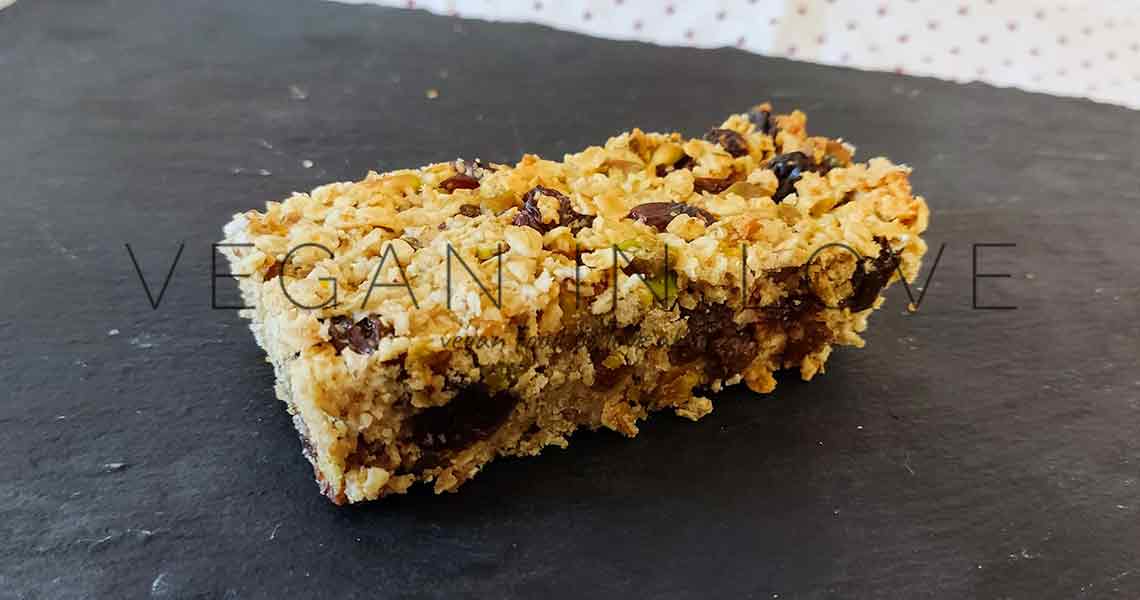 This homemade granola bars recipe is delicious and nutritious with healthy fats. If you are thinking about the calories this peanut butter can give to these vegan granola bars, I choose to use powdered peanut butter that you mix with water. By selecting this peanut butter option, you can reduce significantly the amount of calories in this delicious recipe.
What I love about these homemade vegan granola bars is that they are really easy to make and easy to carry with you at work or school. Therefore, you can have healthy granola bars that will fill you up between meals. As a matter of fact, these vegan granola bars are a perfect healthy snack or you can also enjoy them with a smoothie or herbal tea for a healthy breakfast.
GRANOLA BAR FLAVORING IDEAS
Most granola bars have sugar which gives them a nice yummy sweet flavor. Healthy snacks and homemade bars don't have to be bland or tasteless. Therefore, I replaced the sugar, that many granola bar recipes have, with maple syrup. Moreover, I added to the granola mixture some healthy fats from the coconut oil and the canned coconut milk. As a result, I got a flavorful granola bar recipe.
In addition to this coconut flavor, if you want more flavoring ideas check the following list.
Vanilla extract.
Ground cinnamon.
Pumpkin spice.
Agave.
Sugar: such as demerara, coconut sugar, etc.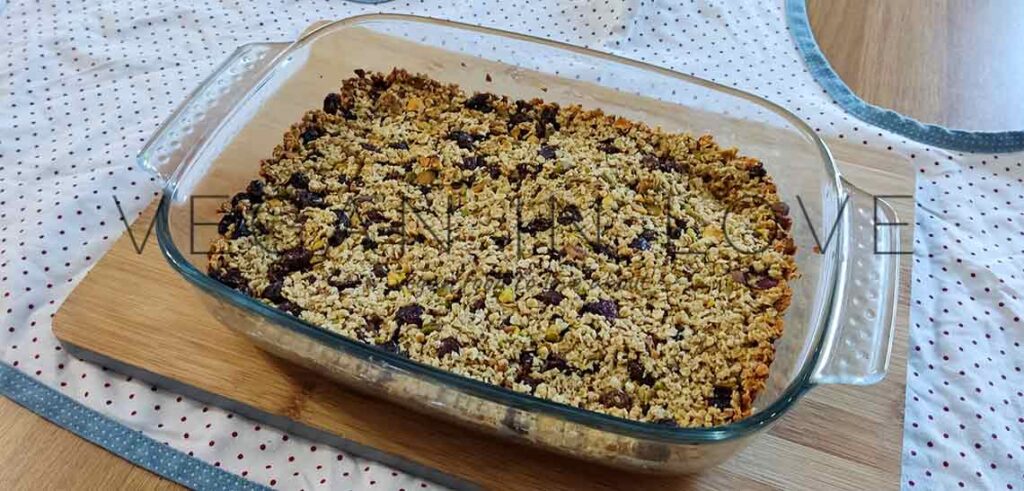 NUT BUTTER & SEED BUTTER
Whereas if you don't have peanut butter, have a nut allergy, or prefer not to use peanut butter for these vegan granola bars, you can replace this ingredient with other nut butter or seed butter; such as almond butter, cashew nut butter, and sunflower seed butter. Alternatively, you can avoid peanut butter or any other nut butter.
Lastly, if you want to prepare nut-free bars you can avoid these ingredients when you make vegan granola bars. This is another great thing about making your own homemade granola bars, as you can adapt this recipe to your personal requirements. Hence, you can personalize them by selecting the best ingredients for you, something that you can't do with store-bought granola bars. As a result, you can get healthy granola bars with ingredients that you know and you love.
GRANOLA BAR OTHER INGREDIENT IDEAS
This homemade granola bar recipe is really versatile and can use and try many delicious wholesome ingredients to create fun flavors. Therefore, be creative and get inspired with the ingredient list below and prepare your own granola bars for healthy snacks.
SEEDS
Sunflower seeds.
Hemp seeds.
Flax seeds.
Chia seeds.
Pumpkin seeds.
DRIED FRUIT
Apricot.
Prunes.
Goji berries.
NUTS
Chopped almonds.
Pistachios.
Hazelnuts.
Walnuts.
Macadamia nuts.
OTHERS
Vegan chocolate chips/dark chocolate chips/mini chocolate chips.
Toasted oats and/or rolled oats.
Rice cereal.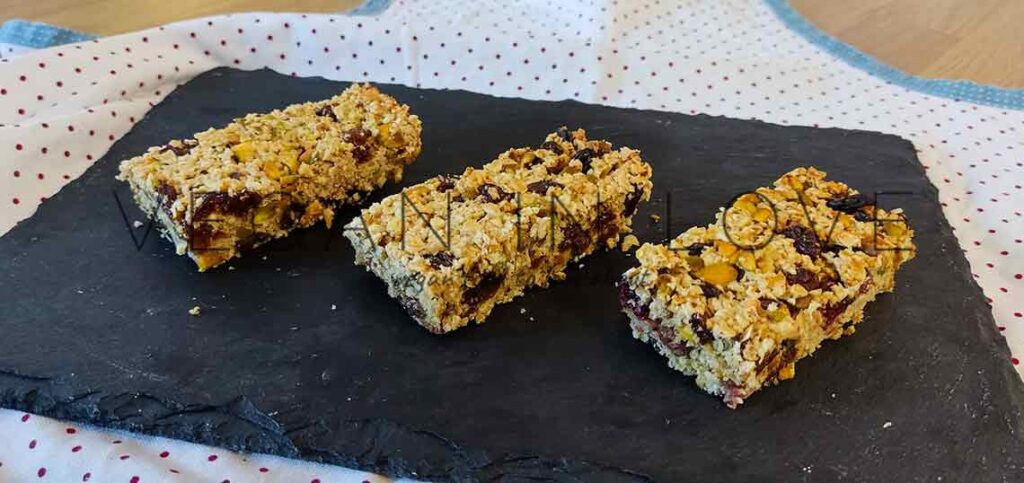 THIS GRANOLA BAR RECIPE GOES WELL WITH:
Also, try this homemade granola bars recipe with Banana chips.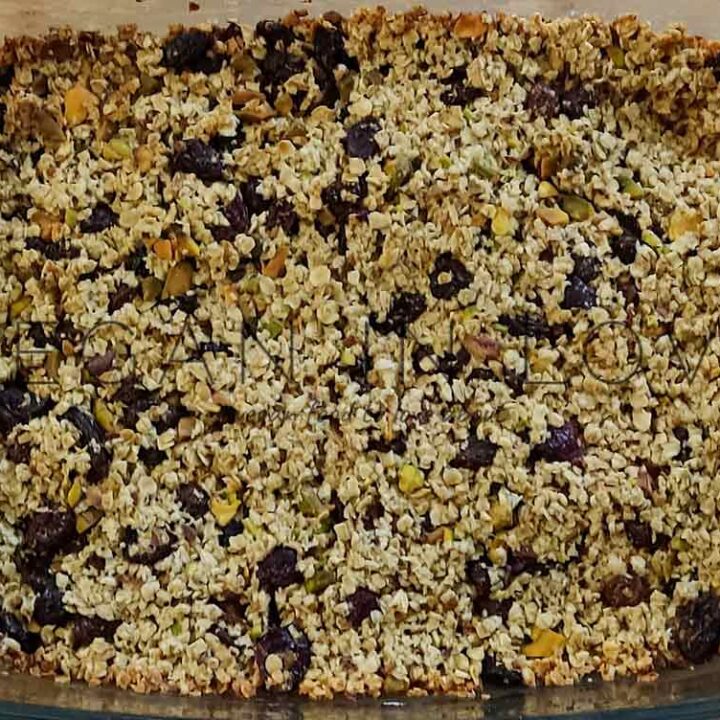 GRANOLA BAR VEGAN
This healthy vegan granola bar recipe it's also delicious and gluten-free. Enjoy these easy-to-make soft and chewy granola bars for breakfast or as a nutritious snack.
Ingredients
2 Cups of Gluten-free oats*.
½ Cup of Dried Cranberries.
½ Cup of Raisins.
½ Cup of Chopped pistachios.
2 Tbsp. of Maple syrup
1 Tbsp. of Coconut oil.
2 Tbsp. of Peanut butter.
200 ml. of Canned coconut milk.
Instructions
Preheat the oven to 180 °C degrees (356 °F approx.).
In a baking pan/baking tray (I used a glass dish) spread some coconut oil (or vegan butter). You can also use parchment paper as well.
Then, in a large mixing bowl add the dry ingredients: 2 cups of gluten-free oats*, ½ cup of dried cranberries, ½ cup of raisins, and ½ cup of chopped pistachios. Mix well (you don't need a food processor to make this granola mixture).
In another bowl, pour 2 tbsp. of maple syrup, 1 tbsp. of coconut oil, 2 tbsp. of peanut butter, and 200 ml. of canned coconut milk (full fat). Mix well.
Pour the wet ingredients into the dry ingredients and integrate them well.
Spread your granola mixture evenly in the baking pan.
Place the baking pan in the center of the oven and bake for around 25 minutes. If you want more crunchy granola bars, leave the baking tray in the oven for 5 minutes more**.
Remove the baking pan from the oven and let these healthy vegan granola bars cool completely at room temperature.
Then, you can cut them into granola bars/cereal bars, or why not into squares?
Lastly, you can keep them in an airtight container for up to a week. If you wish you can also individually wrap them too like the store-bought granola bars.
Notes
*To make this recipe gluten-free, make sure you check the package label for certified gluten-free oats.
**I baked this homemade granola bar recipe in a fan-assisted oven. Cooking times can vary depending on the oven you are using.
Nutrition Information
Yield

10
Serving Size

1
Amount Per Serving
Calories

227
Total Fat

11g
Saturated Fat

6g
Trans Fat

0g
Unsaturated Fat

5g
Cholesterol

0mg
Sodium

49mg
Carbohydrates

30g
Fiber

3g
Sugar

14g
Protein

5g
The Nutritional values presented on this table are only estimates. The values can also vary depending on the cooking method, ingredients, product brands etc. This data was provided and calculated by Nutritionix.
RELATED RECIPE
YOU MIGHT ALSO LIKE…
---
---