SPANISH OMELETTE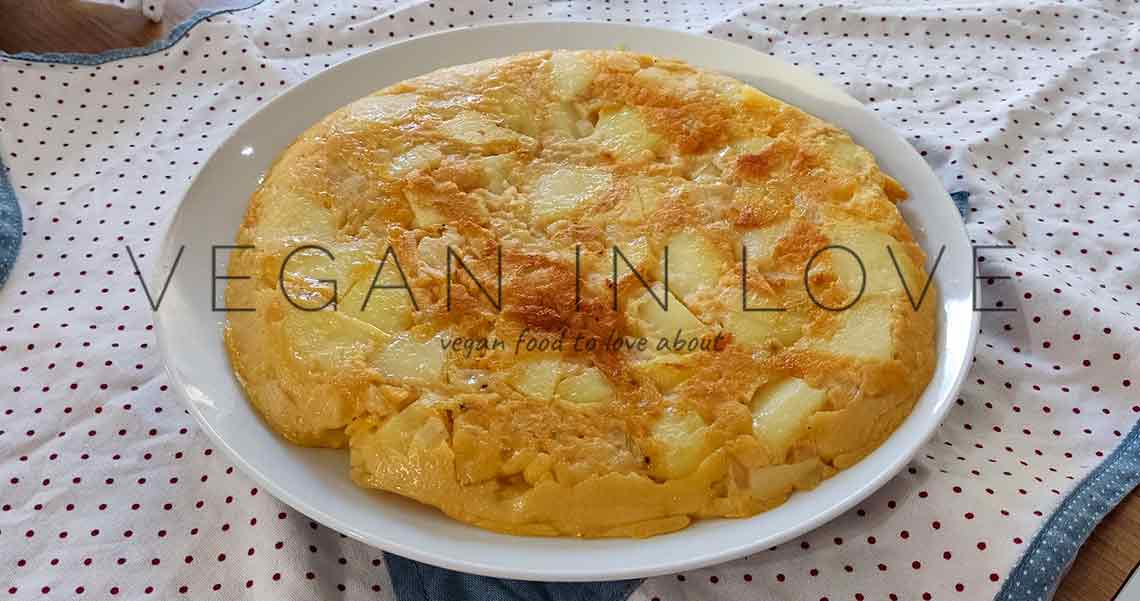 This vegan version of the classic and traditional Spanish omelette it's a delicious alternative if you don't eat eggs or have any intolerance or food allergies. Therefore, using chickpea flour or gram flour works as a perfect egg replacement. Moreover, this is a great flour to use, ideal for preparing incredible foods without gluten.
SPANISH OMELETTE SEASONING
This vegan tortilla Española is really easy to season, you can just sprinkle salt and pepper and you will have a delicious tortilla de patatas. However, you can use other seasoning ingredients for this wonderful recipe. Furthermore, it might not be close to the traditional recipe, but if you like spicy food you can sprinkle some spicy seasoning; such as chili or chili flakes. For additional seasoning ideas that go well with this recipe, check the following list.
SEASONING IDEAS
Black salt.
Black pepper.
Onion powder.
Smoked paprika.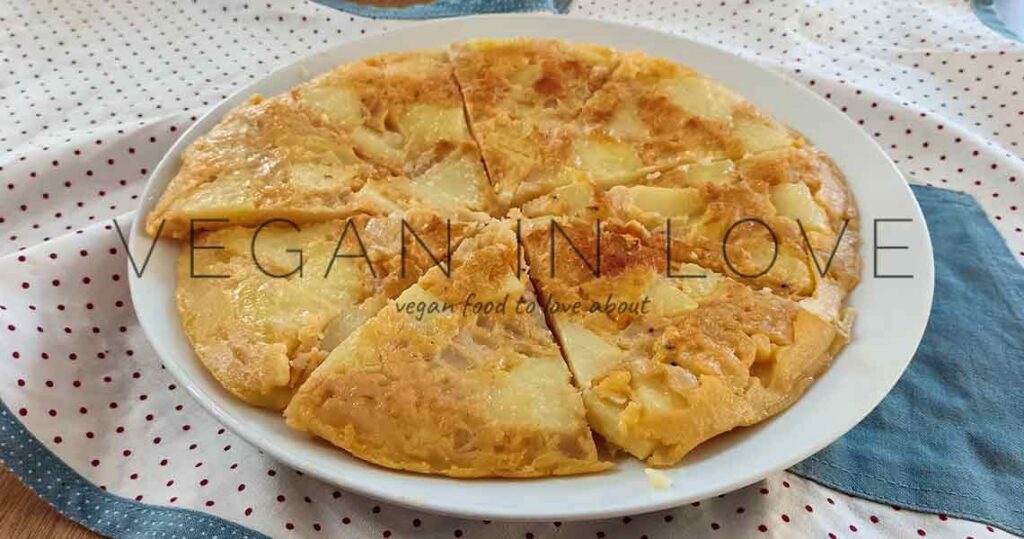 SPANISH OMELETTE EXTRA INGREDIENTS
This is an easy recipe with simple and affordable ingredients. With just a potato and onion mixture, chickpea flour, and olive oil you can get a comforting and filling vegan Spanish omelette. However, some people like to prepare this dish without a sliced onion, that's another option you can try too. Either way, if you want to include more ingredients, you can create your own Spanish tortilla. Check the list below, if you want to try other yummy ingredients.
ADDITIONAL INGREDIENTS
Garlic cloves.
Red peppers.
Vegan chorizo.
Green onions/spring onions.
Vegan ham.
Vegan cheese.
WHAT TO HAVE A SPANISH OMELETTE WITH?
Although you can have this delicious tortilla Española on its own you can also eat it with many other vegan options; such as salads. One of my favorites way to have a vegan Spanish omelette is with tomato slices evenly, a drizzle of olive oil, salt, and oregano. This is super easy and simple to add to the vegan tortilla and you don't have to eat it for lunch or dinner. Moreover, this is a great idea for a nutrient-dense breakfast and could be your new breakfast obsession.
Additionally, besides the tomato slices, you can have this vegan omelette with many vegetable side dishes; for example, roasted brussels sprouts, roasted tomatoes, gratin asparagus, lettuce tacos, etc. If you want more side dish recipes that go really well with vegan tortilla click here.
Lastly, you can have this yummy vegan tortilla in a sandwich as a traditional Spanish bocadillo. Bear in mind that if you want to keep this recipe without gluten choose a bread that is suitable for your diet requirements.
As you can see this is an affordable vegan recipe, therefore don't worry to be a broke-bank vegan.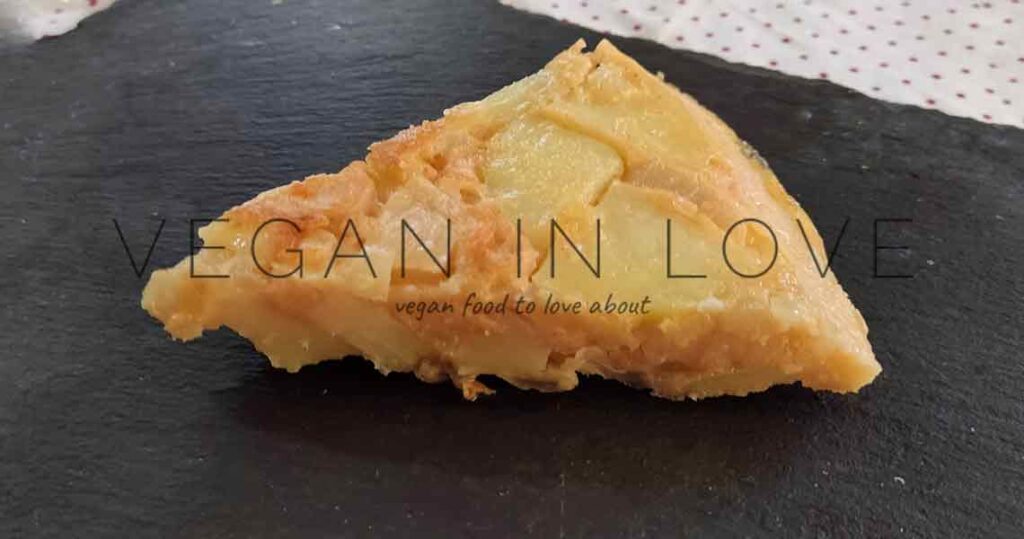 THIS SPANISH OMELETTE RECIPE GOES WELL WITH: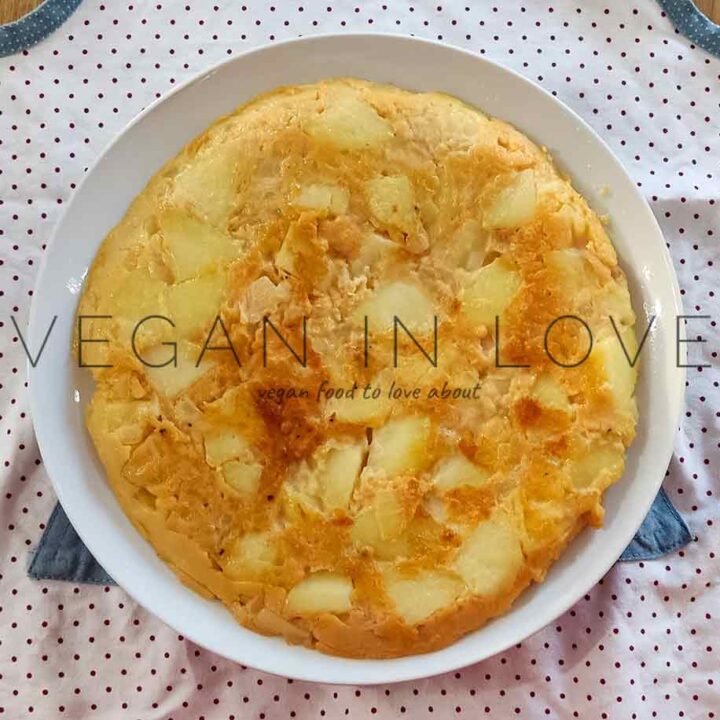 VEGAN SPANISH OMELETTE
Easy Spanish omelette made of potatoes, onions, and chickpea flour. This eggless and gluten-free Spanish tortilla is great for breakfast, a side dish, tapas, picnics, a main dish, and many more.
Ingredients
5 Medium Potatoes.
2 Medium onions.
90 gr. of Chickpea flour.
180 ml. of Water.
½ Tsp. of Himalayan salt.
½ Tsp. of Garlic powder.
½ Tsp. of Paprika.
¼ Cup of Olive oil.
1 Tbsp. of Nutritional yeast.
Instructions
Peel and slice the onions. Fry the sliced onions with olive oil in a medium frying pan at medium heat, constantly stirring until they get soft. Once cooked to your taste, drain the fried onions and place them in a medium bowl.
Peel and slice the potatoes (always sliced potatoes, you can use a food processor if you wish potatoes evenly cut).
Then, fry the peeled potatoes with olive oil in a frying pan (it can be the same pan you use for the sliced onions) at medium heat stirring frequently. Cook until you see the potato edges slightly crispy. Drain the fried potatoes and place them in a medium bowl with the onions.
In a small bowl, add the chickpea flour or gram flour, and pour the water. Mix the chickpea flour until you get a batter evenly without lumps.
Season with garlic powder, paprika, Himalayan salt or regular sea salt, and nutritional yeast (optional).
Pour the chickpea flour mixture into the medium bowl with the cooked potatoes and onions and mix them well.
In a non-stick pan pour around 1 or 2 tbsp. of the reserved olive oil and place on the stove at medium heat. Add the potato and onion mixture into the frying pan and spread evenly.
Cook evenly. With a spatula separate the Spanish omelette from the pan if necessary.
Now the moment you've been waiting for. To flip the whole omelette you can use the plate technique. Place a plate on top of your Spanish omelette, place your hand on the plate and flip the omelette. Then, add more olive oil if necessary and carefully transfer the vegan Spanish omelette back into the pan and continue cooking until is lightly browned.
Repeat the same flipping technique with the plate and the frying pan to cook the omelette if one of both sides is not completely cooked.
This vegan omelette can be served warm and also it can be served cold. If you prefer this recipe not to be served hot you can let the omelette rest and then serve it cold.
Nutrition Information
Yield

8
Serving Size

1
Amount Per Serving
Calories

219
Total Fat

8g
Saturated Fat

1g
Trans Fat

0g
Unsaturated Fat

6g
Cholesterol

0mg
Sodium

118mg
Carbohydrates

32g
Fiber

4g
Sugar

4g
Protein

6g
MORE POTATO RECIPES
YOU MIGHT ALSO LIKE…
---
---