PEANUT BUTTER AND BANANA CREPES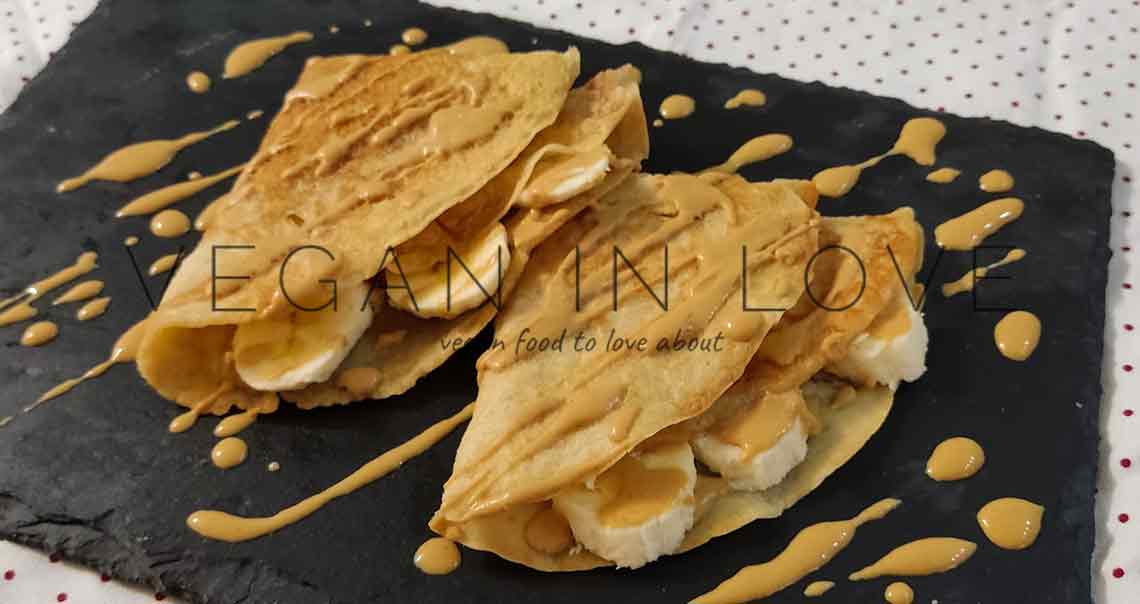 There are many great combinations that do really well with crepes and one of them without a doubt is peanut butter and bananas. These ingredients are not only easy to find, affordable, and easy to put together but they are also healthy and full of nutrients. Furthermore, you can enjoy this delicious dish on many occasions; such as a dessert, breakfast, or even as a snack!
EXTRA INGREDIENTS FOR CREPES
For this delicious recipe, I used smooth peanut butter as I love the creamy consistency. However, you can also use chunky peanut butter and you will end up with a great result too.
Although this is a dish with one of the main ingredients being peanut butter, if don't like it or have an allergy to peanuts you can use other nut butter as well; such as almond butter. For more ingredient ideas to inspire you, check the list below.
TOPPING AND FILLING IDEAS
Dark chocolate chips.
Chocolate sauce.
Dates (chopped, whole, or in chunks).
Walnuts (chopped, whole, or in chunks).
Vegan chocolate cookies (crumbs).
Raisins.
Desiccated coconut.
Ground cinnamon.
If you know or can think of more healthy and yummy ingredients to add to this dish tell us in the comments section!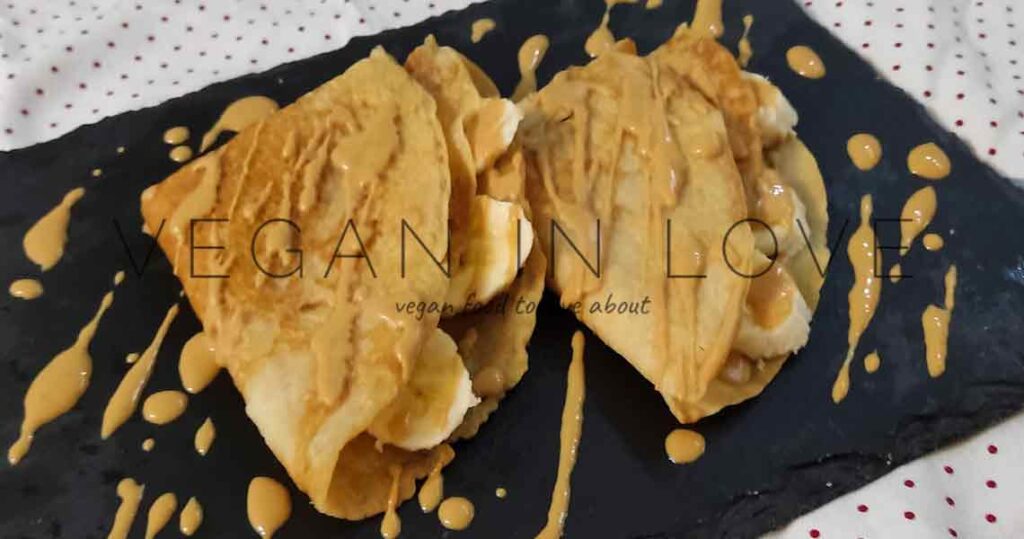 IDEAS ON HOW TO PREPARE THIS CREPES RECIPE
For the purpose of this dish, I used sliced bananas and peanut butter; however, with these same ingredients, you can prepare and combine them in two more options.
Peanut butter banana mash: instead of slicing the bananas, you can prepare a banana mash and add the peanut butter. Then, you can spread this peanut butter banana mash on your crepes.
Caramelized banana crepes: in a saucepan at medium heat place the sliced bananas and pour 2 tbsp. of maple syrup. When the sliced bananas are caramelized and cooked to your taste place them on your crepes and drizzle some peanut butter on top.
If you know and tried any other healthy and delicious type of peanut butter and banana slices combination, tell us in the comments section below.
Lastly, if you don't want to prepare crepes for this recipe, you can make waffles or pancakes. Also, you can eat this with toast bread, or rice cakes too.
THIS RECIPE GOES WELL WITH: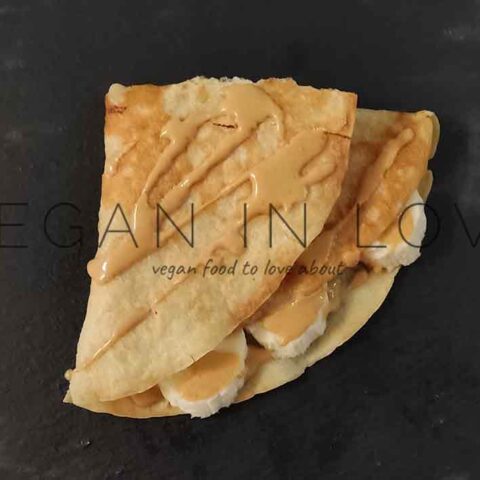 PEANUT BUTTER AND BANANA CREPES
Make these tasty banana and peanut butter crepes today! This simple crepe recipe is easy to make with yummy ingredients and is great for breakfast or dessert.
Ingredients
crepes
300 ml. of Plant-based milk (I used oats ).
125 gr. of Self-raising flour*.
A Pinch of Salt.
1 Tsp. of Sugar.
1 Tbsp. of Vanilla extract.
1 Tbsp. of Flavourless oil.
Coconut oil or unsalted vegan butter for cooking.
filling
6 Tablespoons of Peanut butter.
2 Large bananas.
Instructions
Crepes
Sieve the flour in a bowl.
Add the salt and 1 teaspoon of sugar (optional) and integrate well.
Add the oil then, little by little the milk, and mix well (if you get any lumps sieve all the mix or use a blender).
For better results, let the crepes batter rest in the fridge for 30 minutes. The longer the better even you can prepare this in advance the day before.
Place a pan on the burner/ring at medium heat, Wait until it gets warm and add some coconut oil or unsalted vegan butter (around 1 tsp), and swirl the pan to spread the melted oil/butter. It is recommended to do this step each time you cook a new crepe.
Pour the mix into the skillet, swirling the batter to spread it evenly, and flip the crepe when you see that it is cooked. You don't have to be a professional to do this, you can always use a spatula.
Place the cooked crepe on a plate.
Repeat steps 5 and 6 until you finish with the crepes mix** or you can prepare just a few and leave the crepe mix in the fridge for later.

Assemble
Peel and slice the bananas.
Place a crepe on a dessert plate and spread some peanut butter.
Then place the sliced bananas in 1/4 of the crepe. Fold the crepe until you form a triangle (you can fold it in half or prepare this crepe as you like).
If you wish you can drizzle more peanut butter on top. I only used around 1 tbsp. of peanut butter per crepe, you can use more if you want.
Notes
*Traditionally crepes are made with plain flour, I tried this recipe with self-raising flour and I really like it! If you prefer or have plain flour this recipe would yummy too!
** I got 6 crepes, but the amount to can get can vary depending on the side and how thick or thin you want your crepes.
Nutrition Information
Yield

6
Serving Size

1
Amount Per Serving
Calories

301
Total Fat

16g
Saturated Fat

5g
Trans Fat

0g
Unsaturated Fat

9g
Cholesterol

4mg
Sodium

372mg
Carbohydrates

33g
Fiber

3g
Sugar

10g
Protein

8g
RELATED RECIPES
YOU MIGHT ALSO LIKE…
---
---