GINGERBREAD COOKIES VEGAN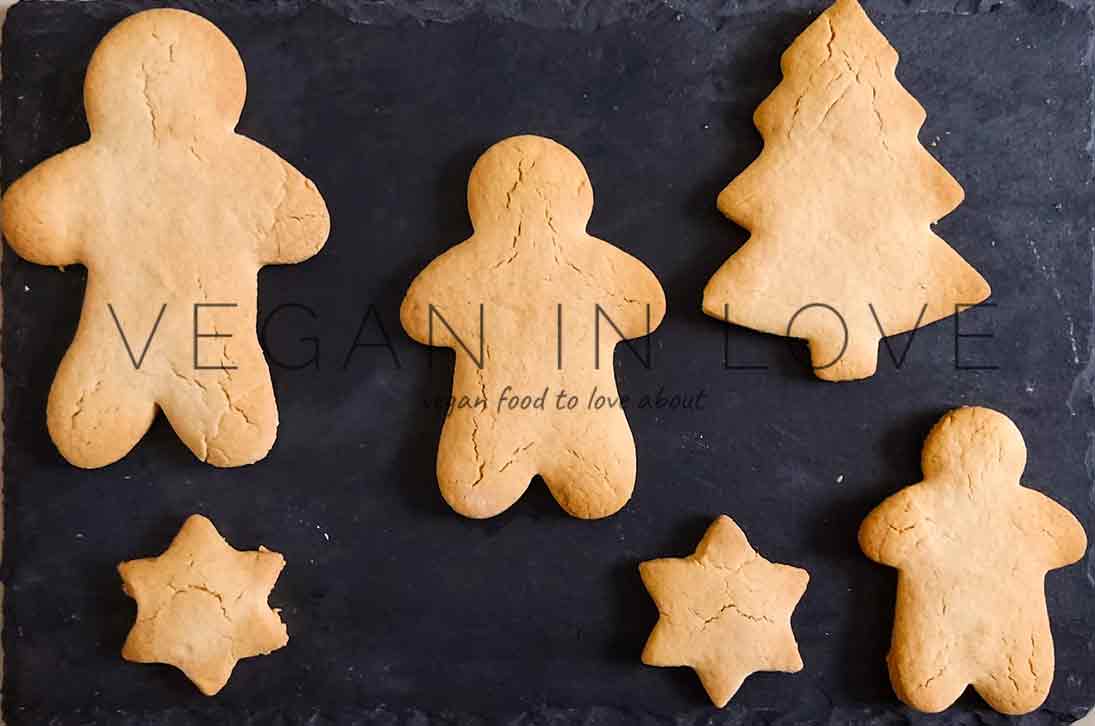 These yummy vegan gingerbread cookies are soft and chewy and ideal to make not only for the holiday season but all year around too. These gingerbread cookies are made of delicious vegan ingredients and are easy to make and bake.
Although with this recipe you have a few traditional ingredients you can adapt this recipe to your taste and preferences; for example, I'm not a big fan of ground cinnamon or cinnamon itself. However, if you love ground cinnamon you can enjoy its flavor and add it to these vegan gingerbread cookies. Furthermore, there are more spices and ingredients that are not included in this recipe which I listed below if you want to add them.
EXTRA SPICES FOR GINGERBREAD COOKIES
If you want to prepare the best vegan gingerbread cookies for Christmas cookies delicatessen the key ingredient would be the seasoning. Choosing which are your favorite spices that you want to add and the right amount for your vegan gingerbread cookie is super important. So feel free to mix spices and personalised your vegan cookie. Mine were lightly flavored but you can make vegan gingerbread cookies with a stronger spice flavor.
SPICES
Ground cinnamon.
Ground cloves.
Nutmeg.
Ground anise.
Ground allspices.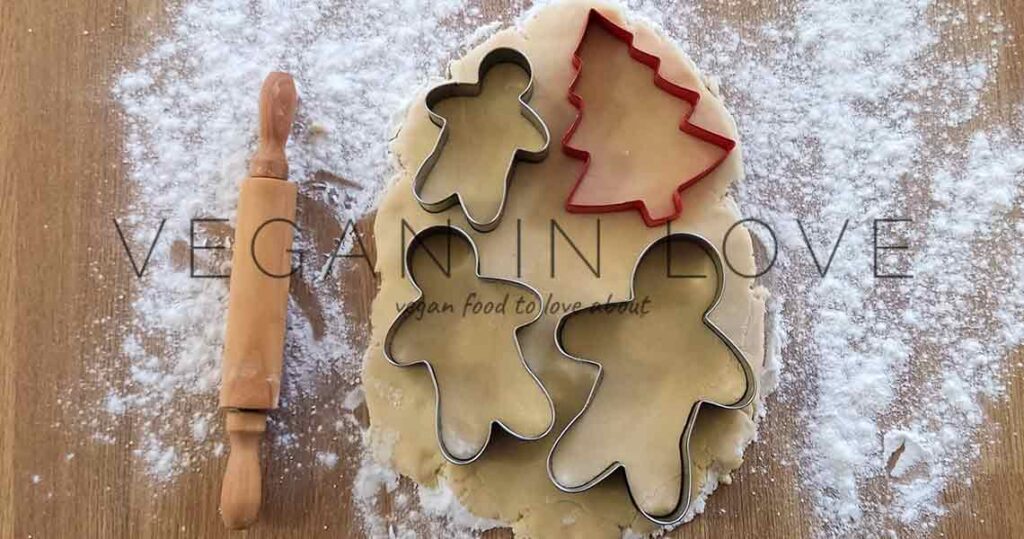 ALTERNATIVE INGREDIENTS FOR GINGERBREAD COOKIES
To make vegan gingerbread cookies you will need some classic ingredients; such as sugar, butter, and of course ground ginger. In order to prepare this recipe vegan and gluten-free, I change a few ingredients to say at least. As you can imagine this changed the texture, color, and consistency of the vegan gingerbread cookies. However, the result was nice and my family love it! If for example, you want these cookies to get a darker brown color, you can do that with the sugar you choose to use; such as dark brown sugar.
Additionally, you can change other ingredients depending on your preferences. If you don't want to use vegan butter you can replace it with coconut oil. If you know or tried other options, tell us in the comment section and I will add it to the list.
SUGAR OPTIONS
Coconut sugar.
Demerara sugar.
Dark muscovado sugar.
Dark brown sugar.
OTHER ALTERNATIVES
Golden syrup.
Agave.
Blackstrap molasses.
Flax egg (for egg replacement: 1 tbsp with 3 tbsp of water).
Coconut oil.
Margarine.
Baking soda and/or baking powder.
For a non-gluten-free cookie recipe, you can use other types of flour such as wheat flour, all-purpose flour, and/or whole wheat. When adding the flour, do it little by little bit as they may absorb the wet ingredients differently and the quantities of flour might vary. Just a small warning, I wouldn't use this recipe to make a gingerbread house, as these cookies tend to break easily.
Lastly, you can decorate these absolutely delicious vegan gingerbread cookies with icing when they cool completely at room temperature. You will need 4 tbsp. of powdered sugar and 1 tsp. of lemon juice (you can use dairy-free milk instead or just water). Mix well until there are no lumps and place the icing in a piping bag. Also, you can use sprinkles and dark chocolate chips for decoration. This is also great to do with kids as I did with my daughter.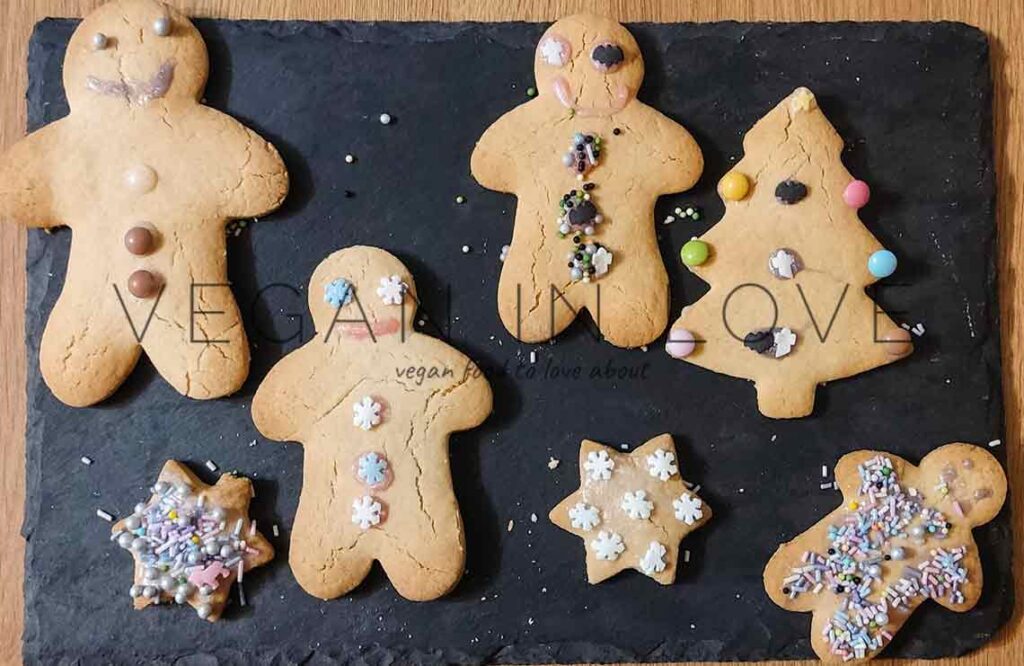 THIS GINGERBREAD RECIPE GOES WELL WITH THE FOLLOWING:
Also, try and enjoy these delicious gingerbread cookies with Blackberry jam.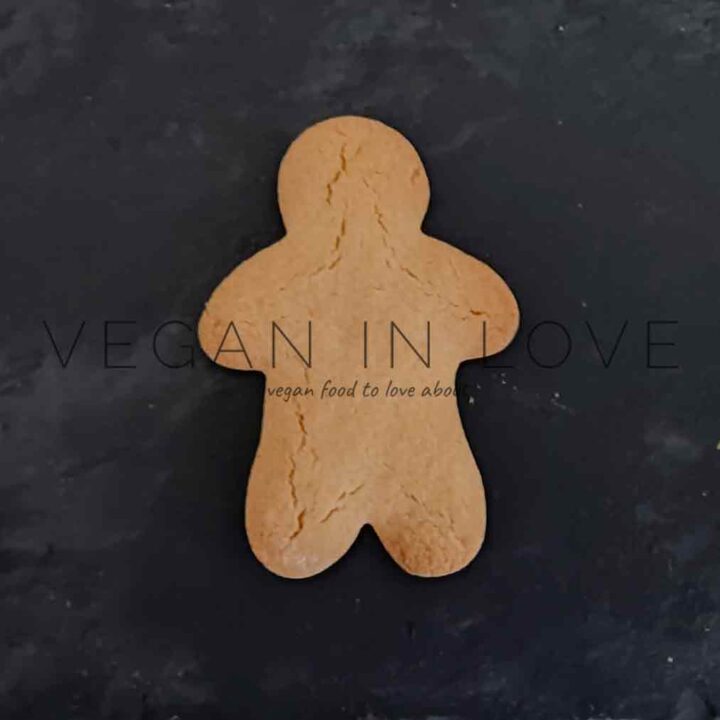 GINGERBREAD COOKIES VEGAN
These vegan gingerbread cookies recipe is easy to make with simple vegan ingredients. Enjoy these eggless and dairy-free cookies packed with delicious flavors!
Ingredients
100 gr. of Vegan butter.
100 gr. of Sugar.
1 Tsp. of Vanilla extract.
3 Tbsp. of Maple syrup.
3 Tbsp. of Aquafaba.
25 gr. of Almond flour.
350 gr. of Plain gluten-free flour.
2 Tsp. of Ground ginger.
1 Tsp. of Bicarbonate soda.
½ Tsp. of Salt.
Instructions
Cut 100gr of vegan butter into pieces and place them in a large bowl. Leave them at room temperature until they get soft.
Then add 100 gr of sugar of your choice and mix together. If you have an electric mixer you will have a nice creamy consistency. If not possible use a whisk to integrate them.
Pour the wet ingredients (1 tsp. of vanilla extract, 3 tbsp. of maple syrup, and 3 tbsp. of aquafaba) and mix well.
Then, add the dry ingredients (you might need to sieve the flour) and make the dough.
Once the cookie dough is ready keep it in the large bowl covered by plastic wrap or a tablecloth and place it in the fridge for around 30 minutes.
Preheat the oven to 180 °C degrees (356 °F approx.).
In a lightly floured surface roll the dough. Then, cut your cookies in different sizes and shapes using cookie cutters: such as gingerbread men. Otherwise, you can use a knife.
In a lined baking sheet covered with parchment paper place your vegan gingerbread cookies and bake them for around 12 to 15 minutes, this will depend on the oven you use and how soft and chewy you want them.
Remove the baking sheet from the oven and let them cool completely.
Notes
If you don't want to use parchment paper yo can spread vegan butter on a baking sheet with on top a lightly floured surface.
Nutrition Information
Yield

20
Serving Size

1
Amount Per Serving
Calories

135
Total Fat

5g
Saturated Fat

1g
Trans Fat

1g
Unsaturated Fat

4g
Cholesterol

0mg
Sodium

59mg
Carbohydrates

21g
Fiber

1g
Sugar

7g
Protein

2g
The Nutritional values presented on this table are only estimates. The values can also vary depending on the cooking method, ingredients, product brands etc. This data was provided and calculated by Nutritionix.
RELATED RECIPES
SWEET COOKIES
SAVORY COOKIES
YOU MIGHT ALSO LIKE…
---
---