BUTTERNUT SQUASH AND LENTIL SHEPHERD'S PIE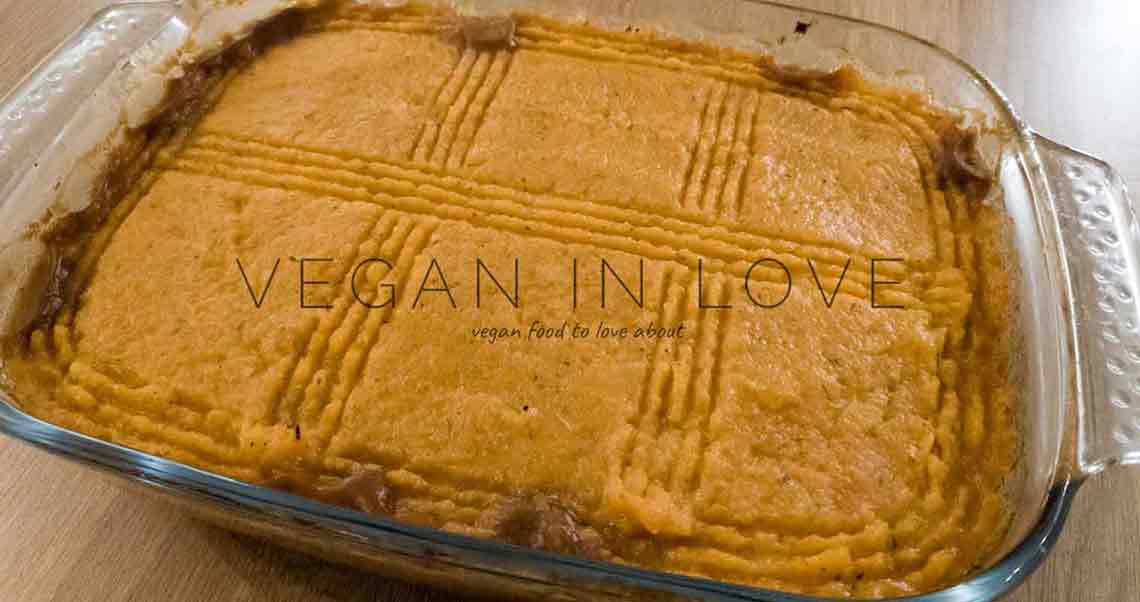 THIS VEGAN SHEPHERD'S PIE RECIPE GOES WELL WITH: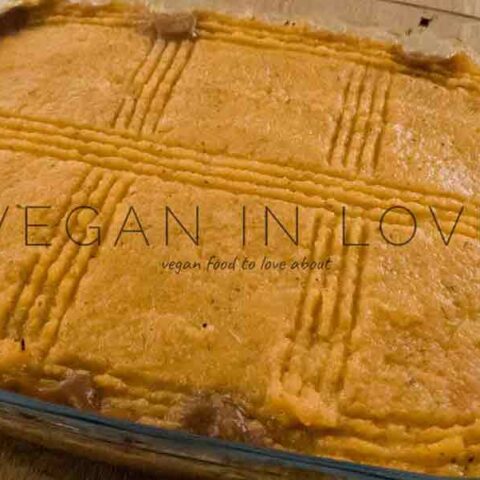 Butternut squash Shepherd's pie
Total Time:
1 hour
30 minutes
Ingredients
Mashed butternut squash
1 medium butternut squash (around 800 gr.).
1 Pinch of Himalayan salt.
1 Pinch of Ground nutmeg.
1 Pinch of Black pepper.
Filling
1 Onion.
2/3 Tbsp. of Water or vegetable broth.
2 large mushrooms.
1 large carrot.
1 Can of green (garden) peas.
1 Can of Chopped tomatoes.
100 gr. of Red lentils.
100 ml. of Vegetable broth.
¼ Tsp. of Sodium bicarbonate.
1 Tbsp. of Red wine.
1 Bay leaf.
1 Pinch of Himalayan salt.
½ Tsp. of Parsley.
½ Tsp. of Paprika.
½ Tsp. of Ground garlic.
1 Pinch of Black pepper.
Instructions
Mashed butternut squash
Peel and cut the butternut squash into small cubes. Place them in the steamer and cook until is soft enough to make a mash (around 20 minutes). You can boil it too.
Once the butternut squash is cooked, place it in a bowl and prepare a mash with a fork or use a masher.
Season to taste with: Himalayan salt, ground nutmeg, and black pepper.
Filling
Peel and dice the onion. Place them on a saucepan and cook with salt and 2 or 3 tbsp of water (you can also use vegetable broth).
Peel and dice the carrot. Add it to the onions and stir well.
Clean and cut the mushrooms and add them together with the green peas and chopped tomatoes. Stir well.
Pour the vegetable broth and add the bicarbonate soda and red wine, mix well. Then season to taste with: bay leaf, Himalayan salt, parsley, paprika, ground garlic, and black pepper.
In a separate pan, pour water and rinse well the lentils. With freshwater cook the lentils for around 10 minutes. They don't need to be fully cooked, as they will with the rest of the ingredients.
Once the lentils cook for 10 minutes pour them in the saucepan with the rest of the ingredients and mix well. Cook all together for around 15 minutes.
Preheat the oven to 180 °C degrees (356 °F approx.).
Assemble
Remove the bay leaf and pour the filling in a glass ovenware dish and spread well. Then pour the butternut squash mash on top and spread evenly. You can use a fork if you want to draw a design or the portions.
Gratin
Place the pie in the center of the oven and gratin for around 20 minutes.
Nutrition Information
Yield

6
Serving Size

1
Amount Per Serving
Calories

76
Total Fat

0g
Saturated Fat

0g
Trans Fat

0g
Unsaturated Fat

0g
Cholesterol

0mg
Sodium

239mg
Carbohydrates

15g
Fiber

5g
Sugar

5g
Protein

4g
The Nutritional values presented on this table are only estimates. The values can also vary depending on the cooking method, ingredients, product brands etc. This data was provided and calculated by Nutritionix.
RELATED RECIPES
YOU MIGHT ALSO LIKE…
---
---