BLACKBERRY JAM HOMEMADE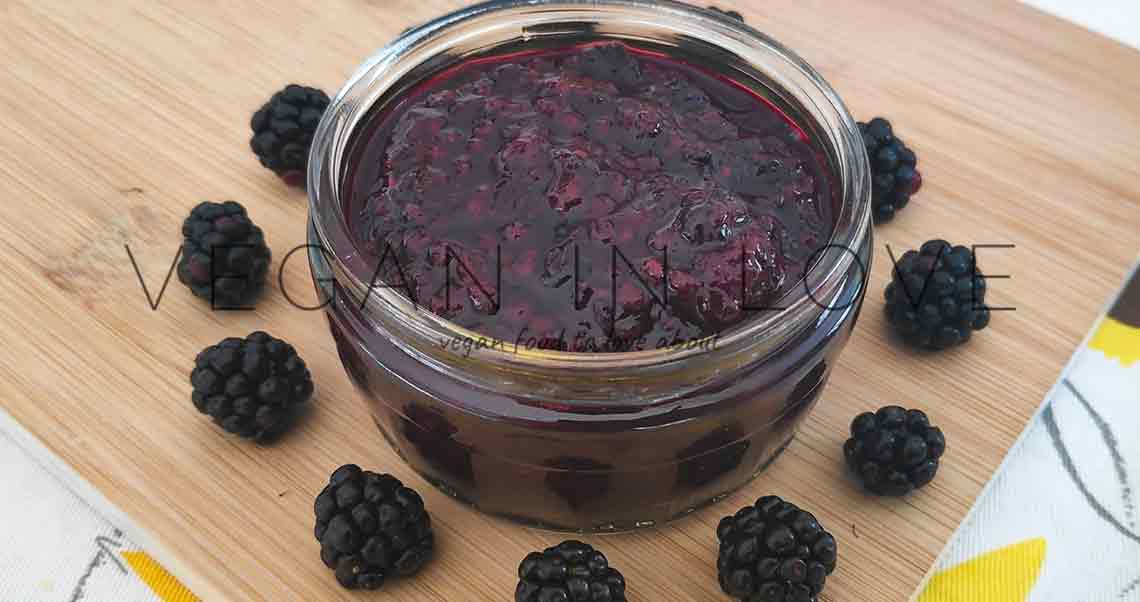 This easy and delicious homemade blackberry jam fits perfectly with my vegan diet and I love to use it on my breakfast with crepes, pancakes, or toast. I'm also sure that this will be the best way to start your day too.
This is a great recipe to make and the result is a lot better than store-bought fruit jam. Blackberries are seasonal fruits and I'm taking advantage of them while they're around as I love to prepare this homemade jam. This jam is richer in color, and has a deeper flavor; moreover, blackberries are a very good source of vitamin C and they have powerful antioxidant properties.
Additionally, this healthy homemade blackberry jam recipe was made without pectin and granulated sugar. Furthermore, I use fresh berries when making jam recipes, however, you can try frozen blackberries, in that case, tell us in the comments how was the result!
HOW DO YOU MAKE BLACKBERRY JAM?
For the purpose of this blackberry jam recipe, you will find a straightforward and easy-to-make blackberry jam (or marmalade) where only 2 ingredients are needed. Indeed, this is a jam recipe sugar-free (white refined sugar) and we used maple syrup. Additionally, if you don't have this ingredient and prefer to use other alternatives. With this in mind, check the list below to find more ideas and inspiration to prepare your blackberry jam:
Lemon juice or zest.
Spices.
Jam sugar.
Demerara sugar.
Coconut sugar.
Agave.
Stevia.
Lastly, after my homemade blackberry jam cool down at room temperature, I removed the seeds with a strainer, but that's optional.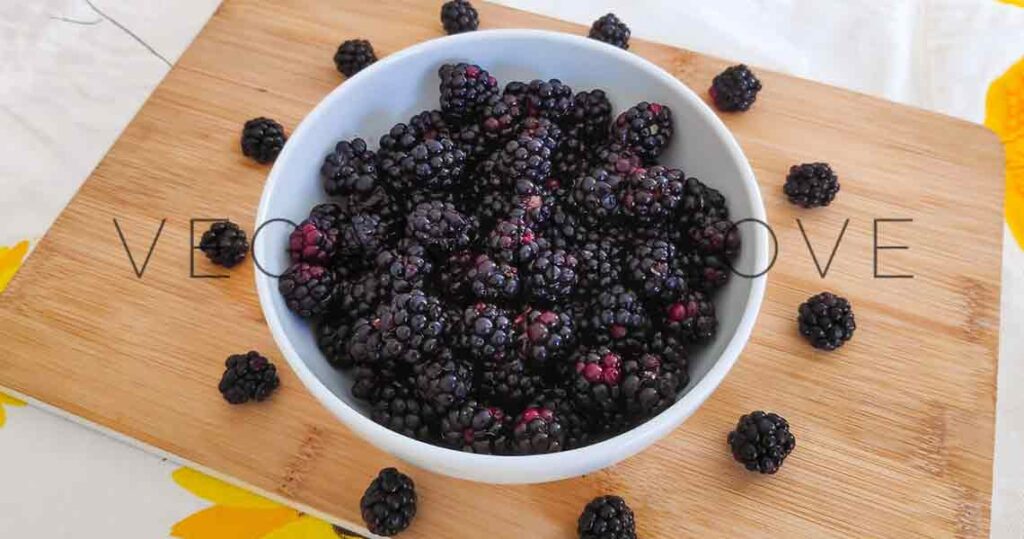 11 GOOD USES FOR BLACKBERRY JAM
As a matter of fact, if you are wondering or thinking uses for jam is limited mainly to toasts, then What to put blackberry jam on besides bread?; such as toast or sandwiches. In addition to those classic ideas, here you will find 11 uses for this delicious and super simple homemade blackberry jam:
Cookies/biscuits.
Canapes.
Pies.
Cakes filling.
Topping for vegan cheesecakes.
Vegan yogurt.
Overnight oats.
Plant-based milkshake.
Vegan ice cream.
Pancakes.
Waffles.
THIS RECIPE GOES WELL WITH: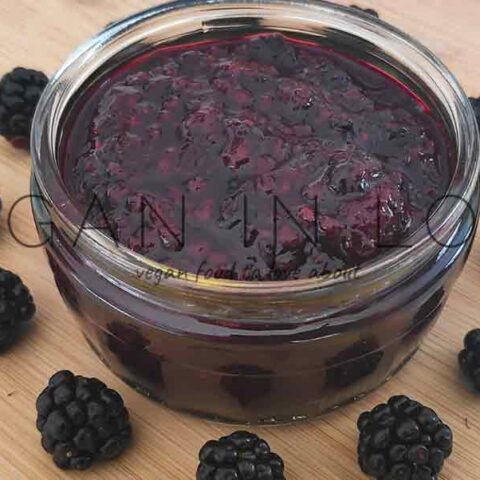 Blackberry jam homemade
This blackberry jam recipe is not only super simple it's also refined sugar-free. Also, for this easy blackberry jam, you will only need 2 ingredients. This is a vegan, gluten-free, and no pectin or preservatives jam recipe!
Ingredients
230 gr. of Blackberries.
3 Tbsp. of Maple syrup.
1 Tbsp. of Vinegar (optional).
Instructions
Wash well and rinse the blackberries. As an optional step, you can soak them in water with 1 tbsp of vinegar for 15 to 30 minutes, then rinse them well again (just to remove more things, such as worms*).
Place the blackberries in a large saucepan/cooking pot and pour 3 tbsp of maple syrup and mix well with a wooden spoon. You can add more syrup if you want a sweeter jam.
Cook at medium heat for around 30 minutes. With the help of the wooden spoon stir well.
If you want you can press** the blackberries or not, that's up to your preferences if you like a chunky jam or more smooth.
Once the jam is cooked to your taste let it cool down at room temperature. Then, you can remove the seeds with a strainer.
Pour the jam ideally into sterilized jars/containers with a lid and place it in the fridge.
Notes
* I picked wild berries from the forest and I found a little worm.
** For this purpose you can use a potato masher if you wish.
If you are canning this homemade blackberry jam recipe for airtight storage you don't have to let cool down the jam, you have to pour the jam hot leave 1 cm empty in the jar, close tight with the lid and flip it over to remove the air.
Nutrition Information
Yield

6
Serving Size

1
Amount Per Serving
Calories

43
Total Fat

0g
Saturated Fat

0g
Trans Fat

0g
Unsaturated Fat

0g
Cholesterol

0mg
Sodium

2mg
Carbohydrates

10g
Fiber

2g
Sugar

8g
Protein

1g
The Nutritional values presented on this table are only estimates. The values can also vary depending on the cooking method, ingredients, product brands etc. This data was provided and calculated by Nutritionix.
YOU MIGHT ALSO LIKE…
---
---