EASY VEGAN CHEESE RECIPE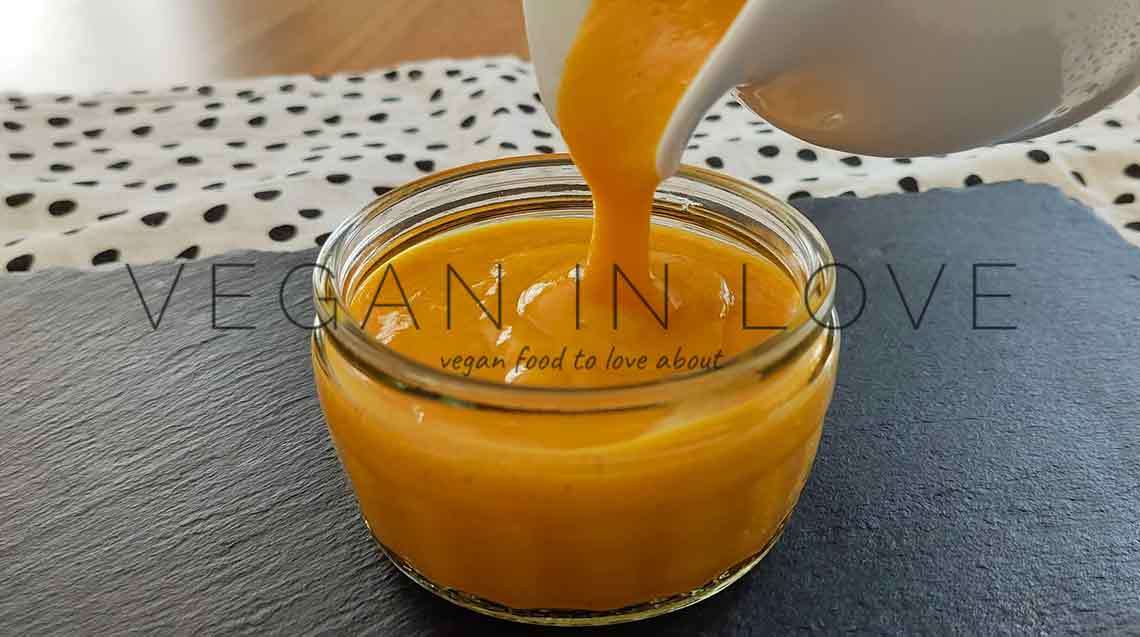 This vegan cheese sauce recipe is easy and simple to make. Moreover, this fabulous recipe is not only a dairy-free cheese sauce recipe but also gluten-free, which is great for vegans, people with celiac disease, gluten, and dairy intolerance (or allergies).
Although this vegan cheese sauce recipe is yummy and full of flavor, bear in mind that it might not taste like any other processed vegan cheese or a regular cheese sauce that you had tried before.
SEASONING FOR VEGAN CHEESE SAUCE
To season this vegan cheese sauce recipe I used a few spices that go well together; such as paprika and garlic powder. In addition to these seasonings, I also add Nutritional yeast to give a cheesy flavor to this vegan cheese sauce. Furthermore, you can other seasonings to this recipe to make it for example more smoky or spicy.
Smoked paprika.
Chili flakes.
Hot sauce.
Vegan butter.
Cayenne pepper.
Black pepper.
Onion powder.
Smoked liquid.
EXTRA INGREDIENTS FOR VEGAN CHEESE SAUCE
There are many vegan cheese sauce recipes that you can make with a great option of ingredients; for example cashew cheese sauce recipe by using raw cashews or even roasted cashews. Moreover, a good vegan cheese sauce recipe should have ingredients that you love; in my case, I love potatoes and carrots, so this is a perfect vegan cheese sauce for me. For more delicious additional ingredients you can make this vegan cheese sauce recipe with, check the list below.
Beans; such as butter beans, cannellini beans, white beans, etc.
Canned coconut milk/full-fat coconut milk.
Plant milk; such as oat milk, unsweetened almond milk, cashew milk, soy milk, etc.
Soaked cashew nuts.
Raw sunflower seeds.
Sweet potatoes.
In addition to these extra ingredients that you can add to this easy vegan cheese sauce, you can also use tapioca starch, arrowroot powder, or potato starch. These gluten-free ingredients are great for the vegan cheese sauce consistency and texture. In all honesty, I don't they are necessary for this recipe as the potatoes will give a lovely creamy consistency but you can use them if you want to.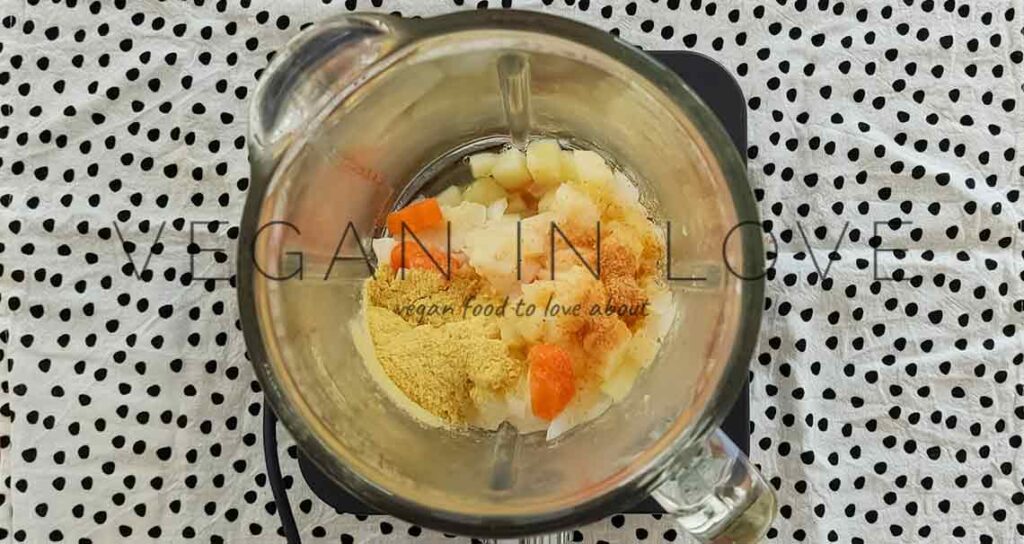 WHAT TO HAVE CHEESE SAUCE WITH?
This delicious recipe can be enjoyed with a great variety of recipes. For example, this can be a great vegan nacho cheese sauce that you can eat with family and friends. So, if you are looking for ideas on how or what to eat this easy vegan cheese sauce recipe, then check the following list with delicious recipes and ideas.
VEGETABLES
SNACKS
Baked tortilla chips.
Nachos.
OTHERS
Vegan mac and cheese sauce.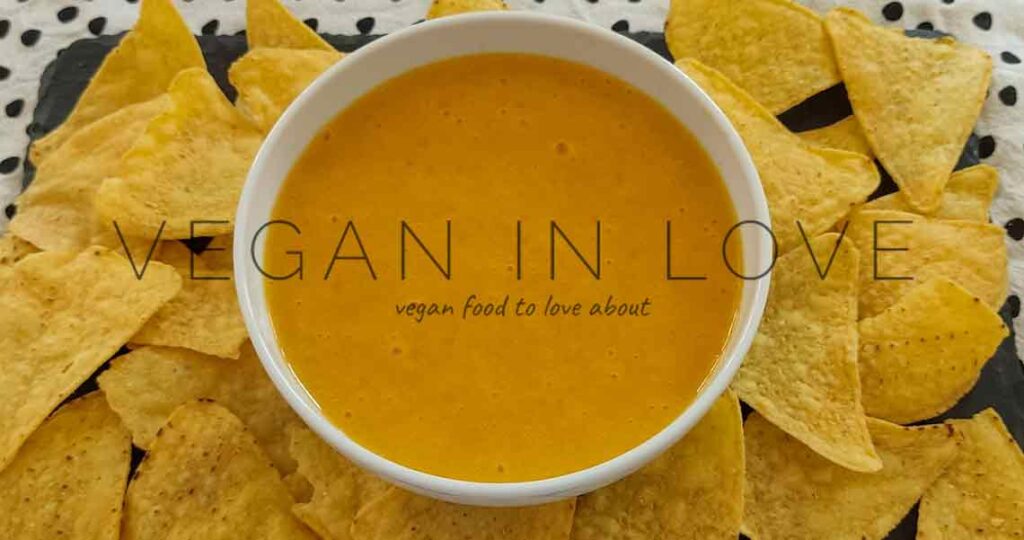 THIS VEGAN CHEESE SAUCE GOES WELL WITH: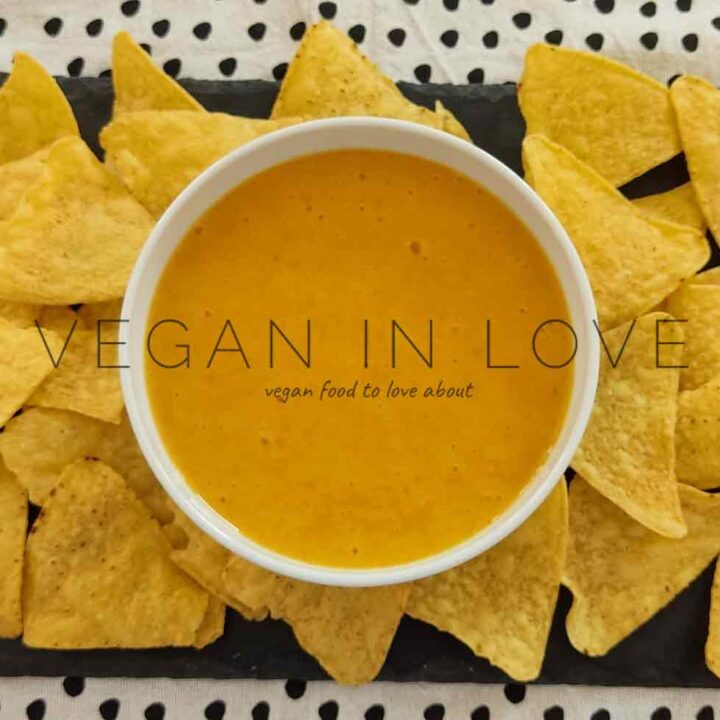 VEGAN CHEESE SAUCE
Creamy vegan cheese sauce made of potatoes and carrots. This delicious vegan cheese can be used as a pasta sauce or as a dip with vegetables or tortilla chips.
Ingredients
2 Medium potatoes.
1 Medium carrot.
1 Small onion.
3 Tbsp. Nutritional yeast.
1 Tsp. of Garlic powder.
1 Tsp. of Paprika.
1 Tsp. of Turmeric.
50 ml. of Vegetable broth.
½ Tsp. of Himalayan salts.
1 Tsp. of Lemon juice.
1 Tsp. of Apple cider vinegar.
Instructions
Wash, peel, and dice the potatoes, carrots, and onions.
Boil the potatoes, carrots, and onion until they are soft and tender (same consistency if you were going to make a mash).
Drain the water and place them in a blender or food processor.
Add the rest of the ingredients: 3 tbsp. nutritional yeast flakes, 1 tsp. of garlic powder, 1 tsp. of paprika, 1 tsp. of turmeric, 50 ml. of vegetable broth, ½ tsp. of Himalayan salts, 1 tsp. of lemon juice, and 1 tsp. of apple cider vinegar.
Blend all the ingredients in the blender or food processor until you get a completely smooth and creamy texture. You can decide if you want a thinner sauce or a thick sauce and can do this by pouring more or less veggie stock.
Adjust seasoning if necessary.
Pour the vegan cheese sauce into a bowl.
Notes
If you are making this vegan cheese sauce recipe in advance, let the vegan cheese sauce cool down at room temperature and then pour it into an airtight container. Keep refrigerated until consumption.
Nutrition Information
Yield

4
Serving Size

1
Amount Per Serving
Calories

120
Total Fat

1g
Saturated Fat

0g
Trans Fat

0g
Unsaturated Fat

0g
Cholesterol

0mg
Sodium

250mg
Carbohydrates

25g
Fiber

4g
Sugar

2g
Protein

6g
The Nutritional values presented on this table are only estimates. The values can also vary depending on the cooking method, ingredients, product brands etc. This data was provided and calculated by Nutritionix.
MORE CHEESY VEGAN RECIPES
YOU MIGHT ALSO LIKE…
---
---