CARROT HUMMUS RECIPE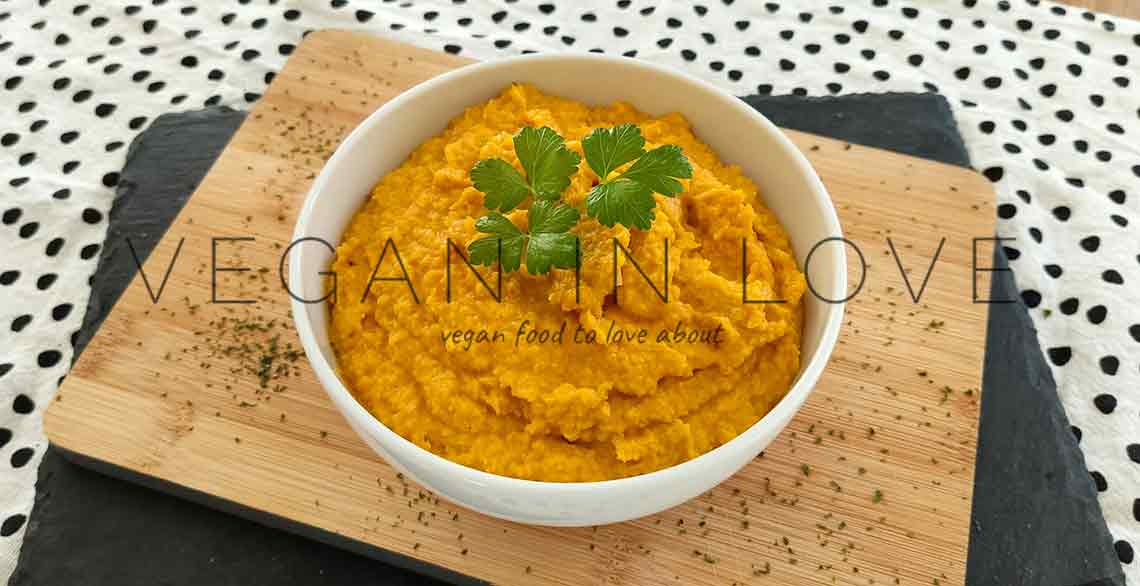 Traditional hummus is a delicious vegan and gluten-free dip from the Middle East. Furthermore, this is not just a yummy dip but it is also a healthy snack that you can make in a few minutes. Therefore, this easy recipe is a great idea to have a veggie boost with nutrition goodness; such as beta carotene and vitamin C.
CARROT HUMMUS INGREDIENTS
To make carrot hummus you will more or less the same ingredients as the traditional hummus but with the addition of the flavourful and nutritious carrots. For this recipe, I used raw carrots and cooked them in a steamer; however, you can also boil them or roast them and make roasted carrot hummus. For this last option, you must preheat an oven to 180 °C degrees (356 °F approx.). Then, place the peeled and sliced carrots with olive oil on a baking sheet. Roast them for around 30 minutes (depending on your oven).
Chickpeas*.
Carrots.
Garlic cloves.
Tahini.
Olive oil.
Lemon juice.
Paprika.
Salt.
*You can also use dried chickpeas. Soak them in water for at least an hour and ideally fridge overnight; then cook them (a pressure cooker will speed up the cooking time/preparation for this recipe).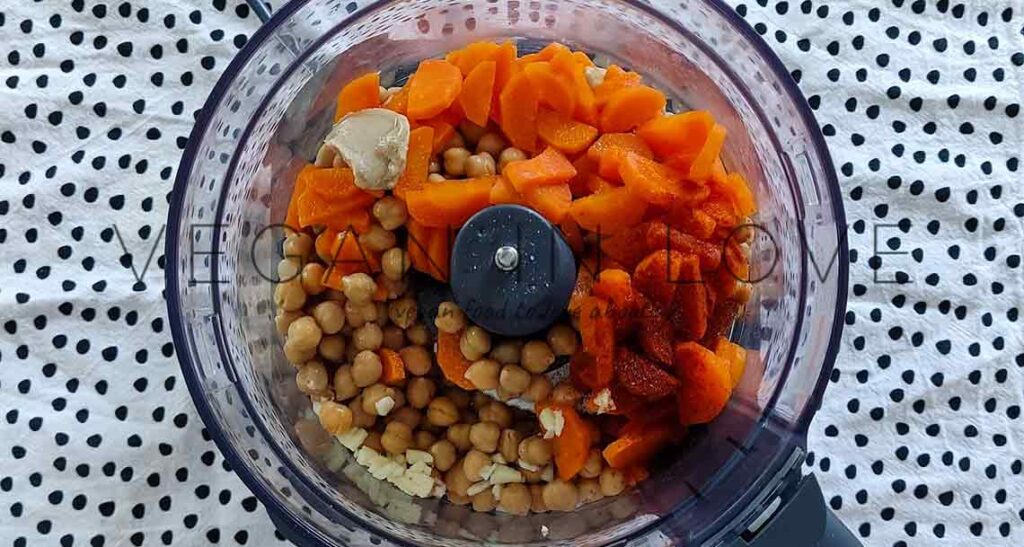 NO CHICKPEAS? NO PROBLEM!
As you may know at this point the key ingredients for hummus recipes are the chickpeas; such as canned chickpeas or raw and then you prepare them and cook them. Alternatively, if you don't have chickpeas in order to make this carrot hummus use other options. Bear in mind, that these other alternatives may change the flavor, color, and consistency of the hummus.
Black beans.
Cannellini beans.
Kidney beans.
Black-eyed peas.
Red beans.
ADDITIONAL SEASONING FOR CARROT HUMMUS
To season this delicious carrot hummus I keep it easy and simple with salt and paprika. Another simple way to season this recipe is with salt and black pepper. However, if you want to add more lovely and aromatic ingredients, check the list below for more inspiration.
Black pepper.
Fresh dill.
Parsley.
Ground cumin.
Kosher salt.
Smoked paprika.
Almond butter.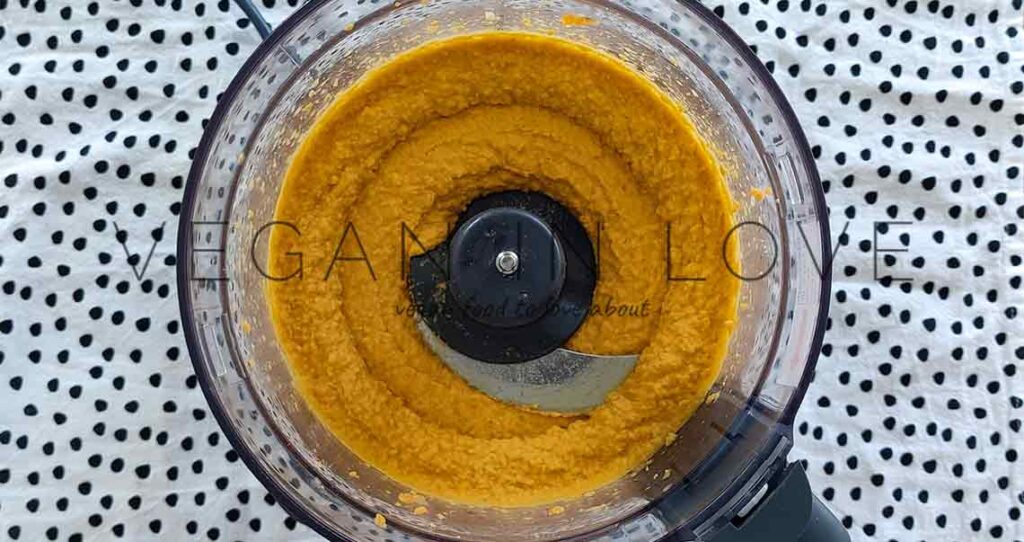 CARROT HUMMUS TOPPINGS & GARNISH
Although this carrot hummus has a unique flavor by adding carrots to the traditional recipe, you can serve this hummus with toppings not only to add other flavors that go well with this hummus but also as a lovely decoration to garnish this dish.
Sesame seeds.
Sunflower seeds.
Pine nuts.
Pumpkin seeds.
Chopped walnuts.
Chopped bell peppers.
Pitted olives; such as green and black olives.
SERVING RECOMMENDATIONS FOR CARROT HUMMUS
I love hummus as it goes really well with so many options to choose from. This delicious carrot hummus can be used as a dip and also as a spread. Check the ideas below to inspire you!
AS A DIP
Pita chips.
Nachos.
Breadsticks.
Raw veggies; for example celery sticks and cucumber sticks.

Cooked veggies; such as cauliflower florets and broccoli.
AS A SPREAD
Bread; such as seeded, wholewheat, rye, sourdough, multigrain, gluten-free bread, etc.
Baguette.
On toast.
Ciabatta.
Pita bread.
Rice cakes.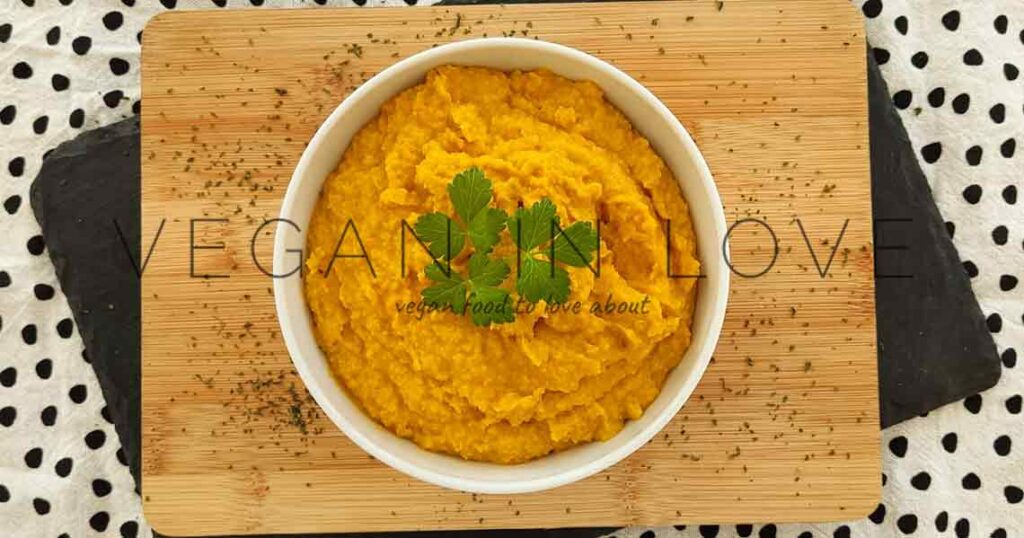 THIS CARROT HUMMUS RECIPE GOES WELL WITH: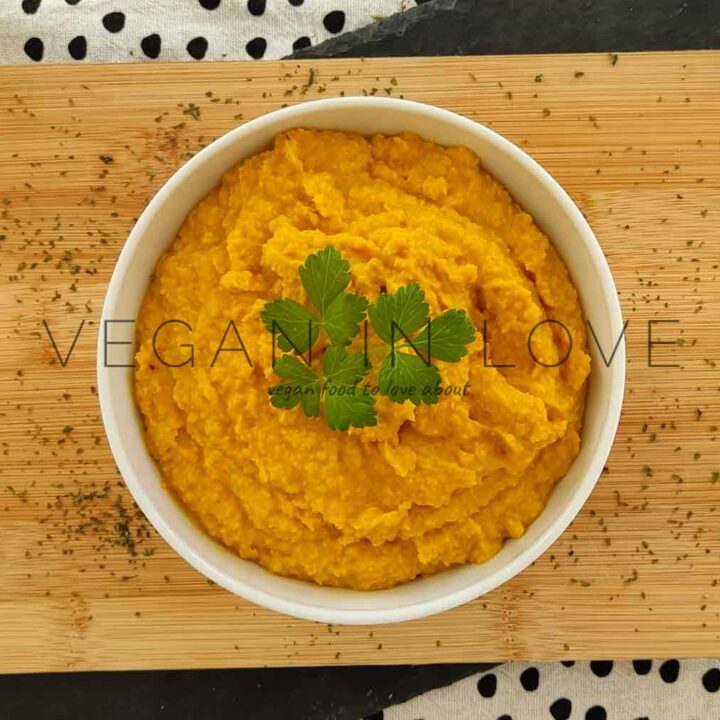 CARROT HUMMUS RECIPE
Delicious, healthy, and easy to make this carrot hummus recipe is ideal as an appetizer. Also, this vegan and gluten-free recipe is full of flavor and nutritious.
Ingredients
200 gr. of Carrots.
1 Tin/can of Chickpeas.
1 Garlic clove.
2 Tbsp. of Olive oil.
1 Tbsp. of Fresh lemon juice.
1 Tsp. of Tahini.
½ Tsp. of Paprika.
½ Tsp. of Himalayan salts.
Aquafaba (optional).
Instructions
Wash and peel the carrots, then cut them into slices or small pieces.
Cook them in a steamer (you can boil them too).
Once the carrots are cooked, add them to a food processor or high-speed blender.
Drain and rinse well the canned chickpeas. Then add the drained chickpeas into a food processor.
Peel the garlic cloves (I used 1 but you can use more depending on your taste preferences) and dice the garlic. Add the garlic to the food processor.
Pour 2 tablespoons of olive oil and 1 tbsp. of lemon juice.
Add 1 tsp. of tahini, salt and paprika.
Blend your carrot hummus dip until you get a creamy texture. You can make carrot hummus with a smooth and creamy texture, or you can make a chunkier hummus. Also, depending on the texture you want to get you can add aquafaba (the water that comes in the canned chickpeas).
When blending the carrot hummus and you are checking the consistency, adjust the seasoning if necessary.
Once you have a carrot hummus of your taste, place it in an airtight container and keep it refrigerated.
Nutrition Information
Yield

4
Serving Size

1
Amount Per Serving
Calories

155
Total Fat

9g
Saturated Fat

1g
Trans Fat

0g
Unsaturated Fat

7g
Cholesterol

0mg
Sodium

227mg
Carbohydrates

16g
Fiber

5g
Sugar

4g
Protein

4g
The Nutritional values presented on this table are only estimates. The values can also vary depending on the cooking method, ingredients, product brands etc. This data was provided and calculated by Nutritionix.
MORE HUMMUS RECIPES
YOU MIGHT ALSO LIKE…
---
---