BAKED TORTILLA CHIPS HOMEMADE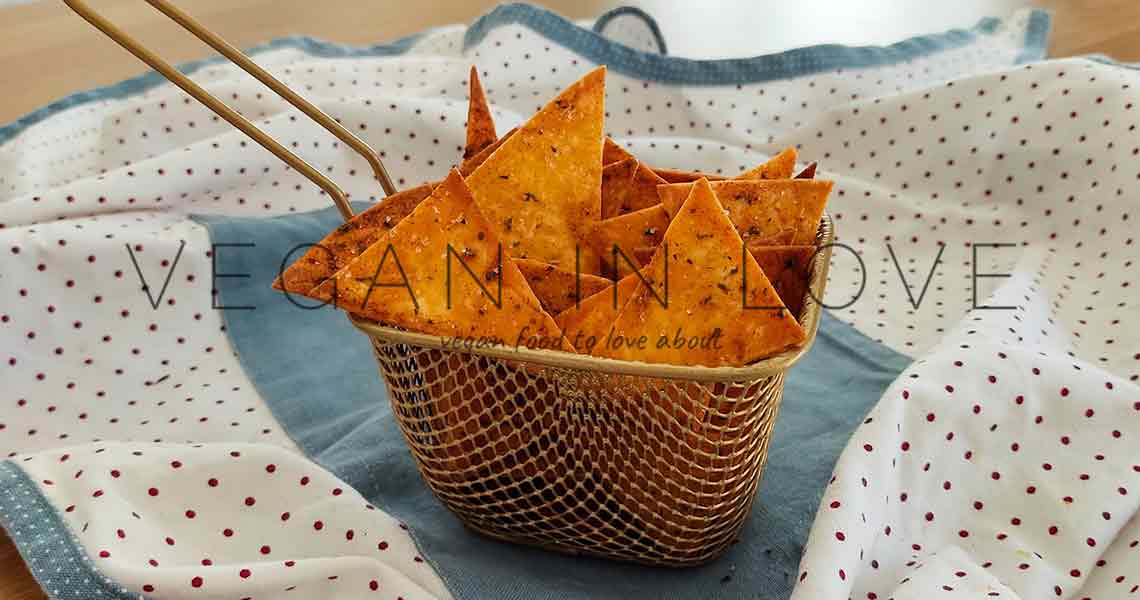 This delicious homemade baked tortilla chips recipe is great to prepare in minutes with just a few simple and easy-to-find ingredients. They are a perfect snack to enjoy at home, school, work, or as finger food for your next party. So whether you want to make these for your party or for a snack, these chips will indeed be enjoyed. Furthermore, you can enjoy them on your own or try them with yummy salsa, dips, and more.
Additionally, you can make baked tortilla chips recipes in advance and store them in an airtight container to keep them crunchy and crispy. You surely will impress family and friends with this homemade and super easy-to-make tortilla chips recipe that is far better than store-bought tortilla chips.
Lastly, these tortilla chips are oven baked so I made this recipe by baking the tortillas with 2 tablespoons of olive oil. However, if you would like to bake them using an air fryer or fry them tell us in the comments!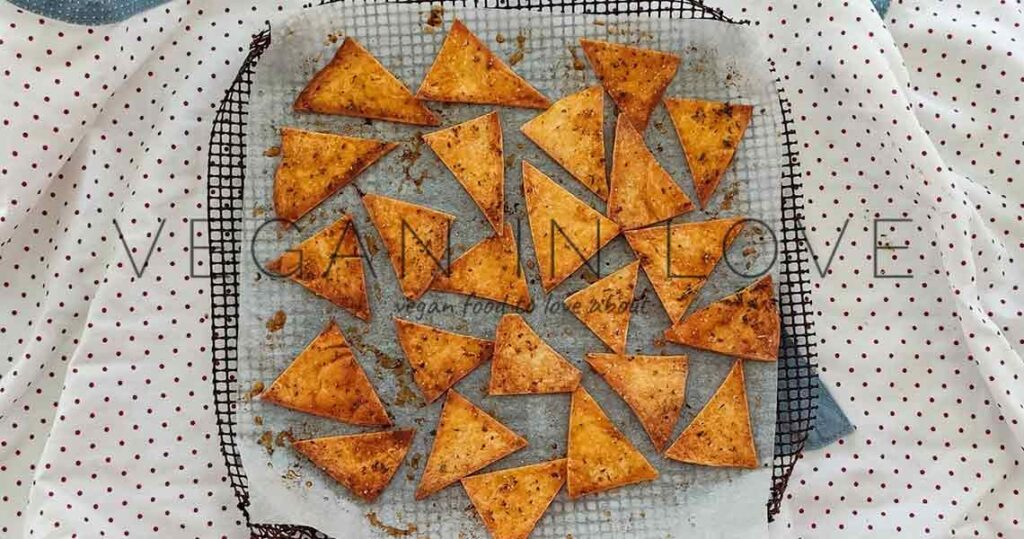 SEASONING FOR BAKED TORTILLA CHIPS
I prepared these homemade baked tortilla chips at home with tortilla wraps; however, you can use yellow corn tortillas. Whichever you decide to use you can just season them with sea salt or you can include more herbs and spices as I did. For more seasoning ingredients check the following list.
Lime juice.
Vegetable oil; such as avocado oil.
Cooking spray.
Chili powder.
Black pepper.
Dried herbs; for example basil.
WHAT TO SERVE TORTILLA CHIPS WITH?
Although you can enjoy these yummy homemade tortilla chips plain, I love the idea of serving crunchy baked tortilla chips with salsa and some guacamole or cashew queso dip. This vegan snack recipe is great to have many dips, so if you are looking for ideas to prepare sauces search no more! In the list below, you will find delicious vegan dip recipes that you can make while you are baking the tortilla chips at home.
DIPS & SALSAS
Furthermore, you can serve the baked tortilla chips on a plate and add chopped fresh ingredients; for example, fresh tomatoes, parsley, spring onion/green onion, chili, and then pour vegan cheddar cheese on top.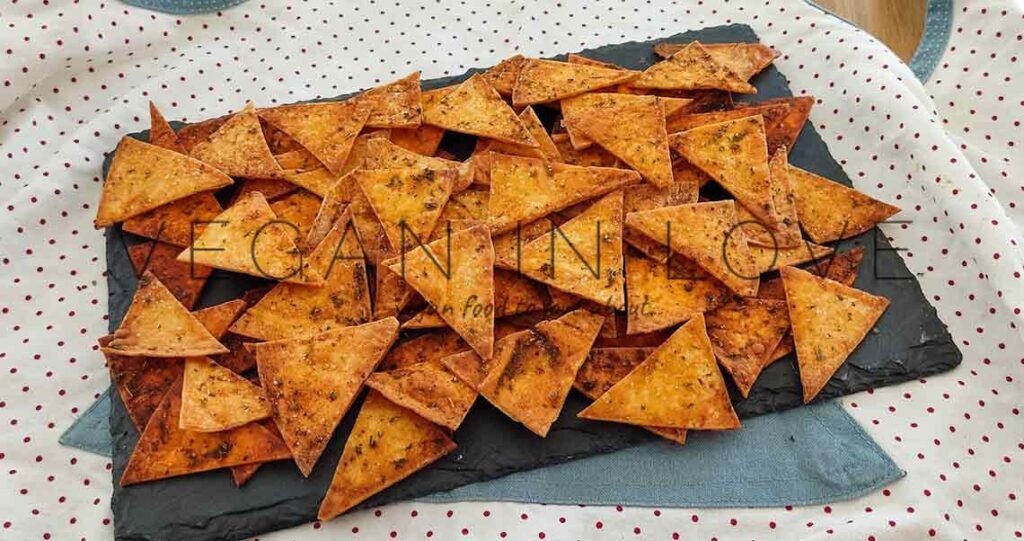 THIS RECIPE GOES WELL WITH: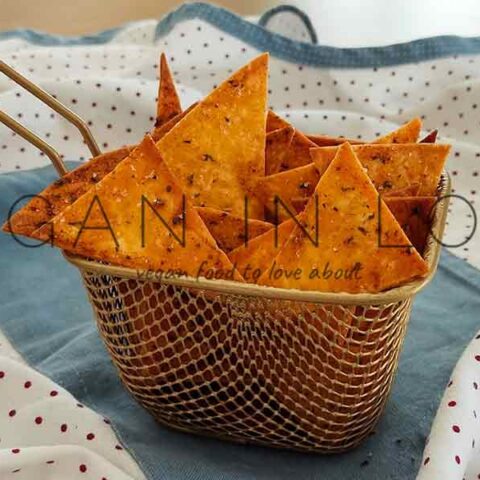 BAKED TORTILLA CHIPS HOMEMADE
Delicious, quick, simple, and easy to make these baked tortilla chips. They are made with tortilla wraps and with aromatic herbs. Enjoy this recipe as a great snack!
Ingredients
4 Tortilla wraps.
2 Tbsp. of Olive oil.
1 Tsp. of Paprika.
1 Tsp. of Oregano.
1 Tsp. of Garlic powder.
½ Tsp. of Himalayan or sea salt.
Instructions
Preheat the oven to 350 °F degrees (180 °C approx.).
Cut the tortillas into wedges and place them on baking sheets in a single layer (I also used parchment paper on the baking tray).
In a small bowl pour 2 tbsp. of olive oil, 1 tsp. of paprika, 1 tsp. of oregano, 1 tsp of garlic powder, and mix well.
With a pastry brush spread the mix on top of your homemade chips, then sprinkle the salt.
Bake your tortilla chips in the preheated oven for around 8 minutes* or cook until golden brown.
Remove from the oven and check if your homemade chips are crunchy and crispy to your taste.
After they bake transfer them on a paper towel to get rid of excess oil.
Cool before serving and there you go homemade baked tortilla chips in less than 20 minutes!
If you are preparing this recipe in advance, once your homemade chips are cooled place them in an airtight container.
Notes
*Cooking times can vary depending on your oven.
Nutrition Information
Yield

4
Serving Size

1
Amount Per Serving
Calories

299
Total Fat

12g
Saturated Fat

2g
Trans Fat

0g
Unsaturated Fat

9g
Cholesterol

0mg
Sodium

927mg
Carbohydrates

41g
Fiber

3g
Sugar

0g
Protein

7g
The Nutritional values presented on this table are only estimates. The values can also vary depending on the cooking method, ingredients, product brands etc. This data was provided and calculated by Nutritionix.
RELATED RECIPES
YOU MIGHT ALSO LIKE…
---
---