STUFFED MUSHROOMS VEGAN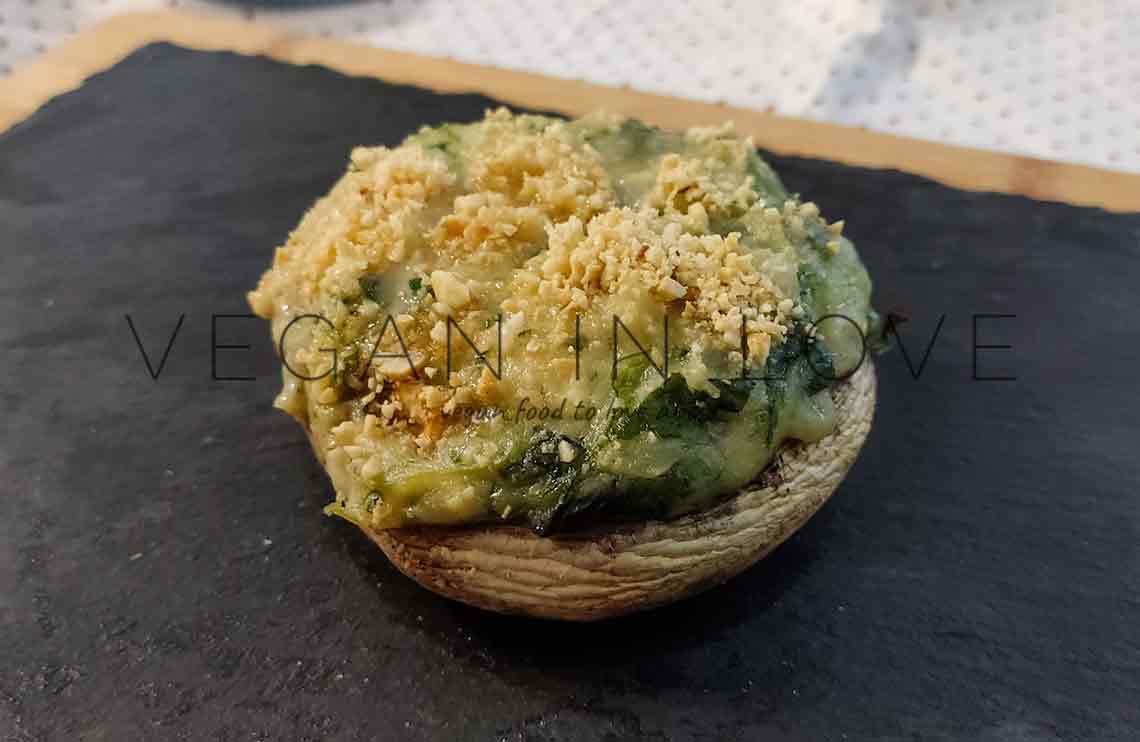 This is a great appetizer to enjoy on many occasions; such as Christmas eve, Christmas day, Thanksgiving, birthday parties, and many more. Furthermore, these are absolutely delicious easy vegan stuffed mushrooms that you can try even if you hate mushrooms. So, if you have large mushrooms at home and don't know what to make with them, prepare this recipe tonight and enjoy these delicious and easy vegan stuffed mushrooms.
SEASONING FOR STUFFED MUSHROOMS
These delicious vegan stuffed mushrooms are easy to season, with just salt and pepper you will get a yummy sauce. For this recipe, I used ground nutmeg to go really well with the white sauce and the spinach. Also, I added 1 tsp. of nutritional yeast to give a lovely cheesy flavor to the sauce. Additionally, you can also sprinkle other seasonings; such as vegan parm or any other vegan cheese of your choice.
Garlic powder.
Onion powder.
Fresh parsley.
Fresh herbs.
Dried oregano.
Lastly, I used olive oil to prepare the white sauce, you can easily replace this ingredient with vegan butter. For every tablespoon of olive oil use a tablespoon of vegan butter. If you want to make this recipe oil-free it's also doable, just replace the oil or the butter with vegetable broth.
EXTRA INGREDIENTS FOR THE STUFFED MUSHROOMS
This a perfect appetizer when you have large mushroom caps and you can also use different mushrooms; such as Portobello or cremini mushrooms. I love mushrooms as a great meat replacement and also to prepare this easy vegan stuffed mushrooms; because you can use a leftover filling or add many other delicious ingredients to your button mushrooms.
Peppers.
Green onions/spring onions.
Olives (pitted green or black).
Broccoli.
Sweetcorn.
Diced mushroom stems.
Additionally, there is no need to discard the mushroom stems. When you remove this part of the mushroom, you can add chopped mushroom stems to the filling too.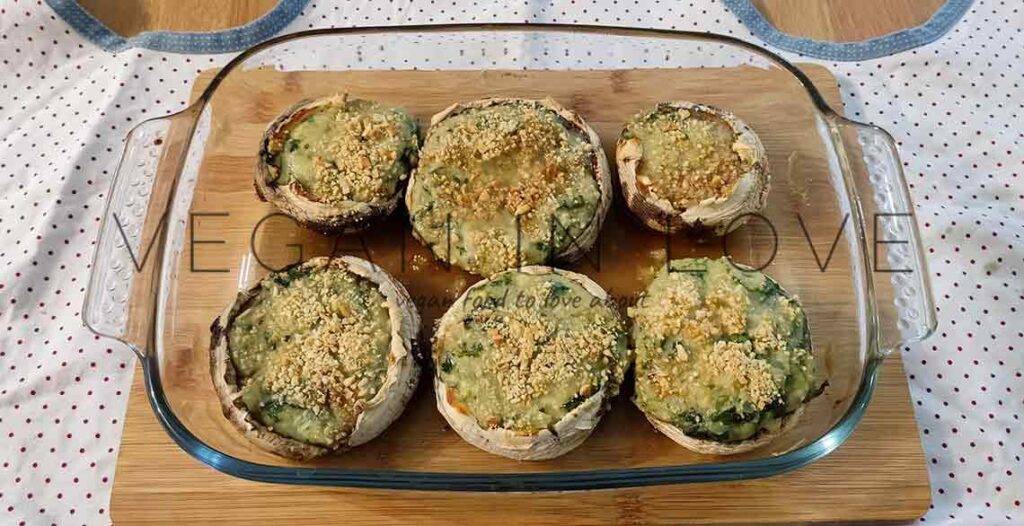 GLUTEN-FREE OPTIONS
Traditionally you would sprinkle regular bread crumbs on top of your stuffed mushrooms. However, I wanted to make vegan stuffed mushrooms gluten-free, therefore instead of using bread crumbs I finely chop raw cashew nuts; plus they contain healthy fats. This gluten-free option also gives you loads of options and you can try other nuts. But if you still want to sprinkle bread crumbs on top you can always use gluten-free breadcrumbs or gluten-free panko breadcrumbs. For more gluten-free ideas and alternatives to bread crumbs check the following list.
Pine nuts.
Almond.
Walnuts.
Pistachios.
Sunflower seeds.
Pumpkin seeds.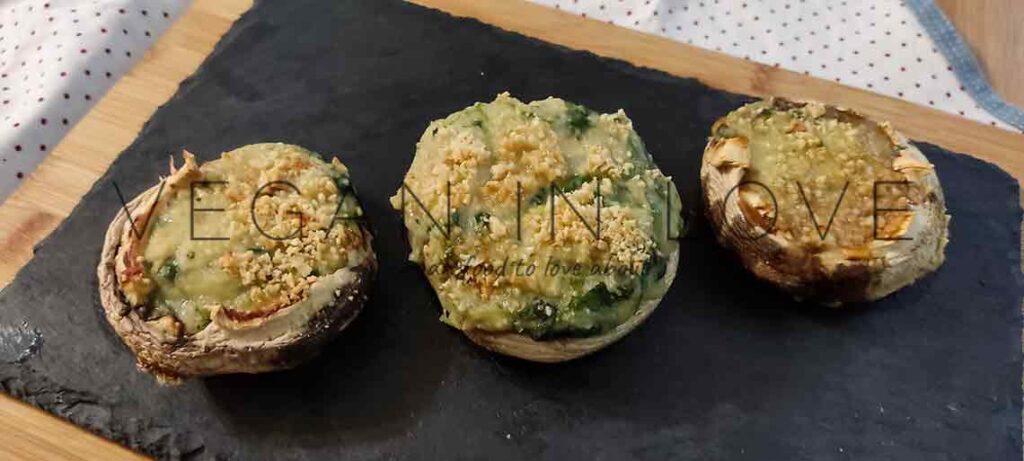 THESE STUFFED MUSHROOM RECIPES GO WELL WITH: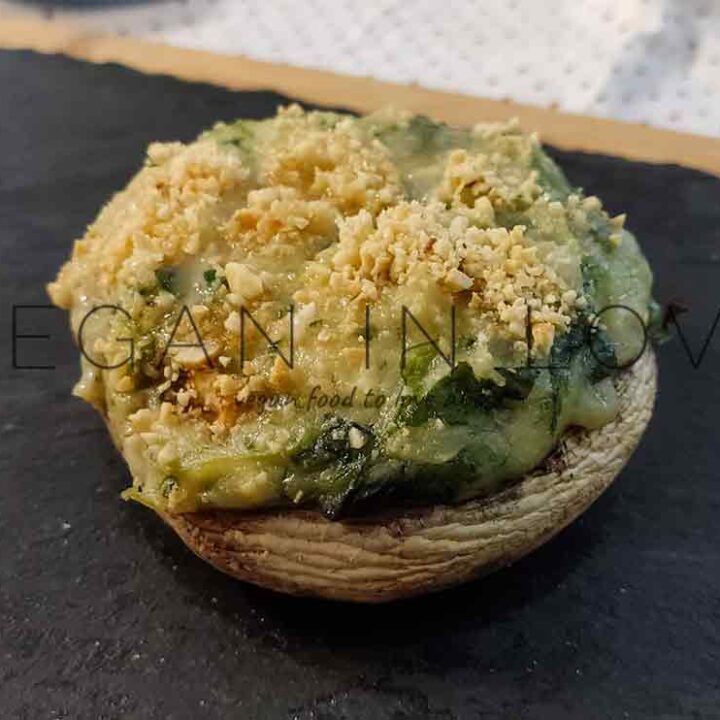 SPINACH STUFFED MUSHROOMS
This healthy spinach stuffed mushrooms vegan recipe is ideal as an appetizer/starter or a side dish. This creamy and rich vegan recipe is also gluten and dairy-free.
Ingredients
6 Large mushrooms.
1 Onion.
2 Garlic cloves.
3 Tbsp. of Olive oil.
2 Tbsp. of Corn starch.
250 ml. of Plant-based milk.
70 gr. of Frozen spinach.
½ Tsp. of Himalayan salt.
1 Tsp. of Nutritional yeast.
A Pinch of Ground nutmeg.
20 gr. of Raw chopped cashew nuts.
Instructions
Pre-heat the oven to 180 °C degrees (356 °F approx.).
Peel and dice the garlic cloves and the onion. Cook in a pan at medium heat with 1 tbsp. of olive oil (you can add more oil; for an oil-free option add water or vegetable broth).
Once they are cooked pour 2 tbsp. of olive oil and 2 tbsp. of corn starch and mix well.
Then, pour the plant-based milk and keep stirring until you get a creamy consistency.
Add the frozen spinach (you can use fresh spinach too) keep stirring and cook.
Season with: ½ tsp. of Himalayan salt, 1 tsp. of nutritional yeast, and a pinch of ground nutmeg. Mix well.
Clean the mushrooms with a damp towel.
Place parchment paper on a baking sheet (I used a glass baking dish and I spread some oil).
Remove the mushroom stems and add the stuffing mixture on top. Then, chop the cashew nuts (you can use a food processor too) and sprinkle as much as you like. In this step, you can add a little more vegan parmesan cheese if you wish for an extra delicious flavor.
Place the baking sheet in the oven and bake for around 20 to 25 minutes.
Remove from the oven and serve immediately. If you want you can prepare the filling ahead and keep it in an airtight container in the fridge; then, when you wish to eat these super flavorful stuffed mushrooms pre-heat the oven, add the stuffing mixture to the button mushrooms and bake in the oven.
Nutrition Information
Yield

6
Serving Size

1
Amount Per Serving
Calories

128
Total Fat

9g
Saturated Fat

2g
Trans Fat

0g
Unsaturated Fat

7g
Cholesterol

3mg
Sodium

184mg
Carbohydrates

9g
Fiber

1g
Sugar

3g
Protein

3g
The Nutritional values presented on this table are only estimates. The values can also vary depending on the cooking method, ingredients, product brands etc. This data was provided and calculated by Nutritionix.
MORE VEGAN APPETIZERS
YOU MIGHT ALSO LIKE…
---
---