SAVORY FRENCH TOAST RECIPE
This is an easy-to-make vegan French toast recipe, which is gluten-free, egg-free, and made of plant-based milk. Furthermore, this delicious recipe is great not only for vegetarian or vegan people; but also for people with food intolerances or allergies that cannot eat eggs, or milk (animal milk such as cow, goat, etc.) or must have a gluten-free diet. Additionally, even though this savory French toast recipe was made with regular bread slices, it can be also made with gluten-free bread slices as well.
SEASONING FOR SAVORY FRENCH TOAST
Even though you can easily season this delicious savory vegan French toast recipe with just salt and pepper, you can always add other spices that you love. I tried this recipe with a few lovely spices; however, you can replace them and use other aromatic spices and herbs that you like. So, if you don't know which other spices you can try, check the list below for inspiration.
Black pepper.
Chopped cilantro.
Garlic powder.
Onion powder.
Chopped green chili.
Indian curry spices.
Red chili powder.
Ginger powder.
EXTRA INGREDIENTS FOR SAVORY FRENCH TOAST
In order to prepare this savory vegan French toast recipe I decided to use a few ingredients; such as finely chopped red onion which I think goes really well with this vegan breakfast recipe. However, there are other amazing and healthy ingredients that you can use not only as a topping when serving this French toast, but also you can add in the batter; such as vegan cheese like shredded mozzarella.
Chopped green and/or black olives (pitted).
Chopped green onions/spring onions.
Shallots.
Gherkins/pickles.
Spinach.
Wild rocket.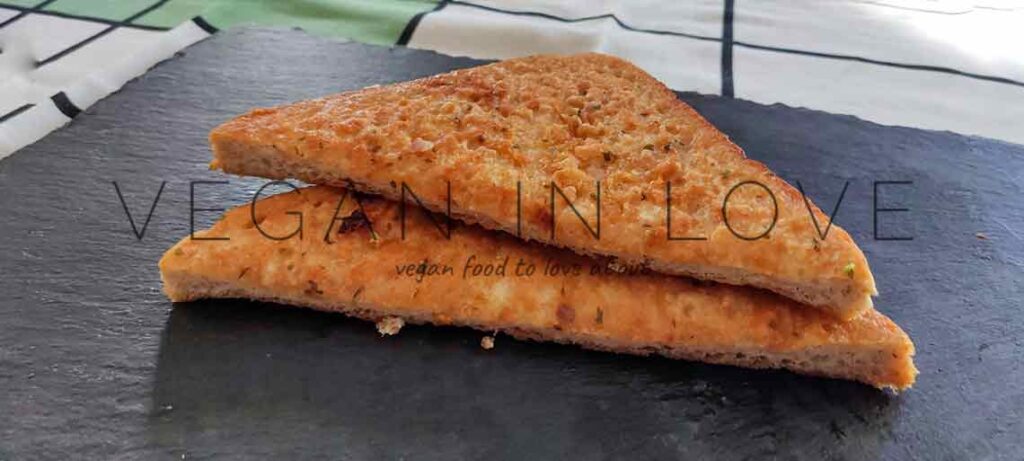 DIPS AND SALSA FOR SAVORY FRENCH TOAST
This great vegan savory French toast recipe is ideal for enjoying with a delicious vegan sauce/salsa to spread on top or dip in. As a matter of fact, it would similar to the traditional french toast recipe where you pour maple syrup or you add whipped cream or spread cream cheese.
Here you will find some yummy homemade vegan sauces/salsas or spreads to add to your vegan savory french toast. If you are enjoying this recipe for breakfast with family or friends, everyone can personalize their own delicious savory French toast with the extra ingredients listed before and the following dip recipes below.
DIPS, SAUCES, SALSAS, AND SPREADS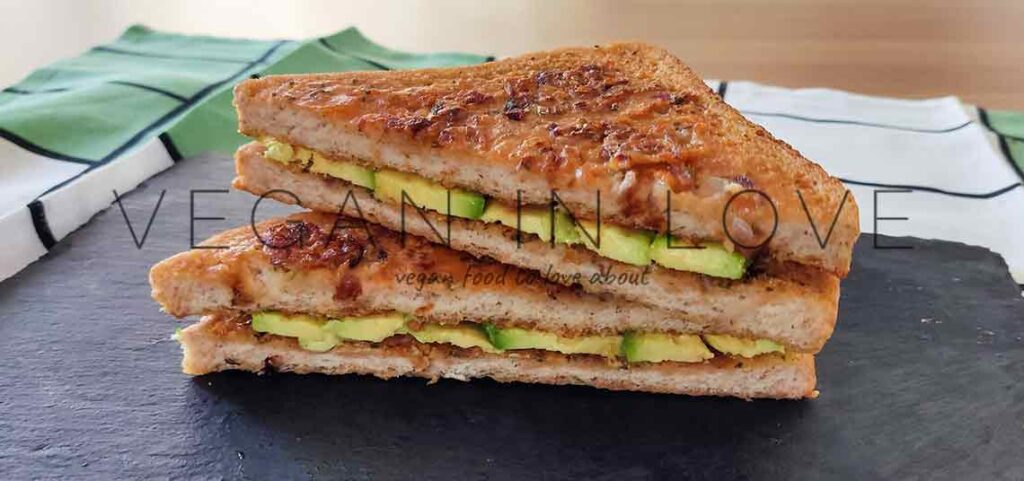 THIS RECIPE GOES WELL WITH THE FOLLOWING: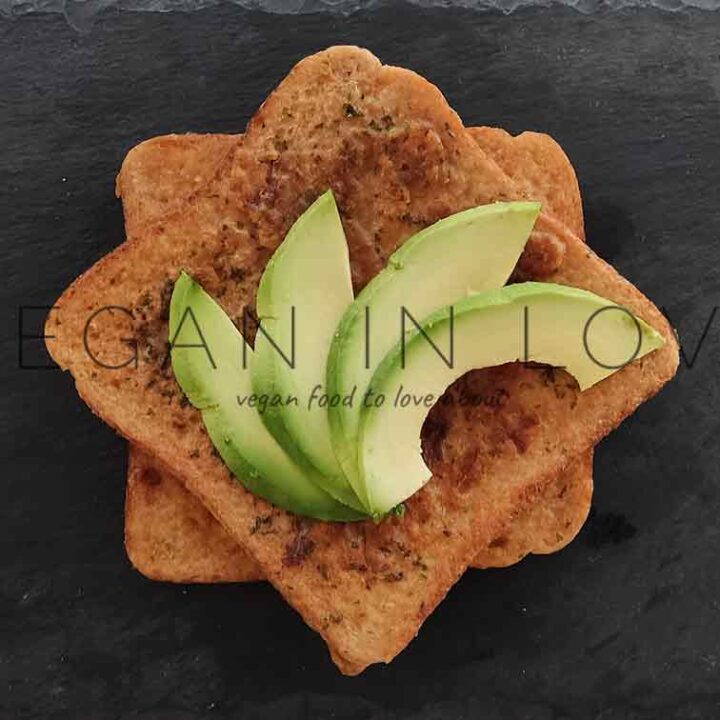 VEGAN SAVORY FRENCH TOAST RECIPE
Easy-to-make vegan savory French toast, made of simple ingredients. Make this eggless, dairy, and gluten-free French toast for a delicious breakfast.
Ingredients
French toast batter
½ Cup of Gram flour.
2 Tbsp. of Corn starch.
¾ Cup of Water.
½ Red onion finely chopped.
1 Teaspoon of Paprika.
½ Teaspoon of Garlic powder.
1 Teaspoon of Dried parsley.
1 Tbsp. of Nutritional yeast.
½ Teaspoon of Himalayan salts.
½ Teaspoon of Soy sauce*.
Bread
6 Bread slices (of your choice).
Cooking
Assemble
Instructions
In a mixing bowl sieve 1 cup of chickpea flour/besan.
Then add 2 tbsp. of corn starch and the dried seasoning: 1 tsp. of paprika, ½ tsp. of Garlic powder, 1 teaspoon of parsley, 1 tbsp. of nutritional yeast, and ½ teaspoon of Himalayan salt. Mix them well. Adjust seasoning to taste.
Add the wet ingredients: ¾ cup of water and ½ teaspoon of soy sauce. Mix well.
Peel and chop the red onion. Add the chopped onion to the bowl and whisk.
Place a skillet/pan on a stove at medium heat. When the skillet or pan is hot pour 1 tbsp. of olive oil and spread well in the pan.
Take one bread slice and dip the bread in the batter, one side first and then the other. Do not dip the bread slices fully in the batter as they can get soggy.
Place the bread slice on the skillet and cook until it gets golden brown. Then flip the bread slice and cook the other side until is golden brown.
When your savory vegan French toast is cooked to your taste place it on a plate with kitchen roll paper to absorb any oil excess.
Repeat this cooking step with the rest of your bread slices.
When you finish cooking this delicious golden savory vegan French toast recipe, serve it on a plate with avocado slices and adjust seasoning if necessary; such as salt and pepper.
Notes
*Check the package label for the gluten-free logo.
From time to time, you might need to mix the batter in the mixing bowl before you dip the next bread slice. This is mainly because the chickpea flour/besan goes to the base of the bowl.
Nutrition Information
Yield

6
Serving Size

1
Amount Per Serving
Calories

246
Total Fat

13g
Saturated Fat

2g
Trans Fat

0g
Unsaturated Fat

11g
Cholesterol

0mg
Sodium

316mg
Carbohydrates

27g
Fiber

5g
Sugar

3g
Protein

6g
The Nutritional values presented on this table are only estimates. The values can also vary depending on the cooking method, ingredients, product brands etc. This data was provided and calculated by Nutritionix.
MORE BREAKFAST RECIPES
YOU MIGHT ALSO LIKE…
---
---