VEGAN OMELETTE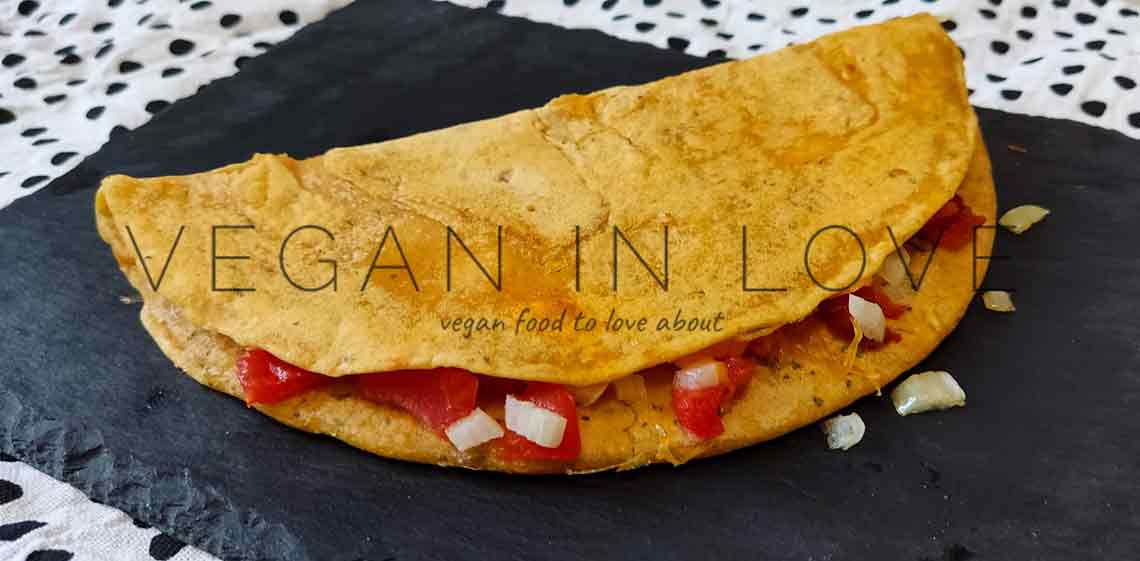 Traditionally omelettes are made of beaten eggs; such as chicken eggs. So if you are wondering How to make vegan omelet, in order to make this classic dish into a vegan omelette I used chickpea flour. Also, this simple and easy vegan chickpea flour omelette recipe was made with fresh and delicious ingredients which are great for a vegan breakfast.
WHAT IS CHICKPEA FLOUR?
Chickpea flour is a great type of flour that is made of chickpea/garbanzo beans. Also, this flour is known as besan flour, gram flour, and garbanzo bean flour.
One of the fantastic characteristics of this flour is that is gluten-free; therefore, is ideal for people with celiac disease or wheat intolerance. Furthermore, you can also use this flour mixed with other flour; such as wheat flour. And also gluten-free ones; for example rice flour, brown rice flour, potato starch, etc.
Additionally, I love this chickpea flour as you can use it as an egg replacement, and works really well as a bidding ingredient; hence you can also make a vegan version of scrambled eggs and Spanish omelette recipes too.
HOW TO MAKE THE BEST VEGAN OMELETTE
SEASONING
Seasoning your vegan omelette batter is really important, as this would make a huge impact on the taste of your recipe. So, besides the seasoning used in this vegan omelette recipe, you can also add other great ingredients too. These seasonings can be either fresh or dried.
Onion powder.
Oregano
Fresh parsley and/or cilantro.
Curry powder.
Black salt.
Minced garlic.
Mustard
Soy sauce.
Smoke liquid.
Cooking oil: avocado oil and/or vegan butter.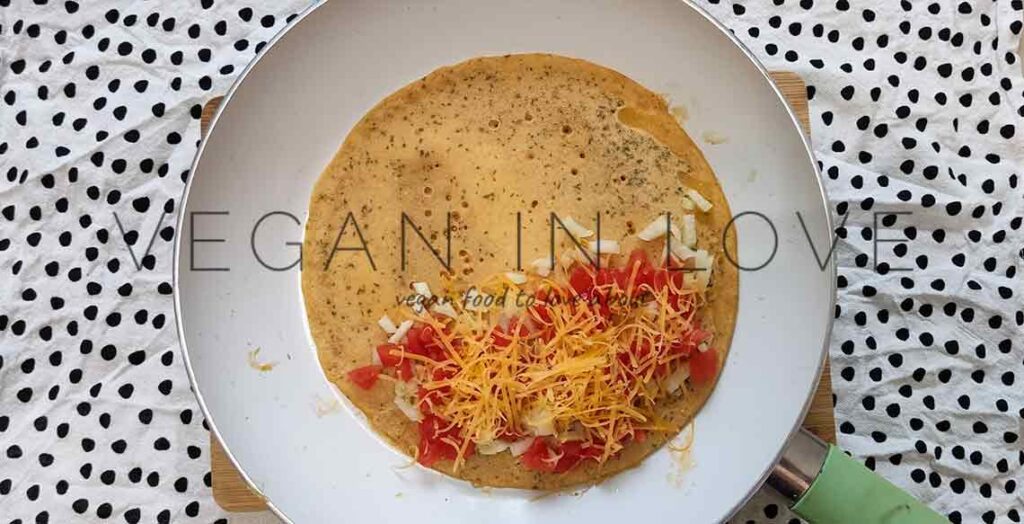 TOPPINGS AND FILLINGS
Continuing with the idea of making the best vegan omelette you can add so many fresh and cooked ingredients, not just the ones you would normally see on an omelette. Again, same as the seasoning those topping and filling ingredients can be fresh, canned, dried o cooked. Check the following list to inspire you to create the best vegan omelette!
Fresh: cherry tomatoes, avocado slices, peppers, chilies, baby spinach, wild rocket, green onions/spring onions, leek, zucchini, kale, etc.
Canned: olives, sweet corn, gherkins/pickles, etc.
Sauteed veggies/roasted/steamed veggies: fried onions, mushrooms, broccoli, etc.
Vegan meat: vegan ham and vegan pepperoni.
Vegan cheddar.
Sauces/spreads: fresh tomato salsa, vegan cheese, and guacamole.
Additionally, when finishing off this omelet recipe you can sprinkle on top a delicious vegan parmesan cheese to add a nice cheesy flavor to this chickpea omelette.
TIPS FOR VEGAN OMELETTE
Flour: in order to avoid lumps, it is important to sieve this chickpea/besan flour. It might be a vegan omelette step you would love to avoid, but having lumps later when you mix the flour with the water it's even more frustrating, trust me I know!
Seasoning: to make a delicious recipe seasoning is always really important and in this chickpea omelet recipe in particular. Garbanzo flour has a unique taste that you might like or not. So, in case you don't like add seasoning, herbs, and spices that you when you make the chickpea batter.
Wet ingredient: although I used water to make this vegan omelette recipe, you can also use plant-based milk; such as soy milk and almond milk.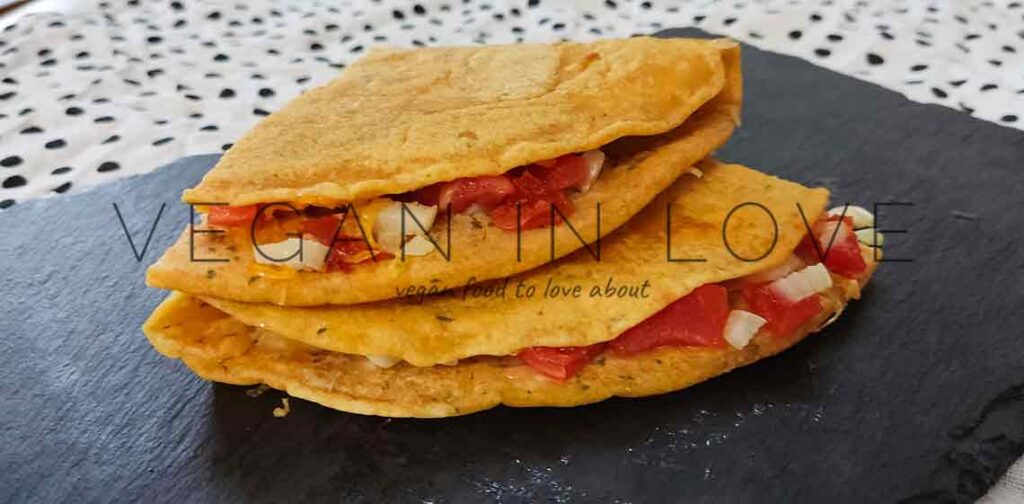 THIS VEGAN OMELETTE RECIPE GOES WELL WITH: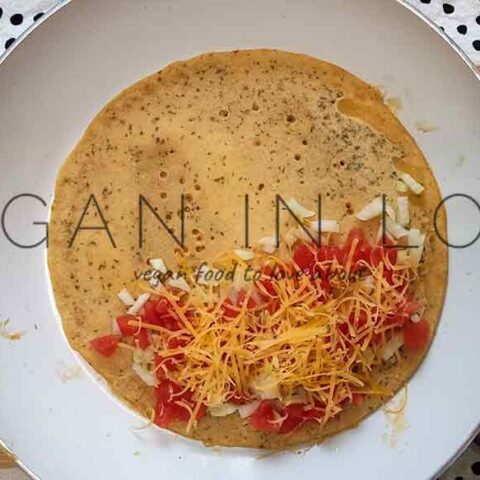 VEGAN OMELETTE RECIPE
This easy and quick vegan omelet recipe is great for breakfast, brunch, or a filling meal. This recipe is not only egg-free but also dairy and gluten-free!
Ingredients
vegan omelette
50 gr. of Chickpea flour.
1 Tbsp. of Corn starch.
A pinch of Salt.
½ Tsp. of Bicarbonate sodium.
1 Tsp. of Garlic powder.
½Tsp. of Paprika.
½Tsp. of Dried parsley.
1 Tbsp. of Nutritional yeast.
130 ml. of Water.
fillings
1 Fresh tomato.
½ Chopped onion.
20 gr. of Vegan cheese.
cooking
Instructions
In a bowl sieve the chickpea flour/besan flour.
Then, add all the dry ingredients: cornstarch, sodium bicarbonate, garlic powder, paprika, dried parsley, and nutritional yeast. Mix well.
Pour the water and whisk until you get a chickpea batter.
Place a non-stick pan on a stove at medium heat and pour the olive oil (you can adjust the quantity depending on the non-stick frying pan you are using).
Pour the omelette batter and spread evenly.
Cook the vegan omelette for a few minutes and then add the toppings; such as chopped fresh tomatoes.
With a spatula appropriate for a non-stick pan, check the chickpea omelette base is cooked and fold the omelette.
Once you get a fully cooked omelet serve it warm for a yummy vegan breakfast cuisine.
If you have some remaining batter you can also cook it, even if it's not enough for a chickpea omelette you can use it as a pancake batter and make a small omelet.
Nutrition Information
Yield

1
Serving Size

1
Amount Per Serving
Calories

478
Total Fat

20g
Saturated Fat

3g
Trans Fat

0g
Unsaturated Fat

16g
Cholesterol

0mg
Sodium

324mg
Carbohydrates

57g
Fiber

10g
Sugar

16g
Protein

20g
The Nutritional values presented on this table are only estimates. The values can also vary depending on the cooking method, ingredients, product brands etc. This data was provided and calculated by Nutritionix.
MORE VEGAN CHICKPEA FLOUR RECIPES
YOU MIGHT ALSO LIKE…
---
---