ROASTED GREEN BEANS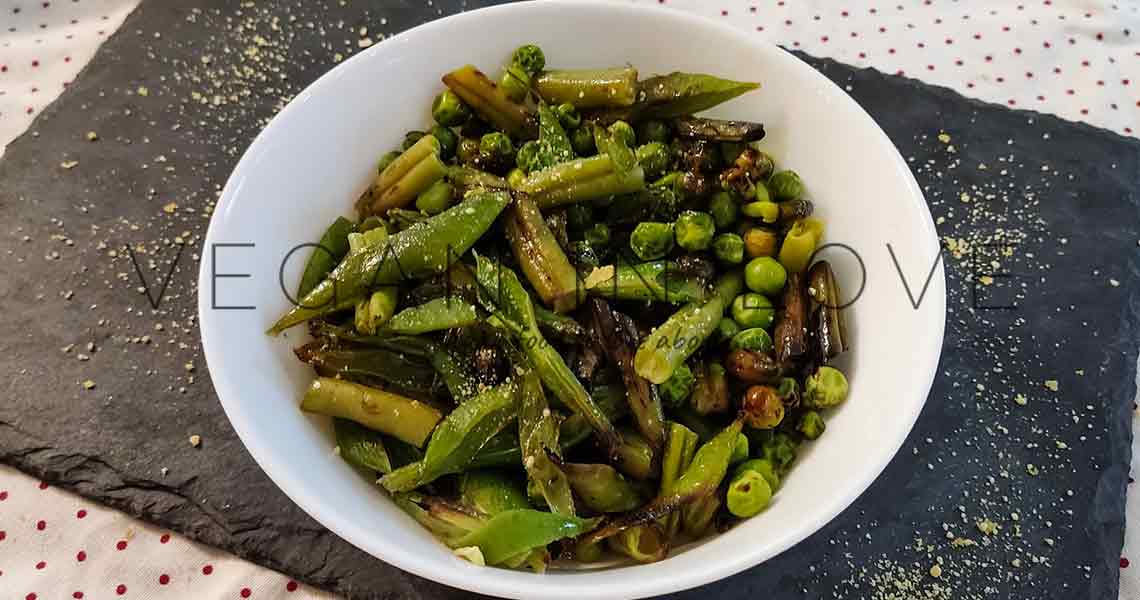 In order to prepare these delicious roasted green beans I used fresh green beans. However, if they are not in season or you can't get fresh green beans you can use frozen green beans. In this case, the cooking time for the frozen green beans will be around 5 to 10 minutes longer than using fresh green beans. Additionally, you can also use vegetables from leftovers; for example a dinner meal. This is the best way to reduce food waste too. If you know another way to use leftovers tell us in the comment section.
This healthy and delicious side dish is not only great to prepare for Thanksgiving, Christmas, New year celebrations, or family gatherings; such as birthday parties. You can always enjoy and eat this dish with a yummy meal any day of the week at dinner time. Moreover, it's also affordable and easy to prepare recipes that you can bring when you get invited to any gathering with friends, family, or co-workers. Also, it's easy to carry in an airtight container.
Lastly, you can serve this delicious and healthy roasted green beans recipe together with other side dishes food or even more transform this recipe into other dishes; for example, salads and soups.
EXTRA INGREDIENTS FOR ROASTED VEGETABLES
Roasting vegetables is a great way to prepare them and enjoy them with family and friends. If you like to add more vegetables to this yummy recipe, check the following list to get more ingredient ideas. Also, you can roast these vegetables you can cut them, or get them sliced.
Asparagus.
Garlic cloves.
Onions; such as white, brown, shallots, etc.
Broccoli.
Cauliflower.
Potatoes.
Carrots.
Traditionally, this recipe is also served with fried crisp bacon; however, you can cook in a pan a vegan bacon alternative with a drizzle of olive oil if you wish to add that flavor to your roasted green beans recipe.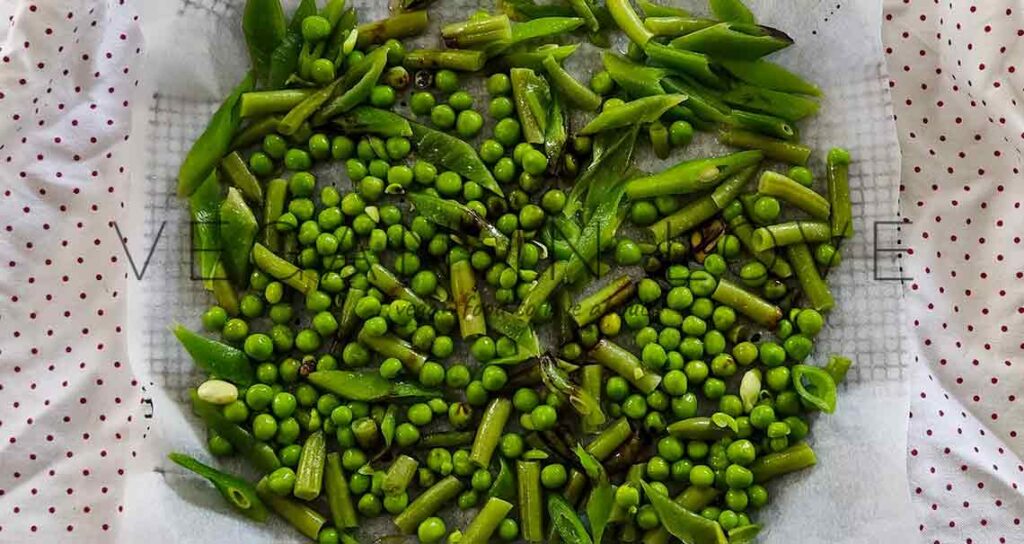 SEASONING FOR ROASTED GREEN BEANS
Seasoning this delicious and healthy side dish recipe is really simple and easy to make, sprinkle with salt and pepper and you will end up with a yummy dish. However, there are more herbs and spices that go well with this side dish to enhance the flavor of these vegetables; such as onion powder. Furthermore, you can also sprinkle parmesan cheese. For a vegan grated parmesan cheese recipe click here.
Although I use olive oil to bake the green beans, you can make this dish oil-free by replacing this ingredient and using maple syrup for baking. This also will give a bitter-sweet flavor too.
MORE SEASONING IDEAS
Kosher salt and/or sea salt.
Garlic salt.
Black pepper.
Lemon juice.
Vegan butter.
Balsamic vinegar.
Chili flakes.
Chopped fresh parsley.
Additionally, you can serve and eat these delicious roasted green beans with chopped or sliced almonds for a crunchy and healthy finishing-off.
THIS RECIPE GOES WELL WITH:
Also, try and enjoy this delicious dish with gravy sauce.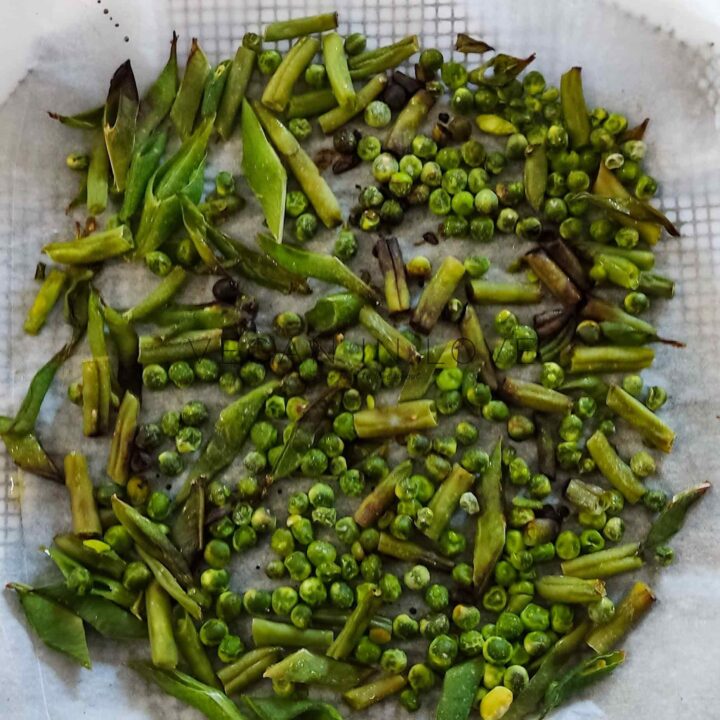 ROASTED GREEN BEANS RECIPE
Delicious and easy-to-make roasted green beans recipe. Simple recipe and great to prepare in a few minutes and to enjoy with the main dish for a nice dinner meal.
Ingredients
100 gr. of Garden peas.
100 gr. of Green beans.
100 gr. of Runner beans.
1 Tbsp. of Olive oil.
1 Teaspoon of Soy sauce*.
½ Teaspoon of Garlic powder.
A Pinch of Himalayan salt.
Instructions
Wash well the garden peas, green beans, and runner beans (if you wish you can cut or slice the runner beans or the green beans or leave them whole).
Cook the fresh green beans in a steamer for around 10 minutes. In the meantime, preheat the oven to 425 degrees °F (around 200 °C). You can also boil them to tenderize them.
Once the green beans are cooked in the steamer place them on a rimmed baking sheet or an oven baking sheet and place the green beans in a single layer.
Drizzle olive oil and gluten-free soy sauce, then sprinkle with salt and garlic powder.
Place the baking sheet in the oven and roast for around 10 to 12 minutes.
Then remove the baking sheet from the oven and check if the green beans are cooked/roasted and crisp-tender to your taste. For more crisp coated roasted green beans bake the green beans for a few minutes more**.
Serve these roasted green beans warm and together with the main meal or other side dishes.
Adjust seasoning if necessary; such as garlic powder.
Notes
*For a gluten-free option when you cook these roast green beans, check the soy sauce label to make sure it is certified gluten-free.
** Cooking times may vary depending on your oven. Also, I used a fan-assisted oven if you cook this food in an air fryer tell us in the comment how it was, and why not post a photo too?
To roast these green beans I used parchment paper, but that's optional.
Nutrition Information
Yield

2
Serving Size

1
Amount Per Serving
Calories

170
Total Fat

7g
Saturated Fat

1g
Trans Fat

0g
Unsaturated Fat

6g
Cholesterol

0mg
Sodium

368mg
Carbohydrates

23g
Fiber

6g
Sugar

9g
Protein

6g
The Nutritional values presented on this table are only estimates. The values can also vary depending on the cooking method, ingredients, product brands etc. This data was provided and calculated by Nutritionix.
RELATED RECIPES
YOU MIGHT ALSO LIKE…
---
---