ASPARAGUS PATE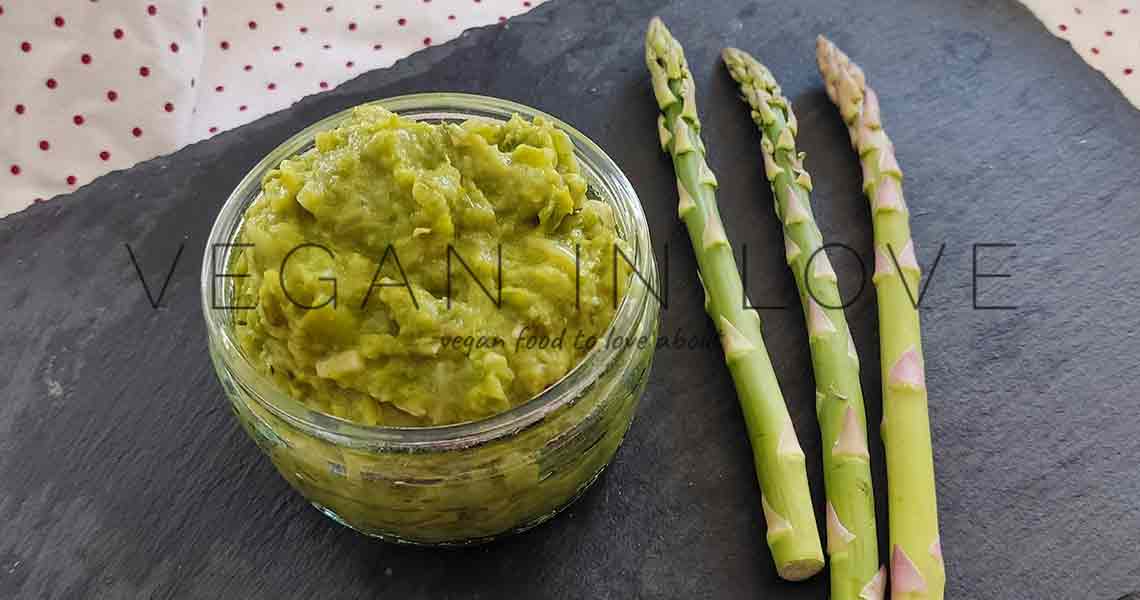 This delicious Asparagus recipe is full of flavor thanks to the great and unique taste of the fresh green asparagus spears. Furthermore, this easy recipe can be made ideally when the asparagus is in season; however, if you can't find them fresh, you can also use canned or frozen asparagus spears.
One of the many benefits of this healthy vegan recipe is that: it's gluten-free as it doesn't contain any type of flour; moreover, as a vegan recipe we don't have any kind of dairy such as cream. Instead, we replace it with coconut milk (full fat) as a great and also delicious dairy-free alternative, not only for vegans but also for people with intolerance or allergies.
Additionally, this vegetable pâté is very versatile as it can be served on many family occasions and parties. What is more, you can enjoy this delightful recipe with main dishes, as an appetizer or starter.
ASPARAGUS PATE SEASONING
In order to season this delish vegan asparagus recipe, you will only need just a few seasoning ingredients; such as salt and pepper. However, you can always add another yummy seasoning. Moreover, even though this is an oil-free recipe you can fry the garlic, onion, and asparagus spears with vegetable oil; for example, olive oil or sesame oil too. So, if you are looking for more ideas, check the ingredient list below.
Lemon juice.
Chili flakes.
Soya sauce.
Cayenne pepper.
Fresh or dried herbs; such as parsley.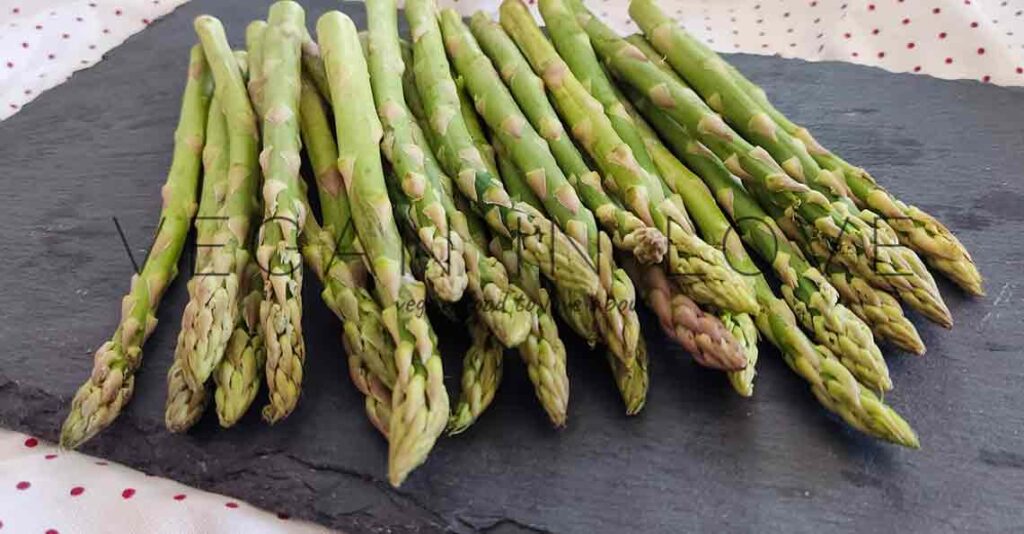 ASPARAGUS PATE EXTRA INGREDIENTS
Asparagus is the perfect ingredient for spring. Its green color, fresh flavor, and crunchy texture make it one of the best ingredients you can use to bring life to your dinner table.
Two of the most important things when cooking with asparagus are the quality of the asparagus itself and a good cooking technique. A lot of people are intimidated by cooking asparagus because they think they won't be able to cook it properly, that it will turn into mush or that they will ruin the texture by cooking it too long. These are all wrong approaches to cooking asparagus, and once you realize how easy it is to prepare high-quality dishes with asparagus, you can enjoy this ingredient in any shape – raw or cooked, julienned or grilled or roasted – because its flavor perfectly complements any other ingredient in a dish.
Although the star of this recipe is asparagus, you can add other ingredients that go very well and enhance its distinctive and delicious flavor. Some of them are:
Leeks.
Shallots.
Cashew nuts.
HOW TO USE IT
In the first place, you might be wondering how to use this lovely pate. You would be surprised that this asparagus dish is a super versatile recipe that is great to enjoy with many dishes. Secondly, you can enjoy it at a party, dinners, dinner parties, picnics, family reunions, and many more. Lastly, is super easy to store, just place it in an air-tight glass container and kept it refrigerated until consumption.
AS A DIP
Breadsticks.
Carrots.
Peppers.
Nachos.
Roasted veggies.
AS A SAUCE
AS A SPREAD
Toast.
Rice cakes.
Bagels.
Wraps.
Sandwiches.
Crackers/biscuits.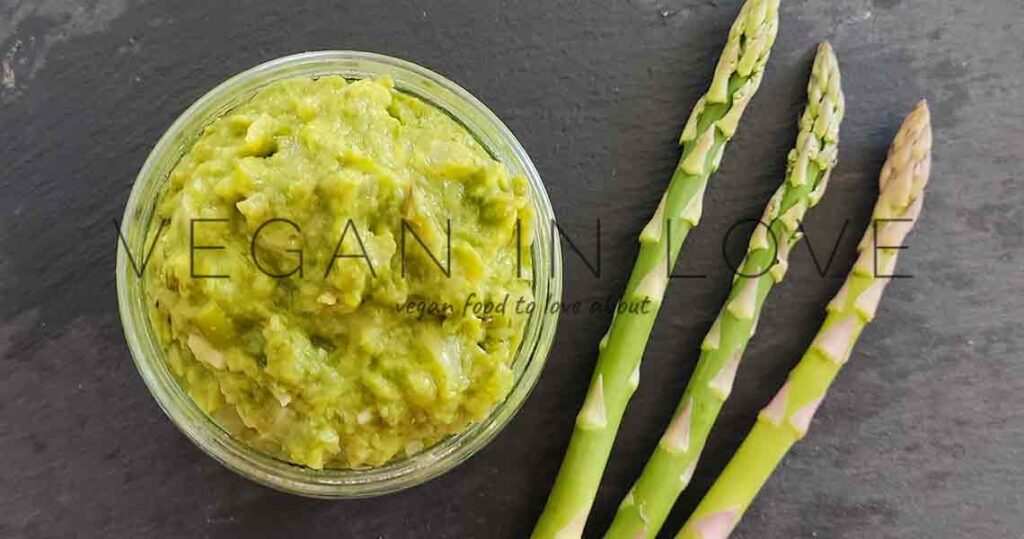 THIS RECIPE GOES WELL WITH: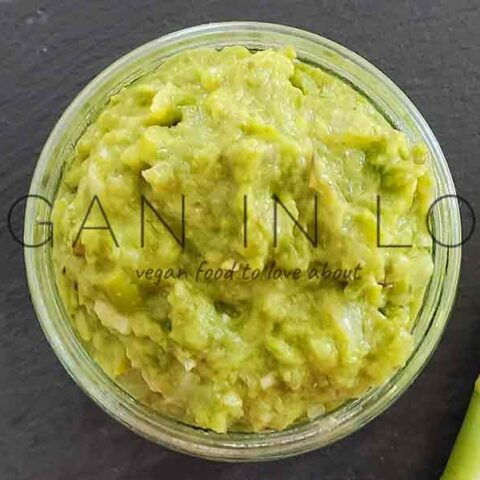 Asparagus pâté
Delicious homemade asparagus pate made of fresh green asparagus. This healthy & tasty vegan recipe is great to enjoy at dinner parties as a gorgeous appetizer.
Ingredients
200 gr. of Fresh green Asparagus (2 bounches).
1 Garlic clove.
1 Small onion.
1 Pinch of salt.
1 Tablespoon of water.
2 Tablespoons of Can coconut milk (full fat).
¼ Teaspoon of Himalayan salts.
¼ Teaspoon of Garlic powder.
1 Pinch of Black pepper.
Instructions
Peel and dice the onion and garlic clove. Then place them in a saucepan together with a pinch of salt and 1 tbsp of water. Stir well and cook a medium heat with a lid.
Wash and drain the asparagus spears, then cut the end for around 2 cm.
Cut the asparagus into small pieces and add them to the saucepan and cook them until they get soft.
Once the garlic clove, onion, and asparagus spears are cooked, pour 2 tablespoons of Can coconut milk and mix well.
Season with ¼ teaspoon of Himalayan salts, ¼ teaspoon of garlic powder, and 1 pinch of black pepper. Stir and cook for 1 or 2 minutes.
Then with a help of a blender or hand blender, blend all the ingredients until you get a smooth consistency. However, you can leave a more rustic consistency (as I did) if you wish.
Adjust seasoning to your taste if necessary.
Nutrition Information
Yield

10
Serving Size

1
Amount Per Serving
Calories

13
Total Fat

1g
Saturated Fat

1g
Trans Fat

0g
Unsaturated Fat

0g
Cholesterol

0mg
Sodium

55mg
Carbohydrates

2g
Fiber

1g
Sugar

1g
Protein

1g
The Nutritional values presented on this table are only estimates. The values can also vary depending on the cooking method, ingredients, product brands etc. This data was provided and calculated by Nutritionix.
RELATED RECIPES
YOU MIGHT ALSO LIKE…
---
---