Potato salad (Russian Potato Salad)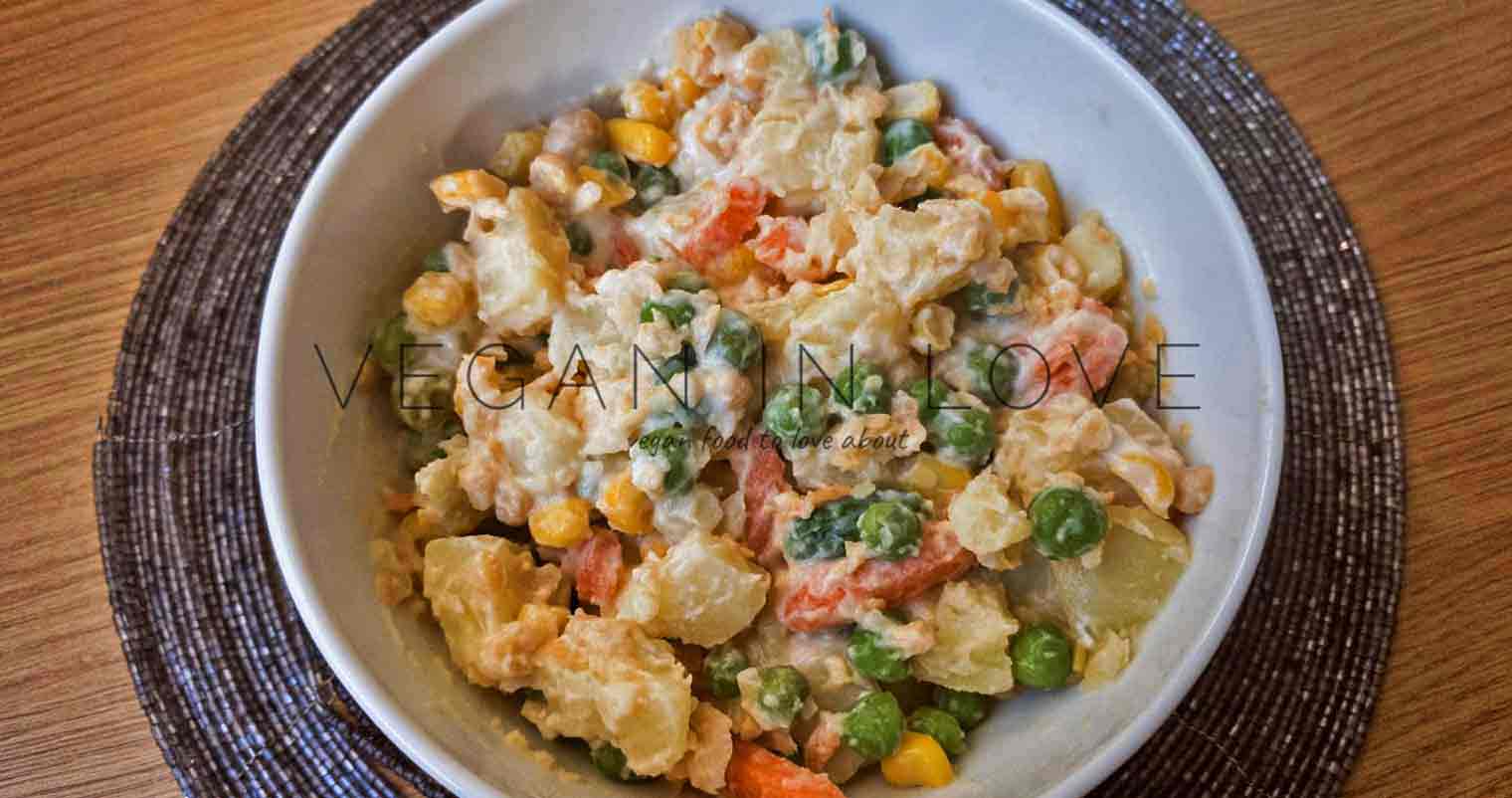 If you wonder how to make the easiest potato salad recipe you are for a treat here! This vegan potato salad is super simple and quick to make with really cheap and easy to find ingredients.
Ingredients
600

gr.

Potatoes.

500

gr.

Frozen grean peas, sweet corn, carrots and beans*.

400

gr.

Chickpeas (1 tin).

Olive oil.

Vegan mayonnaise.

Himalayan salt.

Ground black pepper.
Instructions
Wash, peel and cut the potatoes in cubes of around 1cm. Place them on one of the steam levels.

On a second tier place the frozen vegetables and spread them well. If you have large chunck of frozen veggies, don't worry they will cook just fine.

Cook all the vegetables in a steamer for around 25 minutes. Check in every now and then as cooking times can vary depending on your steamer and you don't want to overcook them, especially potatoes.

While the veggies are getting cooked, open a a can of chickpeas, rinse them and place them in a glass salad bowl.

With the help of a fork, prepare a chuncky chickpea mash. I use this as a replacement for hard boiled eggs.

When the vegetables are cooked to your taste you can cool them down with water (optional) and then place them in the salad bowl together with the mashed chickpeas.

Season to taste with: olive oil, vegan mayo, himalayan salt and black pepper.

You can serve this dish as: a side, together with vegan burgers or as an appetizer.
Notes
*I choose frozen vegetables, but if you prefer or have fresh ones the cooking time can vary. Cooking times for fresh produce is likely to be less than frozen ones.
---
---