RED LENTIL HUMMUS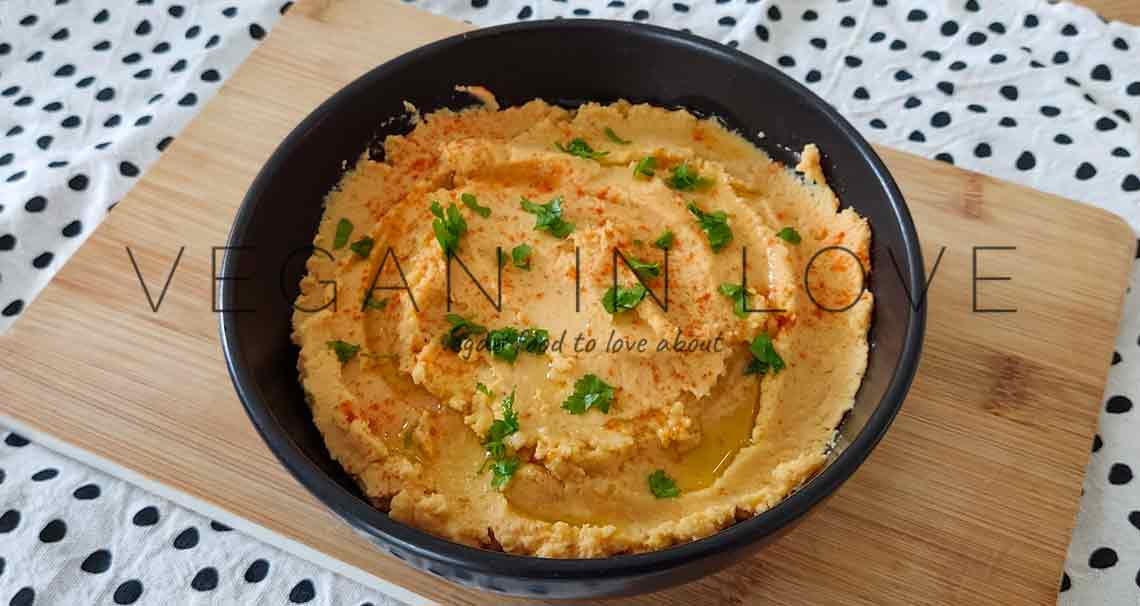 Traditionally Hummus is made of chickpeas (also known as garbanzo beans); however, besides this classic main ingredient, you can also make hummus with other legumes or vegetables. For example, for this recipe, I used split red lentils which were dried and I boiled them. However, you can also make other delicious recipes with different types of lentils; such as green lentils and brown lentils. Moreover, if you want to make a lentil dip quicker you can avoid using dried lentils, instead use cooked lentils. By skipping cooking the lentils, you can make this lentil hummus in just a few minutes.
In addition to the other lentil alternatives you can use to make this recipe, you can also use other legumes or pulses; for example red kidney beans, white beans, black beans, cannellini beans, etc.
HUMMUS SEASONING
To give flavor to this recipe I used the classic ingredients for the traditional hummus made of chickpeas. These recipe ingredients are garlic cloves, paprika, salt, tahini, extra virgin olive oil, fresh lemon, and fresh parsley. In addition to these aromatic seasonings, you can also add other delicious spices too.
Lime juice.
Black pepper.
White pepper.
Cumin.
Cilantro.
Tomato paste.
Garlic powder and onion powder.
In addition to these ingredients, you can also add smoked paprika and liquid smoke to give a smoky flavor and get a smoky red lentil hummus recipe.
ADDITIONAL INGREDIENTS FOR HUMMUS
Even though I made this lentil hummus recipe simple, you can always add other delicious, nutritious, and healthy ingredients to this recipe. Moreover, if you tried other ingredients that are not listed here, let us know in the comment section below.
Cherry tomatoes.
Onions; such as green onions/spring onions, and white onions.
Red pepper.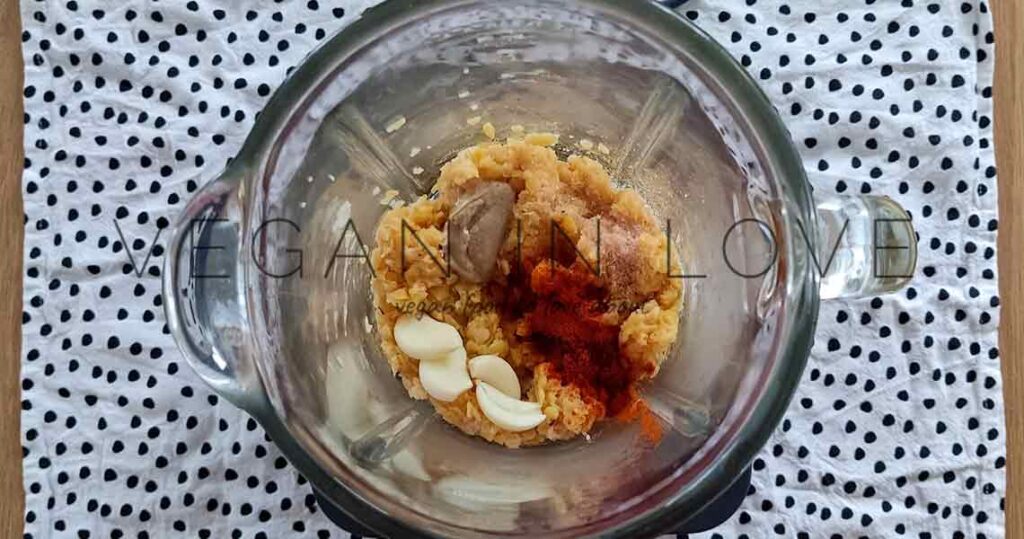 SERVING RECOMMENDATIONS
This lentil dip is a great recipe as an appetizer or a side dish as well. Furthermore, there are many ways in which you can enjoy this easy-to-make, simple, and delicious recipe. Same as with the classic hummus, you can have this lentil hummus as a dip and also as a spread. So if you are looking for some inspiration on what and how to serve this amazing dish, then check the two following lists.
AS A DIP
Cucumber sticks.
Carrot sticks.
Celery.
Breadsticks.
Red pepper sticks.
Sweet potato fries.
Pita chips.
AS A SPREAD
Bread; such as seeded, wholewheat, rye, sourdough, multigrain, baguette, ciabatta, pitta, etc.
Toasts.
Bagels.
Wraps.
Sandwiches.
Lastly, if you are using this smooth and creamy red lentil hummus as a spread on, for example, toast, you can add toppings too. Some of the toppings that go really well with this lentil hummus (and also regular hummus) are:
TOPPINGS
Pitted olives; such as green and black olives.
Pickles/gherkins.
Cherry tomatoes.
Wild rocket.
Seeds; for example pumpkin and sunflower seeds.
Avocado.
Red onions.
Spinach.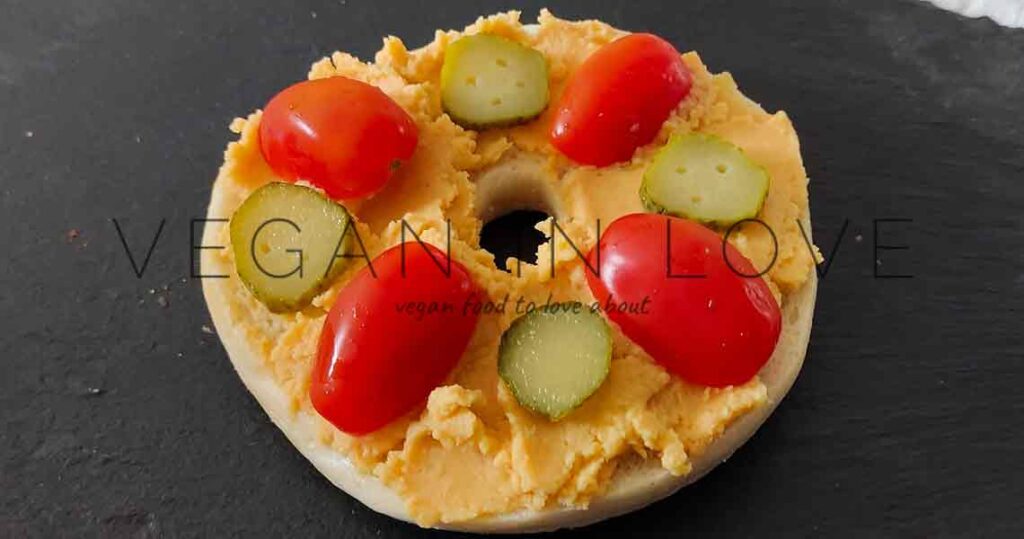 THIS RED LENTIL HUMMUS RECIPE GOES WELL WITH: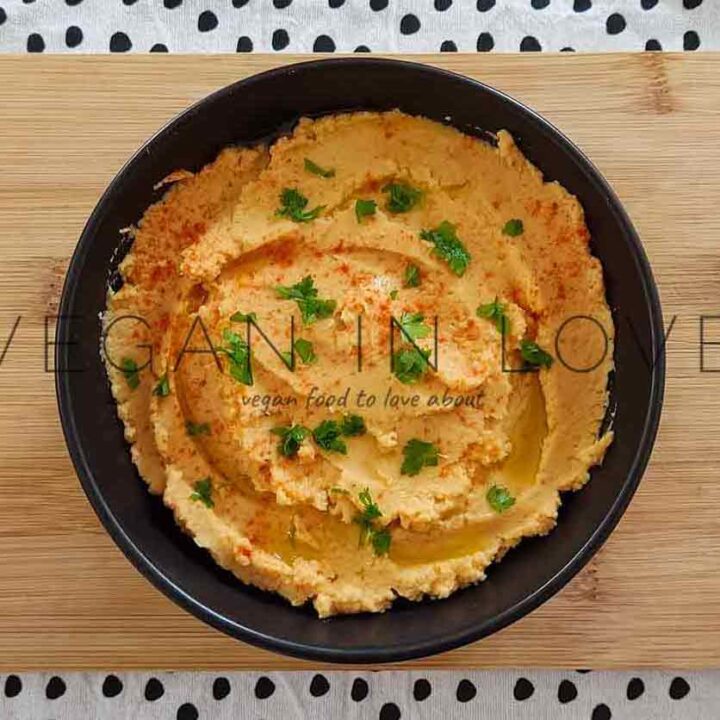 RED LENTILS HUMMUS RECIPE
Delicious, creamy, and smooth red lentil hummus is a variation from the traditional chickpea hummus. Enjoy this vegan dip with veggies and as a spread too.
Ingredients
200 gr. of Dried red lentils.
500 ml. of Water.
2 Tbsp. of Extra virgin olive oil.
2 Raw garlic cloves.
½ Fresh Lemon juice.
1 Tsp. of Tahini.
1 Tsp. of Paprikra.
¼ Tsp. of Himalayan salt.
A handful of fresh parsley.
Instructions
Wash the dried lentils with cold water until the water clears.
In a medium saucepan add the red lentils and pour 500 ml. of water. Boil the red lentils stirring occasionally at medium heat for around 20 minutes.
Once the red lentils are cooked drain them and remove any excess water.
Place the cooked red lentils in a high-speed blender.
Then add 2 fresh garlic cloves, ½ fresh lemon juice, 1 tsp. of tahini, 1 tsp. of paprika, and ¼ tsp. of Himalayan salt.
Blend the ingredients until you get a smooth and creamy or desired consistency. You might need to stop the food processor to check the consistency or use a spatula to scrap down the hummus. Also, add more lemon juice or olive oil if necessary.
Adjust seasoning to your taste; such as salt.
Serve your red lentil hummus at room temperature.
Notes
You can make red lentil hummus in advance. Once you make it and cool down at room temperature place it in an airtight container or place it in a soup dish with plastic wrap. They keep refrigerated until consumption.
Cooking times for red lentil hummus can vary depending on the stove you have to boil them or if you are using an instant pot.
Nutrition Information
Yield

4
Serving Size

1
Amount Per Serving
Calories

138
Total Fat

8g
Saturated Fat

1g
Trans Fat

0g
Unsaturated Fat

6g
Cholesterol

0mg
Sodium

230mg
Carbohydrates

14g
Fiber

5g
Sugar

2g
Protein

5g
The Nutritional values presented on this table are only estimates. The values can also vary depending on the cooking method, ingredients, product brands etc. This data was provided and calculated by Nutritionix.
RELATED RECIPES
YOU MIGHT ALSO LIKE…
---
---