CREAM OF ROASTED PUMPKIN SOUP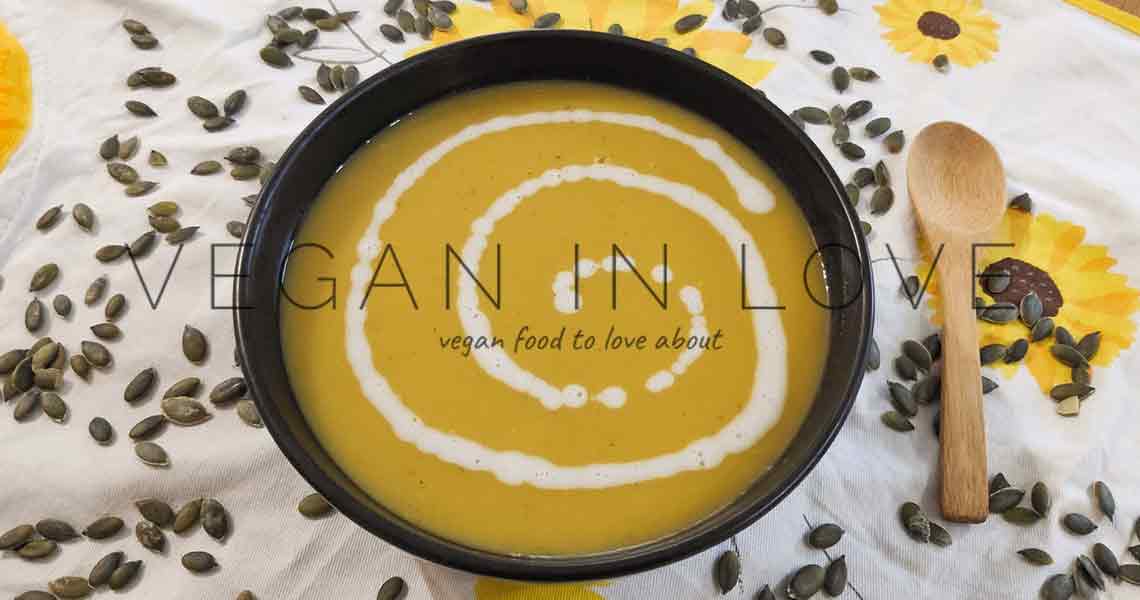 SPICED ROASTED PUMPKIN SOUP
To make a delicious soup, you might be asking yourself: which spices for pumpkin soup I can use? or which herbs for pumpkin soup I can try?. In addition to the seasoning used in this recipe, you can add more flavors to this hearty soup. As a result, you can personalize this vegan soup recipe to your taste. Furthermore, if you have family or friends at home, each guest can customize their soup. With this in mind, check the list below to get even more seasoning ideas:
Cinnamon.
Cumin.
Garlic and/or onion powder.
Cloves.
Black pepper.
Bay leaf.
Curry powder.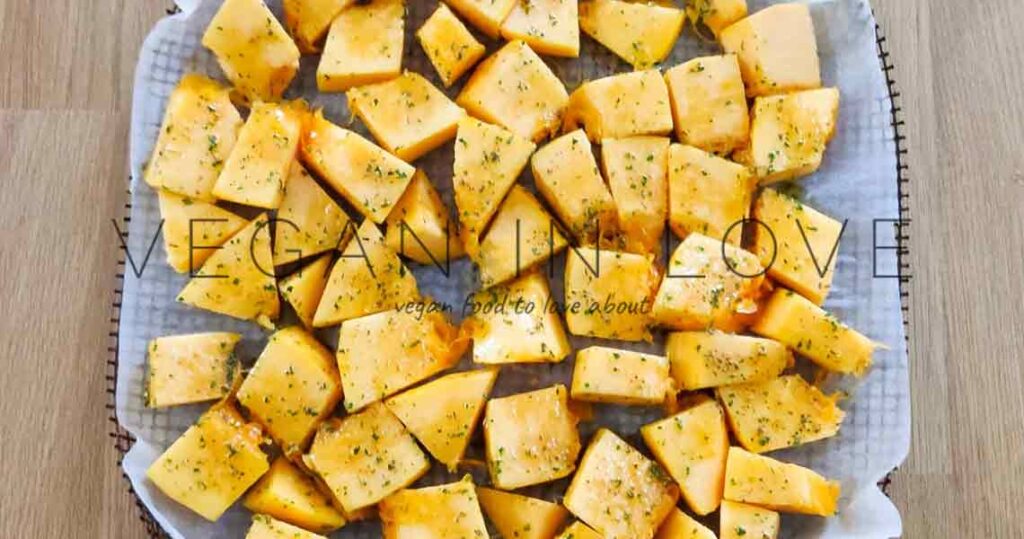 PUMPKIN SOUP EXTRA INGREDIENTS
Although this is a great pumpkin soup with the star ingredient of the seasonal pumpkin, you can always include other vegetables as well as tubers, such as potatoes. Moreover, this would help with the creamy consistency of your pumpkin soup. Therefore, you can regulate the creamy texture of this soup and decide how thick you prefer to enjoy this recipe. For this reason, I add to the list below ingredients that contribute to soup consistency; for example, potatoes and sweet potatoes. Hence, check the following list for more ingredients ideas:
Shallots.
Caramelised onions.
Carrots.
Potatoes.
Parsnip.
Sweet potato.
Celery.
Tomato puree.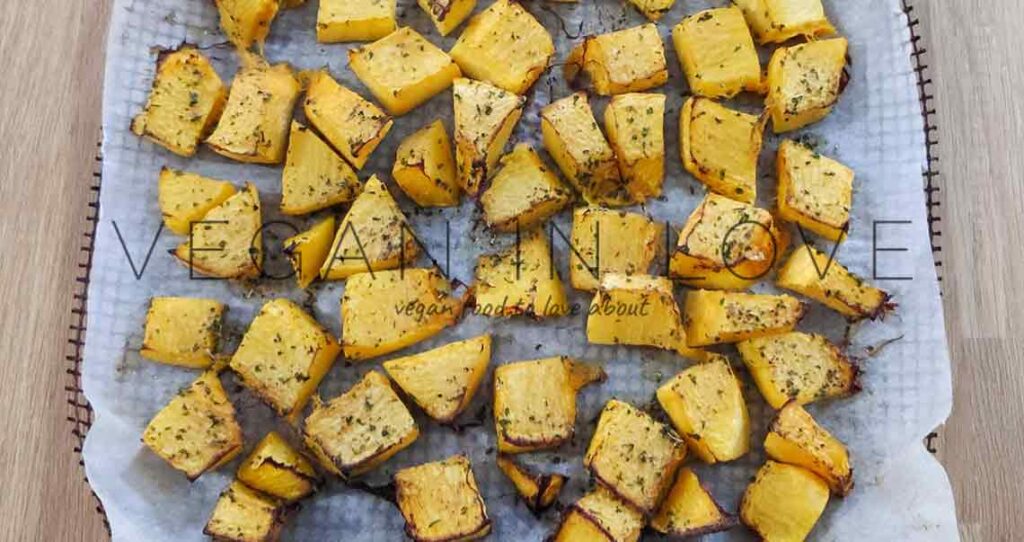 THIS RECIPE GOES WELL WITH: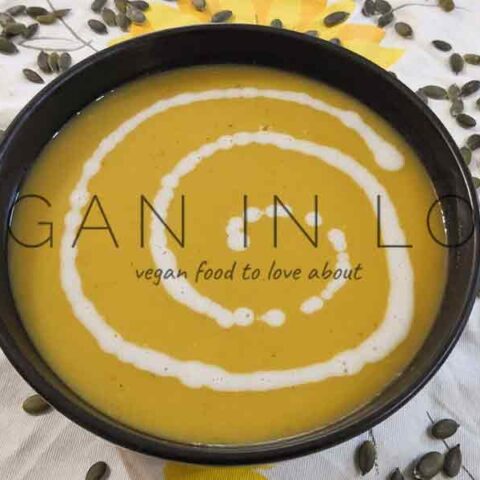 Cream of roasted pumpkin soup
Total Time:
1 hour
10 minutes
Super simple and easy to make this warm roasted pumpkin soup with few ingredients. Also, enjoy this hearty vegan soup with pumpkin seeds.
Ingredients
1.5 kg of Pumpkin.
2 Onions.
3 Garlic cloves.
1.5 liters of vegetable broth.
2-3 Tbsp. of Olive oil.
1 Pinch of Himalayan or sea salt.
½ Tsp. of Ground nutmeg.
1 Tsp. of Parsley.
1 Tsp. of Paprika.
1 Tsp. of Oregano.
Assemble
30 ml. of Can coconut milk/cream.
6 Tbsp. of Pumpkin seeds.
Instructions
Roasted pumpkin in the oven
Preheat the oven to 180 °C degrees (356 °F approx.).
Wash, peel, and remove all the seeds. Cut the pumpkin into cubes of around 3cm.
Place the pumpkin in an oven tray (you can also use grease-proof or non-stick baking paper, but that's optional).
In a small bowl add 2 or 3 tbsp of olive oil*, Himalayan salt, ground nutmeg, parsley (fresh or dried), paprika, and oregano. Mix well.
With a cooking or pastry brush, spread evenly the mixture on the pumpkins.
Place the oven tray(s) in the oven and cook for around 35 minutes.
Soup
Pour 1.5 liters of vegetable broth into a cooking pot and place it on the hob at medium heat.
Peel and dice the onions and garlic cloves. Cook for around 10 minutes.
Once the pumpkins are cooked place them in the cooking pot. Stir well and cook for 10 minutes or until the pumpkin are soft.
When the pumpkins are cooked to your taste blend the soup with a blender or hand blender until you get a smooth and lump-free cream soup.
Assemble
Serve in soup bowls, then pour coconut milk and sprinkle pumpkin seeds to your taste.
Notes
*If you want to prepare a roasted pumpkin oil-free, you can replace the oil with maple syrup.
Nutrition Information
Yield

6
Serving Size

1
Amount Per Serving
Calories

246
Total Fat

18g
Saturated Fat

4g
Trans Fat

0g
Unsaturated Fat

13g
Cholesterol

6mg
Sodium

734mg
Carbohydrates

21g
Fiber

4g
Sugar

8g
Protein

4g
The Nutritional values presented on this table are only estimates. The values can also vary depending on the cooking method, ingredients, product brands etc. This data was provided and calculated by Nutritionix.
RELATED RECIPES
YOU MIGHT ALSO LIKE…
---
---