HOMEMADE FRUIT ROLL-UPS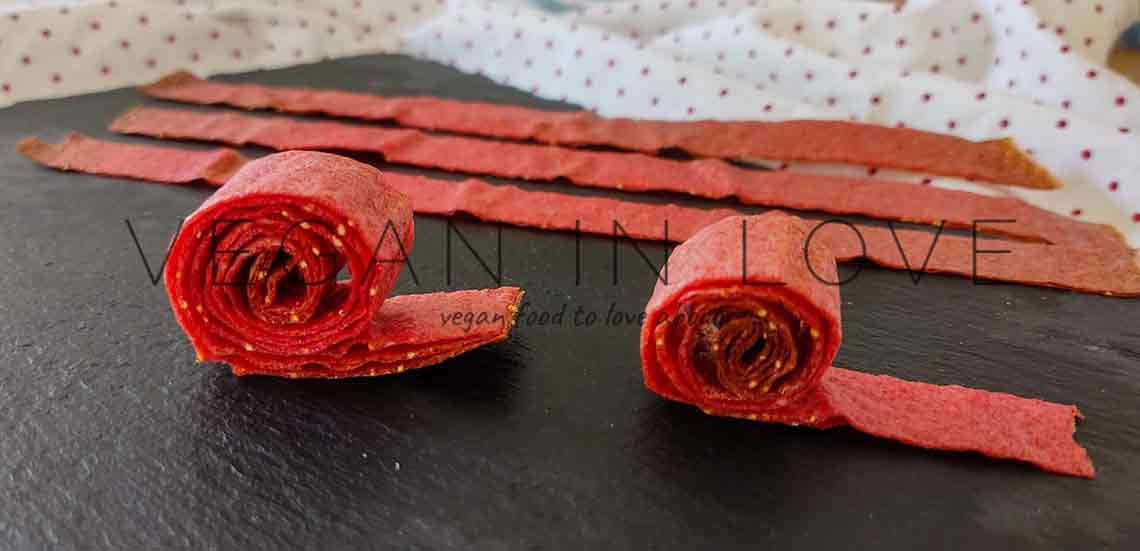 Delicious, simple, and super easy-to-make fruit roll-ups recipe ideal to enjoy as a snack in picnics, at kids' birthday parties, or to take in a lunch box at school or work.
For this healthy fruit roll-ups/fruit leather recipe I used fresh fruit, in this case, strawberries, and lemon juice. As a result, I got an added sugar-free vegan snack that it's also gluten-free. Furthermore, these homemade strawberry fruit roll-ups are a great alternative to the store-bought ones, with no additives and just 2 ingredients.
FRUIT ROLL-UPS FLAVORING
Although these homemade strawberry fruit roll-ups are made with real fruit and natural ingredients, you might also want to add more flavors or sweeter. For this recipe I prepared a fruit puree with a food processor or blender and the strawberries I used had the right amount of flavor and sweetness for our taste; therefore, this is an added sugar-free recipe. However, if you want to add more ingredients, check the ideas on the list below.
Maple syrup.
Agave.
Corn syrup.
Lime juice.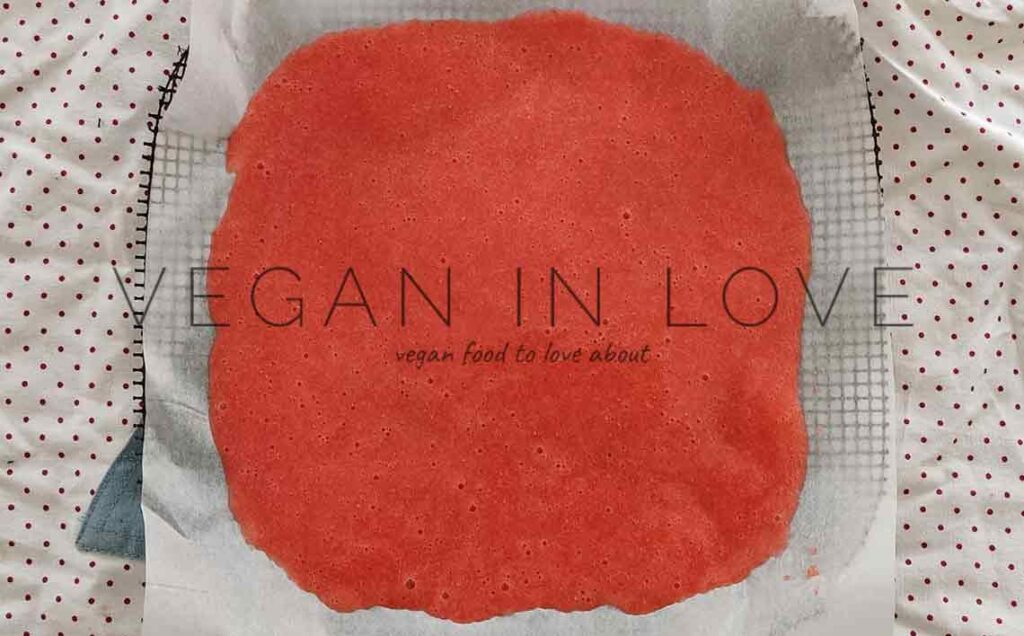 FRUIT FOR FRUIT ROLL-UPS
In order to make homemade fruit roll-ups, you will need delicious fruit that you enjoy to prepare this vegan snack; such as fresh fruit, and frozen fruit or you can even try canned fruit. Additionally, you can make fruit roll-ups by using one type of fresh fruit as I did, or you can prepare the fruit mixture by using more than one fruit. Lastly, bare in mind that for some of the fruit that you decide to use you might need to peel the fruit. For more fruit ingredient ideas check the following list.
Peach.
Apricot.
Berries; such as blueberries, raspberries, and blackberries.
Mango.
Grapes.
Pineapple.
Prune.
FRUIT ROLL-UPS TIPS:
Equipment: you can use a baking sheet or a baking tray with parchment paper. Furthermore, you can also use a silicone mat. Using parchment paper, wax paper or a silicone mat will help remove the homemade fruit roll-ups from the baking sheet. Although both of them are good options, the silicone mat doesn't have folds so it may be easier to spread the fruit roll-ups mixture.
Oven: the temperature of the oven has to be low, around 170 degrees f (less than 100 c). If this is not possible, you may need to leave the oven door open to lower the temperature. Also, if you are preparing this fruit leather recipe with kids be aware of this as a possible hazard.
Baking: place the baking sheet with the parchment paper in the center of the oven and let the homemade fruit roll-ups dry up. Baking times can also vary depending on the oven you are using, I used an electric fan-assisted oven.
Cutting your fruit roll-ups: once your homemade fruit roll-ups are done let them cool completely at room temperature. Then, you can cut them on a cutting board with a sharp knife or a pizza cutter. Also, you can try with scissors if you used parchment paper.
Storage: you can store this homemade fruit roll-ups recipe in an airtight container or a plastic wrap for around 2 weeks.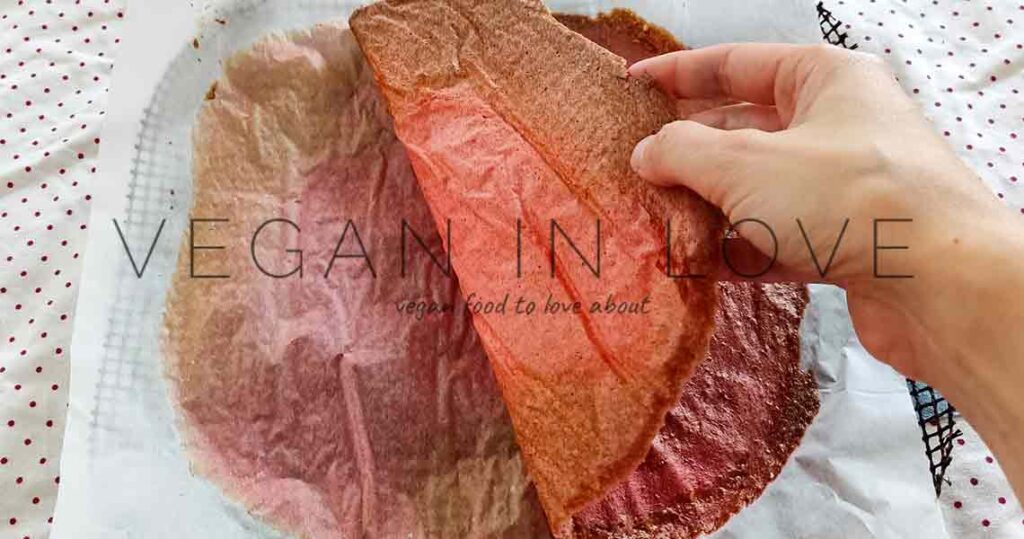 THIS RECIPE GOES WELL WITH:
Also, try these homemade fruit roll-ups with Granola.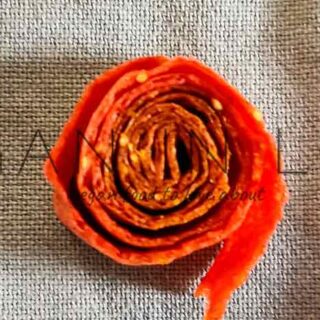 HOMEMADE FRUIT ROLL UPS RECIPE
Cook Time:
1 hour
30 minutes
Total Time:
1 hour
40 minutes
These homemade fruit roll-ups are super easy and simple to make with only 2 ingredients! This healthy and delicious snack is great for school-packed lunches.
Ingredients
200 gr. of Fresh Strawberries.
1 Tsp. of Fresh lemon juice.
Instructions
Preheat the oven to 170 °F degrees (less than 100 °C approx.).
Wash the strawberries and trim the strawberries.
Place them in a blender or food processor with 1 tsp. of lemon juice, then blend them until you get a homogeneous consistency.
On a lined baking sheet with parchment paper pour the strawberry puree.
Spread the fruit mixture evenly with a spatula.
Place the baking sheet in the center of the oven and cook for 1 hr.
Then, remove the baking sheet from the oven and check the consistency, if they still are sticky, return to the oven for 30 minutes more.
Your homemade fruit roll-ups should be ready when they are no longer sticky.
Let the homemade fruit roll-ups cool down at room temperature, then you can cut them with a pizza cutter or a sharp knife. I got 10 strips of around 1 cm.
Then, if you wish you can roll them up.
Nutrition Information
Yield

10
Serving Size

1
Amount Per Serving
Calories

7
Total Fat

0g
Saturated Fat

0g
Trans Fat

0g
Unsaturated Fat

0g
Cholesterol

0mg
Sodium

0mg
Carbohydrates

2g
Fiber

0g
Sugar

1g
Protein

0g
The Nutritional values presented on this table are only estimates. The values can also vary depending on the cooking method, ingredients, product brands etc. This data was provided and calculated by Nutritionix.
YOU MIGHT ALSO LIKE…
---
---