RECIPE FOR LOADED POTATO SKINS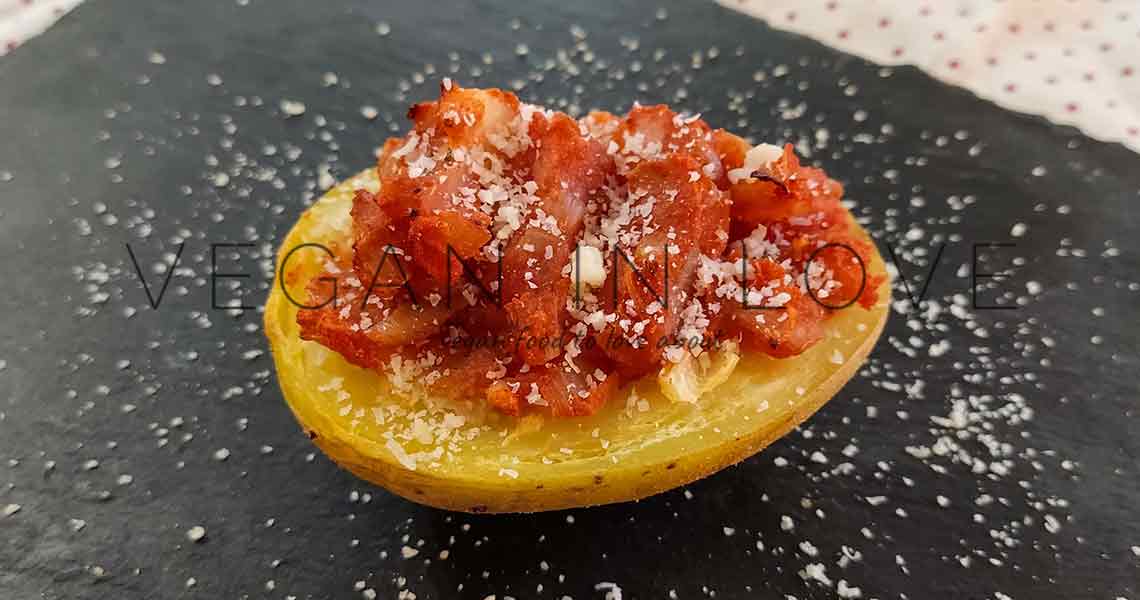 Delicious plant-based loaded vegan potato skins made with easy and simple ingredients. I love potatoes and you will find many easy recipes with potatoes in my blog, and this one is no doubt a family favorite recipe. Also, is really versatile to make too as you can easily change the filling ingredients when preparing this delicious dish.
In order to prepare this delicious recipe I decided to steam the potato skins, to speed up the cooking time. However, if you don't have or don't want to steam the potatoes you can boil them or just bake the potato skins. With baked potatoes or twice-baked potatoes, the cooking time may increase in comparison with the cooking time in this recipe.
SEASONING FOR LOADED POTATO SKINS
When I decided to prepare these loaded vegan potato skins I wanted to try healthier ways. Therefore, I made this dish oil-free and tried not to use much salt. However, if you want to give an extra seasoning with these ingredients you can do this; for example, when you remove part of the potato with the fork (potato flesh) you can drizzle olive oil or spread a thin layer of vegan butter or margarine. Then, you can sprinkle salt and pepper to taste.
For more seasoning ideas for the potato skins or the filling, check the following list.
SEASONING IDEAS
Chili powder.
Hot sauce.
Onion powder.
Maple syrup.
Liquid smoke.
Fresh chives.
Nutritional yeast.
Lemon juice/lime juice.
Freshly ground black pepper to taste.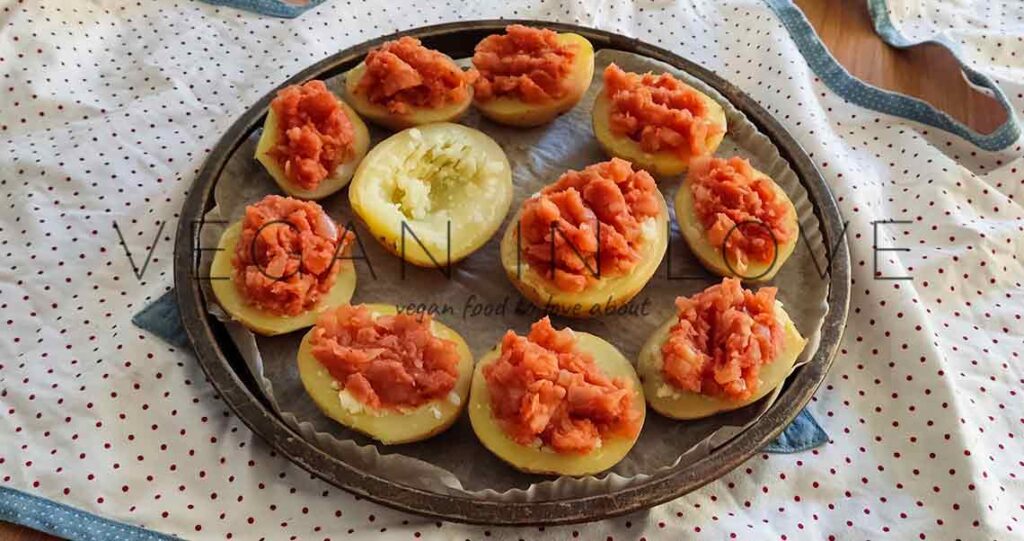 EXTRA FILLING INGREDIENTS FOR LOADED POTATO SKINS
When making delicious meals that you love is always a good idea to try different ingredients. For example, you have a blank canvas with this baked potato; therefore you can try a huge variety of plant-based options when preparing the filling. That's an amazing thing about plant-based recipes. If you made this dish and tried other ingredients to make the filling let us know in the comment section.
FILLING INGREDIENT IDEAS
Green onions/spring onions.
Leeks.
Vegan bacon bits or tempeh bacon bits.
Pepper; such as green, red or yellow.
Chickpeas.
Vegan sour cream.
Vegan cheese sauce.
Black beans.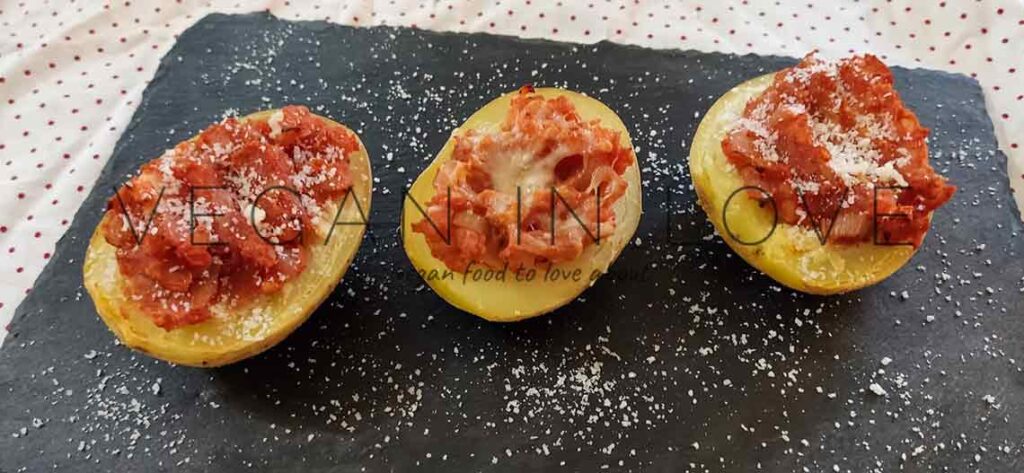 THIS LOADED POTATO SKINS RECIPE GOES WELL WITH: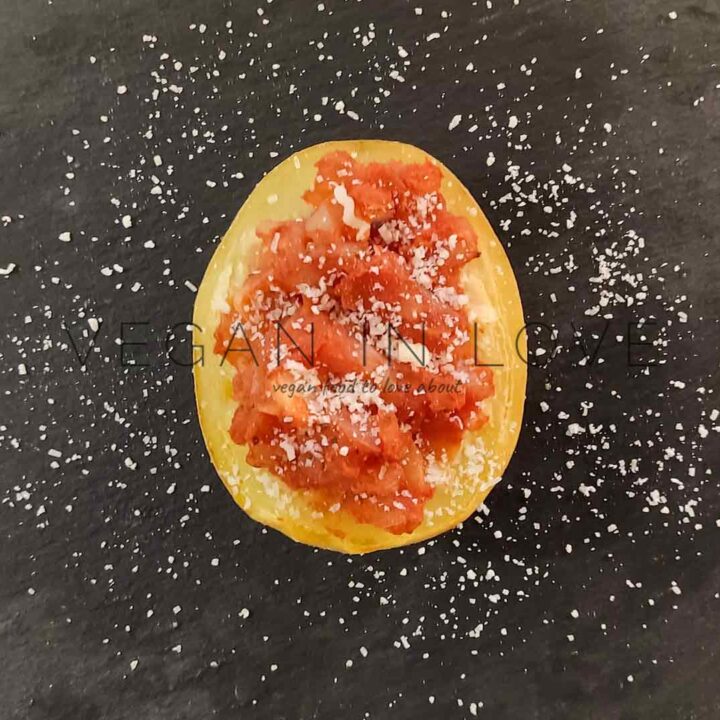 RECIPE FOR LOADED POTATO SKINS
Total Time:
1 hour
5 minutes
These quick and easy-to-make loaded potato skins are oil-free and gluten-free. Enjoy this delicious vegan recipe as an excellent and affordable starter.
Ingredients
Skin potatoes
Filling
2 Onions.
3 Tbsp. of Water.
1 Pinch of Salt.
2 Garlic cloves.
150 ml. of Passata.
¼ Tsp. of Sodium bicarbonate.
1 Tsp. of Parsley.
½ Tsp. of Smoked paprika.
½ Tsp. of Garlic powder.
½ Tsp. of Oregano.
¼ Tsp of Himalayan or sea salt.
2 Tbsp. of Vegan parmesan cheese.
Instructions
POTATO SKINS
Wash well the potato skins and cut them in half.
Place them in a steamer and cook the potato skins for 20 to 25 minutes or until they are fork-tender.
In the meantime, preheat the oven to 180 °C degrees (356 °F approx.).
FILLING
Peel and cut the onions and garlic cloves.
Cook them in a saucepan with 3 tbsp. of water and a pinch of salt.
Then, pour 150 ml of passata, ¼ tsp. of sodium bicarbonate and stir well.
Season with parsley, smoked paprika, garlic powder, and Himalayan salt. Stir well.
BAKING
On a baking sheet place parchment paper and place the potato skins on the baking sheet.
With a fork remove part of the potato to make a place for the filling.
I added the potato to the filling mix like mashed potatoes but that's optional, you can also use it for other recipes too. You can do this in a saucepan or in a medium bowl.
Add the filling to the potato skins and sprinkle vegan cheese or vegan cheese sauce (you can buy them or for the recipes check the link in the notes section).
Place the baking sheet in the oven and cook for around 25 to 30 minutes*.
When the potato skins are cooked to your taste remove them from the oven and serve warm.
Nutrition Information
Yield

4
Serving Size

1
Amount Per Serving
Calories

358
Total Fat

1g
Saturated Fat

1g
Trans Fat

0g
Unsaturated Fat

1g
Cholesterol

2mg
Sodium

697mg
Carbohydrates

79g
Fiber

9g
Sugar

6g
Protein

10g
The Nutritional values presented on this table are only estimates. The values can also vary depending on the cooking method, ingredients, product brands etc. This data was provided and calculated by Nutritionix.
RELATED RECIPES
YOU MIGHT ALSO LIKE…
---
---