OREO VEGAN CHEESECAKE NO-BAKE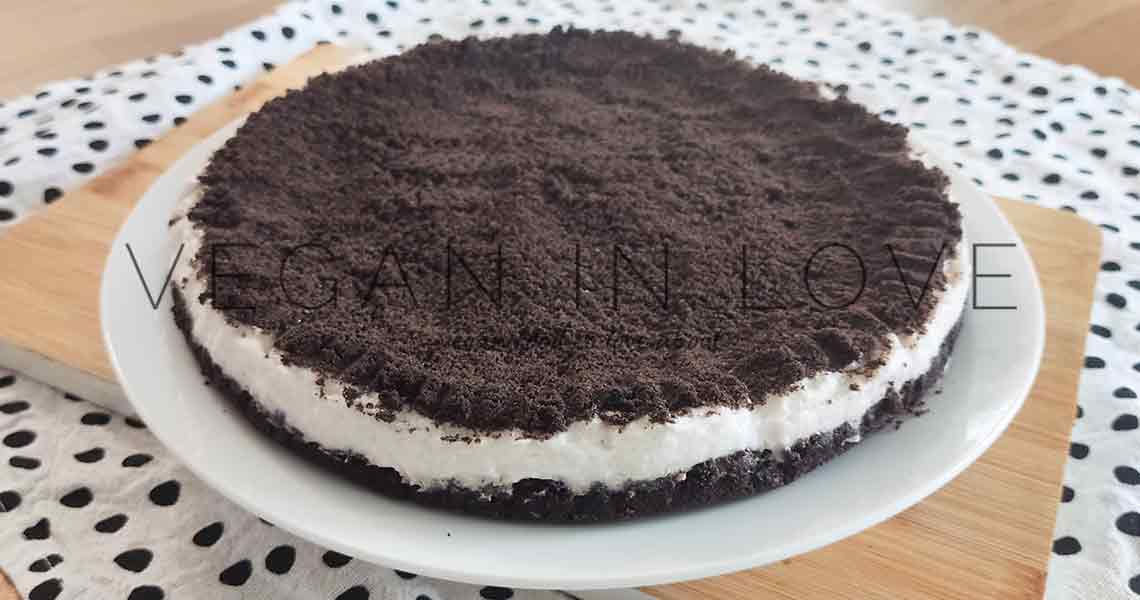 Traditionally cheesecake is made of dairy products; such as butter, cream cheese, cream, and milk. Furthermore, this classic dessert can be prepared in a no-bake cake type and also baked in an oven type where normally eggs are used.
In order to make a dairy-free cheesecake we have to change a few ingredients; for example the dairy butter. Luckily these days we can find more vegan dairy-free alternatives that make this vegan recipe a lot easier to make.
In this opportunity, I didn't want to use a vegan cream cheese, as I wanted to try a vegan Oreo cheesecake using canned coconut milk. One of the reasons for doing that is, although there are vegan cream cheese alternatives relatively easy to find, and we are really fortunate to find loads in our local store, in some other areas this can be more limited. Therefore, by using canned coconut milk I hope more people can make this recipe and avoid the hassle of trying to find the ingredients.
Lastly, to keep this recipe quick, easy, and simple I also decided to make a no-bake Oreo cheesecake. This was great for me as while I like to bake vegan cakes, you can also get a delicious cake that is an easy no-bake dessert. Additionally, you can make this easy Oreo cheesecake into mini cheesecakes that you can serve at gatherings and parties.
FLAVORING FOR VEGAN CHEESECAKE
As I kept this delicious vegan Oreo cheesecake as simple as possible, to give flavor to the cheesecake I used the filling from the Oreos and mix it up with vanilla extract. However, you can always add other flavors to the cheesecake crust and filling. Check the following list for more delicious ideas to use with this recipe.
Lemon juice.
Vanilla bean paste.
Melted or chopped white chocolate.
Caramel flavoring.
Peanut butter.
Maple syrup.
Fresh zest, such as lemon, lime, or orange.
In addition to this, I used melted vegan butter to make the cheesecake base (Oreo crust) with the crushed Oreos; alternatively, if you want to replace the vegan butter you can use the same amount of melted coconut oil.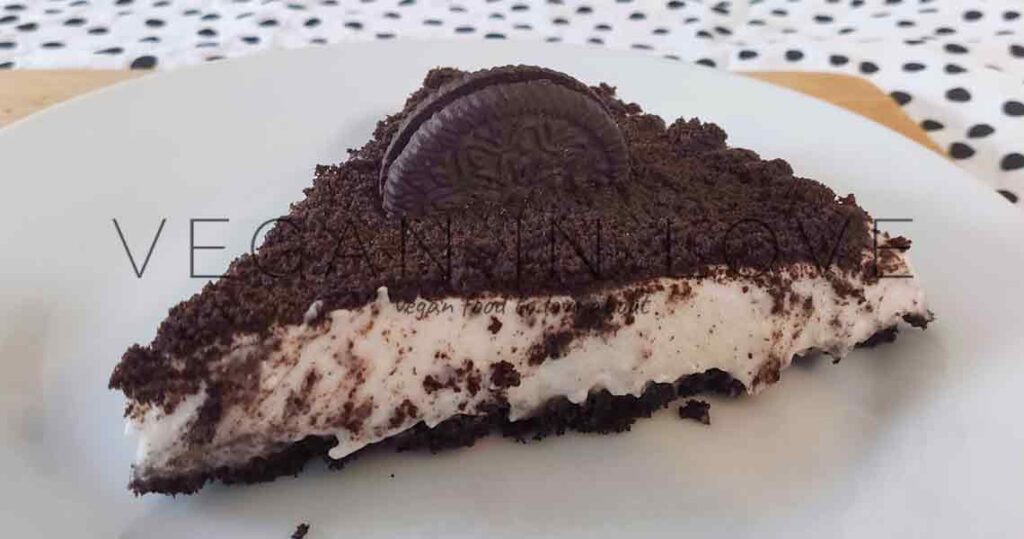 ALTERNATIVE INGREDIENTS FOR VEGAN CHEESECAKE
Making vegan food sometimes can be tricky due to dairy and eggs added in some products; therefore when choosing some products and ingredients reading labels can be essential. When you buy Oreo cookies or any other sandwich cookie to make vegan desserts make sure the Oreo cookie you are buying is vegan-friendly. Also, this same idea applies to cheesecake filling as some dairy alternatives might be not vegan.
In this section, you can find more options and ideas that can be also used when making no-bake cheesecakes.
COOKIES
Gluten-free Oreos.
Other vegan sandwich cookies.
Vegan cookies.
CHEESECAKE FILLING
Dairy-free cream cheese (store-bought).
Vegan cream cheese recipe.
Coconut cream.
Coconut milk.
Vegan whipped cream.
Dark chocolate chips.
Although this is a nut-free cheesecake, you don't have to follow this exact recipe to make the cheesecake filling. Alternatively, you can make a homemade version of vegan cream cheese and also use it in this recipe and make a cream cheese mixture with coconut milk.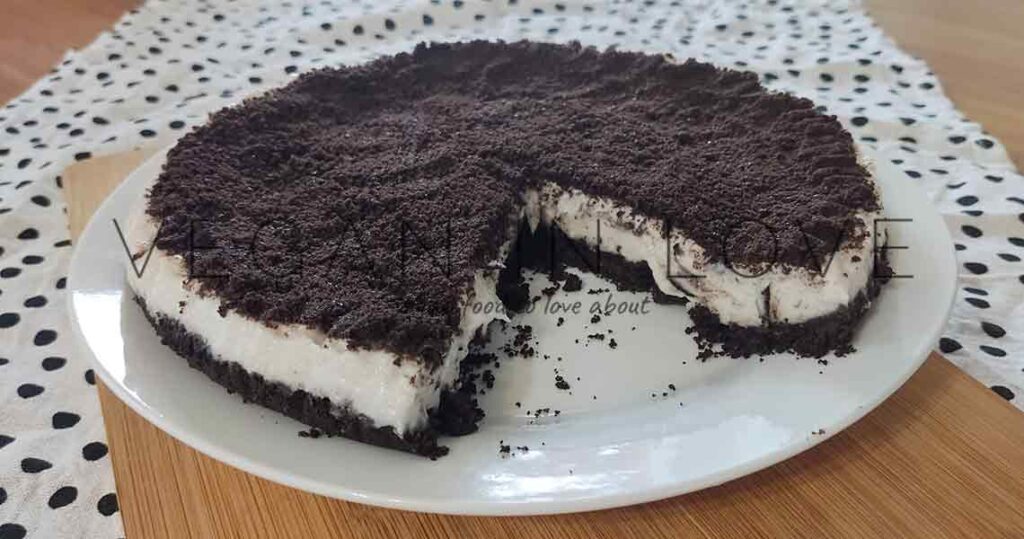 THIS RECIPE GOES WELL WITH: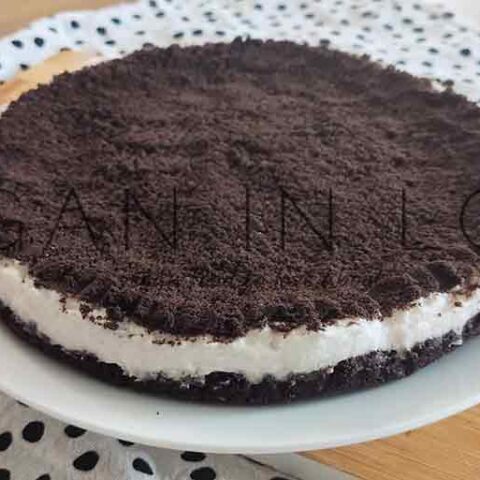 OREO VEGAN CHEESECAKE
Delicious and creamy dairy-free Oreo cheesecake made of just a few ingredients. This easy, simple, and no-bake vegan recipe can be enjoyed as a rich dessert.
Ingredients
oreo crust
190 gr. of Oreo cookies.
50 gr. of Vegan butter.
cheesecake filling
Filling from the Oreo cookies.
1 Canned coconut milk.
1 Tbsp. of Vanilla extract.
15gr. of Agar agar.
100 ml. of Water.
topping
30 gr. of Crushed cookies.
6 Oreo cookies.
Instructions
OREO CRUST
Open each Oreo cookie and remove the vanilla filling.
Place the cookies in a blender or food processor. Blend the Oreo cookies until you get fine crumbs. If you don't have a food processor/stand mixer etc, you can place the cookies in a sealed bag and use a rolling pin to get cookie crumbs.
Melt the vegan butter or coconut oil (you can use a microwave for just a few seconds).
Pour the vegan butter/coconut oil and integrate well.
In a cake pan, I place parchment paper, you can use clean film (using a springform pan would be ideal).
Add the crushed Oreos to the cake pan. Spread well and press with a tablespoon.
Place the cake pan in the fridge.
CHEESECAKE FILLING
Place the filling of the Oreo cookie in a bowl. Then pour the coconut milk, 1 tbsp. of vanilla extract and 2 tbsp. of powdered sugar.
Then I used an electric mixer to blend together, you can also use a hand whisk.
In a saucepan pour 100ml of water, and 15 gr. of agar agar and mix. Place in the stove at medium heat and bring to a boil. Stir for 2 minutes.
Pour the agar agar mixture and integrate well.
Remove the cake pan from the fridge and pour the cream filling on top of the crushed Oreos/oreo crust. Spread evenly.
Place this easy Oreo cheesecake in the fridge to chill overnight.
Lastly, add the toppings. Sprinkle the crushed Oreos on top of the cream filling and decorate with more Oreo cookies.
Notes
For this recipe I use a 20cm/ 7.87 inches cake tin.
Nutrition Information
Yield

6
Serving Size

1
Amount Per Serving
Calories

377
Total Fat

25g
Saturated Fat

11g
Trans Fat

1g
Unsaturated Fat

12g
Cholesterol

0mg
Sodium

199mg
Carbohydrates

37g
Fiber

1g
Sugar

20g
Protein

3g
The Nutritional values presented on this table are only estimates. The values can also vary depending on the cooking method, ingredients, product brands etc. This data was provided and calculated by Nutritionix.
MORE VEGAN CHEESECAKE RECIPES
YOU MIGHT ALSO LIKE…
---
---