GRANOLA RECIPE HEALTHY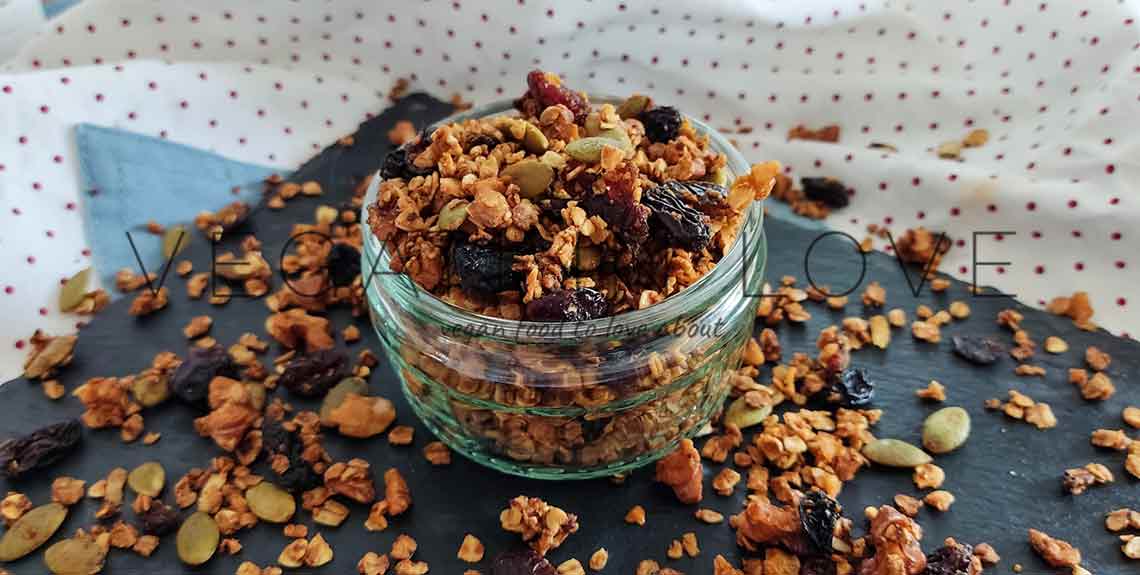 I love this recipe! This homemade granola recipe is really easy and straightforward to make. Furthermore, you have a huge variety of healthy ingredients that you can try and mix together too.
This healthy homemade granola recipe is refined sugar-free as it's naturally sweetened thanks to maple syrup. Moreover, is also gluten-free as I used gluten-free oats. To make sure you get gluten-free granola check the labels when buying the oats.
Making homemade granola is truly quick and easy. What it's more, you can choose how you want to make it and what to add, so no hidden ingredients too. Therefore, I think this is the best granola recipe you can make, far better than store-bought granola.
I love this granola recipe as it's simple, easy, homemade, healthy, nutritious, and delicious! Also, if you made this recipe I'm really happy to hear from you, so tell us in the comments!
GRANOLA FLAVORING IDEAS
I made this recipe using coconut oil and maple syrup. However, if you don't want to use these ingredients instead of maple syrup you can use agave. So, feel free to make this recipe to your personal preferences. For more ideas to give more flavor to your homemade granola, check the list below.
FLAVORING INGREDIENTS
Ground cinnamon.
Peanut butter.
Agave.
Vanilla extract.
Citrus peels; such as orange and lemon.
Shredded coconut or coconut flakes.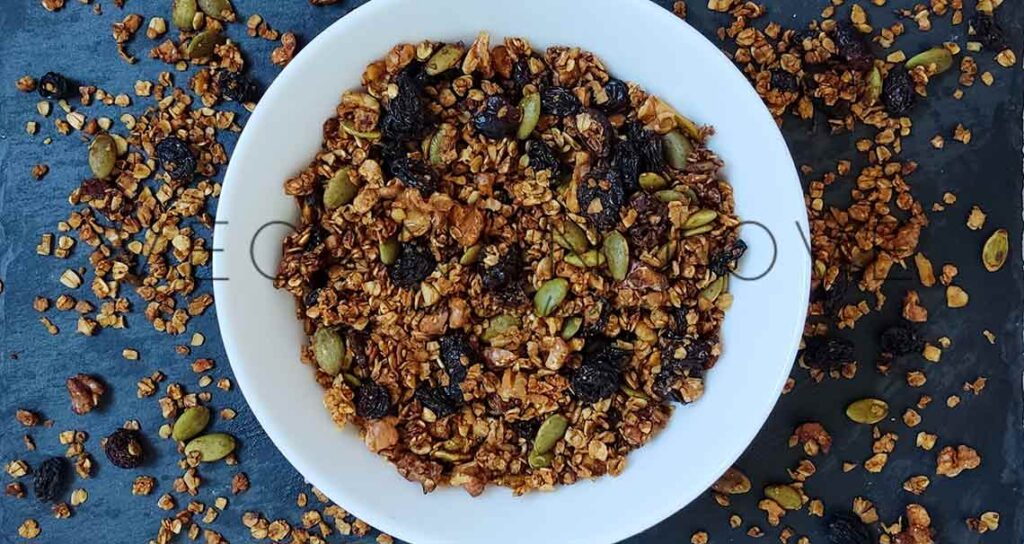 GRANOLA EXTRA INGREDIENTS IDEAS
In order to prepare this healthy homemade granola recipe, I used the ingredients I already had at home; such as the dried cranberries. What is more, you can use other ingredients to make this easy homemade granola recipe. Therefore, you can mix for example just nuts and seeds of your choice.
FRESH FRUIT & DRIED FRUIT
Chopped dates.
Prunes.
Dried fruit; such as apricots, mango, pineapple, and many more.
SEEDS
Sesame seeds.
Flaxseeds.
Chia seeds.
Sunflower seeds.
NUTS
Pecan.
Almonds.
Hazelnuts.
Pistachios.
Peanuts.
Brazilian nuts.
Cashew nuts.
OTHERS
Lastly, bare in mind that some of these ingredients are better to add once the homemade granola recipe is done and has cool down completely; for example, chocolate chips and dried fruit (such as dried cranberries).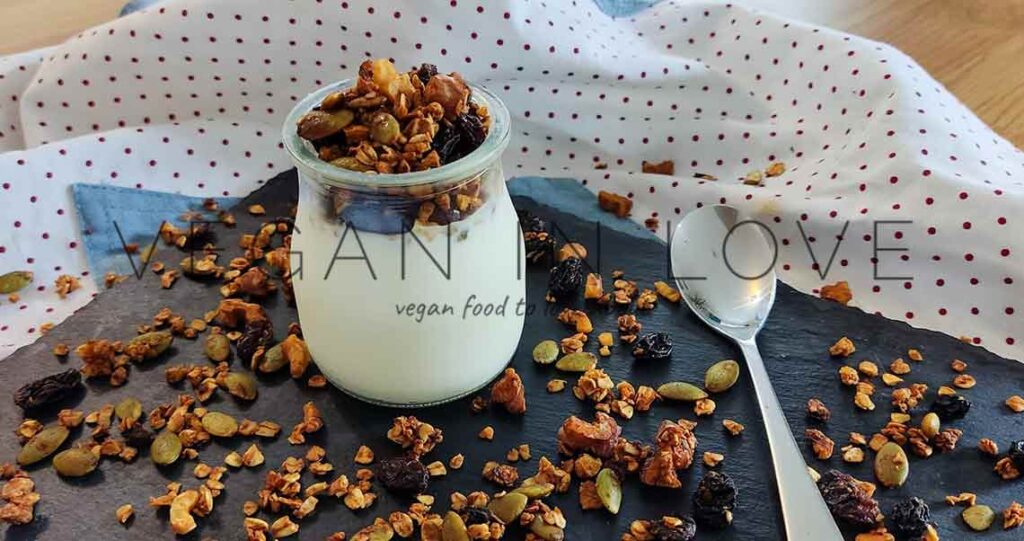 THIS RECIPE GOES WELL WITH: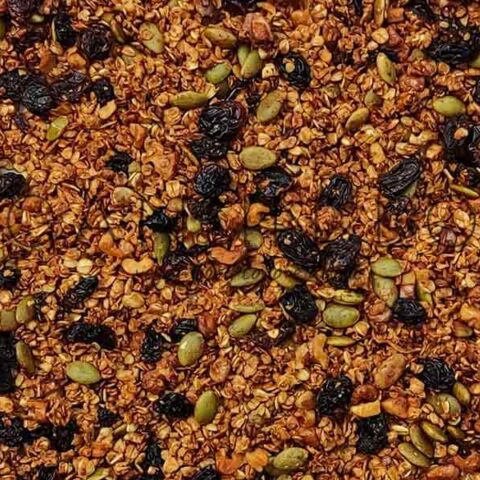 HEALTHY GRANOLA RECIPE
Healthy granola recipe made of delicious and nutritious ingredients. This recipe's not only gluten-free but also refined sugar-free great for a nourishing meal.
Ingredients
1 Cup of Rolled oats.
30 gr. of Dried Cranberries.
40 gr. of Sultanas.
30 gr. of Pumpkin seeds.
30 gr. of Walnuts.
1 Pinch of Sea salt.
2 Tbsp. of Maple syrup.
1 Tbsp. of Melted coconut oil.
Instructions
Preheat the oven to 180 °C degrees (350 °F approx.).
Line a baking sheet with parchment paper.
In a large bowl add the dry ingredients: 1 cup of rolled oats, 30 gr of pumpkin seeds, 30 gr of chopped walnuts, and 1 pinch of sea salt. Mix well.
Then pour 2 tbsp of maple syrup (if you want this homemade granola to be sweeter just add more maple syrup) and 1 tbsp of melted coconut oil. Integrate well.
Tip the granola mix on the rimmed baking sheet with parchment paper and spread evenly.
Place the baking sheet in the center of the oven and cook for around 10 minutes.
Remove from the oven and stir the granola, then place the baking sheet back in the oven and bake until golden brown.
Remove from the oven and let the granola cool completely at room temperature.
Once the granola has cooled down add the dried fruit: 30 gr of dried cranberries and 40 gr of sultanas.
Now you can enjoy this granola recipe with plant-based milk or vegan yogurt.
Then, store in an airtight container at room temperature.
Nutrition Information
Yield

10
Serving Size

1
Amount Per Serving
Calories

108
Total Fat

4g
Saturated Fat

2g
Trans Fat

0g
Unsaturated Fat

3g
Cholesterol

0mg
Sodium

15mg
Carbohydrates

16g
Fiber

2g
Sugar

7g
Protein

2g
YOU MIGHT ALSO LIKE…
---
---