OATS PORRIDGE RECIPE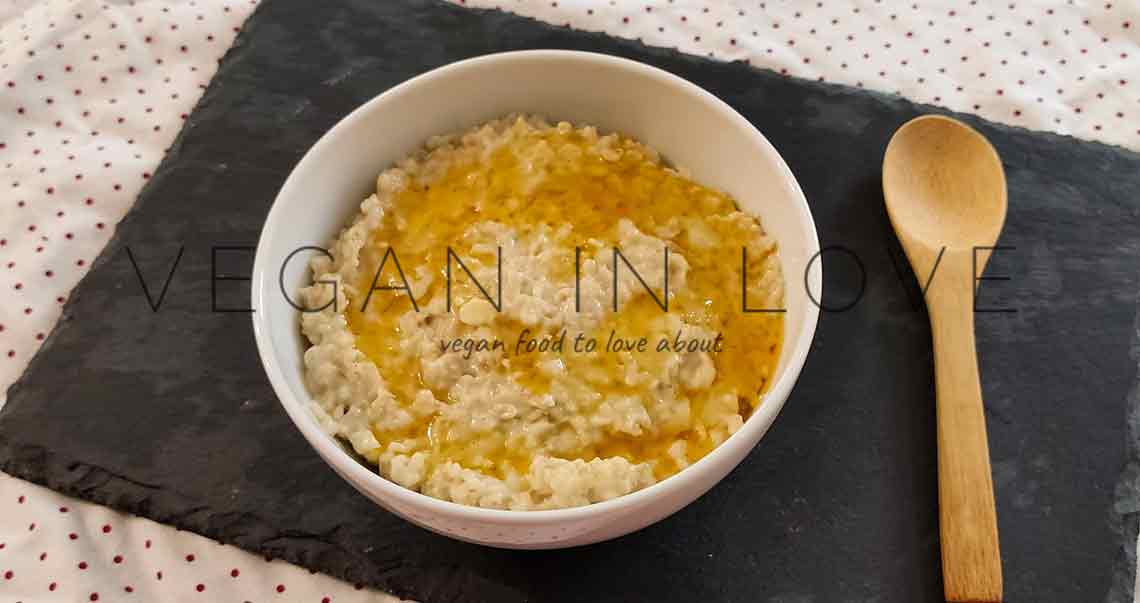 Starting your day with a healthy and nutritious breakfast is super easy and affordable. You can prepare this delicious porridge oats recipe with just two ingredients, oats and milk (or water). Then, you can add loads of more flavors and nutrients with fresh fruit toppings; for example, you can eat a classic banana oats porridge. Furthermore, you can add dried fruits, nuts, seeds, spices, and much more to personalize your morning porridge.
In addition to this, you can prepare this oats porridge recipe with a great variety of oats. In this case, I had quick oats at home and the result was not only a quick cooking time but also a delicious quick breakfast. Alternatively, if you don't have or prefer not to use quick oats to make this oatmeal porridge, you can try other oats types available in the market; such as oat groats, rolled oats, instant oats, and steel-cut oats.
All in all this oats porridge recipe is a great breakfast recipe high in nutrition facts and good for your health. Furthermore, with the additional toppings, you can always include more flavor and nutrients.
FLAVORING FOR OATS PORRIDGE
In order to add flavor to this oats porridge recipe you can add the plant-based milk of your choice, this would definitely change the porridge flavor a lot. For example, you can use hazelnut milk, cashew nuts milk, soy milk, hemp milk, almond milk, macadamia milk, or even oats milk.
So as you can see this vegan recipe gives you loads of options to make a delicious oatmeal porridge. Whatever you decide to use for the oats porridge recipe, water or milk you can add always more flavors. What is more, check the ingredient list below to inspire you.
Agave.
Cinnamon.
Vanilla extract.
Peanut butter.
Cocoa powder.
Orange and lemon zest.
Sugar; for example coconut sugar, demerara sugar, brown sugar, and jaggery goor sugar.
PORRIDGE TOPPINGS
Oatmeal is an affordable, delicious and nutritious way to start your morning. It's a quick and easy breakfast option that's packed with fiber and protein. Moreover, you can add any fruit you like to give it loads of flavor. Furthermore, if you like this recipe and prepare it often, you can try and combine different kinds of fruits that you enjoy, and even more, you can also try dried fruit; such as Banana chips. This will give you not only a great variety of flavors and toppings but also a wider nutritional intake. Additionally, you can add these nuts and fruits whole, in slices, or chopped.
So you can be creative from the beginning of your day! For more toppings and ingredient ideas to inspire you, check the lists below.
NUTS
Walnuts.
Pistachios.
Almonds.
Hazelnuts.
Peanuts.
Cashew nuts.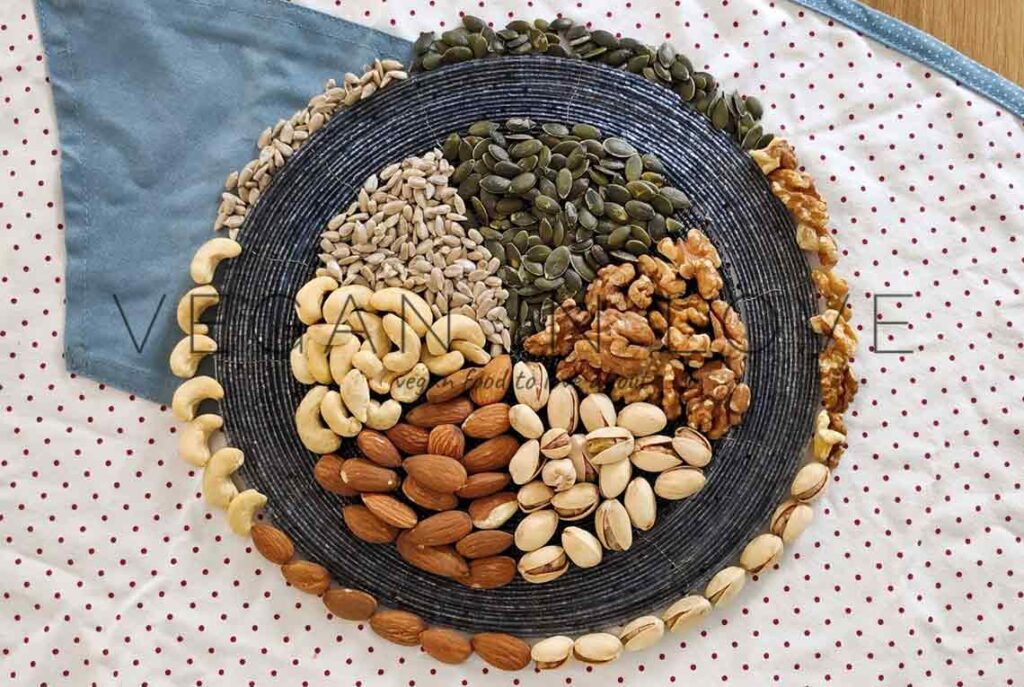 SEEDS
Pumpkin seeds.
Sunflower seeds.
Sesame.
FRESH FRUIT
Banana.
Apricot & peach.
Apples.
Citrus; for example orange, grapefruit, and tangerines/clementine.
Berries; such as strawberries, blackberries, blueberries, and cranberries.
OTHERS
Dark chocolate chips.
Raisings.
Dates.
Desiccated coconut.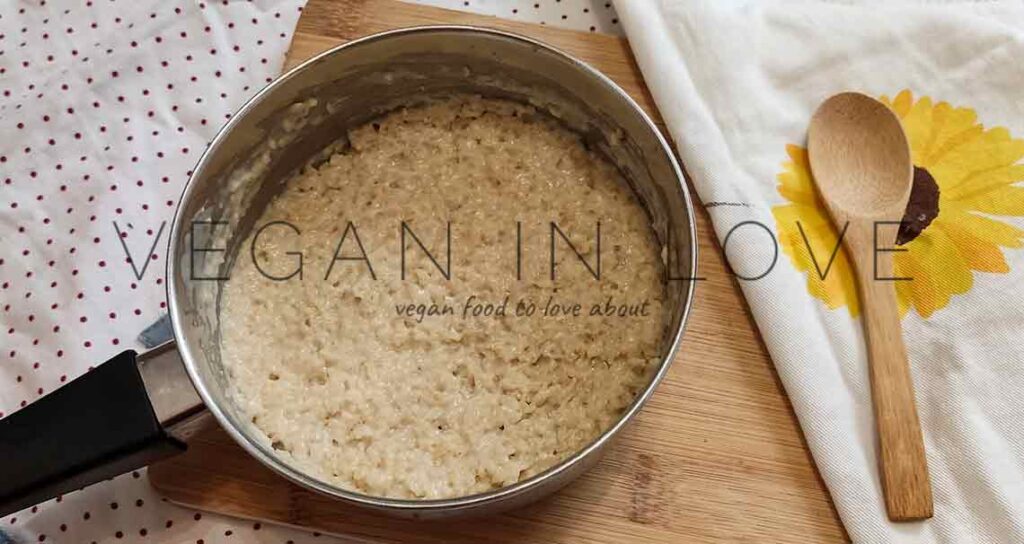 THIS PORRIDGE RECIPE GOES WELL WITH: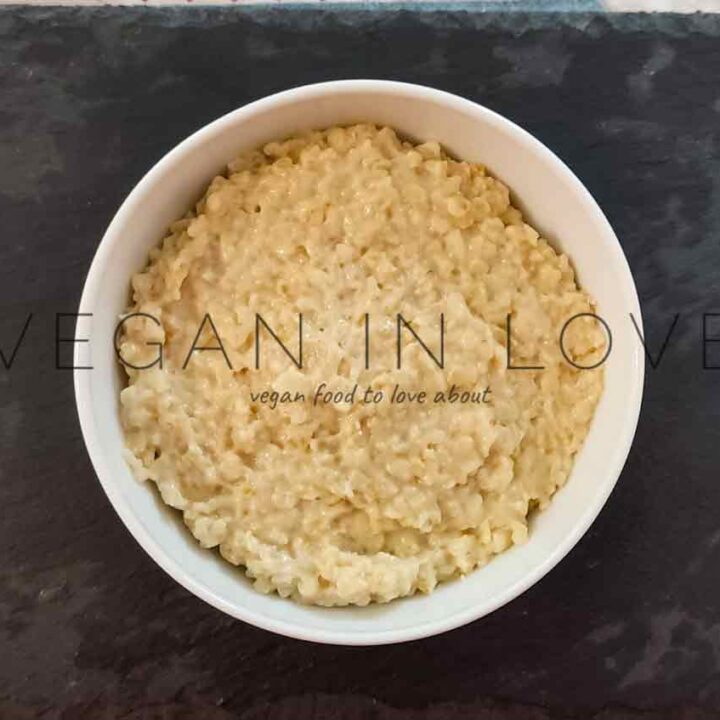 OATS PORRIDGE RECIPE
Delicious, healthy, and nutritious oats porridge recipe. This healthy recipe is ideal for a comforting breakfast that will fill you up and give you loads of energy!
Ingredients
½ Cup of Quick oats.
1 ½ Cups of Almond milk.
1 Tbsp. of Maple syrup.
Instructions
In a saucepan add ½ cup of quick oats and pour in 1 ½ cups of almond milk (you can use other plant-based milk or 1 ½ cups of water) and stir.
Place the saucepan on the stove and bring to a boil at medium to high heat, stirring occasionally.
Then, reduce the heat and simmer. Also, continue stirring occasionally for around 5 minutes.
Once your oats porridge recipe it's cooked, you will get a thick texture and creamy consistency. You can decide how thick you want this oatmeal porridge by adding more or less milk.
Pour your oats porridge into a breakfast bowl and serve straight away. Pour on top 1 tbsp of maple syrup or to your taste.
Notes
Remember you can always add more toppings to this healthy breakfast.
Nutrition Information
Yield

1
Serving Size

1
Amount Per Serving
Calories

261
Total Fat

6g
Saturated Fat

1g
Trans Fat

0g
Unsaturated Fat

5g
Cholesterol

0mg
Sodium

107mg
Carbohydrates

47g
Fiber

4g
Sugar

24g
Protein

6g
The Nutritional values presented on this table are only estimates. The values can also vary depending on the cooking method, ingredients, product brands etc. This data was provided and calculated by Nutritionix.
MORE RECIPES WITH OATS
YOU MIGHT ALSO LIKE…
---
---