VEGETABLE CASSEROLE RECIPE HEALTHY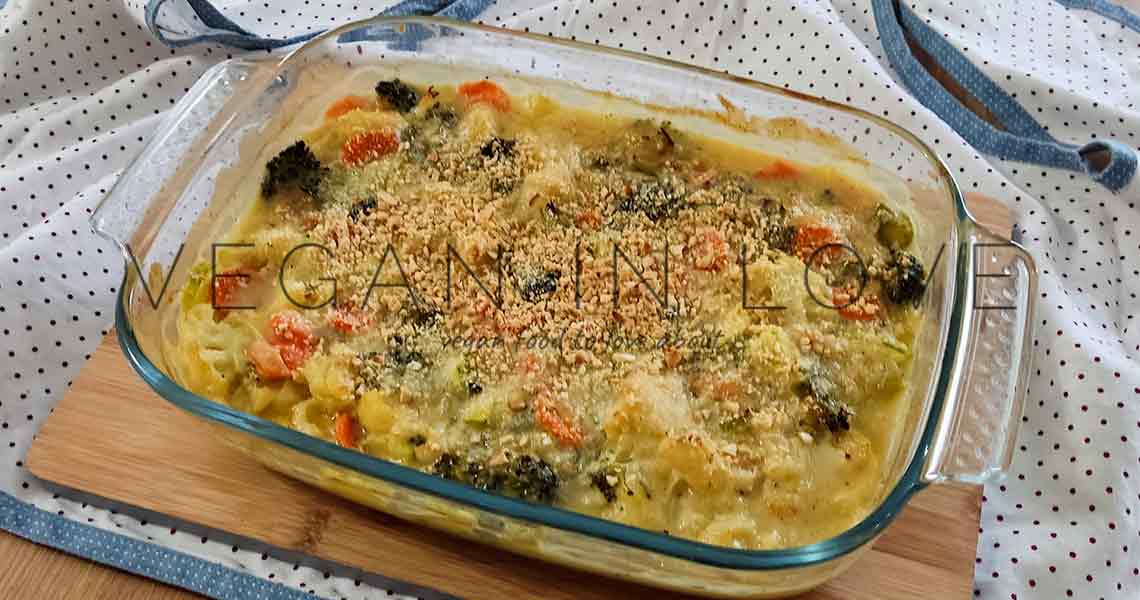 This mixed vegetable casserole recipe is great not only for meatless Mondays, but also is fantastic for celebrations; such as Christmas, New year, Thanksgiving, birthday gatherings, or a lovely Sunday lunch. Furthermore, this vegetable casserole recipe is really versatile as you can use a large variety of fresh vegetables; such as fresh green beans. What is more, you can also try this recipe with frozen veggies.
Traditionally, veggie casserole recipes would have eggs as one of their main ingredients. So, you might be wondering, How to make a vegan casserole? As this is a vegan alternative to vegetable casserole recipes, I didn't use any eggs for the preparation of this side dish. However, I made a creamy sauce that goes really well with a veggie casserole recipe. As a result, I end up with a delicious vegetable casserole full of flavor and nutrients.
SEASONING FOR VEGETABLE CASSEROLE
Vegetarian casseroles are always a great and delicious side dish as a crowd pleaser as they are rich and full of flavor for the delights of the taste buds. Therefore, seasoning these delicious vegetables can make a huge impact when you serve this side dish. If you want to add additional aromatic seasonings to the ones I already used in this recipe, check the list below.
Black pepper.
Fresh cilantro.
Fresh basil.
Maple syrup.
Vegan red wine.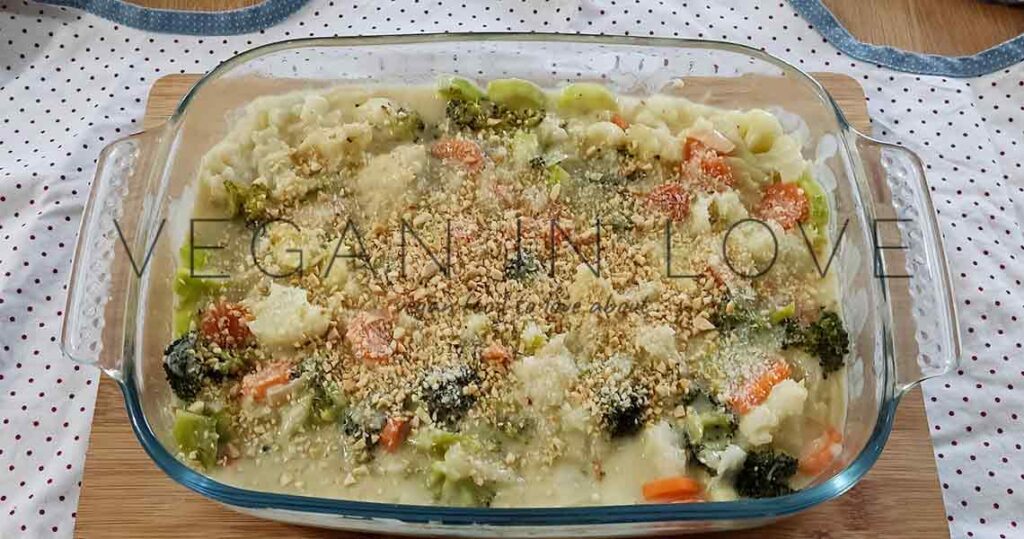 VEG FOR CASSEROLE
In order to prepare this delicious mixed vegetable casserole recipe, I choose some fresh veggies that I love. However, you can always change them or add more vegetables. This is also a great veggie casserole that you can make when you have loads of vegetables and you don't know what delicious recipe to make. For example, if you have loads of fresh green beans you can make this delicious recipe with only one vegetable; therefore you can prepare a green bean casserole.
As you can see, the vegetable casserole options are endless. With this in mind, if you are looking for more ideas to make vegetarian enchilada casserole or even vegetarian casserole recipes, check the following list.
OTHER VEGGIES
Sweet potatoes.
Spinach.
Roasted corn.
Leek.
Red onions.
green beans.
Red peppers.
Bell peppers.
Brussels sprouts.
Bean sprouts.
Water chestnuts.
Butternut squash.
Spaghetti squash.
Additionally, after you pour the bechamel sauce, if you want a cheesy creamy sauce with melted cheese you can add top some vegan cheese; such as pepper jack cheese, vegan cheddar cheese, or vegan shredded mozzarella cheese. Lastly, on top I sprinkled some chopped cashew nuts, to replace the traditional bread crumbs. By changing this ingredient you will have a more nutritious meal and also a gluten-free one.
Other healthy and nutritious ingredients that you can add on top of the creamy sauce are:
Toasted pecans.
Pistachios.
Walnuts.
Almonds.
Pumpkin seeds.
Sunflower seeds.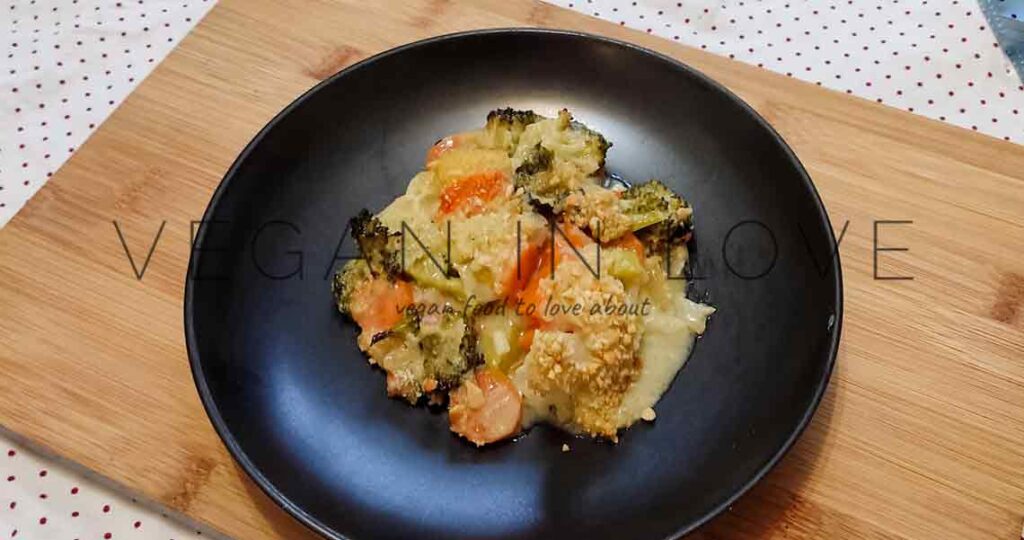 THIS VEGETABLE CASSEROLE BAKE GOES WELL WITH: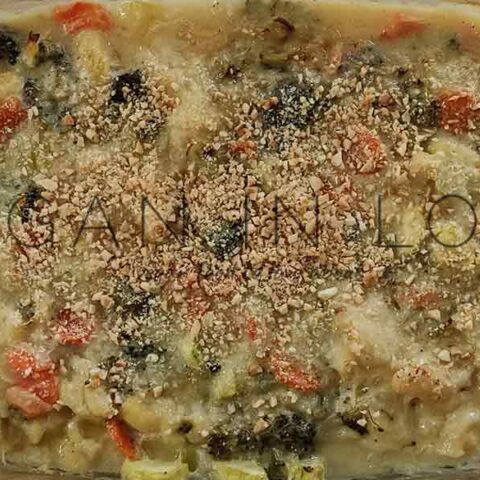 VEGETABLE CASSEROLE RECIPE
Total Time:
1 hour
15 minutes
This easy veggie casserole is healthy, gluten-free, and great as a nutritious meal. Make this delicious mixed vegetable casserole with fresh and frozen vegetables.
Ingredients
Vegetables
150 gr. of Broccoli.
250 gr. of Cauliflower.
2 Medium carrots.
1 Zucchini.
Creamy sauce
2 Garlic cloves.
2 Medium onions.
4 Tbsp. of Olive oil.
400 ml. of Plant-based milk.
100 ml. of Canned Coconut milk (full fat).
3 Tbsp. of Corn-starch.
¼ Tsp. of Ground nutmeg.
½ Tsp. of Himalayan salts.
1 Tbsp. of Nutritional yeast.
Assemble
2 Tbsp. of Vegan parmesan cheese.
20 gr. of Chopped Cashew nuts.
Instructions
VEGETABLES
Wash and cut the broccoli and cauliflower into big chunks.
Wash, peel, and dice the carrots and zucchini/courgettes.
Place the vegetables in a steamer and cook them for around 20 minutes (you can boil them for about 10 minutes).
CREAMY SAUCE
Peel and diced the garlic cloves and onions.
In one pan with one tbsp. of olive oil cook them until you get garlic cloves and crispy fried onions (in the mean time pre-heat the oven to 180 °C degrees (356 °F approx.).
Pour 3 tbsp. of olive oil, 3 tbsp. of corn starch and mix well.
Then, pour 400 ml. of plant-based milk (I used oats milk) and stir continuously until you get a homogeneous and creamy consistency.
Pour 100 ml. of canned coconut milk and stir well. Season with ¼ tsp. of ground nutmeg, ½ tsp. of Himalayan salts, and 1 tbsp. of nutritional yeast.
ASSEMBLE
Place the broccoli, cauliflower, carrots, and zucchini in a baking dish (I used a glass oven-proof baking dish).
Pour the vegan white sauce and mix all the veggies well.
Sprinkle vegan parmesan cheese* and chopped cashew nuts on top.
BAKING
Once you have the prepared baking dish place it in the oven and bake for 25 to 30 minutes**.
Then, remove from the oven and serve warm. If you wish you can eat this recipe with corn tortillas.
Notes
*For the vegan Parmesan cheese recipe, click here.
**Baking times can vary depending on the oven you are using. I used an electric fan-assisted oven.
If you are preparing this side dish recipe in advance, let the vegetable casserole cool down and keep refrigerated in an airtight container. Then, bake before serving.
Nutrition Information
Yield

6
Serving Size

1
Amount Per Serving
Calories

236
Total Fat

16g
Saturated Fat

6g
Trans Fat

0g
Unsaturated Fat

10g
Cholesterol

7mg
Sodium

244mg
Carbohydrates

18g
Fiber

4g
Sugar

7g
Protein

7g
The Nutritional values presented on this table are only estimates. The values can also vary depending on the cooking method, ingredients, product brands etc. This data was provided and calculated by Nutritionix.
YOU MIGHT ALSO LIKE…
---
---