ROASTED BRUSSELS SPROUTS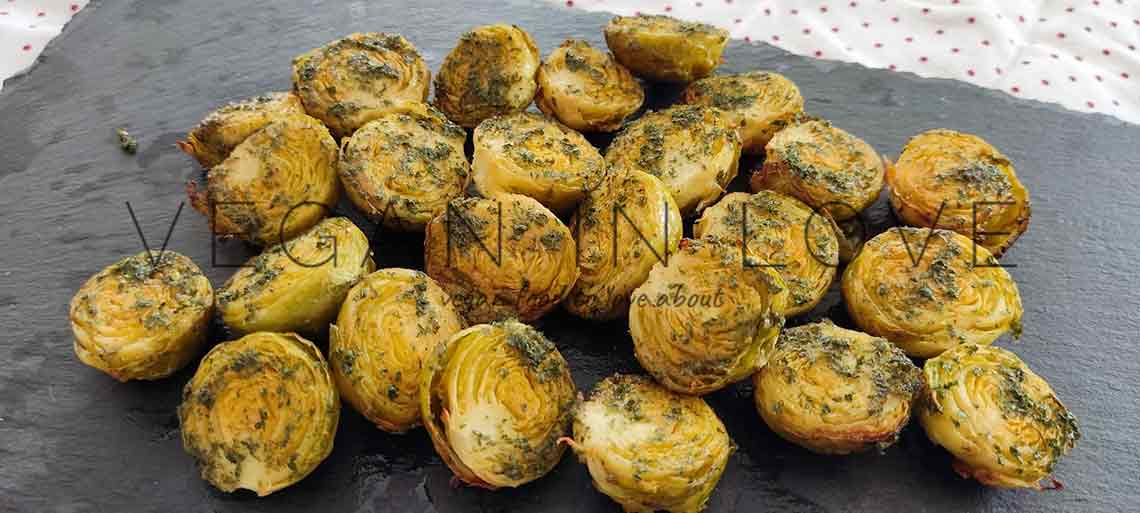 This roasted brussels sprouts recipe is a great side dish to enjoy with another roast vegetable. Furthermore, they not only go perfectly to eat at a Christmas dinner, any other special occasion, or just on a Sunday roast.
Even though this is a yummy roasted brussels sprouts recipe to cook when brussels sprouts are in season, you can enjoy this recipe all year round by using frozen brussels sprouts.
SEASONING IDEAS FOR BRUSSELS SPROUTS
Even though you can easily season this delicious roasted brussels sprouts recipe with just olive oil salt and pepper, you can always add other seasonings that you love. You can also replace olive oil with other oils of your choice or simply make an oil-free roast; for example, you can drizzle maple syrup instead. You can use this ingredient if you like to have a sweet and sweet and sour or bittersweet flavor. Moreover, you can include these seasoning variations when you cook the roasted brussels sprouts or you can sprinkle some of them when you serve them; such as lemon juice.
ADDITIONAL SEASONING INGREDIENTS
Ground nutmeg.
Balsamic vinegar.
Sesame oil.
Black pepper.
Lemon juice.
Kosher salt.
Additionally, you can chop fresh green onions/spring onions and sprinkle them on top of the roast brussels sprouts as a delicious finishing off when you serve them.
EXTRA INGREDIENTS IDEAS FOR ROASTED BRUSSELS SPROUTS
Although this is a delicious recipe as a side dish, you can also include and cook other veggies that combine really well with the roast brussels sprouts; such as onions. Furthermore, you can bake them together on the same baking sheet or separately as roasting/cooking times can vary depending on each vegetable.
ADDITIONAL VEGETABLES FOR ROASTING
Leek.
Zucchini.
Tomatoes.
Carrots.
Garlic cloves.
Peppers, such as green, yellow, or red.
Chili.
If fresh brussels sprouts are not in season, but you still want to make this delicious roast recipe you can try it with frozen brussels sprouts. I haven't tried this option yet, if you tried this option tell us in the comments section below how was it!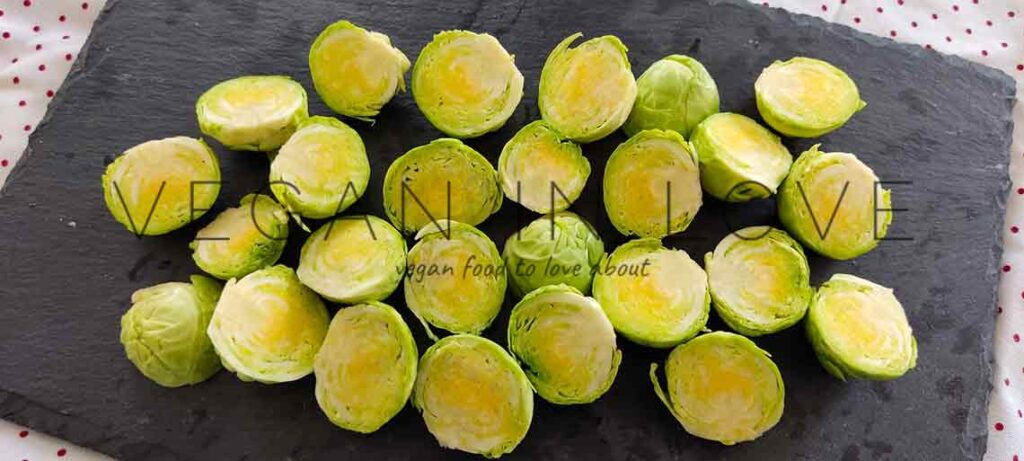 THIS RECIPE GOES WELL WITH: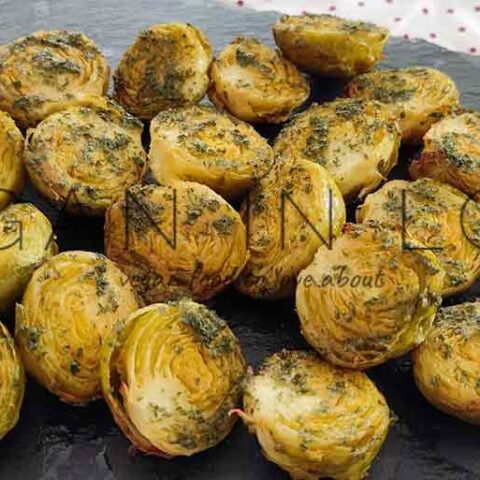 ROASTED BRUSSELS SPROUTS
Crunchy and delicious roasted brussels sprouts to enjoy not only for Christmas or on a Sunday roast, but when they are in season. Super easy and simple recipe.
Ingredients
180 gr. of Fresh brussels sprouts.
1 Tbsp. of Olive oil.
½ Tbsp. of Apple cider vinegar.
1 Tsp. of Garlic powder.
1 Tsp. of Dried parsley.
¼ Tsp. of Himalayan Salt.
Instructions
Preheat the oven to 200 °C degrees (400 degrees °F approx.).
Wash and trim the outer leaves of the brussels sprouts.
Now you can cut side the brussels sprouts, cut them in half, leave them as a whole, or both.
On a baking sheet place a single layer of the trimmed brussels sprouts.
Drizzle 1 tbsp. of olive oil and ½ tbsp. of apple cider vinegar (if you want you can spread olive oil on the baking sheet base).
Season with 1 tsp. of garlic powder, 1 tsp. of dried parsley, ¼ tsp. of Himalayan Salts.
Bake in the oven to 400 degrees F for around 30 minutes.
Remove from the oven and check if they are cooked, a little bit brown and tender, if you want them crispy on the outside place them again in the top part of the oven and roast for another 10 minutes*.
Once they are cooked to your taste you can serve this delicious side dish with your main dish. Additionally, you can sprinkle some vegan parmesan cheese as a finishing touch.
Notes
*Cooking times can vary depending on the oven you are using, I used an electric fan-assisted oven.
Nutrition Information
Yield

2
Serving Size

1
Amount Per Serving
Calories

99
Total Fat

7g
Saturated Fat

1g
Trans Fat

0g
Unsaturated Fat

6g
Cholesterol

0mg
Sodium

215mg
Carbohydrates

8g
Fiber

3g
Sugar

2g
Protein

3g
The Nutritional values presented on this table are only estimates. The values can also vary depending on the cooking method, ingredients, product brands etc. This data was provided and calculated by Nutritionix.
RELATED RECIPES
YOU MIGHT ALSO LIKE…
---
---