CHICKPEA COOKIES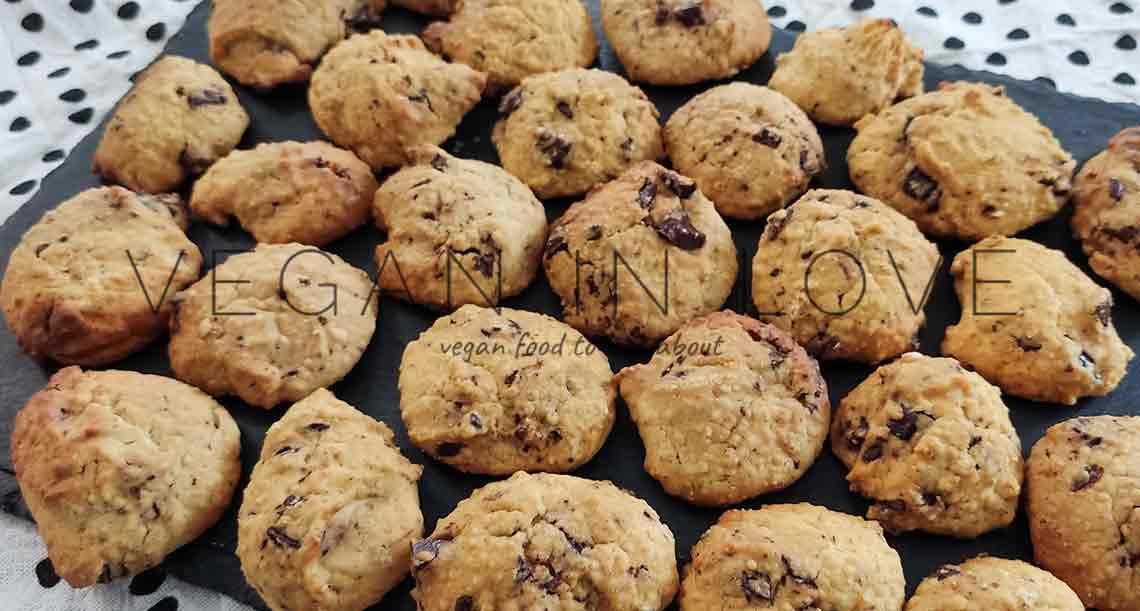 These delicious chickpea peanut butter cookies are naturally vegan, grain-free, dairy-free, and gluten-free too. Enjoy these chickpea cookies as a yummy snack cuisine or for breakfast with aromatic tea or coffee. Also, these healthy cookies are great to take within your lunch box; for example at school, work, and a lovely outdoor picnic or at a kids' birthday party too.
FLAVORING IDEAS FOR CHICKPEA COOKIES
This great recipe of peanut butter chickpea cookies has the amazing taste of peanut butter. Furthermore, this key ingredient will give a lovely flavor to your chickpea cookies. Alternatively, you can swap or mix this ingredient with other nut or seed butter; such as almond butter or sunflower butter. So the butter you decide to use might depend not only on taste but on your dietary requirements; for example if you have a nut allergy or intolerance. Additionally, here you will find more ideas to give flavor to your homemade baked cookies.
SWEETENING IDEAS
Agave syrup.
Refined sugar-free.
Coconut sugar.
Brown sugar.
Sugar-free maple syrup.
Granulated sugar.
FLAVORING IDEAS
Coconut oil.
Light olive oil.
Cinnamon.
Lemon and/or orange zest.
Desiccated coconut.
Cocoa powder.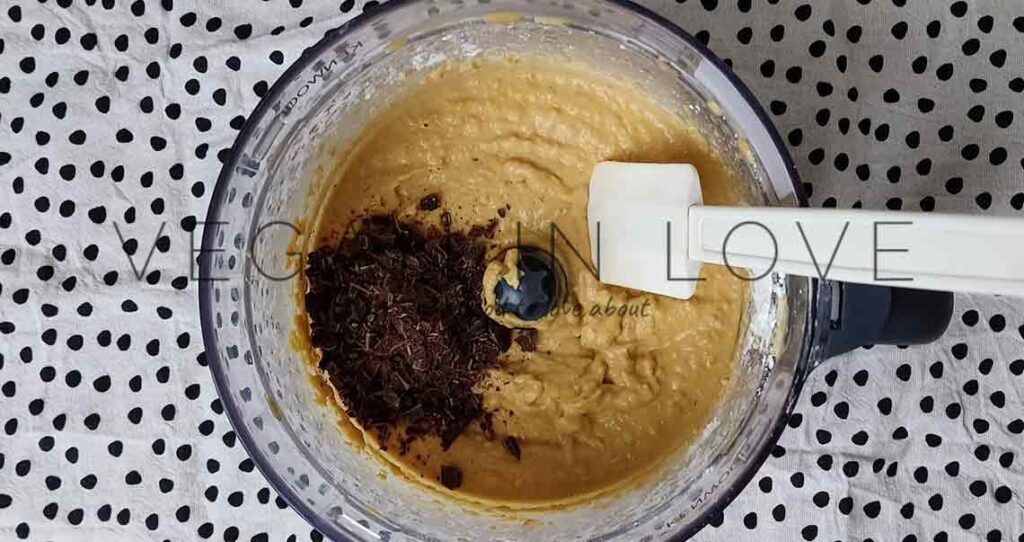 ALTERNATIVE INGREDIENTS FOR CHICKPEAS COOKIES
Although I used canned chickpeas/cooked chickpeas (also known as garbanzo beans) for this cookie dough, there are other options you can try as well. For example, if you don't have chickpeas at home and you don't want to go to the store to get some, you can use: white beans and/or black beans.
CHOCOLATE CHIPS ALTERNATIVES
Regarding dark chocolate, there are many options to choose from; such as dark chocolate chips or you might be lucky enough to find vegan milk chocolate chips. However, if you don't want to use chocolate in this chickpea cookie recipe you can replace the choc chips with the following ingredients ideas:
Raisins.
Dried cranberries.
Nuts; such as walnuts, pistachios, pecan, and almonds.
GLUTEN-FREE OPTIONS
Even though this chickpea cookie dough recipe is gluten-free, if you prefer not to use corn starch you have other gluten-free flour alternatives that you can try when making this chickpea cookie recipe. Check the following list for gluten-free flour options.
Oat flour (you can buy this flour from the store or make your own oat flour using a food processor).
Almond flour.
Rolled oats.
Old-fashioned oats.
Coconut flour.
Gluten-free flour (self-raising or plain).
CHICKPEA COOKIES TIPS
Chickpeas: to make chickpea cookies I used canned chickpeas which are pre-cooked chickpeas, this is really handy as speeds up the cooking time. If you have dried chickpeas, you can use them but you will have to soak in water and cook them later. This will increase the preparation and cooking time for these vegan cookies.
Chickpea water: store chickpea cookies come with water, also known as "aquafaba" and it's a great egg replacement ingredient. Although we don't need it for this recipe you can place it in an airtight container and keep it refrigerated to use in other delicious vegan recipes.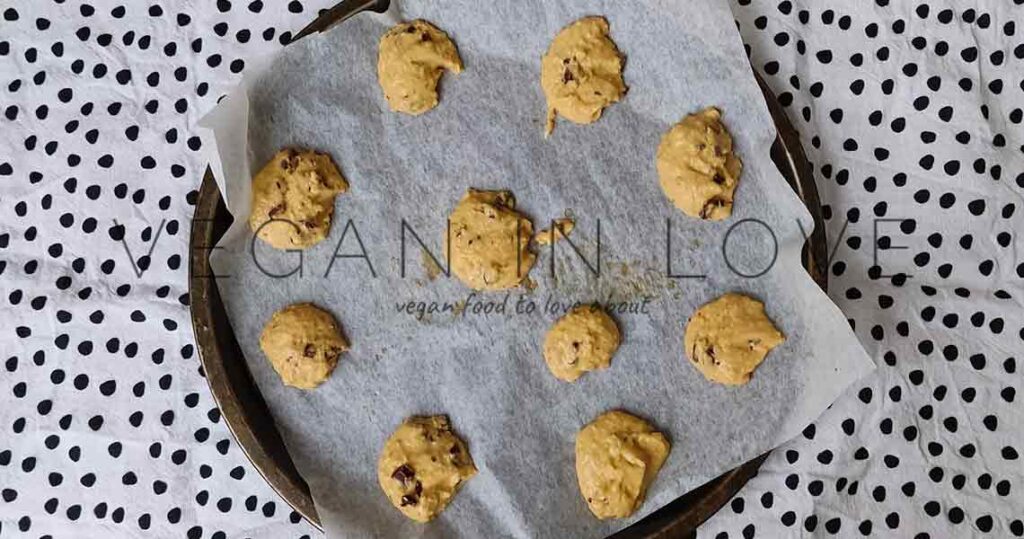 THESE CHICKPEA COOKIES GO WELL WITH:
Also, try these delicious chickpea cookies with banana chips.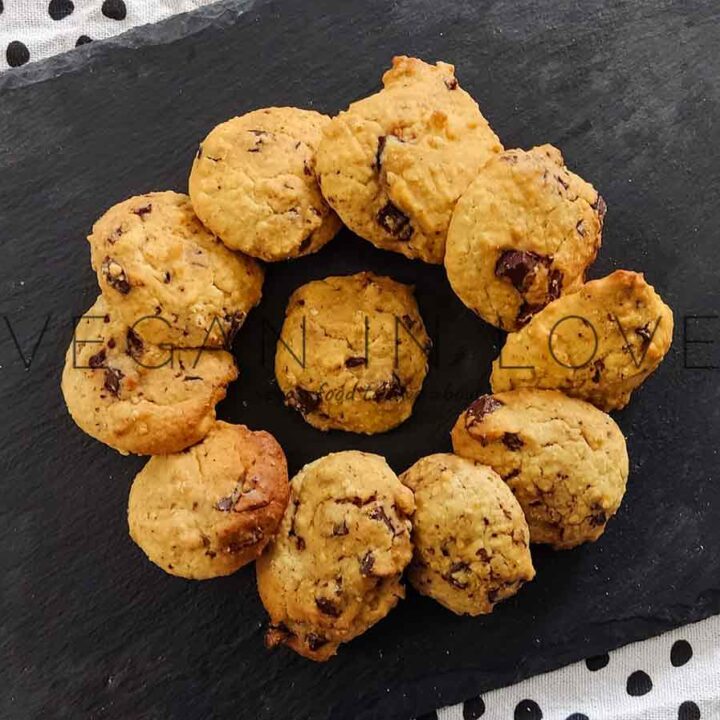 CHICKPEA COOKIES
Delicious, gluten-free, dairy-free, vegan chickpea cookies made with peanut butter. These soft and chewy cookies are easy-to-make and great for breakfast or snacks.
Ingredients
1 Canned of Chickpeas.
100 gr. of Peanut butter.
50 ml. of Pure maple syrup.
1 Tsp. of Vanilla extract.
80 gr. of Cornstarch.
1 Tsp. of Sodium bicarbonate, baking soda, or baking powder.
50 gr. of Chopped dark chocolate.
Instructions
Pre-heat the oven to 180 °C degrees (356 °F approx.).
Drain the canned chickpeas (reserve this water also called "aquafaba" in an airtight container in the fridge to make other delicious recipes). Dry the chickpeas with a kitchen towel or paper towel.
In a food processor add the chickpeas, peanut butter*, pure maple syrup, vanilla extract, corn starch, and sodium bicarbonate (baking soda or baking powder). Blend well all these ingredients in the food processor until you get a homogeneous consistency and a thick dough forms.
Cut the dark chocolate into small pieces (you can also use dark chocolate chips).
Then, add them to the food processor and integrate them gently with a spatula to make the chickpea cookie dough.
On a baking sheet place parchment paper (if you don't have parchment paper you can use aluminum foil or spread some coconut oil or vegan butter and sprinkle some gluten-free flour).
With a teaspoon or a tablespoon take a portion of chickpea cookie dough and place it on the baking sheet. Leave around 3cm/1 inch between each cookie scoop.
Place the cookie sheet in the oven and bake for around 10 to 12 minutes**.
Then, remove the baking sheet from the oven and let the chickpea peanut butter cookies cool down at room temperature.
Notes
*I use smooth peanut butter, but you can also use chunky peanut butter.
**Cooking times can vary depending on the oven you use. I use an electric fan-assisted oven.
With this dough I made 30 small cookies, the number of cookies can vary according to the size you want to make your cookies.
Nutrition Information
Yield

30
Serving Size

1
Amount Per Serving
Calories

54
Total Fat

2g
Saturated Fat

1g
Trans Fat

0g
Unsaturated Fat

1g
Cholesterol

0mg
Sodium

17mg
Carbohydrates

7g
Fiber

1g
Sugar

3g
Protein

1g
The Nutritional values presented on this table are only estimates. The values can also vary depending on the cooking method, ingredients, product brands etc. This data was provided and calculated by Nutritionix.
RELATED RECIPES
YOU MIGHT ALSO LIKE…
---
---