CHICKPEA SALAD RECIPE VEGAN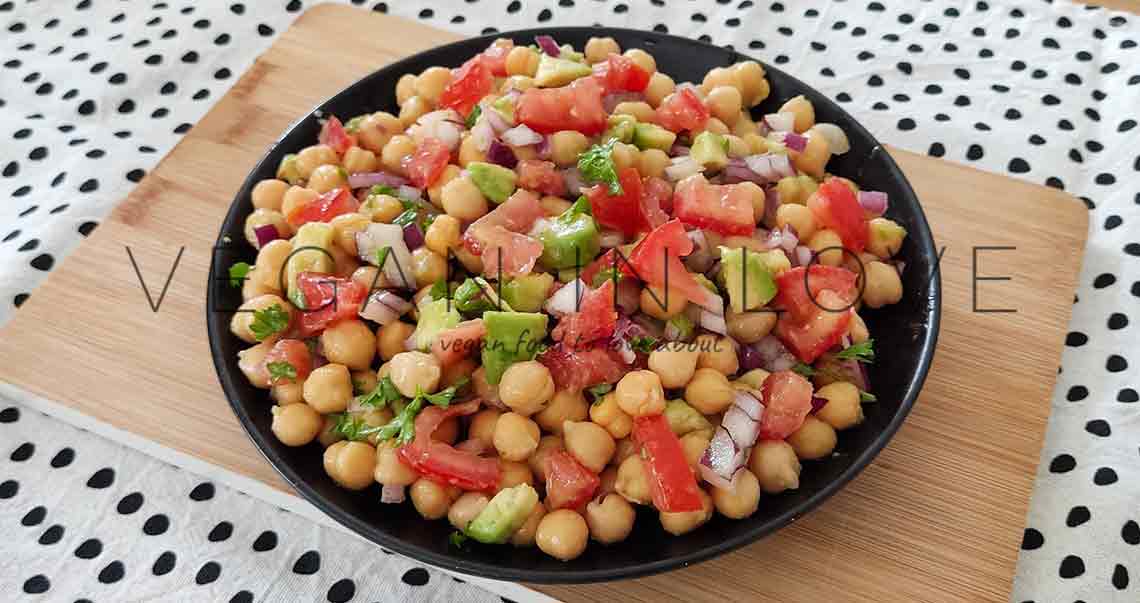 HOW TO MAKE CHICKPEA SALAD?
First of all, what I love about this simple chickpea salad is that you can make it in minutes, which is ideal when you don't have much time to make meal prep and you want to have a healthy lunch. In order to make this chickpea salad you will need 4 main easy-to-find ingredients that don't require much preparation. Additionally, this healthy salad is a great recipe as a side salad and is my go-to recipe in the summer.
WHAT YOU'LL NEED TO MAKE CHICKPEA SALAD
To make chickpea salad quick and easy I used canned chickpeas drained; however, if you prefer not to use this option you can use dried chickpeas and cook them at home. Bear in mind that with this alternative, your cooking and preparation time will increase.
INGREDIENTS IN CHICKPEA SALAD
Even though the star ingredient for this easy chickpea salad recipe is the garbanzo beans, you will need other delicious ingredients besides the cans of chickpeas.
SALAD INGREDIENTS
Cans chickpeas drained.
Fresh tomatoes.
Red onion.
Avocado.
SEASONING/DRESSING
Extra virgin olive oil.
Lemon juice.
Garlic powder.
Himalayan salt.
Freshly chopped parsley.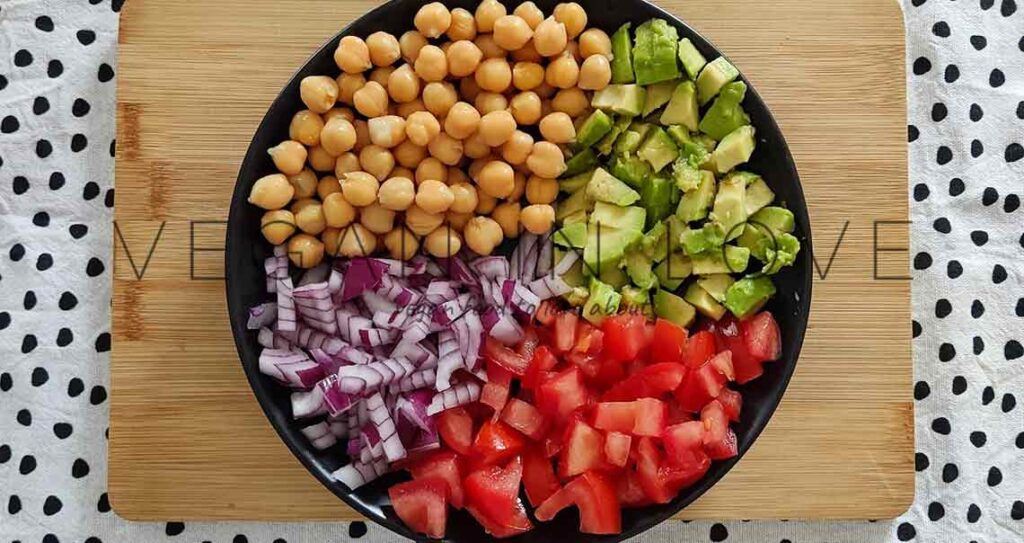 WHAT IS A GOOD CILANTRO SUBSTITUTE?
Cilantro has been known for having many healthy and nutritious properties; however, it also has a strong flavor for me. Therefore, I tend not to include this ingredient in my recipes (but I always listed as an option). Other fresh herbs alternatives to replace Cilantro are fresh dill, fresh parsley, basil, and chives. When I made this recipe, I used freshly chopped parsley, but you can use the herb you prefer o mix them. In addition to these fresh herbs, if you don't want to or don't have them when making this lovely chickpea salad recipe, you can also use dried herbs.
ADDITIONAL INGREDIENTS FOR CHICKPEA SALAD
This quick and straightforward chickpea salad can be great with other delicious and nutritious ingredients. Furthermore, if you are making this delicious recipe, or other salad recipes, and getting bored about using the same ingredients here you can find a list with more ideas. Moreover, if you use other ingredients that are not listed here, let us know in the comments section below and we will add it to the list.
Pine nuts.
Crisp cucumbers.
Vegan feta cheese.
Peppers; such as; Bell pepper and green pepper.
Raw onion; such as white onion.
Tomato types; for example cherry tomatoes, grape tomatoes, or any juicy tomatoes that you have.
Green onions/spring onions.
Canned beans; such as black beans.
Leafy greens; such as spinach.
Kalamata olives.
Lettuce cups.
Lastly, this kind of chickpea salad sometimes has hard-boiled eggs. If you want to have a similar texture to your chickpea salad then, you can add tofu to this delicious salad recipe.
ALTERNATIVE INGREDIENTS FOR CHICKPEA SALAD DRESSING
Red wine vinegar.
Dijon mustard.
Fresh herbs; such as fresh dill,
Freshly ground black pepper.
Kosher salt.
Vegetable oil; such as sesame oil.
HOW TO SERVE THIS CHICKPEA SALAD
This delicious recipe can be enjoyed in many ways; for example as a side salad. Furthermore, you can eat this salad together with other healthy recipes. If you want to have a few ideas on how to serve this chickpea salad check the following list.
Toasted bread; such as garlic bread.
Pita pocket.
Vegan meat: such as burgers.
Lastly, if you make chickpea salad in advance to consume later on, place it in an airtight container and keep refrigerated until consumption.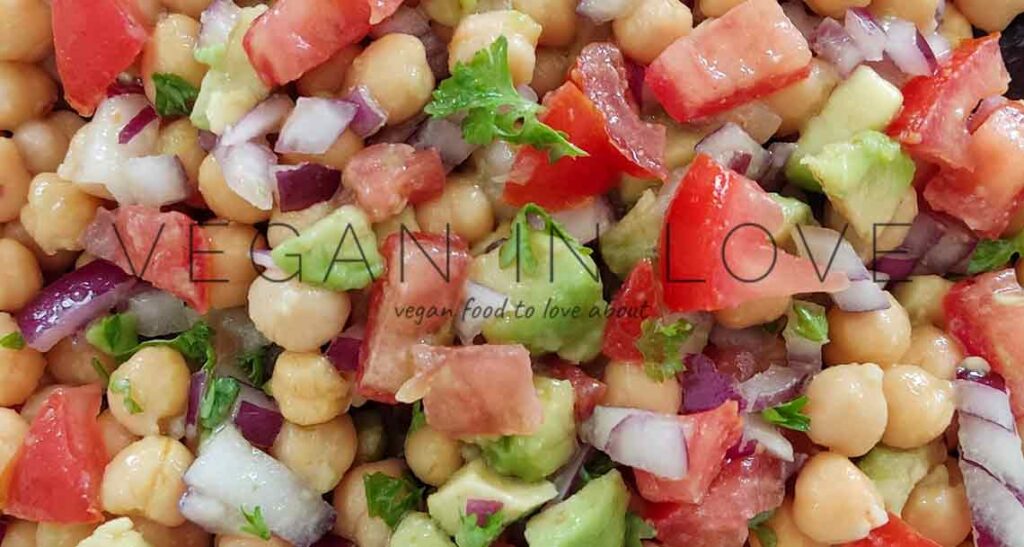 THIS CHICKPEA SALAD RECIPE GOES WELL WITH THE FOLLOWING: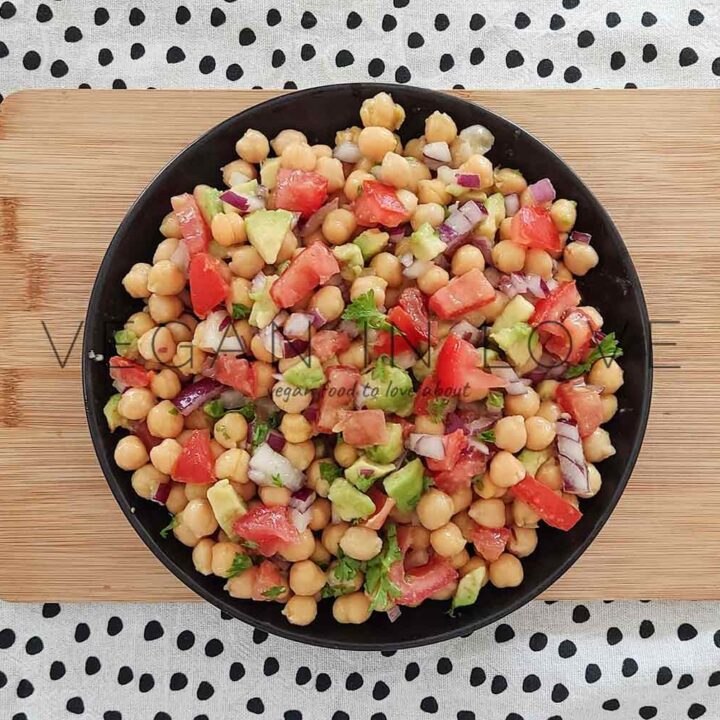 CHICKPEA SALAD
This delicious and refreshing chickpea salad is quick, easy, and straightforward. Enjoy this salad as a side dish at home or have it on a picnic, at work, or at school.
Ingredients
chickpea salad
1 Chickpea can.
2 Fresh tomatoes.
1 Red onion.
1 Ripe avocado.
dressing
1 Tbsp. of Extra virgin olive oil.
1 Tbsp. of Lemon juice.
1 Tsp. of Garlic powder.
¼ Tsp. of Himalayan salt.
A handful of freshly chopped parsley.
Instructions
CHICKPEA SALAD
Drain and wash the canned chickpeas.
Place them in a large mixing bowl.
Peel and chop the red onion, then add it to the large mixing bowl.
Wash well the tomatoes and cut them in cubes. I removed the seeds, but that's optional. Add them to the bowl.
Cut the ripe avocado in cubes and add them to the bowl.
DRESSING
Pour the olive oil and the lemon juice in a small bowl.
Then add salt, and garlic powder. Mix well.
ASSEMBLE
Pour the chickpea salad dressing in the large mixing bowl, and integrate well all the flavors.
Then, add the freshly chopped parsley.
Lastly, taste and adjust seasoning that can be just a pinch of salt or maybe more lemon juice.
Serve this absolutely delicious salad as a side dish cuisine.
Notes
Also, you have an option with the chickpeas, if you have a potato masher you can use it as I did with the potato salad listed below.
Nutrition Information
Yield

2
Serving Size

1
Amount Per Serving
Calories

414
Total Fat

24g
Saturated Fat

3g
Trans Fat

0g
Unsaturated Fat

19g
Cholesterol

0mg
Sodium

233mg
Carbohydrates

44g
Fiber

16g
Sugar

10g
Protein

12g
The Nutritional values presented on this table are only estimates. The values can also vary depending on the cooking method, ingredients, product brands etc. This data was provided and calculated by Nutritionix.
MORE CHICKPEA SALAD RECIPES
YOU MIGHT ALSO LIKE…
---
---