CREPES TAGLIATELLE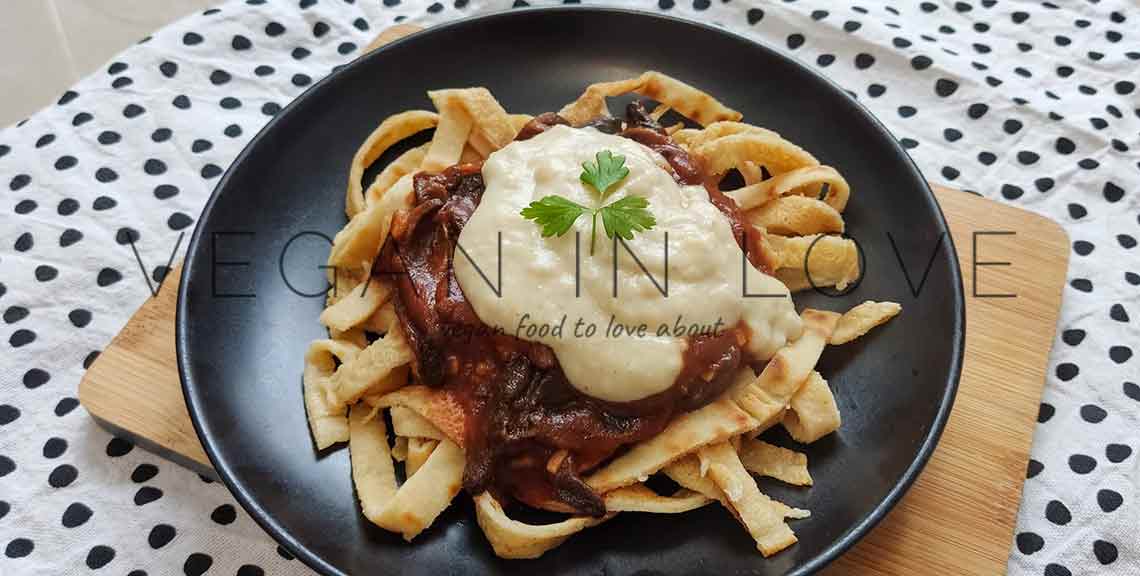 This tagliatelle recipe is different from the traditional tagliatelle pasta or dough. Furthermore, this recipe was adapted to be vegan, that why I didn't use eggs or cow milk to make the crepes. So if you are looking to have a pasta dish but without the regular pasta you will love this tasty and filling recipe.
SEASONINGS FOR CREPES TAGLIATELLE
Even though I only add some salt to these vegan crepes, if you want to give and add more flavor to the crepe batter you have many aromatic spices options to do it. Additionally, by adding some of these extra seasonings you can also give a lovely color to your crepes. So if you are looking for more seasoning ideas check the following list.
SEASONINGS FOR THE CREPES
Saffron.
Smoked paprika.
Black pepper.
Garlic powder.
Onion powder.
Black mustard.
Herbs; such as oregano and parsley.
SEASONINGS FOR THE SAUCES
For this tomato sauce, I used some classic seasoning that I know always gives a great flavor and also goes really well together; that is paprika and oregano. However, there are other great ingredients that you can use to season this sauce to your taste. In addition to that, you can also decide if you want to make this sauce spicier too.
Red chili flakes.
Fresh basil.
Thyme.
Chives.
Rosemary.
Green onions/spring onions.
Shallots.
Lastly, for the bechamel sauce, I feel that ground nutmeg is the best seasoning for this sauce. Other ingredients can be onion powder, garlic powder, and pepper; such as ground black pepper and cayenne pepper.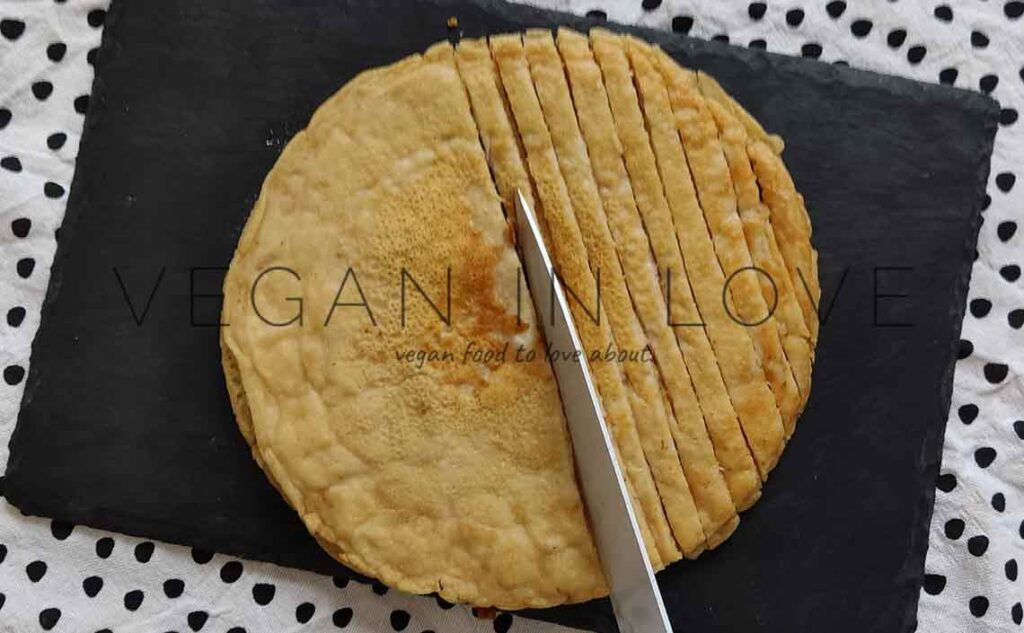 ADDITIONAL INGREDIENTS FOR CREPES TAGLIATELLE
Although the tomato sauce and the bechamel sauce are simple and delicious, you can always add more ingredients that you love. Here you will find some tasty ingredients that complement really well this comforting crepes tagliatelle.
Cherry tomatoes.
Pitted olives; such as green and black olives.
Celery.
Carrots.
Vegan cheeses.
Vegan meat.
Chopped walnuts.
Another alternative to making this recipe is to prepare a vegan cream cheese and add fresh or lightly cooked vegetables.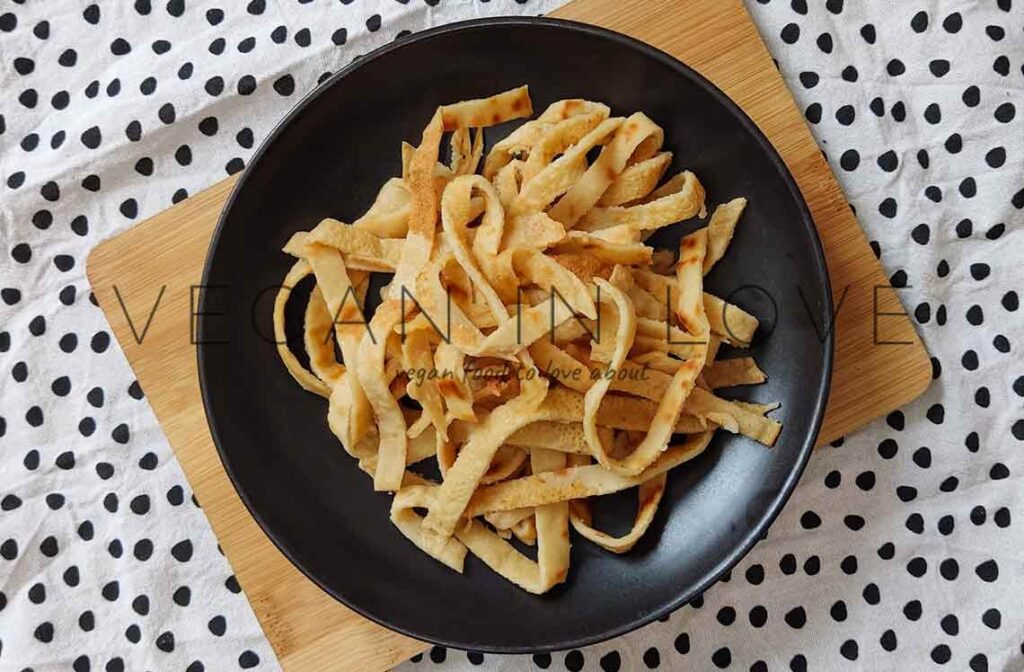 THIS CREPES TAGLIATELLE GOES WELL WITH: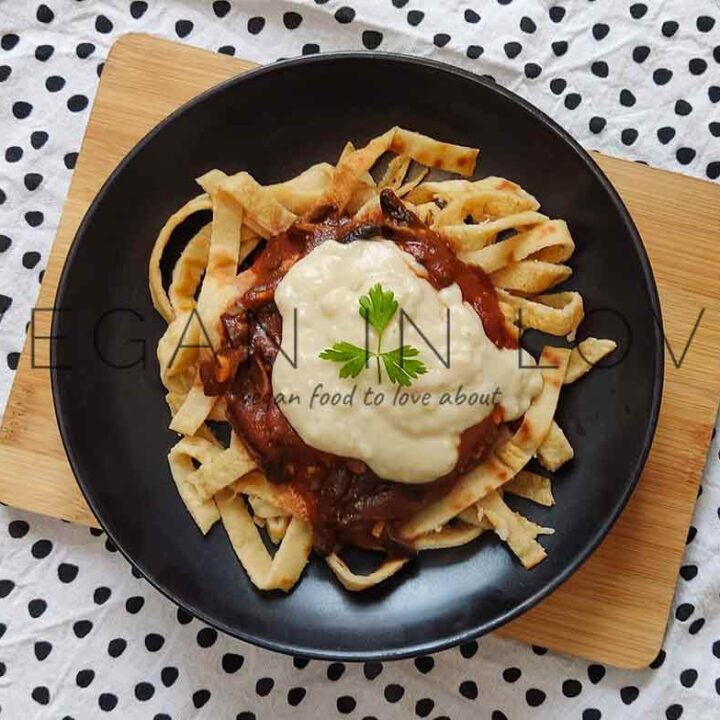 CREPES TAGLIATELLE
Comforting, rich, and filling vegan crepes tagliatelle. Enjoy this homemade and delicious savory crepe recipe with a tasty mushroom tomato and bechamel sauce.
Ingredients
crepes
300 ml. of Plant-based milk (I used Oat milk).
125 gr. of Self-raising flour*.
A Pinch of Salt.
1 Tbsp. of Flavourless vegetable oil.
Coconut oil or unsalted vegan butter for cooking.
tomato sauce
2 Garlic cloves.
100 gr. of Mushrooms.
1 Tbsp. of Olive oil.
250 ml. of Pasatta.
½ Tsp. of Garlic powder.
½ Tsp. of Paprika.
½ Tsp. of Oregano.
A pinch of Sodium bicarbonate.
A pinch of Himalayan salts.
bechamel sauce
1 Garlic clove.
2 Tbsp. of Olive oil.
3 Tbsp. of Flour.
300 ml. of Plant-based milk.
A pinch of Himalayan salts.
½ Tsp. of Ground nutmeg.
assemble
A handful of fresh parsley.
Instructions
CREPES
Sieve the flour in a large mixing bowl and add the salt, then stir.
Add the wet ingredients and mix well until you get a smooth consistency (if you get any lumps sieve all the mix or use a blender).
Let the crepe batter rest in the fridge for 30 minutes for better results. The longer the better even you can prepare this in advance the day before (let the batter sit in the fridge overnight).
Place a nonstick frying pan on the burner/ring. Lightly grease the pan and swirl the pan to spread the melted vegetable oil/butter. It is recommended to do this step each time you cook a new crepe.
Pour a layer of the batter into the nonstick pan or skillet, swirling the batter to spread it evenly. Carefully flip the crepe when you see that it is cooked. You don't have to be a professional to do this, you can always use a spatula.
Place the cooked vegan crepes on a plate.
Repeat steps 5 and 6 until you finish with the batter or you can prepare just a few and leave the crepe mix in the fridge for later.
Once you have all your crepes, place them on a work surface and cut them in stripes of around 1cm.
TOMATO SAUCE
Peel and diced the garlic cloves.
Sauté the chopped garlic with olive oil.
Clean and slice the mushrooms and add them to the garlic cloves and sauté for a couple of minutes (don't overcook the mushrooms).
Pour the passata and sprinkle a pinch of sodium bicarbonate. Stir well.
Season to taste with: paprika, oregano and salt.
BECHAMEL SAUCE
Peel and dice the garlic clove. Cook in a pan at medium heat with 1 tbsp. of olive oil (for an oil-free option add water or vegetable broth).
Then, pour 2 tbsp. of olive oil and 3 tbsp. of flour and mix well.
Pour the plant-based milk and keep stirring until you get a creamy consistency.
Season to taste with ground nutmeg and salt.
ASSEMBLE
Place a portion of your crepe tagliatelle (you can recreate nests in each place).
Pour the tomato and bechamel sauces and sprinkle on top some fresh parsley.
Notes
If you are making these vegan crepes in advance when they cool down at room temperature cover them with plastic wrap or kitchen cloth to prevent getting dry and keep them refrigerated until consumption.
Nutrition Information
Yield

2
Serving Size

1
Amount Per Serving
Calories

808
Total Fat

47g
Saturated Fat

14g
Trans Fat

2g
Unsaturated Fat

31g
Cholesterol

25mg
Sodium

1074mg
Carbohydrates

78g
Fiber

5g
Sugar

17g
Protein

20g
The Nutritional values presented on this table are only estimates. The values can also vary depending on the cooking method, ingredients, product brands etc. This data was provided and calculated by Nutritionix.
RELATED RECIPES
YOU MIGHT ALSO LIKE…
---
---