LEMON YOGURT CAKE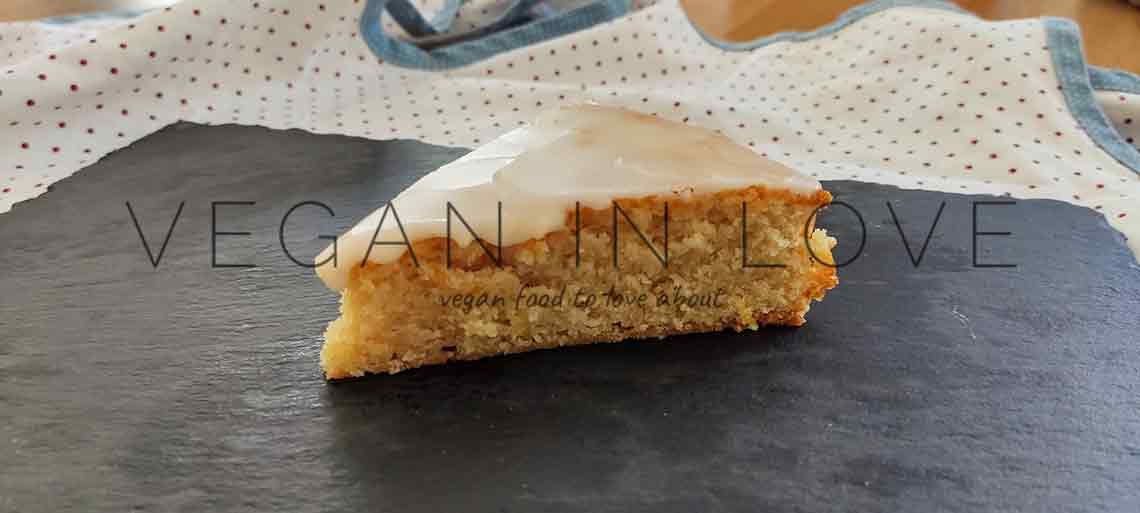 Today I'm sharing with you an easy-to-prepare recipe for a vegan lemon yogurt cake. You can enjoy it for dessert with a glass of fresh juice, after dinner, or whenever you want something sweet to eat. So, if you're new to veganism, this lemon yogurt cake recipe is a delicious place to start. Moreover, it's made of simple ingredients and super easy to prepare!
Traditionally, this lemon yogurt cake recipe has eggs, whole milk, and yogurt (cows milk); however, this is easy to replace with vinegar, plant-based milk, and vegan yogurt; such as soy yogurt. Furthermore, you can find lemon yogurt cake recipes with all-purpose flour and flour baking powder or baking powder and salt as part of the main ingredients to prepare the cake batter. However, I prefer to use self-raising flour and the result of this cake using this type of flour is truly great.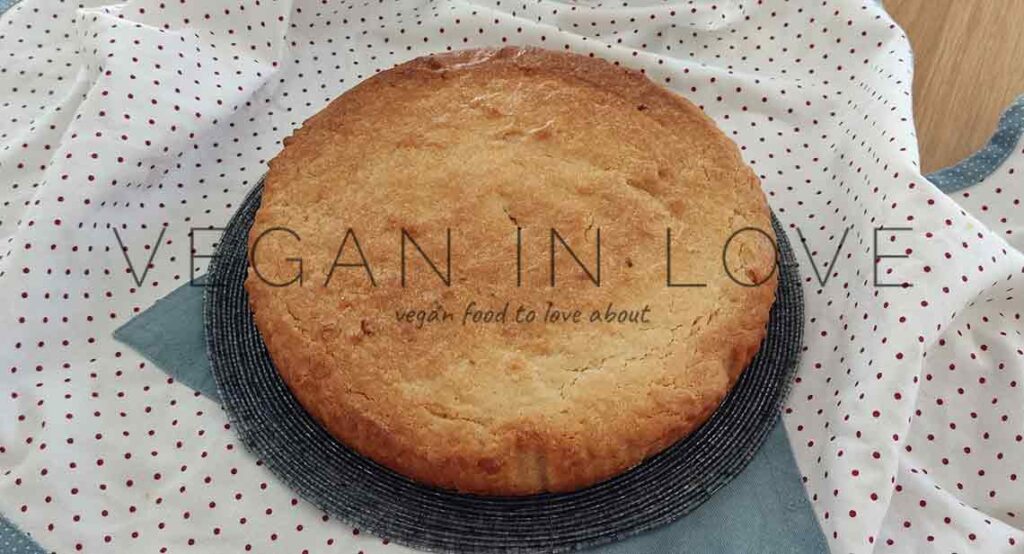 LEMON CAKE TOPPING IDEAS
This vegan lemon yogurt cake recipe will spoil you with creamy, tangy, and delicious flavor! It is much lighter than other recipes of this kind and it doesn't have vegan butter or margarine. Furthermore, it has a lovely glaze on top with only sugar and lemon that is super easy to prepare with only those two ingredients. Other topping ideas that go really well with this lemon glaze are berries, you can add them fresh, dried, or as a jam. So if you want to get more ideas to inspire you, check the list below.
FRESH OR DRIED FRUIT
Strawberries.
Raspberries.
Blueberries.
Blackberries.
Almonds.
OTHER
Melted white or dark chocolate.
Grated white or dark chocolate.
Sprinkle icing sugar.
Sprinkle Cocoa powder.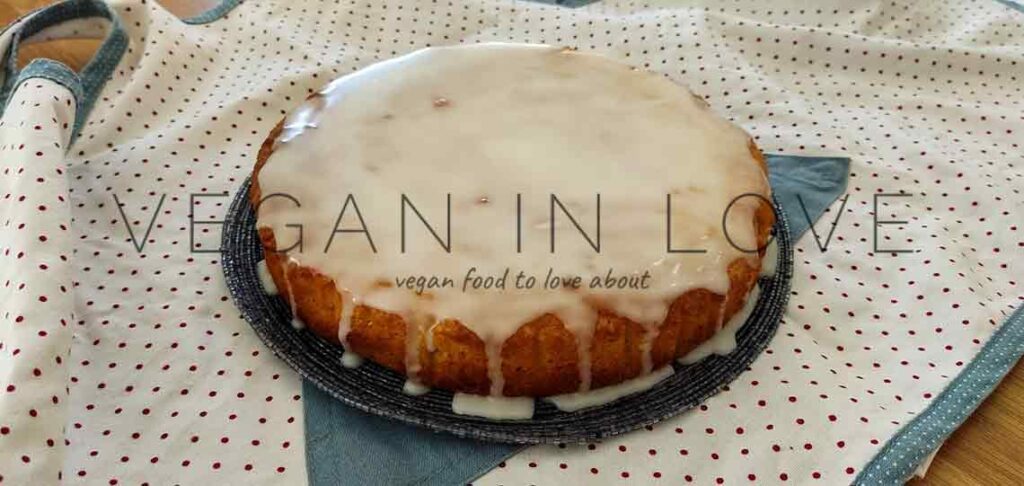 THIS RECIPE GOES WELL WITH: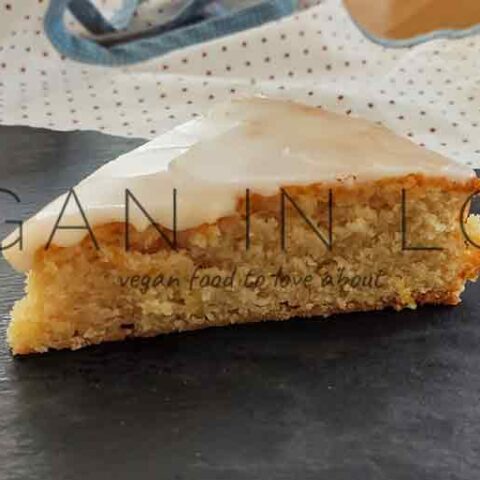 LEMON YOGURT CAKE RECIPE
Delicious and made of simple ingredients this lemon yogurt it's super easy to prepare. Great to enjoy for breakfast or as a dessert together with a cup of tea or coffee.
Ingredients
Lemon yogurt cake
125 gr. of Plain vegan yogurt.
150 ml. of Vegetable oil.
1 Tablespoon of Vinegar.
1 Lemon.
160 gr. of Demerara sugar.
240 gr. of Self-raising flour.
1 Pinch of Salt.
glaze
6 Tablespoons of Icing sugar.
1 Tablespoon of Lemon juice.
Instructions
LEMON YOGURT CAKE
Preheat the oven to 180 °C degrees (350 °F approx.).
In a large bowl pour 125 gr. of plain yogurt, 150 ml of vegetable oil of your choice, and 1 tbsp of vinegar, and whisk together well.
Then add fresh lemon zest (around 1 teaspoon from 1 lemon) and 1 tbsp of freshly squeezed lemon juice and mix well.
In another bowl place the dry ingredients, sieve the self-raising flour, 1 pinch of salt, and 160 gr of demerara sugar.
Add the dry ingredients to the wet ingredients and whisk together to get the cake batter.
Cover a cake baking pan/tin with non-stick baking paper or you can spread vegan butter or vegetable oil and sprinkle flour.
Pour the batter into the prepared pan and bake for around 30 minutes.
After 30 minutes, you can use a toothpick or a clean knife to check if your lemon yogurt cake recipe is ready. When the toothpick inserted comes out clean, your lemon yogurt cake is cooked.
Let the lemon yogurt cake set aside to cool completely at room temperature (you can also use a wire rack).

GLAZE
In a small bowl add the icing/powdered sugar and lemon. For me, 6 tbsp of powdered sugar and tbsp of freshly squeezed lemon juice was enough.
Mix well your lemon glaze until the preparation is lump free and smooth.

ASSEMBLE
Once your cake has cooled down, pour the lemon glaze on top of your lemon yogurt cake and spread it evenly.
Lastly, cut the lemon yogurt cake into slices and serve.
Notes
Cooking times can vary depending on your oven.
Nutrition Information
Yield

8
Serving Size

1
Amount Per Serving
Calories

391
Total Fat

19g
Saturated Fat

2g
Trans Fat

0g
Unsaturated Fat

16g
Cholesterol

1mg
Sodium

396mg
Carbohydrates

53g
Fiber

1g
Sugar

30g
Protein

4g
The Nutritional values presented on this table are only estimates. The values can also vary depending on the cooking method, ingredients, product brands etc. This data was provided and calculated by Nutritionix.
RELATED RECIPES
YOU MIGHT ALSO LIKE…
---
---